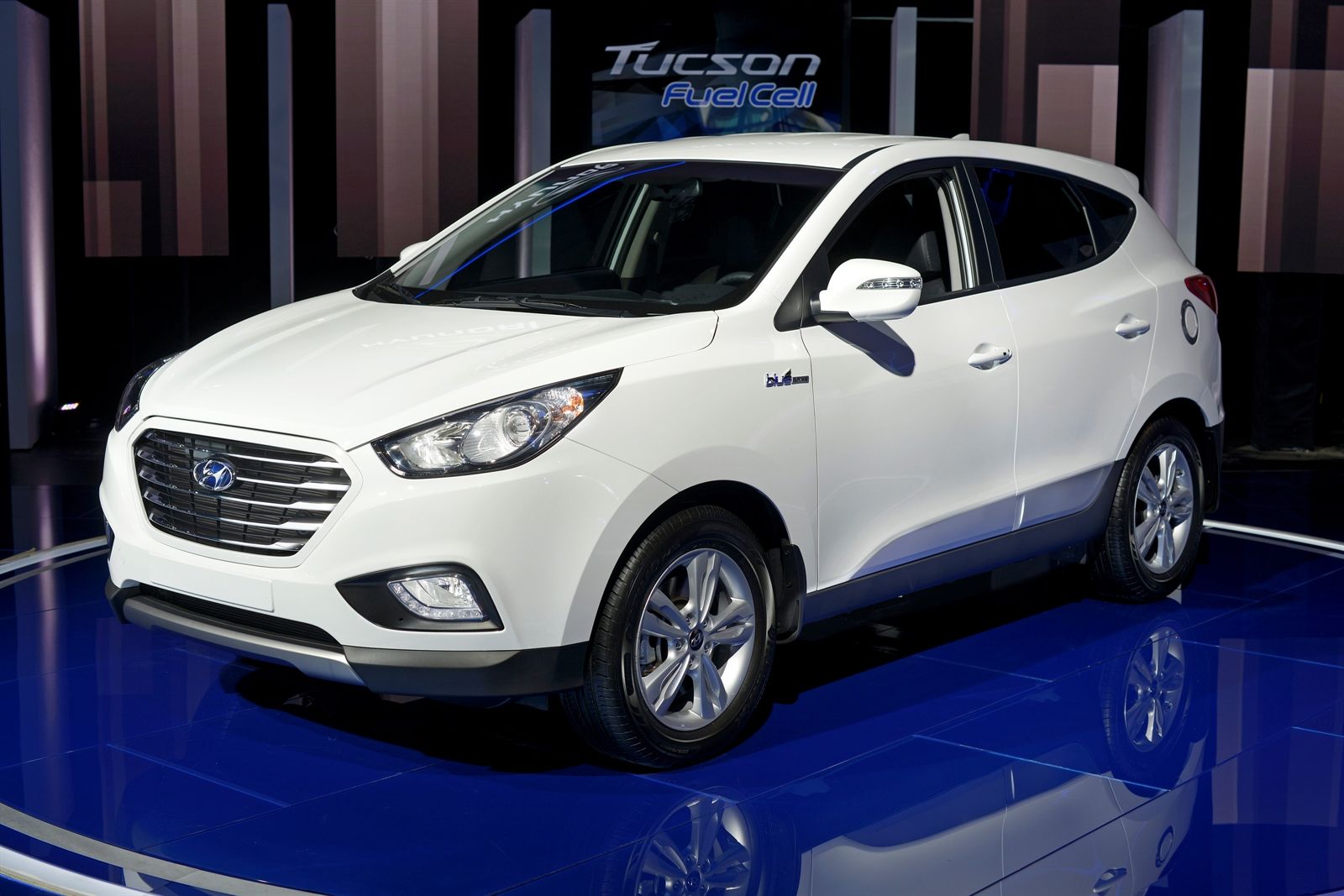 Every year, carmakers bring another Fuel Cell concept vehicle to auto shows and talk about the great performance and efficiency that hydrogen fuel cells will bring us someday. Well, Hyundai decided to leapfrog all the others and offer a production ready fuel call electric vehicle that will generate power from hydrogen instead of land-based power. The only catch is that it will only be available in Los Angeles and Orange County, California starting in Spring of 2014. These Southlanders will have this new technology tucked inside a regular-looking 2015 Hyundai Tuscon. 
Although the numbers will certainly be low, this milestone puts Hyundai in the lead when it comes to offering the average consumer an affordable hydrogen vehicle. With $2,999 down and $499 per month and free fuel (Hyundai pays) for 36 months, hydrogen electric early adopters can jump on the next bandwagon to the future. Honda and Toyota are not far behind with similar offerings, but the fact that Hyundai got there first is meaningful. 
What's New for the 2015 Hyundai Tuscon Fuel Cell:
Hyundai's Tuscon Fuel Cell is an entirely new vehicle underneath, but the same Hyundai Tuscon in outer appearance.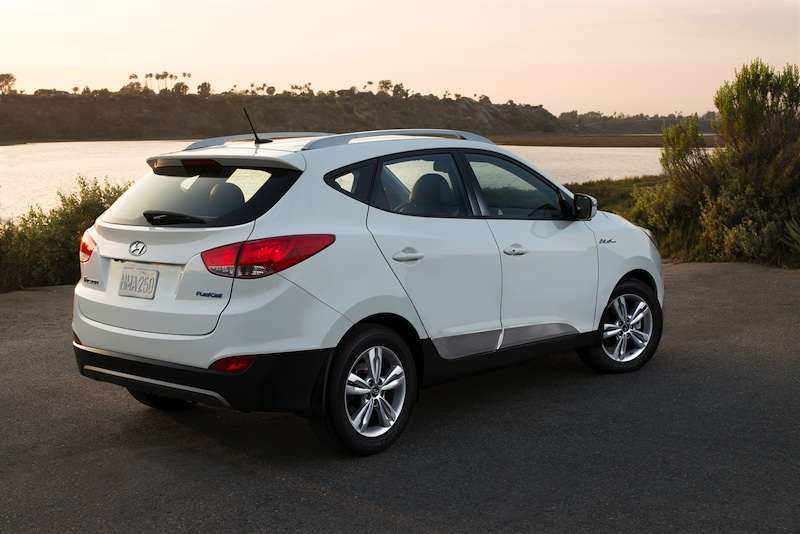 New 2015 Hyundai Tuscon Fuel Cell: Styling and Design
The existing interior and exterior of the Hyundai Tuscon has remained unchanged since 2010 and it still holds strong today. It's one of the best looking small suvs out there, with lots of curves and a modern, thoughtful interior. Other than the fact that it could use some updated headlamps, the Tuscon is an excellent design choice for a hydrogen electric car.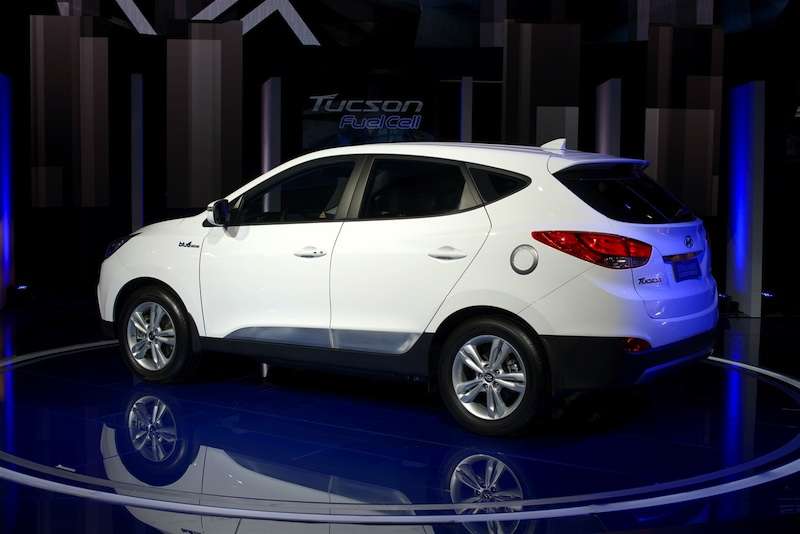 New 2015 Hyundai Tuscon Fuel Cell: What's Under the Hood
What most people will want to know about hydrogen electric cars - and what is true for this one - is that the range on a full tank of hydrogen is "up to 300 miles" according to Hyundai. The 2015 Hyundai Tuscon Fuel Cell has a 100-kilowatt stack and is capable of going up to 100 mph and 0 - 62 mph in 12.5 seconds. 
Hyundai says that the Tuscon Fuel Cell gets its oxygen from ambient rather than compressed air, which means lower parasitic power loss. The power goes to a lithium-ion buffer battery that is the same one used in the Sonata Hybrid.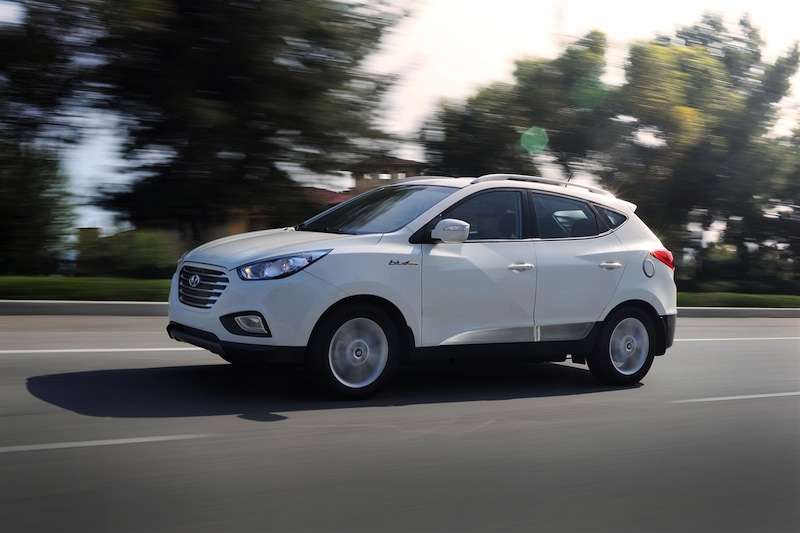 New 2015 Hyundai Tuscon Fuel Cell: Features and Technology
With features equal to the existing Hyundai Tuscon, the real story here is technology. When a fueling station is found, and right now there are only 10 in Southern California, it takes under 10 minutes to fill up. With a range of 300 miles, this electric car does not have the range issues found on EVs, and is even more quiet than an EV, if that can be possible. It also is not effected by cold weather, which is a plus, but not relevant for the Southern California crowd. 
California is planning to install 100 stations in the next 10 years, but we'll believe that when it happens. In the meantime, if you are lucky enough to be near a fueling station and think you might want to take on this new experiment, you can go to designated Enterprise Rent-A-Car locations in LA and the OC to rent a test drive (not for free).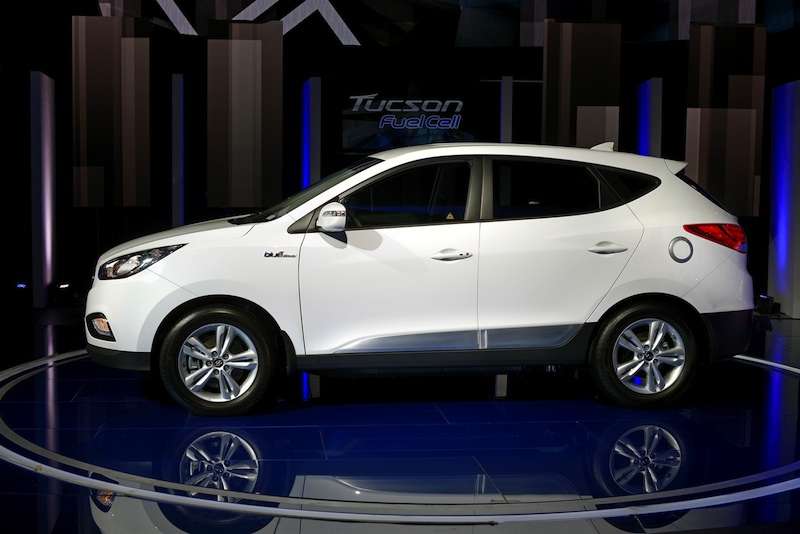 New 2015 Hyundai Tuscon Fuel Cell: What Autobytel Thinks
Kudos to Hyundai for being first to get the ball rolling on what Hyundai President and CEO, John Krafcik calls "the next generation of electric vehicles" regardless of the small existing infrastructure. Being an Orange County headquartered company, we can imagine the dream of a one-tank round trip from Irvine to Santa Barbara with zero emmissions and we're all for it. 
All Photos Courtesy of Hyundai