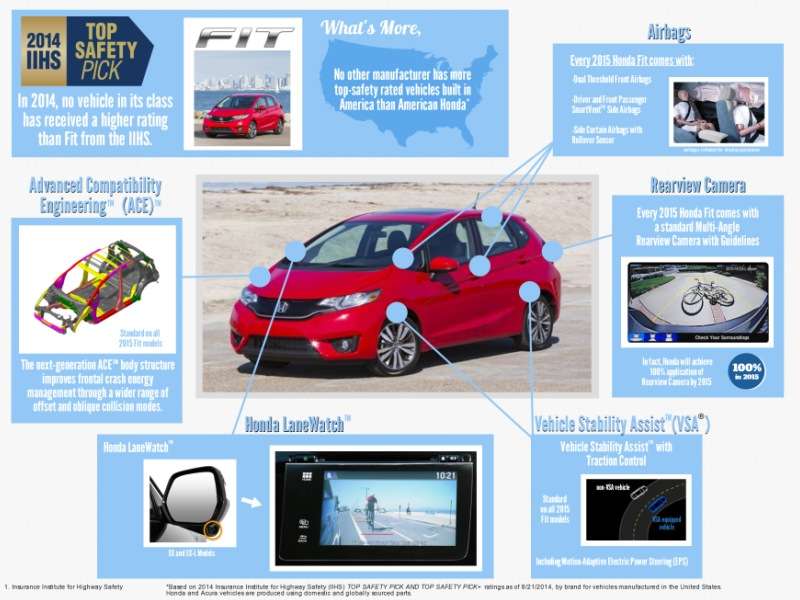 Honda fit safety
The 2015 Honda Fit recently became the first subcompact car in the country to earn a Top Safety Pick designation from the Insurance Institute for Highway Safety (IIHS), at least when applying the latest, most challenging IIHS criteria and relying on the traditional car categories. The Chevy Spark joins the 2015 Honda Fit as a Top Safety Pick in the Institute's "Small Car" category, but the Bowtie product is more of a city car, with the Chevy Sonic playing the role of Chevrolet subcompact. And to be clear, not only is the Sonic absent from the current Top Safety Pick honor roll, so are the Fit's traditional subcompact rivals like the Toyota Yaris, Nissan Versa, Ford Fiesta, Hyundai Accent and Kia Rio. 
In terms of testing, the 2015 Honda Fit scored "good" grades in the IIHS evaluations for moderate front-overlap and side impacts, roof strength, and head restraint/seat performance, while achieving an "acceptable" mark in the very challenging test for small front-overlap impacts. These impacts often miss the main crush zones of a vehicle, so that "crash forces go directly into the front wheel, suspension system and firewall," according to the IIHS, and it's "not uncommon for the wheel to be forced rearward into the footwell ... resulting in serious leg and foot injuries."
But it's here where thing's get interesting, since this actually represents the second time that the 2015 Honda Fit has gone through the IIHS testing regimen. During the first trials, the car, like many before it, didn't make the grade in that small front-overlap test. But unlike those other vehicles, the 2015 Honda Fit received a running change in June that created a more robust front-bumper structure and delivered a Top Safety Pick rating for customers.
Now, the IIHS rating only applies to 2015 Honda Fit models built after June 2014, but the automaker has announced it would offer a complimentary bumper-structure update for early-release Fits. Note: Further details about the update effort will be provided to owners by Honda in the near-term future.
Said Art St. Cyr, vice president of auto operations at American Honda: "Honda's deep-rooted commitment to safety and to our customers is perhaps best demonstrated by the fact that we were not satisfied with anything but a Top Safety Pick for the new 2015 Honda Fit."