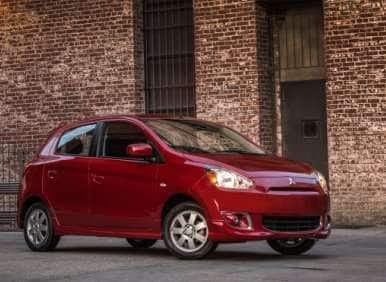 No, it's not an April Fool's joke with bad timing—although it sounds like one. But if all goes according to plan, the 2014 Mitsubishi Mirage will be the most fuel-efficient non-hybrid car in America when it debuts next fall, boasting an EPA line of 37 mpg city/44 mpg highway/40 mpg combined.
Needless to say, the launch of that car could be a tipping point in Mitsubishi's renewed quest for credibility in the U.S. auto market, especially with the Mitsubishi Outlander and Outlander Sport achieving some recent sales momentum. In fact, the company's overall deliveries are up 13.4 percent through the first two months of the year and are currently outpacing the industry's growth rate by a full 5 percent. A high-mileage, next-gen small car would be an ideal bookend to Mitsubishi's increasingly popular crossovers and the still-effective Mitsubishi Lancer family, and that's exactly the role the 2014 Mitsubishi Mirage is intended to play.
Potential buyers should note, however, that while Mitsubishi is talking up the Mirage as a "subcompact," the car will be significantly shorter than the typical hatchback in the segment. The 2014 Mitsubishi Mirage is 148.8 inches in length, while traditional subcompacts like the Ford Fiesta and Honda Fit are just a bit more than 160 inches. The better match for the Mirage is the Chevy Spark, which comes in at 144.7 inches and has turned into a modest success for the Bowtie brand.
A similar outcome for the 2014 Mirage would go a long way toward helping Mitsubishi avoid the fate of Suzuki here in this country.
What's New for the 2014 Mitsubishi Mirage:
The 2014 Mitsubishi Mirage is an all-new version of a long-running Mitsubishi nameplate that has developed a fairly strong following in global markets, and has even seen the light of day in a variety of configurations (and wearing a variety of badges) for U.S. customers. Fresh features for the car include:
A 1.2-liter, three-cylinder engine with Mitsubishi's latest MIVEC valve-timing technologies
Two transmission choices—A five-speed manual and an advanced CVT (continuously variable transmission) that also features Idle Neutral Logic for improved efficiency
A roster of standard equipment that includes climate control, a four-speaker sound system, power windows and side mirrors, and an ECO indicator that "coaches" efficient driving
Available amenities like a navigation system, rearview camera, interior LED accent lighting, and Bluetooth technology
Standard safety features such as anti-lock brakes with electronic brake-force distribution, a tire pressure monitoring system, seven air bags (including a driver's-side knee unit), active stability control (with traction control), and a robust body structure designed under Mitsubishi's "Reinforced Impact Safety Evolution" principles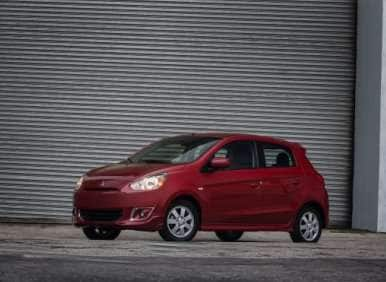 New 2014 Mitsubishi Mirage: Styling and Design
The high fuel-economy marks of the 2014 Mitsubishi Mirage are much assisted by its highly aerodynamic body, and the same can be said for the car's overall style, too. As a result, the Mirage offers a coefficient of drag of 0.28—on par with that of the Chevy Volt—along with a pleasantly streamlined shape and surprisingly athletic proportions. Most impressively, the Mirage manages to avoid the sort of "overbuilt" front-end appearance found in the Chevy Spark and similar city-sized vehicles, and it also showcases some nice exterior details, like the way the outside frame of the fog-lamp housing is carried up into the front bumper area, giving the lower fascia some added personality.
Also, although the parallel character lines along the side of the Mirage are an overly common design cue, especially in the small-car segments, they actually look pretty sharp here and effectively emphasize the car's rear-sloping roof and forward-arching stance.
Two exterior appearance upgrades are on the menu as well, offering both the requisite aero-style body kit and an assortment of subtle chrome highlights.
The cabin of the 2014 Mitsubishi Mirage then provides a clean, uncluttered environment for up to five—backed by a 60/40 split folding rear seat—and relies on a glossy "Piano Black" material to provide the typical kind of accents. But there's also a very untypical differentiator available: A custom-look LED package that brings added highlights to the Mirage's console, floor and cargo area.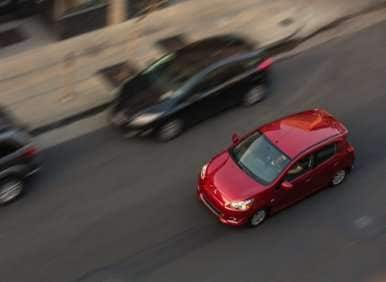 New 2014 Mitsubishi Mirage: What's under the Hood
Beyond the slippery shape of the 2014 Mitsubishi Mirage, the other chief contributor to its impressive fuel-economy performance is its three-cylinder, 1.2-liter engine. That's the same displacement as the engine in the Chevy Spark, but with one fewer cylinder and double-digit declines in power. The baby Bowtie car puts out 84 hp and 83 lb.-ft. of torque, while the Mirage makes 74 of each. Now, that doesn't sound like there's much power in the Mitsubishi's powertrain, but performance should be adequate because the Mirage weighs so little: The Euro-spec model is under 1,900 lbs., which compares to a curb weight of about 2,300 lbs. for the Spark.
It's also worth reminding folks that Mitsubishi has a relatively impressive track record with its engine technologies, and that the Mirage builds on that tradition with the latest Mitsubishi Innovative Valve-timing Electronic Control (MIVEC) system for an optimal mix of power and efficiency.
(Oh, and as a further point of refernce, the 1.0-liter, three-cylinder engine offered in the 2014 Ford Fiesta is expect to serve up about 123 hp and 148 lb.-ft. of torque.)  
New 2014 Mitsubishi Mirage: Features and Technology
Some people have already begun comparing the 2014 Mitsubishi Mirage to the ultra-high-mileage small cars of the early 1980s—like the Geo Metro and original Mirage—but this time around, customers won't have to sacrifice creature comforts for miles per gallon. The new Mirage DE offers a perfectly adequate level of standard content right out of the box, including an automatic climate system with rear-seat heat ducts, a 140-watt AM/FM/CD/MP3/USB audio system, power windows and outside mirrors, auto-off halogen headlights, keyless entry, a windshield wiper for the rear hatch and an "ECO indicator" that helps owners monitor their driving efficiency in real time.
Moving up to the more premium 2014 Mitsubishi Mirage ES adds features like push-button start, passive entry, Bluetooth technology for hands-free calling, a leather-wrapped steering wheel with integrated audio controls, fog lamps, upgraded seat fabric and alloy wheels.
There's even an available nav system and ultra-sonic front and rear parking sensors.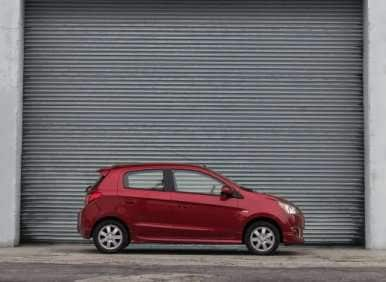 New 2014 Mitsubishi Mirage: What Autobytel Thinks
The 2014 Mitsubishi Mirage is exactly the kind of car the brand needs to consolidate its current position in the U.S. marketplace and take things to ye olde next level, but ultimately, its sales performance will come down to pricing. If the Mirage can manage to undercut the traditional subcompact players while still providing superior fuel-economy marks and a fairly well-equipped package, it will be an excellent choice for young and value-conscious shoppers.
If not, Mitsubishi's hopes for success could vanish like a … well, you know.