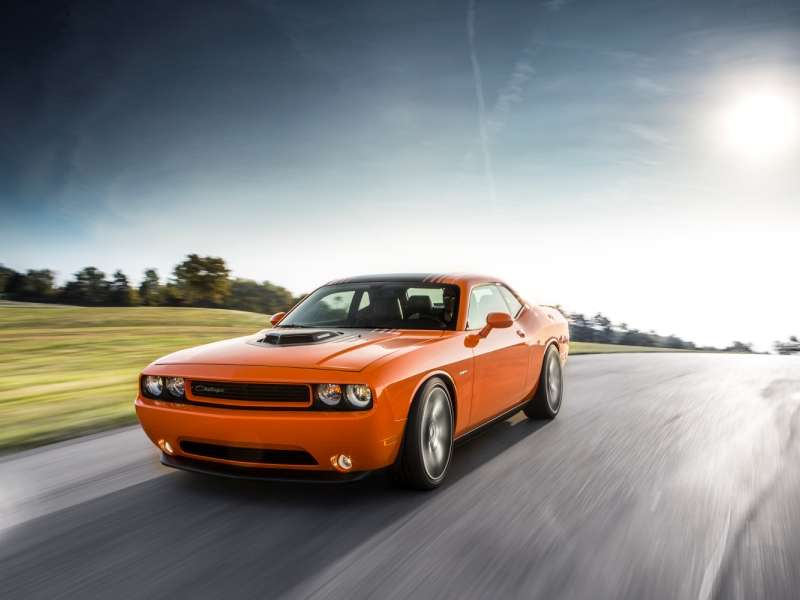 The retro-styled rocket known as the 2014 Dodge Challenger R/T Shaker is just now touching down at local dealerships, showcasing a SEMA-born upgrade package that's highlighted, of course, by a real "shaker" hood.
It's a design cue well known to muscle-car mavens and refers to a setup in which a functional air intake is mounted directly to a vehicle's engine—in this case, a 5.7-liter HEMI V8—and pokes up through a cutout in the hood. Because the scoop is attached right to the powerplant, it "shakes" right along with the rumbling of the engine itself. Needless to say, there's a whole lot of shaking going on with this new Challenger, since its just-mentioned motivator pours out more than 370 hp and some 410 lb.-ft. of torque right from the factory. On the other hand, Dodge also is quick to point out that the Shaker model is fully compatible with its available "Scat Package" power-ups for owners who need more output.
Then, to make the most of what's under the hood, the 2014 Dodge Challenger R/T Shaker also boasts driver-selectable powertrain-tuning, a high-performance suspension and four-wheel disc brakes, as well as all the go-fast goodies from the brand's Super Track Pak. Among them: P245/45R20 Goodyear Eagle F1 Super Car tires, three-mode electronic stability control that offers a true "off" setting, and revised steering gear, brake linings and monotube shocks. (Note: The standard Goodyear rubber relies on a three-season compound, but all-year performance tires are a no-cost option.)
The cabin of the 2014 Dodge Challenger R/T Shaker gets a premium overhaul as well, and features performance seating up front, exclusive "K-Black" instrument panel and console bezels, a numbered dash plaque indicating build number from the 2,000-unit run, and some slick "Shaker" logos embroidered on the front seatbacks. Other benefits include a Shaker-specific flat-bottomed multi-function steering wheel, standard six-speed manual transmission, and available Uconnect connectivity/infotainment technology.
"Based on this strong initial demand, it's clear that our customers are excited about the return of the legendary Shaker model, which was engineered for enthusiasts who asked for even more attitude and a dose of muscle car heritage," said Tim Kuniskis, president and CEO of the Dodge Brand. "The 5.7-liter HEMI V8 engine with the unique hood and intake design makes this performance car an instant classic—much like the original 1970 Challenger R/T with the Shaker hood."