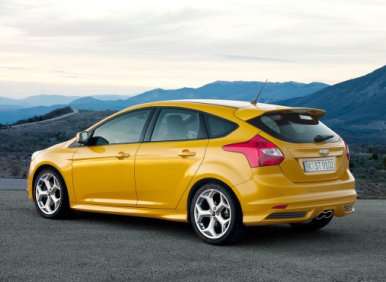 Most folks don't think there's much wrong with the 2013 Ford Focus ST. After all, for an MSRP of $23,700—some $7,000 less than the average price of a new car today—you get 252 horses worth of EcoBoost power and a stout 270 lb.-ft. of torque, all stuffed inside of a compact hatchback that also can post an EPA line of 23 mpg city/32 mpg highway/26 mpg combined.
But if you're a three-time U.S. rallycross champ, who also happens to own a couple of X Games gold medals, three Formula Drift crowns and a starring role as a co-host of Top Gear USA, well, you may have some other ideas. Certainly that was the case with Tanner Foust—whose resume includes all of the above. He's teaming with COBB Tuning to offer the Tanner Foust Edition 2013 Ford Focus ST, a performance-enhanced version of Europe's best-selling hot hatch (at least while looking at the last full quarter of sales results).
"I've been a fan of hot hatches since I was a kid living in Scotland," said Foust. "This special edition Focus ST is what happens when I get to take an already great hot hatch and push its performance limits to make it exactly what I wanted as a kid and what I would like to drive on the street."
Details about pricing, as well as complete specs, will be provided when the Tanner Foust Edition 2013 Ford Focus ST makes its official debut in April … but naturally, we do have some info on the following page.
Tanner Foust Edition 2013 Ford Focus ST: What We Know
While Mr. Foust will no doubt have his input, including direct involvement in developing the car's powertrain, it will be COBB Tuning that handles the specifics. Now, as mentioned, we don't have too many of those, but COBB has confirmed that the vehicle will get about a 20 percent bump in horsepower over the 2013 Ford Focus ST, with the total reaching 300 in the Tanner Foust Edition. Getting there will involve custom Cobb ECU calibration, as well as upgraded components for the intercooler, exhaust and intake; the company will massage the car's suspension, too, for improved stability and handling.
As you'd expect, the Tanner Foust Edition 2013 Ford Focus ST gets the requisite carbon-fiber body pieces for slipperier aerodynamics, along with a revised grille treatment, upgraded tires and wheels, and assorted graphics.
"Working with Tanner on this project for the Focus ST is exciting for us," said Trey Cobb, CEO of the COBB Tuning—now in its 14th year. "He is a driver who really understands how vehicles can best put power to the ground and that's what helps us to develop great upgrade packages."
The Tanner Foust Edition 2013 Ford Focus ST will be available through select Ford dealerships, as well as directly through COBB Tuning, later this year.