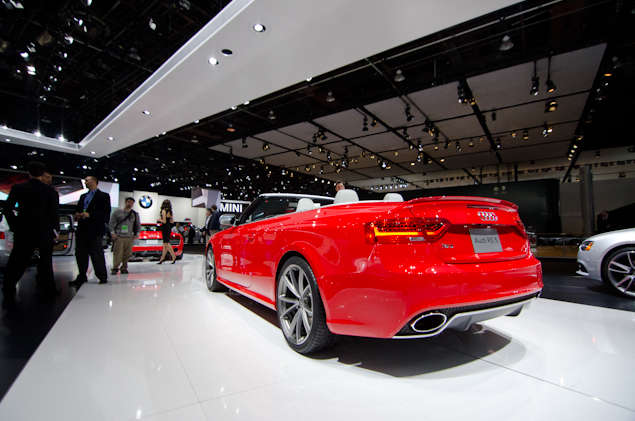 Why the 2013 Audi RS 5 Cabriolet Matters: The story here is a simple one. Audi has explicitly announced its intentions to become the No. 1 luxury brand in the United States, and that requires—at a minimum—fleshing out its lineup by deploying the full range of Audi vehicle variants for each nameplate in this country. Thus, the four-rings brand will be introducing diesel-powered TDI models for upper-echelon entries like the Audi A7 and Audi A8, and, more to the point here, even open-air versions of its hi-po entries, such as the 2013 Audi RS Cabriolet.
Audi wouldn't be bringing the RS 5 Cabrio to America if it wasn't backed by a strong business case, but the car also fills the more symbolic (yet not-inconsequential) role of providing a direct alternative to the 2013 BMW M3 Convertible. The Audi is a bit more powerful, although both vehicles can cover the 0-60 run in the same 4.9 seconds, and it's likely be both more expensive and more fuel-efficient, too.
The 2013 Audi RS Carbiolet offers up 450 hp and 317 lb.-ft. of torque, which compares to the 414/295 in the BMW, and, in their fixed-roof configurations, the former is priced at $68,900 versus the latter's $60,100. MSRPs for the RS 5 Cabriolet have yet to be announced, but a similarly sized pricing discrepancy between it and the current M3 convertible would put the Audi at an awfully steep $77,550—versus a price point of $68,750 for its rival.
Now, at first glance, the 2013 Audi RS 5 Cabriolet may look like it priced itself out of the BMW's league, but keep in mind that it also features a standard quattro all-wheel-drive system (the M3 is rear-wheel-drive only), a terminal velocity of 174 mph that is 19 mph beyond that of the Bimmer, and a more than 10 percent advantage in fuel economy: The Audi has been certified by the EPA at 16 mpg city/22 mpg highway/18 mpg combined, while the best the BMW can manage is 14/20/16.
What's New for the 2013 Audi RS 5 Cabriolet:
The thrill of open-air driving, thanks to a premium, power-operated soft top and extensive body reinforcements for rigidity
LED light-strip headlights and taillamps
A naturally aspirated 4.2-liter V8 engine tuned to make 450 horses and 317 lb.-ft. of twist, mated to Audi's seven-speed dual-clutch S tronic transmission
The Audi "drive select" driving mode system, allowing the driver to fine-tune throttle response, shift characteristics and more to meet different driving scenarios
Audi's hallmark quattro all-wheel-drive technology, featuring a new self-locking crown-gear center differential that can vary torque distribution from a 70:30 front/rear split to 15:85
Available 15-inch ceramic carbon-fiber front disc brakes
Cabriolet-exclusive design upgrades, including a fixed rear spoiler, retailored rear quarter panels, and tweaks to the front-end appearance
A full complement of tech advantages, from the Audi "connect" media and connectivity system to a plethora of electronic driver-assistance aids, such as adaptive cruise control and blind-spot detection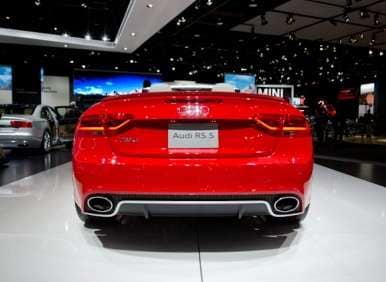 New 2013 Audi RS 5 Cabriolet: Styling and Design
Outside of such obvious stunners as the Audi R8 and Audi TT, the brand's design esthetic is usually fairly restrained, and that approach continues with the 2013 Audi RS 5 Cabriolet. The convertible retains the basic look of the RS 5 Coupe from the beltline down, showcasing a subtly curvaceous body that remains reminiscent of today's modern-day muscle cars. However, designers did add some notable tweaks, especially toward the rear of the car, where style changes complement the sheet-metal work done to reconfigure the RS 5 in its Cabriolet form.
For example, the rear diffuser in the 2013 Audi RS 5 Cabriolet has been moved into a higher position, and is now accented by a honeycomb-style screen insert that also incorporates the car's elliptically tipped dual exhaust outlets. In addition, while the fixed-roof RS 5 features a power-operated rear spoiler, the convertible relies on a matte-carbon lip spoiler mounted on the trunk lid for increased downforce.
There is also plenty of typically Audi-esque engineering work on display in the 2013 Audi RS 5 Cabriolet: That multi-layered soft top is power operated, with the ability to open in 15 seconds—and close in 17—and it takes up just more than 2 cubic feet of trunk space, allowing for a surprising amount of versatility that's further enhanced by fold-down rear seats. Another impressive example of Audi's attention to detail is the Cabriolet's new front bumpers, which are made from lightweight aluminum to help mitigate the added weight that went into reinforcing the vehicle's chassis for optimum performance.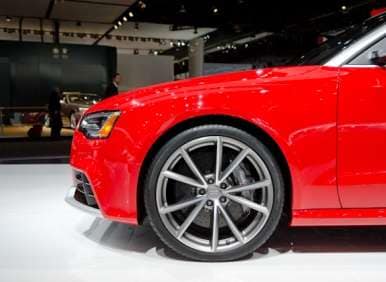 New 2014 Audi RS 5 Cabriolet: What's under the Hood
Perhaps unexpectedly, the 2013 Audi RS 5 Cabriolet relies on a naturally aspirated powerplant instead of a smaller, turbocharged unit. On the other hand, that 4.2-liter V8 still features technologies like the company's FSI fuel-injection system and an energy-recovery setup that kicks into action as soon as the driver's foot comes off the accelerator. The bottom line is a stout 450 hp and 317 lb.-ft. of torque that's mitigated to some extent by relatively strong EPA marks of up to 16 mpg city/22 mpg highway/18 mpg combined. Those are expected to be best-in-class grades and allow RS 5 Cabriolet drivers to avoid paying the gas-guzzler tax applied to more inefficient automotive entries.
Swapping the cogs is done with an S tronic seven-speed dual-clutch automatic transmission that can be operated in either a full automatic mode or in one of two manual-shifting modes—using either the traditional gear selector or ergonomically designed paddle shifters that frame the RS 5 Cabriolet's steering wheel.
Then, as mentioned above, all that power hits the pavements through Audi's quattro all-wheel-drive system, upgraded with a new center differential and torque vectoring to precisely vary engine output to the front and rear wheels. The result is enhanced performance on a wide variety of road—and track—surfaces.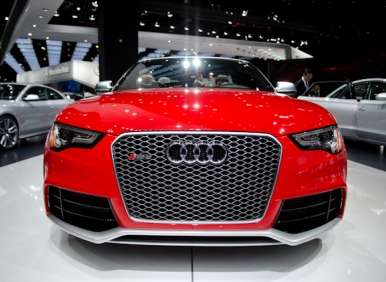 New 2013 Audi RS 5 Cabriolet: Features and Technology
The 2013 Audi RS 5 Cabriolet is more than just the pinnacle of performance for the A5 lineupit also serves up a range-topping roster of luxury appointments—including some designed specifically to improve the drop-top driving experience. Among them: Climate-controlled front seats with a special heating system located at head level. The top is a nice piece of work on its own, too, with a premium, multi-layered construction for a quiet and comfortable cabin when its deployed, along with compact and efficient packaging to minimize the space it occupies when folded down.
On the technology front, drivers can look forward to the latest iterations of Audi's driver-assistance and connectivity features. The former include park-assist with a rearview camera and acoustic warning, adaptive cruise control with forward collision mitigation—capable of recognizing a potential low-speed collision and automatically activating the brakes—and a blind-spot warning setup with rear cross-path detection. But then Audi goes beyond the typical accoutrements found in the segment to also supply a dynamic steering system that modifies effort and response based on vehicle speed.
The 2014 Audi RS 5 Cabriolet also includes the Audi connect system, which encompasses the industry's first navigation system to integrate with Google Earth, enabling high-res 3D imagery and a "zoom" function that allows drivers to magnify the images for a higher level of detail. Audi connect transforms the car into a mobile Wi-Fi hotspot as well, serving up access Internet-based functionalities such as music and news-feed streaming, e-mail messaging, gaming, and more—complemented by voice-control capabilities for hands-free calling, navigation and audio systems.
The standard sound system is an excellent Audi concert setup with AM/FM/CD/MP3 capabilities, iPod integration, an auxiliary input jack, and SD card compatibility, but true audiophiles also can step up to a Bang & Olufsen unit in the 2013 Audi RS 5 Cabriolet. With 505 watts of power and 12 speakers, it could probably blow the roof right off the car—if it weren't already going topless.
New 2013 Audi RS 5 Cabriolet: What Autobytel Thinks
On paper, the 2013 Audi RS 5 Cabriolet offers all the content, performance and efficiency it needs to steal customers from the BMW M3 Convertible, as well as to attract those who are new to segment. But with a price that will probably mark a significant premium over that of the BMW, the RS 5 Cabrio might scare away some potential buyers, too—at least until the Bavarians launch the coming next-gen version, which will likely see a notable price jump of its own as it gets kitted out with the latest goodies from the company. Of course, that will surely lead to some new challenges for the 2013 Audi RS 5 Cabriolet, albeit of a different sort, but that's a story for another day.