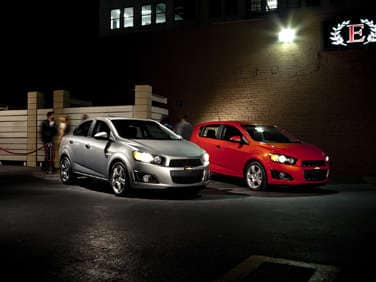 The 2012 Chevrolet Sonic replaces the forgettable Chevy Aveo as the Bowtie's entry into the compact vehicle class. Completely reinvented from the ground up, this all-new vehicle sports a stylish design, peppy engine and competitive fuel figures. Add it all up, and Chevy may have gone from worst to first. Keep reading to learn more about the specs, pricing and features of the 2012 Chevy Sonic.
Styling: 2012 Chevrolet Sonic
As with many compact vehicles, the Chevy Sonic is available as either a sedan or four-door hatchback. Either way, the vehicle's exterior offers a balance of cutesy and aggressiveness that many car shoppers are likely to enjoy. On the inside, the vehicle has been outfitted with an impressive level of comfort and quality (certainly much more so than the outgoing Aveo).
Passenger space for the Sonic is comfortable no matter which seat you take. In fact, it's even possible for the 6-footer set to find reasonable comfort in the rear seat (no small feat for a vehicle in the compact class). Storage space is also a bonus in the Sonic. Innovative storage compartments abound, and rear trunk space is competitive with the class (14.0 cubic feet for the sedan and 30.7 cubic feet for the hatchback).
View more 2012 Chevrolet Sonic photos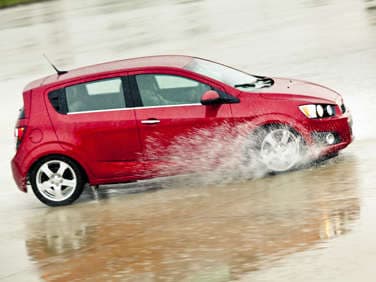 Performance: 2012 Chevrolet Sonic
Chevy is quick to point out the Sonic's class-leading horsepower and torque. Thanks to a standard 1.8-liter Ecotec engine (the same one used for the Chevy Cruze), the Sonic delivers 135 horsepower and 125 lb-ft. of torque. A slightly more powerful 1.4-liter turbo is also available (138 horsepower and 148 lb-ft. of torque). In early test drives, a few car reviewers have noted the Sonic corners just as well as class leaders such as the Honda Fit.
At its best, the 2012 Sonic earns an EPA rating of 29 mpg in the city and 40 mpg on the highway. Only a handful of compact cars can beat these numbers, including the Hyundai Accent (30 mpg city and 40 mpg highway) and Volkswagen Golf TDI (30 mpg city and 42 mpg highway).
The more affordable 1.8-liter engine outputs 26 mpg in the city and 35 mpg on the highway.
Review full 2012 Chevrolet Sonic specifications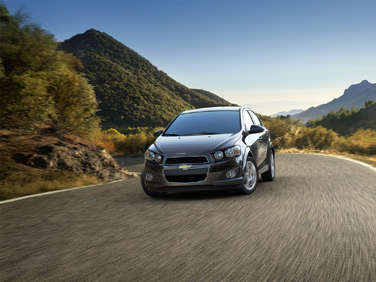 Safety: 2012 Chevrolet Sonic
The Insurance Institute for Highway Safety lists the Chevy Sonic as a "Top Safety Pick" for the year. This is partially due to the vehicle's strong list of standard safety features. Antilock brakes (front disc, rear drum), stability control, 10 airbags (including front knee airbags), traction control, brake-force distribution, brake assist and OnStar all come standard.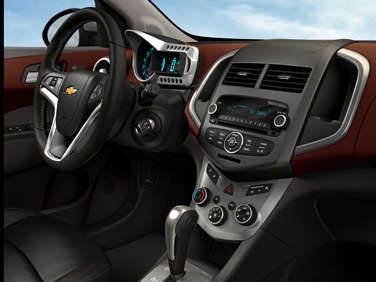 Pricing and Features: 2012 Chevrolet Sonic
Initial asking price for the Chevy Sonic is set at $13,735 (hatchback models start at $14,635). For that price, you'll get 15-inch alloy wheels, air conditioning, 60/40 rear split seat, four-speaker stereo, radio and auxiliary input. Upgrading to the LT trim results in a price jump of $1,200 and includes a six-speaker stereo, heated side mirrors, power accessories and enhanced cloth upholstery. Cruise control, Bluetooth, iPod interface and steering-wheel mounted controls are available as options. Opt for the LTZ trim, and these options become standard. Other top-of-the-line equipment includes 17-inch alloy wheels, foglamps, leatherette upholstery, heated front seats and a leather-wrapped steering wheel.
Get a quote from a 2012 Chevrolet Sonic dealer near you