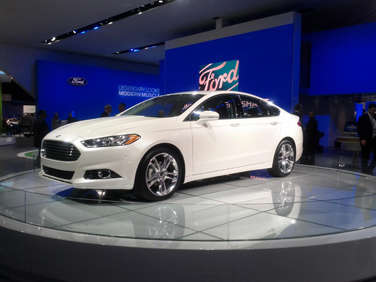 On the heels of announcing that the Ford Fusion was its best-selling car in the U.S. (and its third best-selling model overall), Ford revealed the all-new 2013 Ford Fusion at the 2012 North American International Auto Show. In the final year of its current body style, the Fusion sold a record number of cars in 2011, and the redesigned and more advanced 2013 model should definitely continue this trend for Ford in the lucrative mid-size sedan segment.
With a design based largely on the Evos Concept unveiled earlier this year, the new Ford Fusion should easily be the best-looking car in a segment that includes models like the Toyota Camry, Honda Accord, Chevrolet Malibu and the Kia Optima. Inside, the larger and sleeker Fusion features a more spacious interior with a better use of technology including Ford's updated MyFord Touch infotainment system.
While the styling and technology are definitely notable, the big news for the 2013 Fusion is what lies beneath that sculpted sheet metal.
Unlike the all-new Ford Escape, the Fusion will still be available in hybrid form for 2013. This next-generation hybrid system starts off with a 2.0-liter Atkinson cycle inline-four and a lithium-ion battery pack. This setup is expected to give the 2013 Ford Fusion Hybrid remarkable fuel economy estimates of 47 miles per gallon in the city and 44 mpg on the highway; Fusion Hybrid is also able to travel at speeds of up to 62 miles per hour under full-electric power.
 A bit bigger of a surprise is the new Fusion Energi. As is the case with the C-Max Energi introduced last year and going on sale later this year, the Fusion Energi is a plug-in hybrid electric vehicle (PHEV). Using the same engine as the Hybrid,, Ford says that the Fusion Energi will get an expected 100 miles per gallon equivalent (MPGe) which is better than the Chevrolet Volt and Toyota Prius PHEV.
Of course, buyers looking for a more conventional powertrain will still have plenty of options when it comes to the new Fusion. The base engine continues to be a 2.5-liter inline-four, but two new EcoBoost engine options will now be available. The 1.6-liter EcoBoost can be equipped with either a manual or automatic transmission, while the more powerful 2.0-liter EcoBoost is only available with an automatic but offers either front- or all-wheel drive configurations. Like most of its competitors, there is no longer a V-6 engine option on the Fusion.