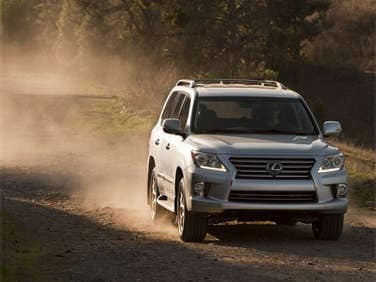 Although the 2012 North American International Auto Show in Detroit had plenty of fuel-efficient technology or high-performance cars on hand, the updated 2013 Lexus LX 570 that debuted at the show proved that the SUV is far from dead. While more luxury automakers are going with smaller, car-based crossovers, the Lexus LX continues to utilize a rugged body-on-frame construction shared with the Toyota Land Cruiser (itself updated for 2013). With the 2011 models still on sale, it appears the LX will skip the 2012 model year, and there is no word on when the 2013 LX will go on sale or what the starting MSRP will be.
Stealing a page from the recently introduced Lexus GS, the biggest difference on the new Lexus LX is a revised design that is highlighted by the new signature "Lexus Spindle Grille." The diamond-shaped headlights now feature LED daytime running lights while the reshaped front fascia gives the LX a more imposing appearance. Other visual updates include revised taillights, rear bumper fascia, new 20-inch wheels and repeater turn signal lights integrated into the side door mirrors. Two new exterior colors are also being added to the LX color pallet: Medium Nebula Gray Pearl and Satin Cashmere Metallic. Inside, the eight-passenger LX boasts a redesigned instrument panel, new mahogany wood accent trim, a new Easy Access system for the driver making ingress and egress better and the addition of a 120-volt power outlet.
As denoted by the 570 in the LX's alphanumeric name, this luxurious SUV will continue to be powered by the 5.7-liter V-8 that pumps out 383 horsepower and 403 lb-ft of torque. This engine, along with the rugged frame, help give the Lexus LX an impressive towing capacity of 7,000 pounds. A new Multi-terrain Select system is also being added to the LX to improve the truck's off-road prowess by offering five different driving modes to match certain road conditions.
2012 Lexus LF-LC Concept
While the new LX 570 looked great on the Lexus floor space, the sexy 2012 Lexus LF-LC Concept was definitely hogging all of the attention. With the Lexus LFA reaching high into the exotic car stratosphere, the LF-LC Concept is a hybrid electric, 2+2 sports coupe that should be more attainable with a price and performance likely to compete with the Porsche 911 and Mercedes-Benz SL-Class. Designed by the Lexus Calty design studio in Newport Beach, Calif., the LF-LC has a sleek and stylish look that hopefully shows the future direction of a sporty Lexus coupe.
"Our entire studio worked to develop this beautiful interpretation of Lexus originality," said Kevin Hunter, president of Calty. "The LF-LC concept embodies our vision of what a premium sport coupe could be."