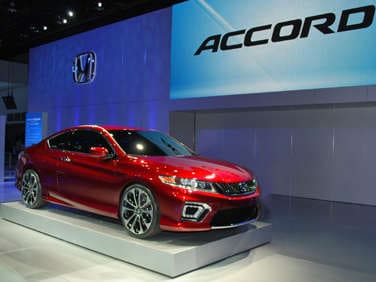 Over the last several years, Honda has used thinly disguised concept cars to show off its new vehicle designs, and this time around it was the 2012 North American International Auto Show in Detroit used to show off the aptly named 2012 Honda Accord Coupe Concept. Strip away the oversized wheels, dark-tinted windows, aggressive fascias and some of the excessively chromed accents, and this is what the 2013 Honda Accord will look like when it goes on sale this fall. Like most recent Accord models, the ninth-generation Accord will be available in both sedan and coupe body styles.
Unveiled just a day after the all-new 2013 Ford Fusion was unveiled, the Honda Accord Coupe Concept looks far more conservative than this key rival (as well as other mid-size sedans like the Kia Optima, Hyundai Sonata and Suzuki Kizashi), but it is also far better than the styling of the 2012 Civic which has been almost unanimously panned since its launch last year. Design highlights include the narrow headlights, angular side body lines and rounded edges along the rear lip spoiler and wheel arches. While the 2013 Accord Coupe will remain the same size as the current coupe, the 2013 Accord Sedan will have a shorter wheelbase than the 2012 model to go with a lighter curb weight, but despite the more compact exterior size, Honda says the new Accord will "retain the current model's generous cabin space." The production version of the 2013 Accord will likely be unveiled at the New York International Auto Show in April.
The biggest news for the 2013 Accord will be the reintroduction of a hybrid model, only the new Accord Hybrid will be a plug-in model. Available in sedan form only, the 2013 Honda Accord Plug-In Hybrid will go on sale next winter (which means it could hit showrooms in 2013), and it will pair a fuel-efficient gasoline engine with an advanced electric drive system. This two-motor hybrid system features a 6-kWh lithium-ion battery and a 120-kilowatt electric drive motor to give the car an all-electric driving range of up 15 miles with a top speed of 62 miles per hour. When the battery runs out of juice for all-electric driving, a 2.0-liter, Atkinson cycle i-VTEC inline-four kicks on to provide a hybrid mode and a direct drive mode. A growing concern among electric cars and plug-in cars, Honda says it will take four hours to charge this system from a 120-volt outlet and just 1.5 hours from a 240-volt source.
Other powertrain features include a new 2.4-liter "Earth Dreams" DOHC i-VTEC inline-four that Honda says will produce more than 181 horsepower and 177 lb-ft of torque; the current base engine for the Accord puts out 177 hp and 161 lb-ft. A decreasing trend among mid-size sedans, the Accord's 3.5-liter V-6 will carry over for 2013, but this engine has been retuned with better horsepower, torque and fuel economy although Honda has not released any estimated numbers. An all-new six-speed automatic will be available on the 2013 Accord, and models with this transmission will also benefit from Honda's Variable Cylinder Management (VCM) cylinder deactivation system.