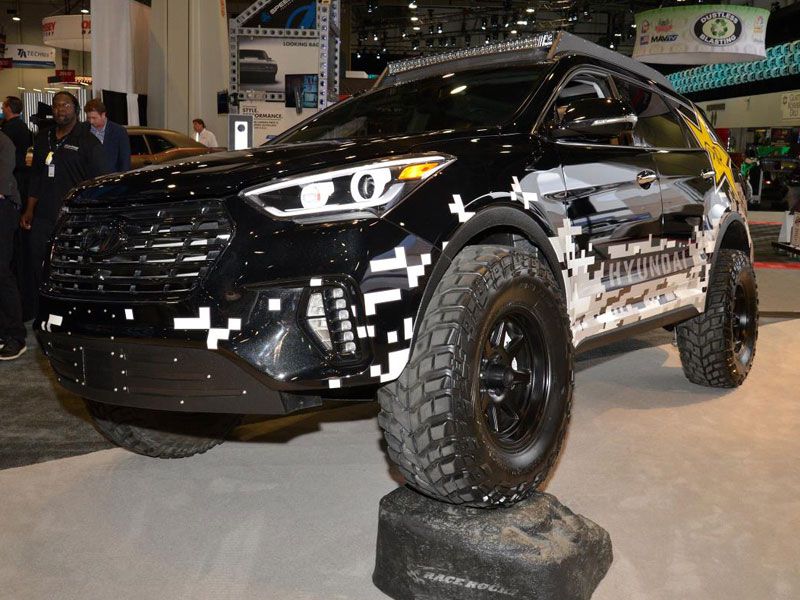 Hyundai Rockstar Santa Fe Concept front ・ Photo by Newspress USA
Originally known as the Speed Equipment Manufacturer's Association (SEMA), the association changed its name to Specialty Equipment Manufacturer's Association in 1970, in response to the an emerging regulatory environment.
Although it still features aftermarket products, and the emphasis continues to be on performance, in recent years the show has become increasingly important to carmakers, who see value in displaying their wares in a forum that casts them in a much different light than traditional expositions like the Los Angeles, Detroit, Chicago, and New York auto shows.
That was true once again at the 2016 show, which celebrates its 50th anniversary this year, and continues to be the single biggest event on the busy Las Vegas calendar.
A selection of highlights from this year's carmaker exhibits follows.
Chevrolet Colorado ZH2
Chevy's fuel cell Colorado pickup was out of step among SEMA's mega horsepower monsters. Developed for, and soon to be handed over to the U.S. Army for evaluation, the ZH2 has no exhaust note and no emissions. Its GM fuel cell system powers all four wheels via a big electric motor, capable of propelling the 6038-pound modified Colorado to 60 mph in 15.4 seconds. The Army's interest? The ZH2 is silent, and the fuel cell stack has a low thermal signature. Stealth spoken here.
Photo by Newspress USA
Chrysler Pacifica Cadence
A hot minivan? Really? Well, not exactly. So let's call it custom. Applications from Chrysler's vast Mopar accessory catalogue include tinted 20-inch wheels, running boards, Stow 'n Go cargo bins, a pet kennel ("allows four-legged family friends to join in the fun," according to Chrysler), and a top rack with a Moparized paddleboard riding high. Mopar rear quarter and tailgate graphics remind passersby of the van's active lifestyle role, and the presence of Pacifica accessories in the Mopar warehouse.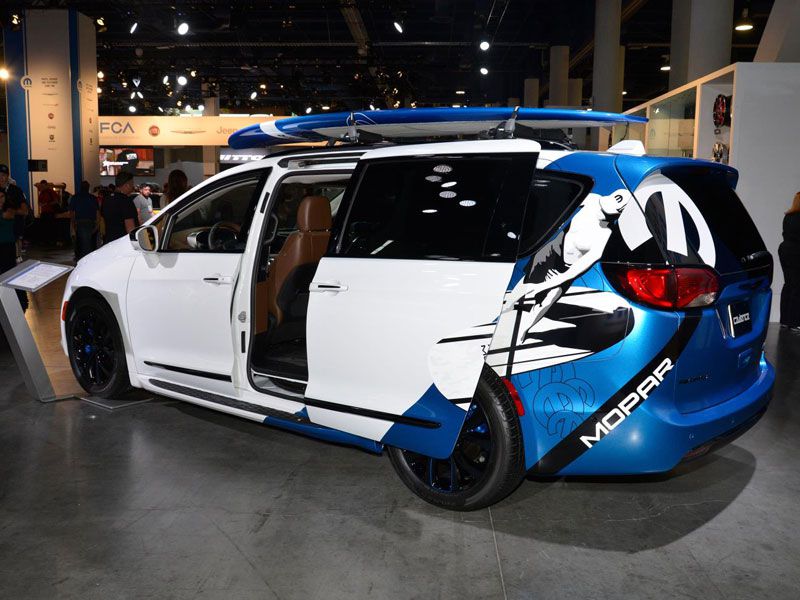 Photo by Newspress USA
Dodge Durango Shaker
The Shaker hood, with engine intake hardware protruding through sheetmetal, have signaled performance in Dodge vehicles for a long-time, but this is the first time it's appeared in the big Durango. Under the hood the Durango's 6.4-liter V8 is fortified by a Mopar cold air intake, and a cat-back dual exhaust lends menace to the engine's rumble. A 3-inch lowering kit brings the Durango close to the pavement, and it rolls on 22 x 10.5-inch wheels.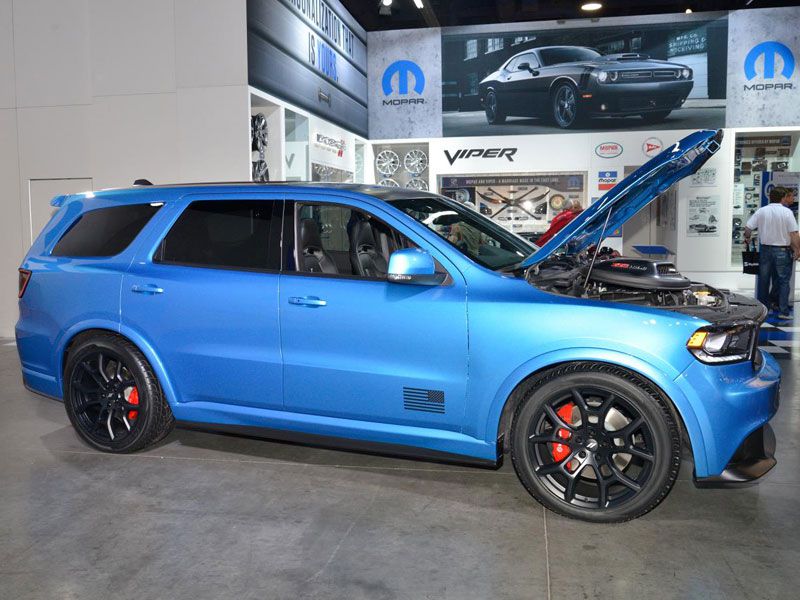 Photo by Newspress USA
Dodge Shakedown Challenger
This slick Shakedown Challenger SEMA show car showcases Mopar performance ideas. Shaker hood, of course. A Mopar cold air intake enhances the 6.4-liter Hemi V8's breathing, and a Mopar dual exhaust amplifies its basso profundo rumble. A Tremec six-speed transmission routes the Hemi's 485 hp to the pavement. The Challenger rides lower than stock, on big Hellcat wheels, with serious Brembo brakes. Dodge is known for its irreverent colors, and the Challenger's "Bitchin' Black" finish is true to tradition.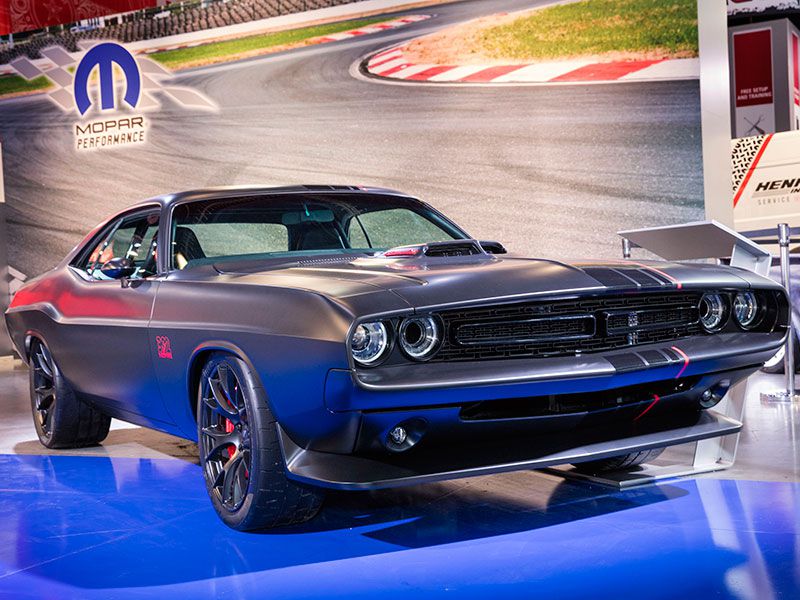 Photo by Fiat Chrysler Automobiles
Honda Civic Type R
Here it is—the Super Civic. The cognoscenti are salivating over this one, the hottest production Honda ever to reach the U.S. How hot? Honda was mum about this so-called SEMA concept, but we know the current Euro Civic R pulsates with 310 horsepower and 295 pound-feet of torque from a 2.0-liter turbo four. Wow. That one is based on the sixth generation Civic, whereas the new one is on the latest architecture. Due in 2017 as a 2018 model.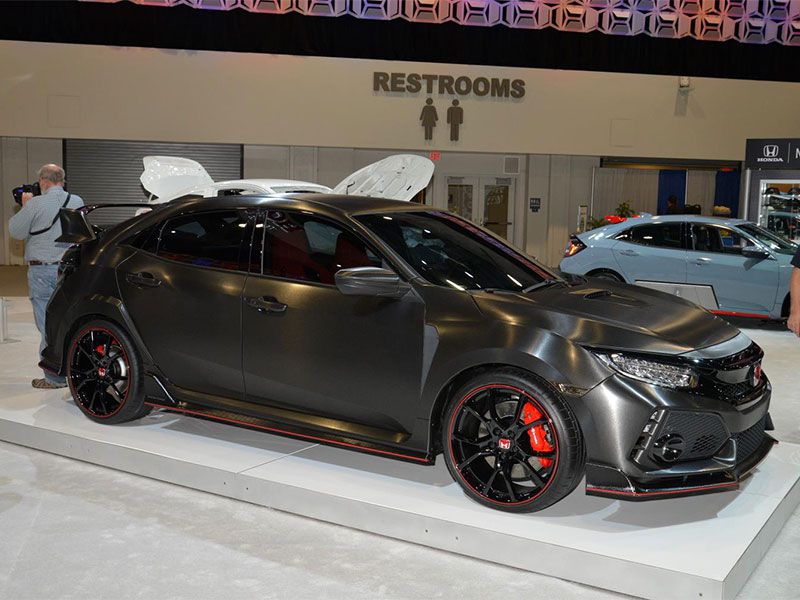 Photo by Newspress USA
Hyundai Ioniq land speed record car
Soon to reach Hyundai showrooms, the subcompact Ioniq hybrid is all about fuel economy. Speed will not be a selling point. But with a little help from its friends at Hyundai's Engineering and Quality operations in California, the Ioniq picked up its pace, setting an FIA-sanctioned speed record at Utah's Bonneville Salt Flats. Thanks to careful attention to aerodynamics and nitrous oxide boosting the 104-hp engine, the little hybrid posted a two-way average of 157.825 mph.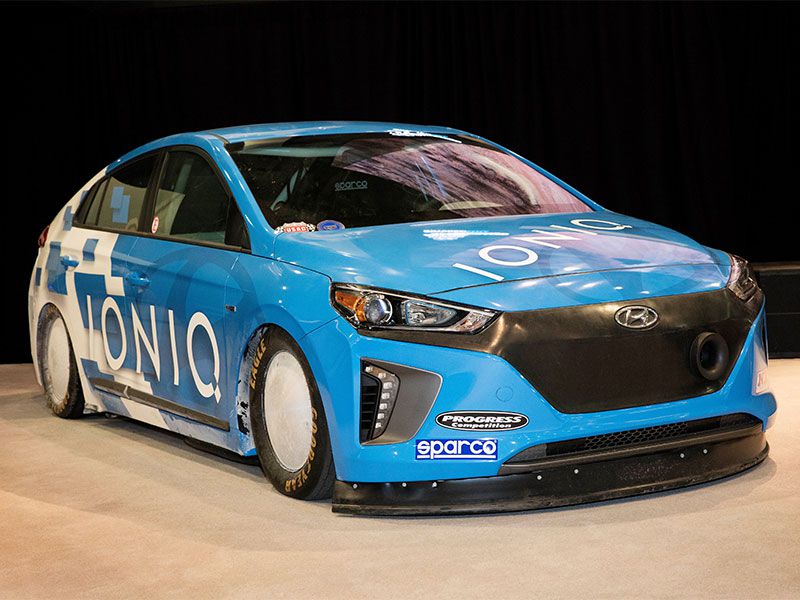 Photo by Hyundai
Hyundai Rockstar Santa Fe
The stock Santa Fe crossover is properly viewed as a soft-roader, but a trip to the Rockstar Performance Garage yielded this desert racer concept. Chassis mods include King shocks, coil-over front, remote reservoirs rear; 17-inch Turbine bead-lock wheels with 35-inch Mickey Thompson Baja Claw off-road tires; and skid plates. Nitrous oxide injection gives the 3.3-liter V6 extra punch, an R1 big brake system enhances stopping power, and a WARN winch provides an added way of getting out of tight spots.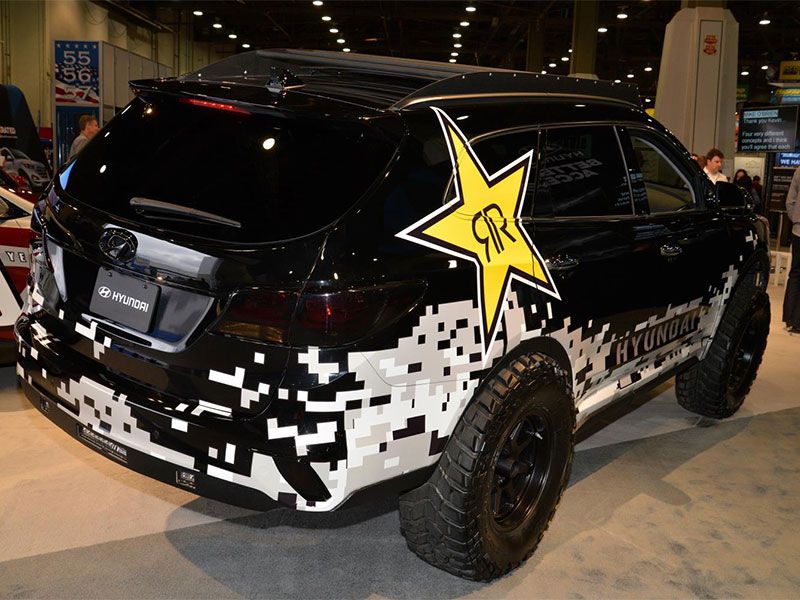 Photo by Newspress USA
Hyundai Santa-Fast Santa Fe
How fast? Hyundai wasn't making any velocity claims for this much-modified Santa Fe crossover, but with 1040 horsepower on tap from a turbocharged 3.8-liter V6 it clearly smokes the stock version. The fabrication was handled by Bisimoto, entailing high performance engine hard parts and 39 psi turbo boost. The chassis and suspension were completely reworked, and the longitudinally-mounted super six drives the rear wheels via a six-speed manual gearbox and rear differential adapted from the Equus sedan.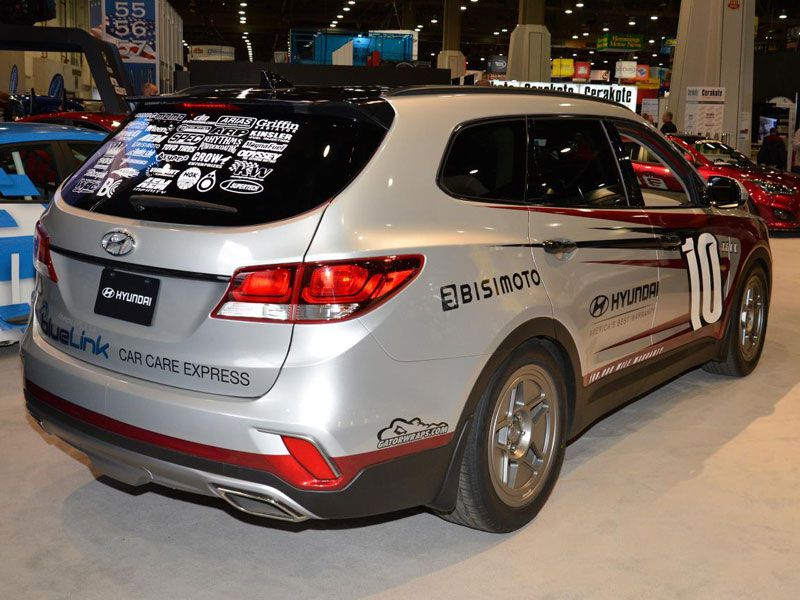 Photo by Newspress USA
Hyundai Gurnade Veloster
The Veloster is Hyundai's uninhibited three-door ride, but the creative fabricators at the Gurnade Inc. shops added street cred to its appeal. The Gurnaded Veloster rides low on NEO Motorsports coil-over struts, 19-inch Rotiform OZT three-piece forged alloy wheels, and low profile Toyo competition tires. An 845 intercooler and ECU add punch to the Veloster's 1.6-liter turbo four-cylinder, Lightner Motorsports fender flares add menace to the exterior, and PPG Refinish Magic Magenta paint make this Veloster impossible to ignore.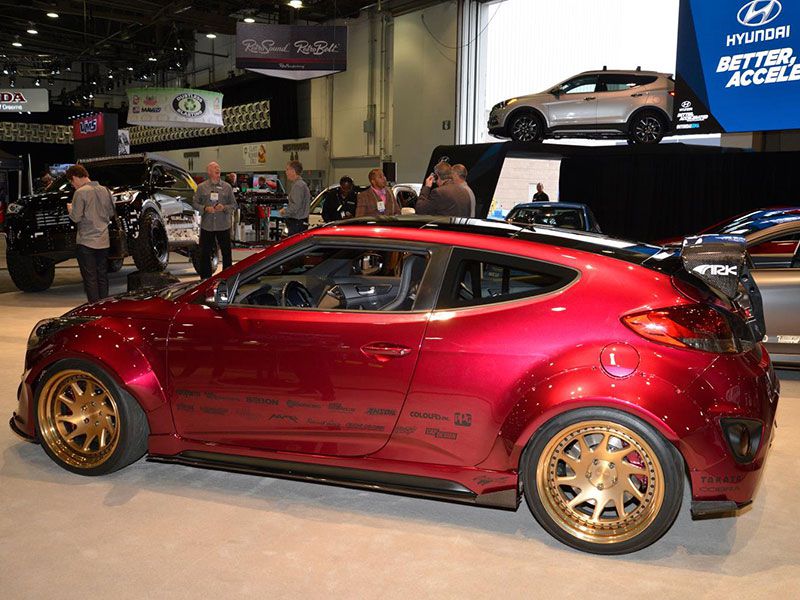 Photo by Newspress USA
Hyundai ARK Road Racer Elantra
If the new Hyundai Elantra Sport isn't hot enough, this Elantra Road Racer concept suggests ways to add more sizzle. Prepped by ARK Performance, the torrid Elantra rides low on ARK DT-P coil-over suspension, with ARK antiroll bars and big brake kit. A brace spans the front shock towers. ARK forged wheels wear Nitto NT05 tires, crowding the wheel flares of the wide body kit. An Xcargot turbo kit and GRIP exhaust enhance output of the 1.6-liter engine.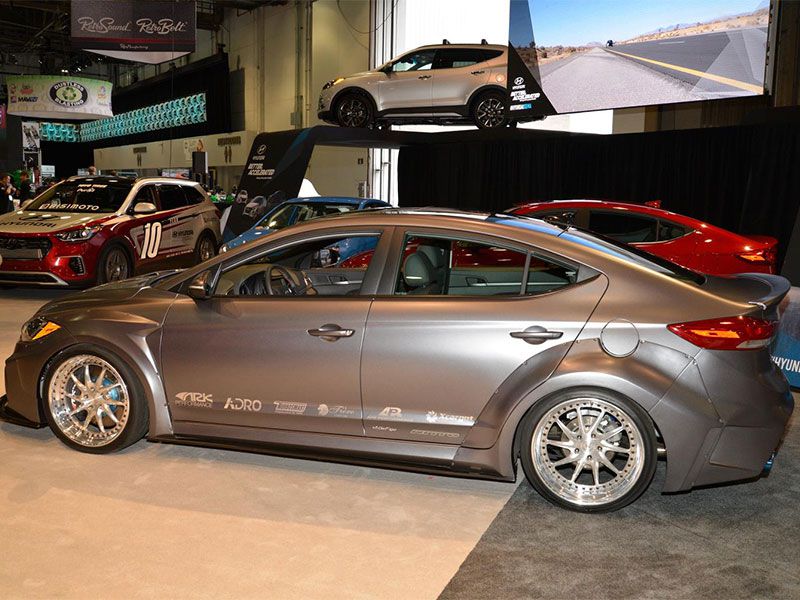 Photo by Newspress USA