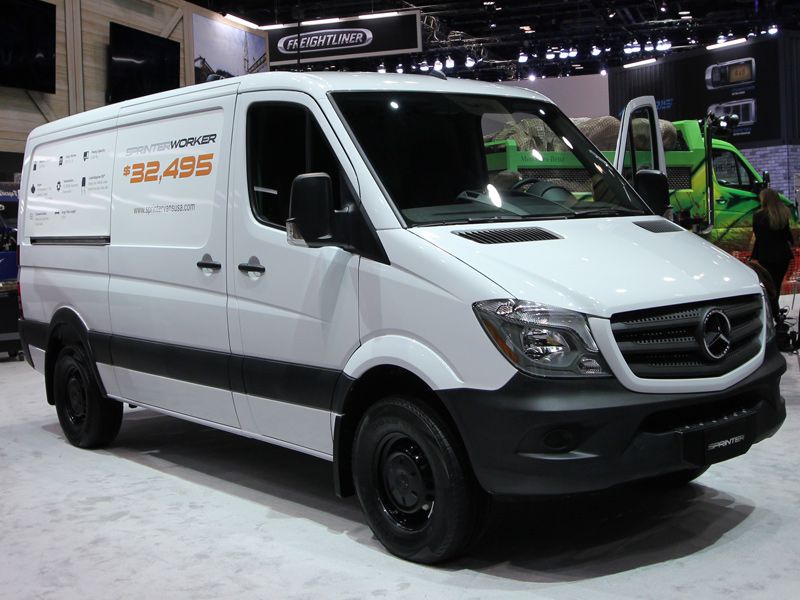 2016 CAS Mercedes Sprinter
The Chicago Auto Show is a lot like the city that hosts it - quiet and unassuming, but a lot more important than most people realize. First staged in 1901, the Chicago Auto Show claims over a million visitors each year. Reflecting the character of the midwest, automakers often choose Chicago to reveal down-to-earth vehicles like trucks and family-size SUVs. Join us as we look at the most important vehicles shown at the 2016 Chicago Auto Show. 
2017 Chevrolet Camaro 1LE
The 1LE is the first track-ready performance package to grace the new-for-2016 Camaro. Unlike the previous-generation Camaro, the new car will offer 1LE packages on both V6 and V8 models. The V6 1LE gets the FE3 suspension from the V8-powered Camaro SS, dual-mode exhaust, a track cooling package with coolers for engine oil, differential, and transmission, a mechanical limited-slip differential, lightweight wheels with Goodyear Eagle F1 tires, and Brembo brakes with four-piston front calipers. A black hood and specially-trimmed interior round out the package. GM says the V6-powered Camaro 1LE can get around a racetrack faster than the previous-gen Camaro SS.
Meanwhile, the V8-powered version of the 1LE gets unique suspension tuning, magnetic ride control, an electronic limited-slip diff, exclusive wheels and high-performance tires, Brembo brakes with six-piston front calipers and larger two-piece rotors, dual-mode exhaust, a track cooling package, short-throw shifter, and deeply bolstered Recaro seats, along with the blacked-out hood. Both 1LE vehicles will only be available with a manual transmission. 
The track-oriented 1LE package returns to the Camaro lineup. Late 2016. Chevrolet has not yet announced pricing for the 1LE Camaros.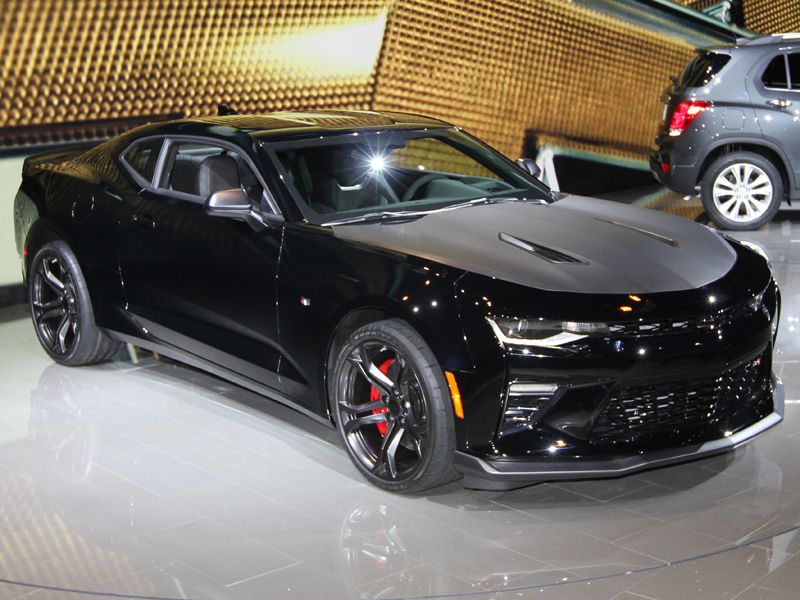 Photo by TJ Keon
2017 Ram Power Wagon
Ram calls the new Power Wagon the "ultimate off-road truck", and having seen this beast in person, we would be inclined to agree. Based on the ¾ ton Ram 2500, the new Power Wagon gets a unique suspension with a 2" lift, front and rear locking differentials, and a Warn 12,000 pound winch behind the front bumper (powerful enough, Dodge says, to lift competing trucks off the ground). Unique wheels shod with 33-inch Goodyear tires give the Ram extra off-road grip. Power comes from Chrysler's 6.4 liter HEMI V8, which produces 410 horsepower and 429 lb-ft of torque. Unfortunately, the Cummins diesel will not be offered. Styling cues are taken from the Ram 1500 Rebel, but not all Power Wagons will boast the eye-popping graphics you see here—Ram will also offer the Power Wagon in entry-level industrial-grade Tradesman trim.
 A long-time staple of the Ram Truck lineup, the Power Wagon returns with new styling and more off-road capability.
 Fourth quarter of 2016
Pricing has not been announced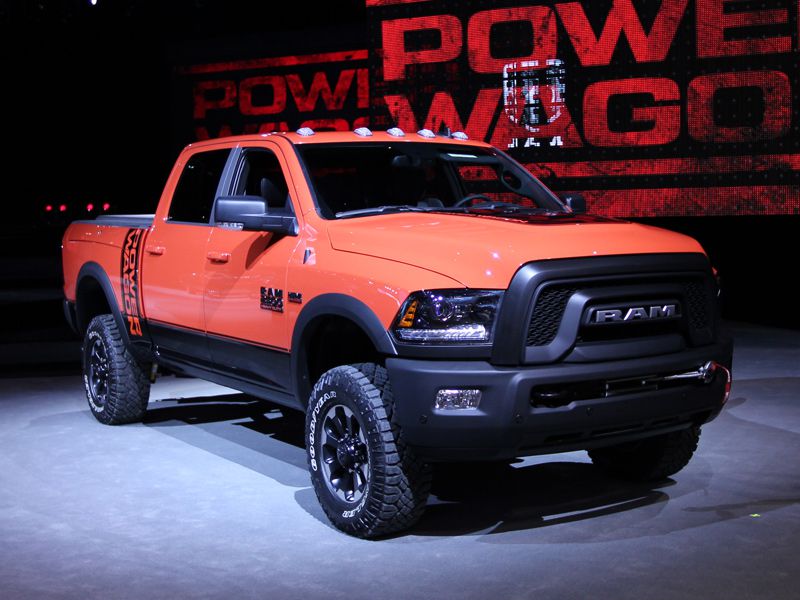 Photo by TJ Keon
2017 Kia Optima Hybrid and Plug-In Hybrid
With a new version of the Optima now on the market, we expected the hybrid to follow—and here it is! Kia has made changes to the hybrid powertrain with a new 2.0 liter engine replacing the old model's 2.4. and more capacity for the battery pack. Kia expects a 10% increase in fuel economy. The big news is the announcement of a plug-in version, the Optima Hybrid PHEV (Plug-in Hybrid Electric Vehicle). The PHEV gets a more powerful electric motor than the regular hybrid (50 kW vs. 38 kW) and a 9.8 kWh battery pack that Kia claims will provide up to 27 miles of electric-only driving. Charge time is less than three hours with a 240-volt Level 2 charger and under nine hours on a 110-volt household outlet. Both versions feature a driver assistance system that coaches the driver to get maximum fuel economy and range.
The Optima Hybrid is new and improved, and the PHEV is Kia's first plug-in hybrid.
The Optima Hybrid and PHEV will go on sale this fall.
Pricing has not been announced.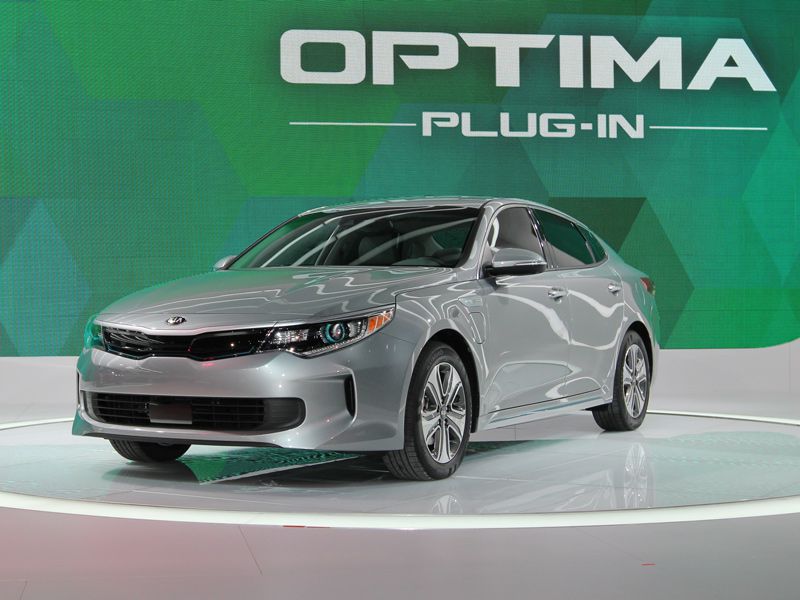 Photo by TJ Keon
2017 Toyota Tacoma TRD Pro
Toyota launched the TRD Pro lineup two years ago, and we weren't the least bit surprised to see a TRD Pro version of the all-new Tacoma. All of the TRD Pro trucks are designed for maximum off-road ability. Among the changes to the Tacoma are a TRD-tuned suspension with FOX 2.5 internal bypass shocks and a 1" lift up front, 16-inch wheels with Goodyear kevlar-reinforced tires, Rigid Industries LED fog lights, and a TRD Pro aluminum skid plate. Part time four-wheel-drive and an electronic locking rear differential come standard, as does a towing package (which includes coolers for engine oil, the power steering system, and the automatic transmission). The truck is adorned with TRD-specific trim, including black alloy wheels, black light bezels, TRD-badged leather-trimmed front seats, and a TRD shift knob. Three colors will be offered: White, red, and the flat gray seen here, which is what it is called (and we swear we are not making this up).
The Tacoma re-joins Toyota's TRD Pro lineup.
Fall 2016
Pricing has not been announced.
;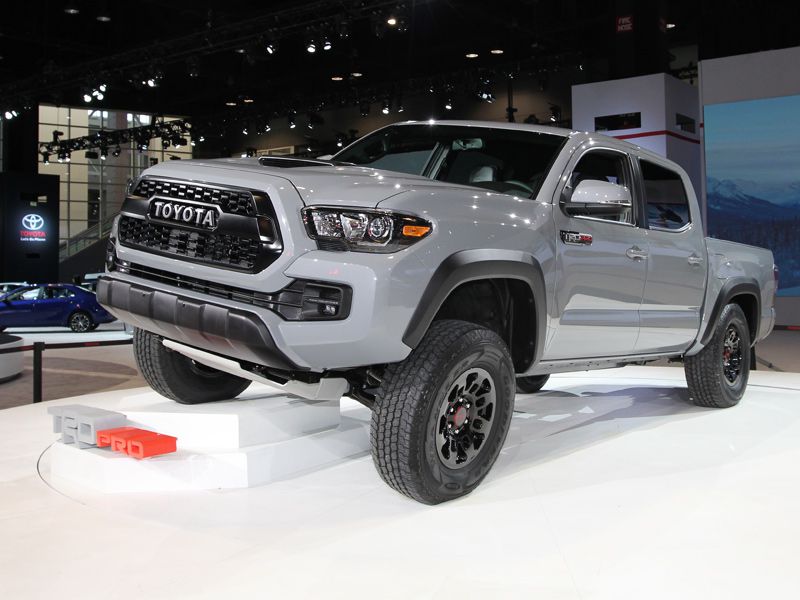 Photo by Toyota Media
2017 Nissan Armada
With gas prices plummeting, Nissan could not have chosen a better time to introduce a new version of its full-size Armada SUV. While the outgoing Armada was based on the full-size Titan pickup, the new one is closely related to the Nissan Patrol, an all-road SUV that has been doing battle with the Toyota Land Cruiser in other markets since time began. The new Armada is slightly longer and wider than the old one, though its wheelbase and height shrink just a bit. Seating capacity is seven or eight, depending on interior configuration. The 5.6 liter V8 engine has been redesigned; it now puts out 390 hp (up from 317 in the old Armada) and sends its power through a new seven-speed automatic transmission. Towing capacity is a pickup-like 8,500 lbs. The Armada is all new, but big as ever.
Summer 2016 Pricing has not yet been announced.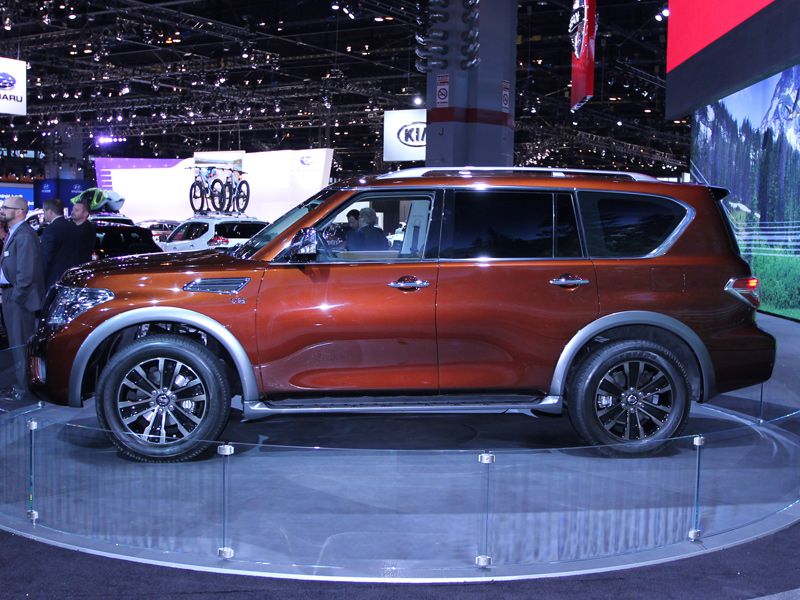 2017 Kia Niro
The 2017 Kia Niro is Kia's first dedicated hybrid vehicle, and while it's clearly a shot across the bow of the Toyota Prius, Kia is pitching the Niro as a small SUV along the lines of the Ford C-Max. Styling is smooth and subtle, as we've come to expect from Kia, and they've packaged the hybrid bits so as to provide a long, flat load floor and seating for five. The Niro's hybrid powertrain is built around a 1.6 liter Atkinson-cycle engine coupled to an electric motor. Total system power is 146 hp and 195 lb-ft of torque, and the whole works drives the front wheels through a six-speed dual-clutch automatic. Official fuel economy estimates have not been announced, but Kia is shooting for 50 MPG. Kia's innovative Predictive Energy Control system uses the navigation system and cruise control to look at the terrain ahead and choose when to recharge the hybrid battery and when to use it to provide power. Kia says a plug-in version of the Niro will be introduced later in the model cycle. The Niro is all-new and Kia's first forte (see what we did there?) into the dedicated hybrid market.
 Not until 2017 Pricing has not been announced.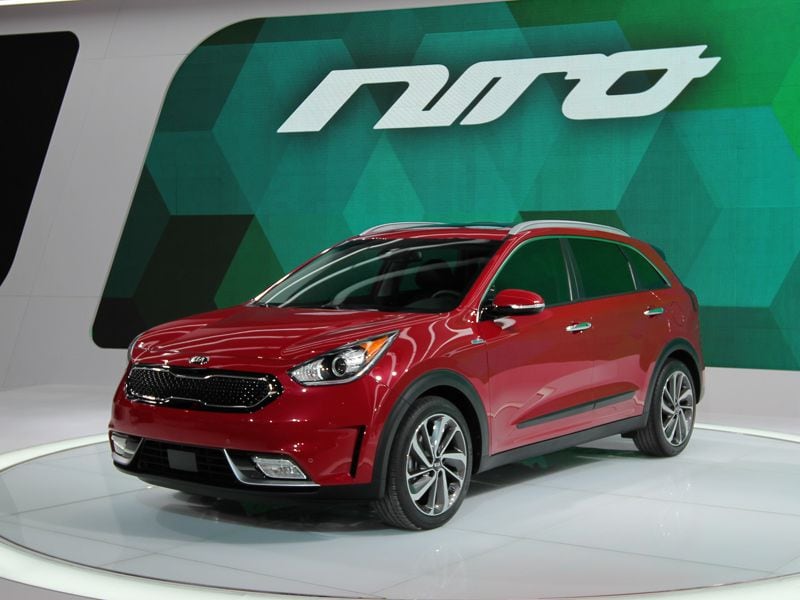 Photo by TJ Keon
2017 Hyundai Santa Fe
Hyundai has been revamping its cars with a new corporate styling theme. The Santa Fe, first introduced in 2013 and now up for its mid-cycle refresh, already sports the new trapezoidal grille, so Hyundai has added a satin finish and slightly reshaped the headlights, fog lights and daytime running lights. The big changes are inside, where Hyundai has added a host of new features and options, including adaptive cruise control, directional headlights with automatic high beams, lane departure warning, automatic emergency braking with pedestrian detection, and upgraded stereos. The interior has been revamped slightly, and more importantly Hyundai has beefed up the front-end structure in order to pass the Insurance Institute for Highway Safety's tough new small-overlap crash test. Hyundai's internal tests indicate that both Santa Fe models (the three-row Santa Fe and the two-row Santa Fe sport) will earn the IIHS' coveted Top Safety Pick Plus award, but official testing has yet to take place. The Santa Fe's mid-cycle refresh includes updated styling, new comfort and safety features, and improved crashworthiness. Now. Pricing starts at $25,245 for the Santa Fe Sport and $31,695 for the Santa Fe, an increase of $400 over 2016 models.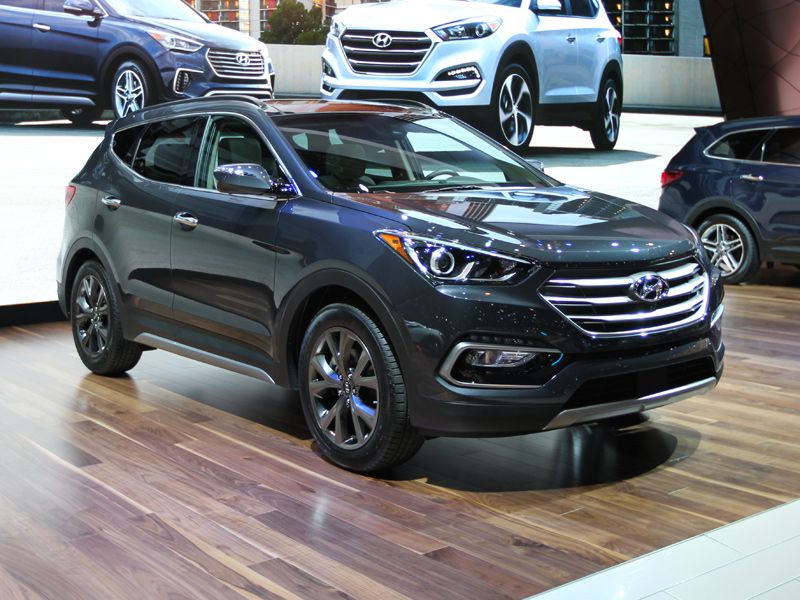 Photo by TJ Keon
2016 Chevrolet Silverado and Colorado Midnight Editions
Chevrolet first introduced the Midnight Edition on the 2015 Silverado HD, and the package was such a success that they are expanding its availability for 2016. Both the Silverado 1500 Z71 and Colorado Z71 will be offered with the Midnight Edition treatment, with black paint highlighted by and a blacked-out front end that comes courtesy of body-colored grille, bumper, tow hooks, and headlight trim. Wheels, body-side moldings, and even the Chevrolet bowtie logos are sprayed black to match. These being Z71 models, off-road functionality is an important component, so the trucks get an off-road suspension, locking rear differential, a transfer case skid plate, hill descent control, and Goodyear Wrangler Duratrac tires—though it seems a shame to get mud all over that beautiful black paint. If the Midnight Editions aren't to your taste, don't worry—Chevrolet has more special-edition pickups in the works, with details to be announced in the not-too-distant future.
Blacked-out treatment and off-road hardware for the Silverado 1500 and Colorado Spring 2016 Pricing has not yet been announced.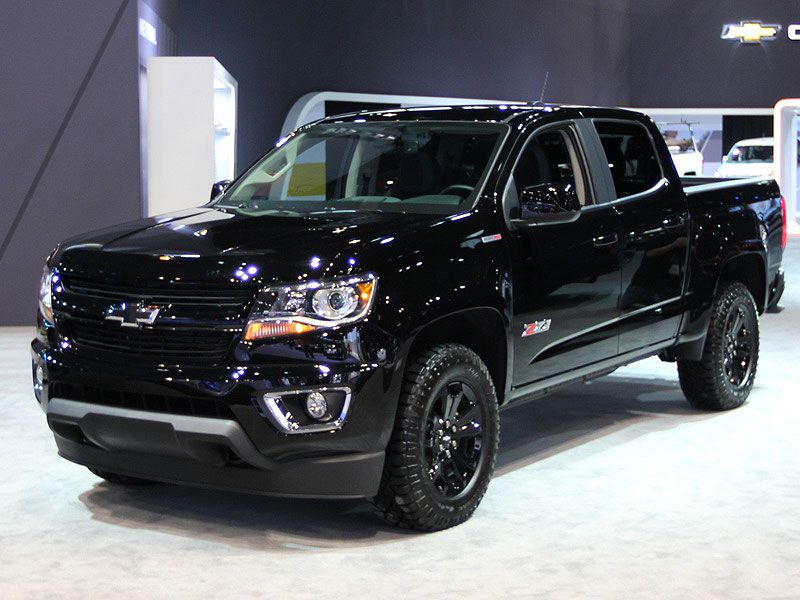 Photo by TJ Keon
2017 Chevrolet Trax
The current Chevrolet Trax is a useful little SUV, but its styling smacks of anonymity both inside and out. Chevrolet plans to solve that problem with a thorough restyling job for the 2017 model year. The new Trax gets a handsome double-grille face with a clear family resemblance to the new Malibu. While the rest of the styling is unchanged, the new front end seems to improve the look of the entire vehicle. Inside, the Trax gets a new dash with better-quality materials and a 7" touch-screen stereo with Android Auto and Apple CarPlay. The Trax also gets new safety features, including warning systems for blind zone, rear cross traffic, forward collision and lane-departure, Mechanically, the vehicle is unchanged, with a 138 horsepower 1.4 liter turbocharged four-cylinder engine and a six-speed automatic transmission.
The Trax gets new front-end styling, an updated interior, and new comfort and safety features.
Fall 2016.
Pricing has yet to be announced.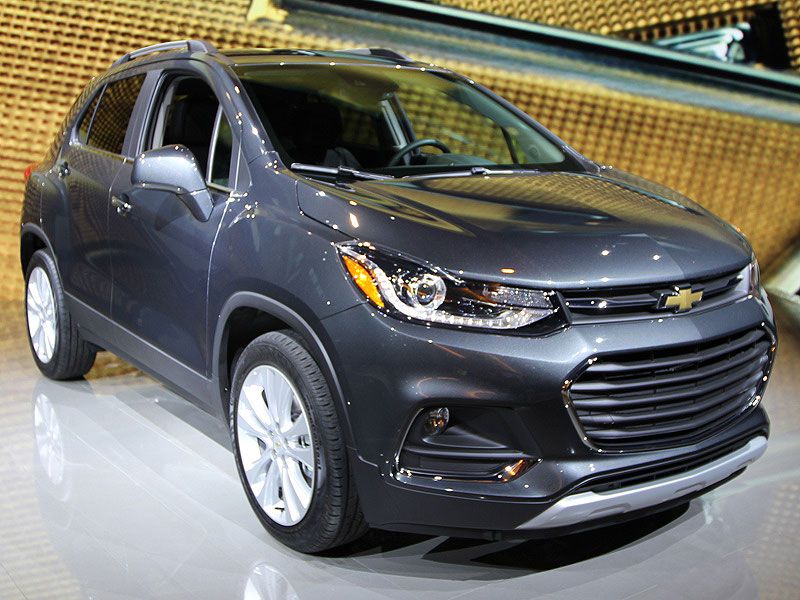 Photo by TJ Keon
2017 Ford Explorer Sport Appearance Package
The Sport is the top-performing version of Ford's Explorer SUV, with a powerful twin-turbo 3.5 liter V6 under the hood and racy styling to match. There are buyers who want the more aggressive look without the big engine, so Ford has introduced a Sport Appearance Package for the mid-line Explorer XLT. The Sport Appearance Package includes the darker grille, mirror caps, and body-side trim from the Explorer Sport, along with 20" "Magnetic Gray" wheels, dark grey leather- and suede-trimmed seats and contrasting stitching. The mechanical bits are identical to the work-a-day Explorer XLT, with a naturally aspirated V6 or (optional) turbocharged EcoBoost four under the hood. Ford has not announced pricing for the Explorer Sport Appearance Package, but it should be a good deal less than the $10,000 price difference between the existing Explorer XLT and Explorer Sport. Sporty appearance package for the mid-level Ford Explorer XLT. Fall 2016 Ford has not announced pricing.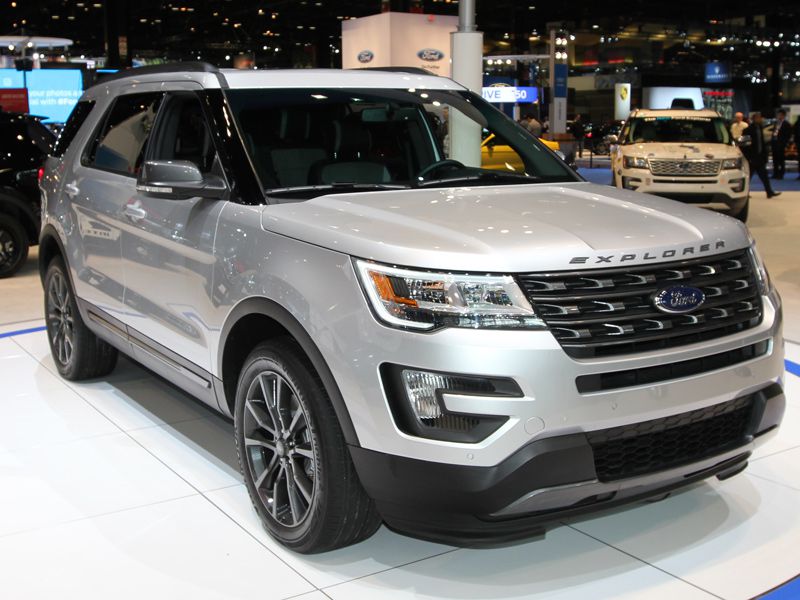 Photo by TJ Keon