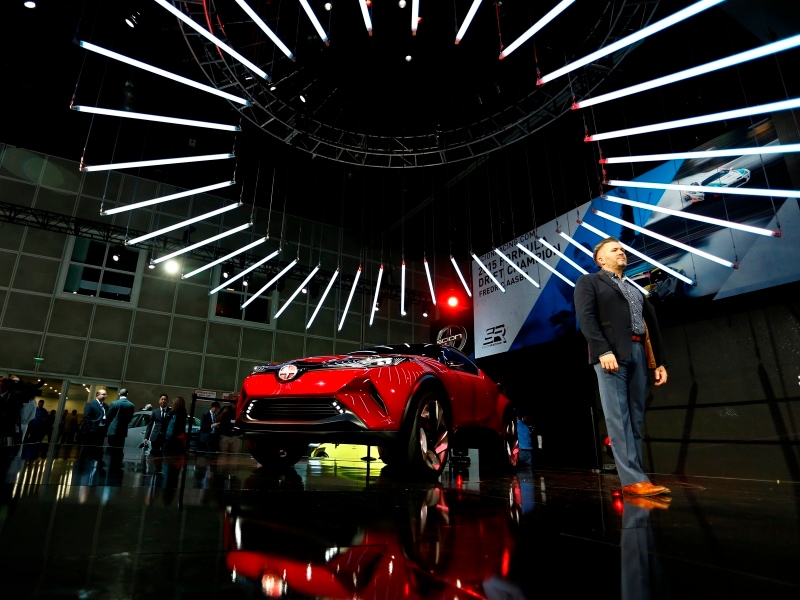 Scion C-HR Concept at the 2015 LA Auto Show ・ Photo by Rex Torres
The L.A. Auto Show has become a global hot spot for new vehicle debuts, and the 2015 edition of the show is no exception. Everything from family-friendly crossovers and SUVs, to sporty coupes, to luxurious sedans can be found on the show floor here in L.A., and we've put together this gallery of the must-see models that deserve your attention.  Whether you crave neck-snapping horsepower, opulent interior design, cutting edge styling, or simply daily practicality, it's waiting for you at the 2015 L.A. Auto Show.
Check out our editor's must-see picks and see what you think of our choices.
2016 Honda Civic Coupe
The 2016 Honda Civic Coupe joins its previously-released four-door counterpart in Honda's entry-level line-up. Featuring a longer wheelbase and a lower roofline than the model it replaces, the new coupe is also much larger inside, especially in the rear seat where passengers have even more room to stretch out. More aggressive looking than the sedan, the Civic Coupe maintains a similar mix of drivetrains, which means a 158 horsepower, 2.0-liter four-cylinder as the base motor and a 174 horsepower, 1.5-liter turbocharged four-cylinder above it. Each is available with a continuously-variable automatic transmission, while only the 2.0-liter benefits from the availability of a six-speed manual (for now - Honda confirms that they are working on a shift-it-yourself version of the turbocharged two-door Civic).
The 2016 Honda Civic Coupe adds a completely redesigned two-door body style to the Civic line-up.
This coming winter.
Pricing has yet to be released for the new Honda
2017 Jaguar XE
The 2017 Jaguar XE marks the automaker's return to the entry-level sedan segment, only this time, it's with an entirely homegrown model intended to compete with the best from BMW, Mercedes-Benz, and Audi. The XE also plants a brand-first turbodiesel flag on American territory with the model offering a 2.0-liter, four-cylinder unit that's good for 180 horsepower and 318 lb-ft of torque. Those seeking a bit more punch can avail themselves of the XE's 3.0-liter supercharged V-6 (borrowed from the F-Type S sports car), which pours on 340 horses and 380 lb-ft of twist through an eight-speed automatic transmission, while entry-level editions feature a new turbocharged 2.0-liter four-cylinder motor. Rear-wheel drive is standard with the Jaguar, while all-wheel drive will be available as an option.
The 2017 Jaguar XE is all-new.
Spring of 2016.
The most affordable version of Jaguar's compact luxury sedan - the XE 25t - features an MSRP of $34,900.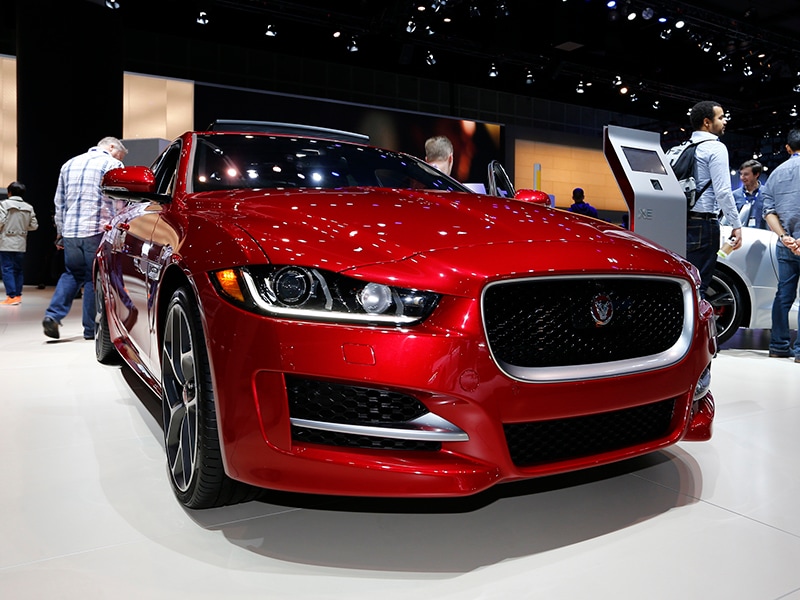 Photo by Rex Torres
2016 Honda Clarity Fuel Cell Vehicle
The 2016 Honda Clarity Fuel Cell Vehicle (or FCV) represents the second-generation version of the car company's hydrogen powered sedan. It also flips the brand's styling script on its head: where the original Honda Clarity was relatively innocuous, the new model offers unusual cues such as rear fender skirts, ultra-sharp, and eye-challenging aerodynamics. Hot on the heels of the similarly out-there Toyota Mirai, it seems as though hydrogen car designers now feel the need to stand out from the crowd with futuristic designs - a decision that may limit customer interest. Capable of driving 300 miles on a single tank of compressed hydrogen fuel, the Clarity FCV offers 174 horsepower along with a less bulky drivetrain. Eventually, Honda promises a plug-in electric sedan based on the Clarity's platform (but hopefully wrapped in more graceful sheet metal).
The 2016 Honda Clarity FCV has been completely redesigned.
Only in California, sometime next year..
No word on pricing from Honda for the Clarity.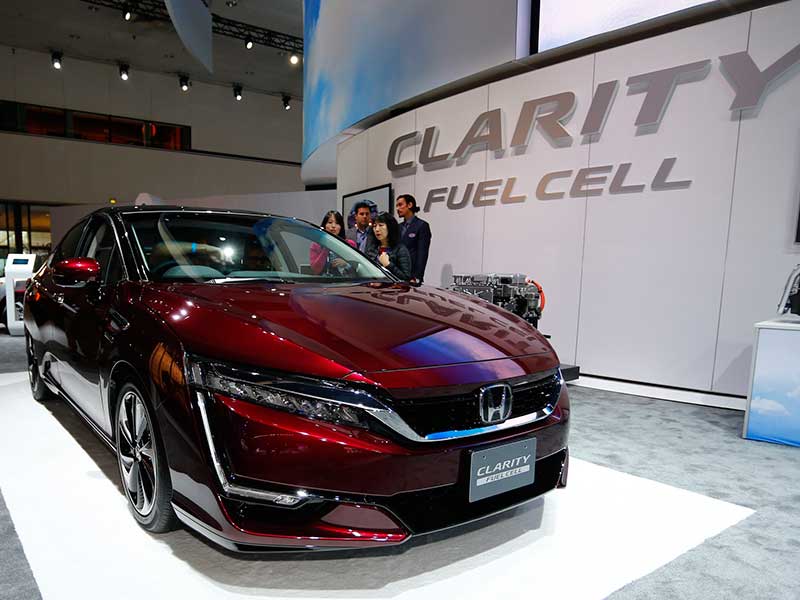 2016 Volkswagen Beetle Dune
It's really here, the 2016 Volkswagen Beetle Dune. We've seen the concept before and heard about how it was inspired by classic Baja Bugs, but now the production version debuts appropriately in Los Angeles. Notice how the ride height is raised by about half an inch and the track is stretched by a similar amount. Elsewhere, the large air intakes, polished aluminum rocker panels, substantial rear wing and rear diffuser/skid plate all help to differentiate the Dune model from the rest of the Beetle range. Propulsion comes from a 1.8-liter turbocharged four-cylinder engine making 170 hp. Equipment levels include 18-inch alloy wheels, rearview camera and the latest generation of VW's infotainment system. Apple CarPlay (or Android Auto) is also part of the package. Ultimately, the Dune will be available as a coupe or a convertible in Sandstorm Yellow, Pure White and Deep Black Pearl.
 Nothing, from concept to production model.
 Early 2016 for the coupe; later in 2016 for the convertible.
 To be announced.
2016 Volkswagen Beetle Denim
The 2016 Volkswagen Beetle Denim is a rolling homage to the old Jeans Beetle from the 1970s. Production is limited to 2,000 units, split equally into Stonewashed Blue or Pure White color schemes, with a dark blue fabric roof textured to resemble denim. The interior is kitted out with light blue fabric and seat pockets with those little red tabs. Instead of "Levi," they say, "Beetle." The Denim edition, first displayed as a concept at the 2015 New York show, employs a 170-hp 1.8-liter turbocharged four-cylinder engine linked to a six-speed automatic transmission. Standard equipment includes a rearview camera, Bluetooth, and the latest generation of VW's infotainment system.
From concept to production reality.
 Early 2016.
 To be announced, but VW says this will be a "value model" implying that buying a regular Beetle and then speccing it up to a comparable level as this model would work out more expensive.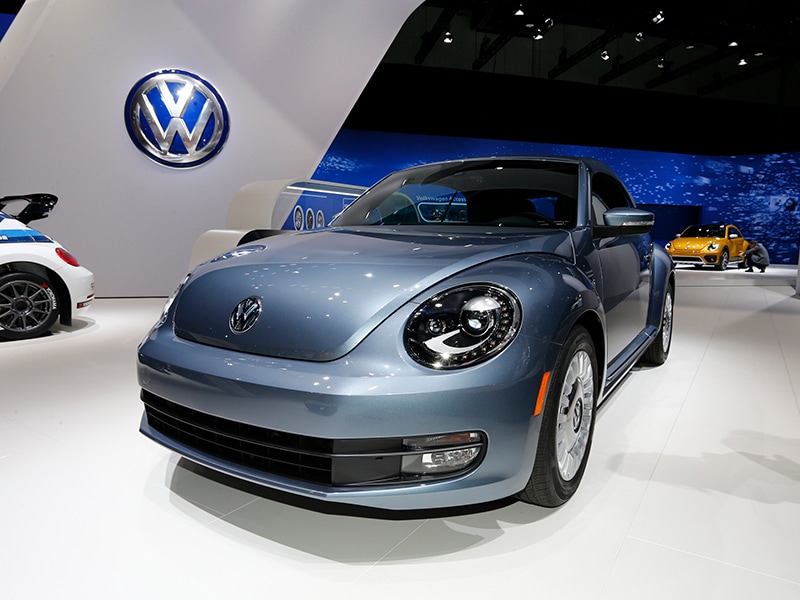 Photo by Rex Torres
2017 Fiat 124 Spider
If the 2017 Fiat 124 Spider looks vaguely familiar, that's because it's based on the current Mazda MX-5 Miata roadster. It's principally the front and rear ends that have their own designs, created in Turin. But it's also good to know that under the skin is an excellent set of bones. This car launches with a 160-hp, 1.4-liter turbocharged engine. However, excitable rumor-mongering types anticipate a range-topping Abarth version that could have the same turbocharged 1.75-liter engine found in the glorious Alfa Romeo 4C. And the MX-5/124 Spider chassis can easily deal with that unit's 240 hp. This model and the Mazda are expected to be built in the same Japanese facility.
 This is an all-new car for Fiat, reviving a badge not seen for decades.
 Mid-2016.
 Nothing official yet. Somewhere around $26,000, perhaps.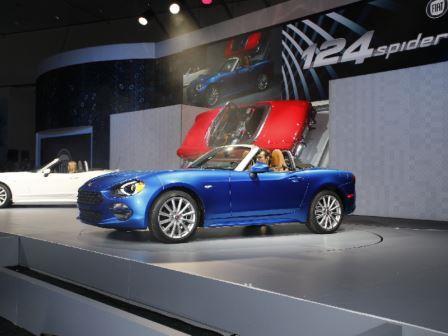 Photo by Rex Torres
2017 Ford Escape
The 2017 Ford Escape marks a mid-cycle refresh for this popular compact crossover. The most significant developments are in the technologies now on offer. This is the first Ford with Sync Connect: the ability to locate the vehicle, lock and unlock doors, and start the engine with a smartphone app. Many safety features are also available, like adaptive cruise control, forward collision warning, lane-keeping assist, and park assist. And just for good measure, there are two new turbocharged engines. A 1.5-liter four-cylinder is now standard in SE and Titanium trim levels, bringing 180 hp. A 245-hp 2.0-liter motor is optional. Both have a start/stop feature for greater fuel efficiency. Outwardly, there's some re-styling at each end, bringing a resemblance to the Ford Edge midsize crossover. There are also tech changes, plus a couple in the engine bay. Spring 2016. No official pricing yet. The current range starts at $23,450 plus destination charges, so it won't stray far from there.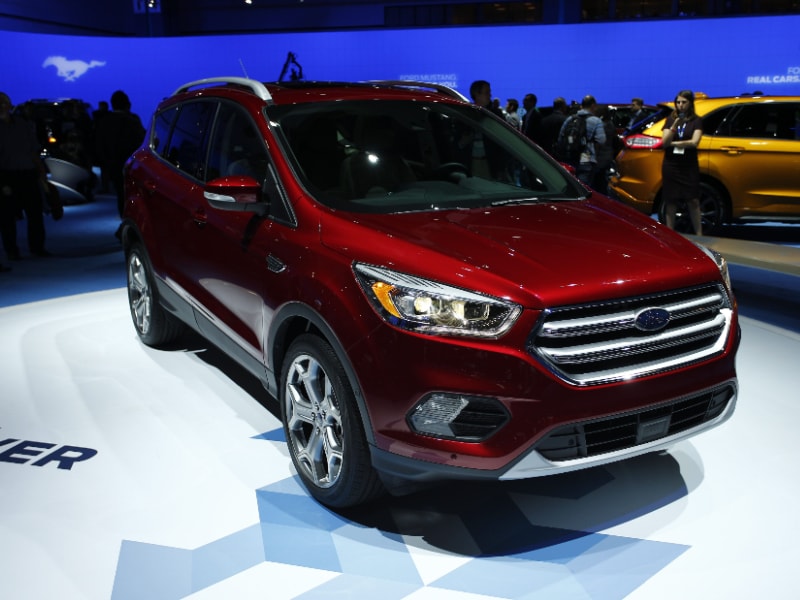 Photo by Rex Torres
2017 Hyundai Elantra
The 2017 Hyundai Elantra comes to the Los Angeles auto show as the sixth generation of this compact sedan. Refinement is paramount, while the car deploys high-strength steel in crucial areas to keep weight down without compromising on safety (it's expected to earn top crash test scores). Just under an inch longer and wider than the outgoing generation, the new Elantra offers safety and tech features more often found in larger, premium cars. The main engine is a 147-hp 2.0-liter four with claimed average consumption of 33 mpg. A turbo 1.4 is promised for early 2016, good for 128 hp and 35 combined mpg. Variants may follow, such as a GT hatchback and perhaps a coupe. This is an all-new generation. Note how the styling echoes the larger Hyundai Sonata sedan. January 2016. No official pricing yet. The current range starts at $17,250.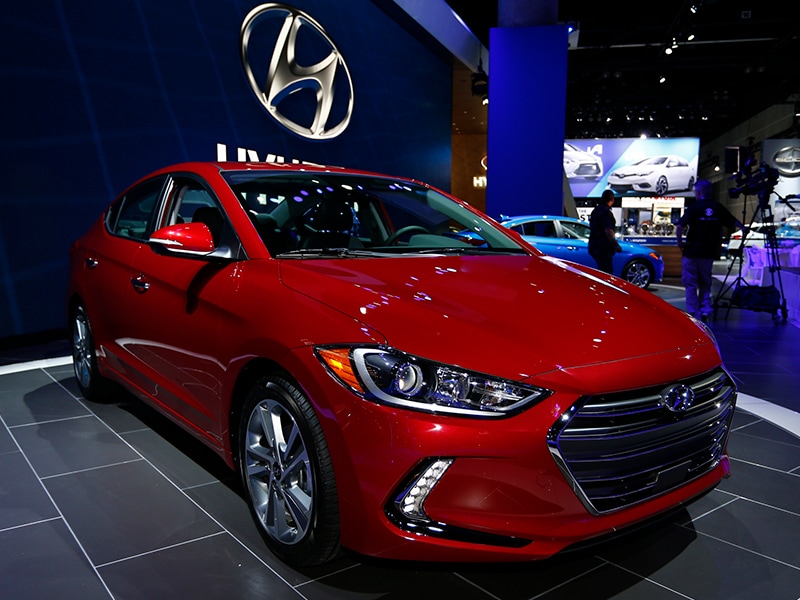 Photo by Rex Torres
2017 Kia Sportage
Here comes the fourth generation of Kia's compact crossover: the 2017 Kia Sportage. It retains the "tiger nose" grille in common with the rest of the Kia range. And its design was still overseen by Peter Schreyer (who used to work for Audi and is recognized as an industry great). But it's longer than the outgoing model: 176.4 inches (a stretch of 1.6 inches) with a longer wheelbase of 105.1 inches, up by 1.2 inches. This bodes well for ride comfort, rear passenger space and cargo volume. Cabin materials take a step up as well, with more soft-touch plastics and cool touchscreens. Levels of noise, vibration and harshness, meanwhile, all go down. Trims are LX, EX and SX Turbo. All-wheel drive is available and so are things like autonomous emergency braking, lane departure warning, blind spot monitoring, rear cross-traffic alert, and Apple CarPlay. This is a whole new generation, from the frame out and the ground up. Some time in 2016. Too soon to say, but mid-20s is probable.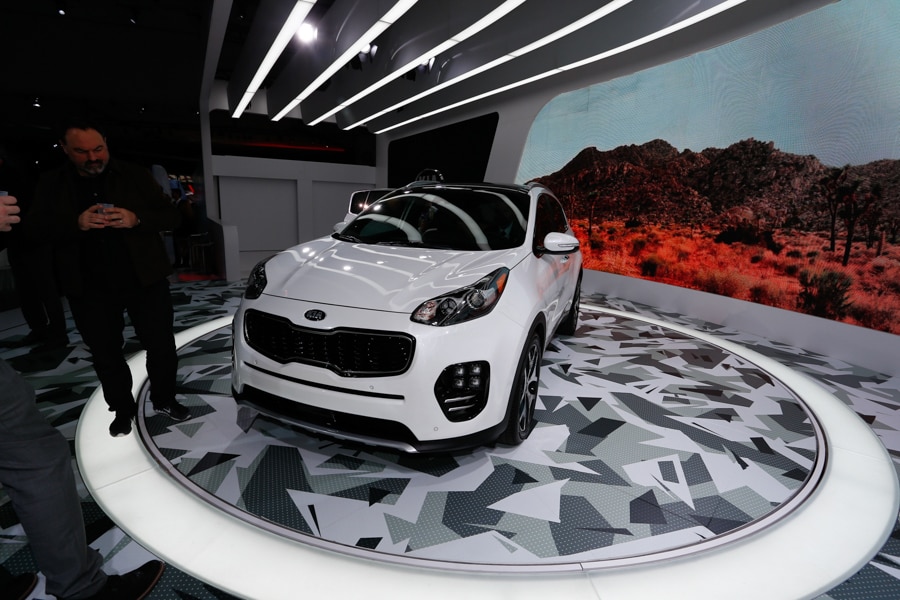 Photo by Rex Torres
2017 Mercedes-Benz GLS Class
Coinciding with a mid-generation revamp, the 2017 Mercedes-Benz GLS-Class takes over from the GL. It remains a full-size luxury SUV that seats up to seven, but because it's based on the same platform as the S-Class flagship sedan, that third letter becomes part of the name. The company plans to make this the S-Class of the SUV world, with the most luxurious appointments and plenty of high tech to match. There's also a V6-powered entry level version: the GLS450. It uses a nine-speed automatic transmission, which is in the GLS550 (now boosted to 449 hp) and the diesel-powered GLS350d as well. For ultimate power, the GLS63 AMG now makes 577 hp. Styling now harmonizes with the rest of the current Mercedes-Benz output. Spring 2016. Nothing official yet, but starting at around $65,000 isn't a bad guess.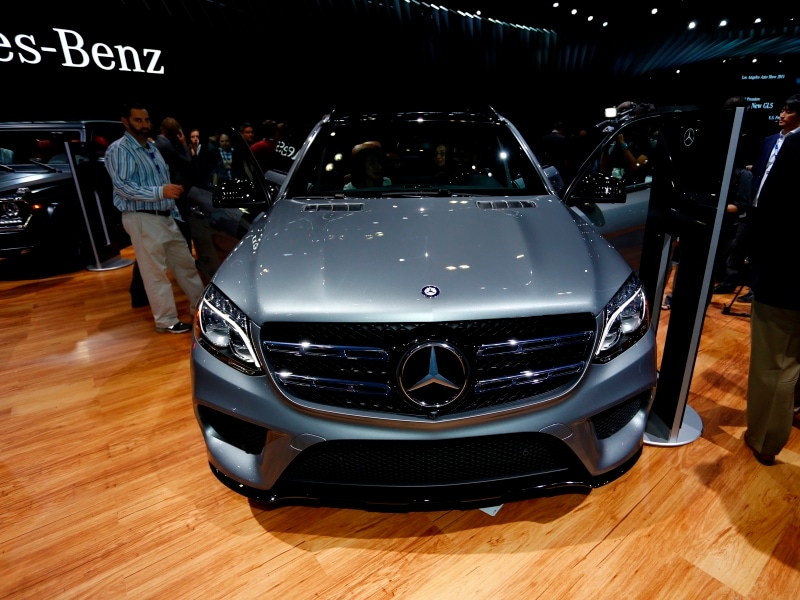 Photo by Rex Torres