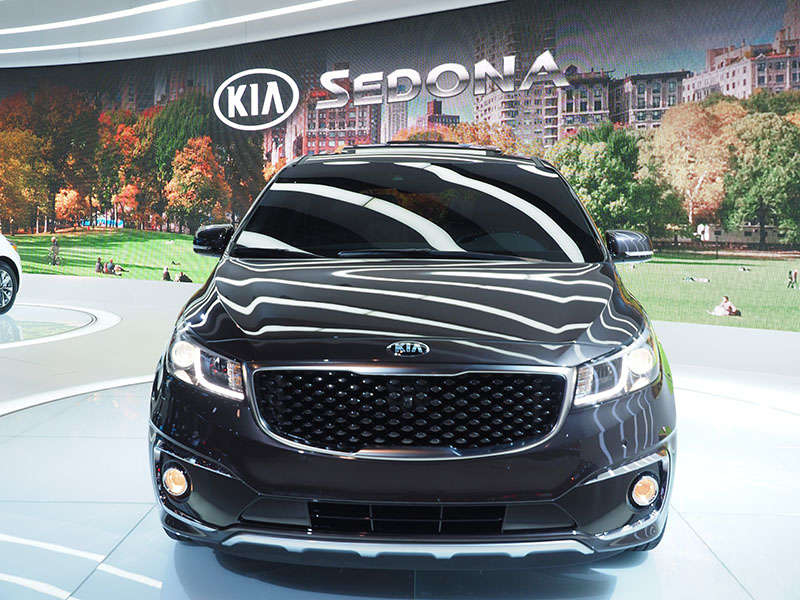 2014 LA Auto Show kia sedona
It's been happening for some time but one of the hottest and most interesting segments at the 2014 Los Angeles Auto Show has to be the minivans and vans. The old standby family minivans only have one completely new offering this year (the Kia Sedona) but the mid-size and full-size cargo vans are starting to multiply. See them all in one place before you start seeing them multiplying on the 405 freeway.
2015 Chevrolet City Express
A new development in the commercial vehicle marketplace is the compact van. Ford's Transit Connect is the most familiar model, but it's now joined with entries from other makers. One of which is Chevrolet with the new utility-oriented City Express. About the same length as a Chevy Cruze, and based on Nissan's NV200, the City Express has unique front and rear fascias to differentiate it from the Nissan van-let. Power comes from a 2.0-liter, 131-horsepower four-cylinder engine, teamed with a continuously variable transmission to feed the front wheels. Useful touches include sliding doors on both sides, wide door pockets, a drawer beneath the driver's seat, a fold-flat passenger seat and of course, a flat load floor. The City Express boasts 122.7 cubic feet of cargo space.
All-new for the 2015 model year.
On sale now.
Pricing starts at $21,955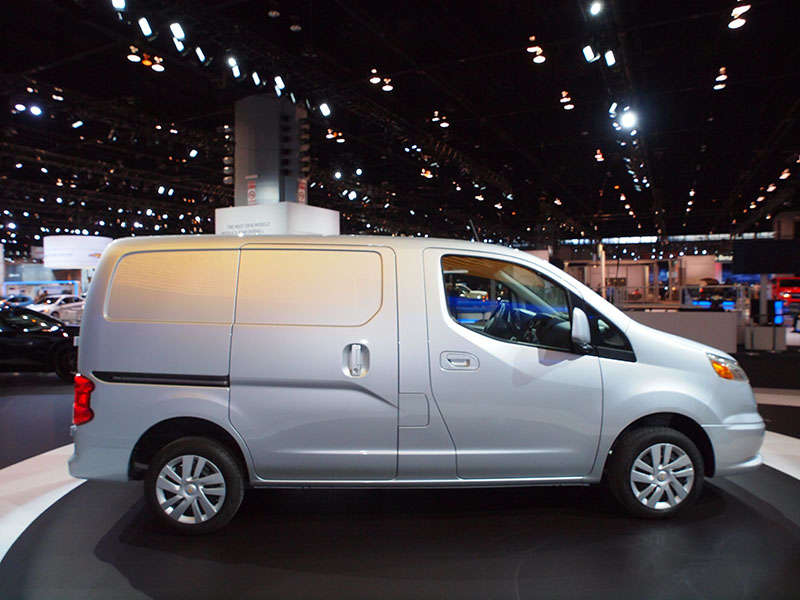 2015 Ram ProMaster City
The Fiat connection continues to proliferate throughout the Chrysler lineup; this time in the form of the Ram ProMaster City, a compact van for light duty commercial applications and passenger use. Power comes from Chrysler's now-familiar 2.4-liter "Tigershark" inline four-cylinder. The horsepower rating is 178, while the torque figure is quoted at 174 ft-lbs. This is routed to the front wheels through a nine-speed automatic transmission. Found on each side of the ProMaster City are sliding doors with 26-inch openings to make ingress and egress more convenient. Speaking of doors, the rear doors are split 60/40—with the wider door being on the traffic side of the street so it doesn't impede access to the curbside. They also swing open 180 degrees to ease straight-in loading.
All-new for 2015.
On sale early 2105.
Pricing has yet to be announced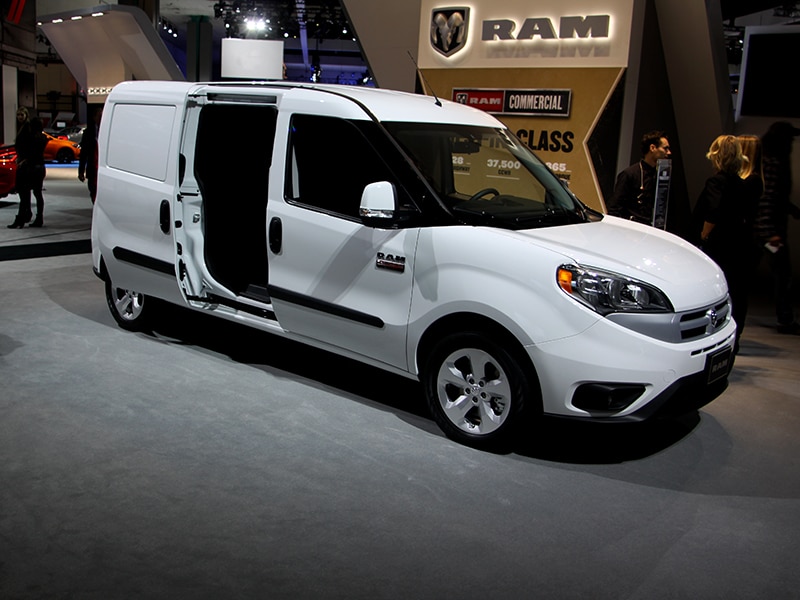 2015 Kia Sedona
Most manufacturers stepped away from the minivan, leaving it to Toyota, Honda and Chrysler. But Kia confidently steps in with an all-new version of its Sedona. In an effort to broaden the model's appeal, Kia's design team gave the Sedona something of a crossover suv profile. As a result, Sedona is easily the most handsomely styled minivan on the market. The 2015 Kia Sedona also boasts a strong value story—as you'd expect from Kia. Power is generated by a 3.3-liter V6 producing 276 horsepower and 248 ft-lbs of torque. Sedona's front wheels are fed through a six-speed automatic transmission. Standard features include forward collapsing second row seats, a split-folding third row seat, rear air conditioning controls, Bluetooth telephony and audio streaming, rear parking sensors, and dual gloveboxes. 
Sedona is all-new for 2015.
On sale now
Pricing starts at $25,900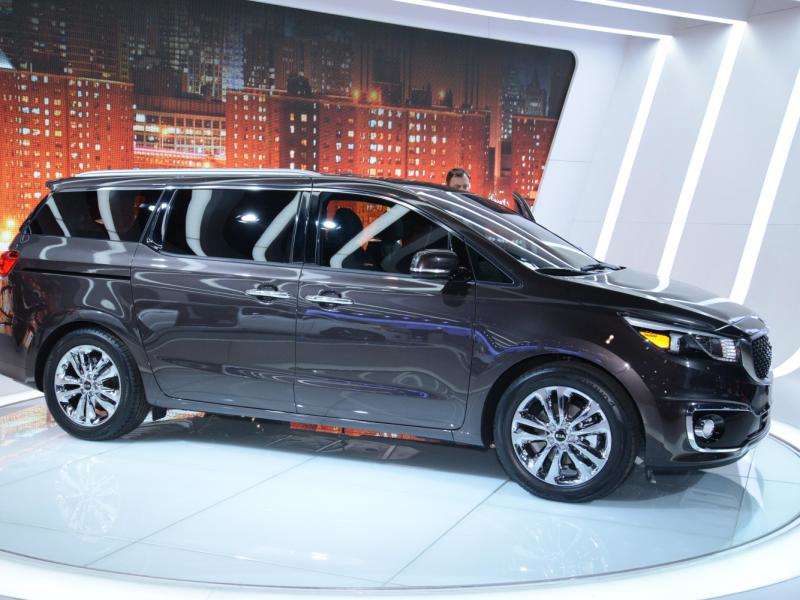 2015 Ford Transit
While the Mercedes Sprinter is the archetype in this category, Ford's Transit is the latest entry in the new breed of full-size commercial vans. Lighter, more fuel efficient, and better handling than the old body-on-frame vans, they are more commodious too. That said; Ford's effort is compelling. Power comes from a choice of three engines. The base powerplant is a 3.7-lter V6 with 275 horsepower and 260 ft-lbs of torque. There's also a turbocharged 3.5-liter V6 with 310 horsepower and 400 ft-lbs of torque. The diesel option makes 185 horsepower and 350 ft-lbs of torque from a 3.2-liter turbocharged V6. The rear-drive powertrain uses a six-speed automatic transmission. Ford claims payloads of up to 4,650 pounds and a maximum tow rating of 7,000 pounds when properly equipped.
Ford Transit is all-new for 2015.
On sale now.
Pricing starts at $29,565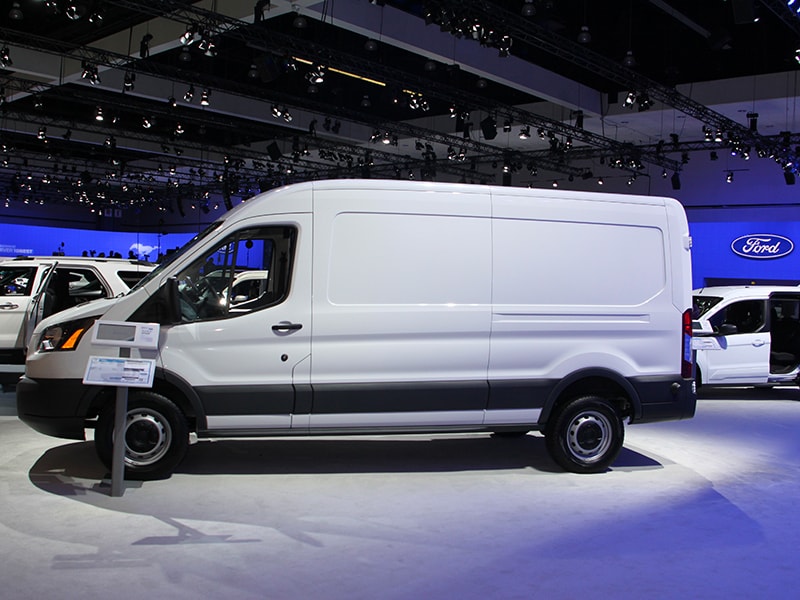 2015 Honda Odyssey
Of late, most critics have roundly lauded Honda's Odyssey minivan as the best of the breed. Redesigned for the 2014 model year, Odyssey seats up to eight in a three-row configuration. The second row seats can be spread apart to keep kids out of reach of one another, or to create a middle aisle to ease access to the third row. This is the kind of thinking keeping Odyssey out in front of the pack. Power for the front-drive powertrain comes from a 248-horsepower, 3.5-liter V6 with 250 ft-lbs of torque flowing through a six-speed automatic transmission. Standard features include a rearview camera, Bluetooth audio streaming and phone connectivity, power adjustable front seats, a 60/40 folding third row seat, and two-zone air conditioning.
Reworked for 2014, Odyssey goes into 2015 with no changes.
On sale now.
Pricing starts at $28,975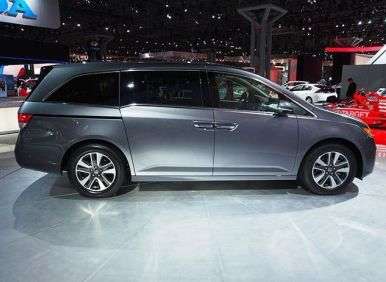 2015 Toyota Sienna
The minivan segment, while boasting fewer models than in the past, continues to be something of a highly competitive environment. Of all the players however, only one offers the option of an all-wheel drive powertrain—Toyota newly revamped Sienna. Power for Toyota's family hauler comes from the same 3.5-liter V6 employed in the previous version of the minivan. Output is 266 horsepower and 245 ft-lbs of torque. The engine is mated to a six-speed transmission, which feeds either the front- or all four wheels in all-wheel drive models. Extensive standard features include a three-zone automatic climate control system, a touchscreen audio system, a rear view camera, blind spot monitoring, and automatic headlights.
Beautiful new interior treatments; quieter and better handling than before; plus a nice array of tech features for comfort and convenience.
On sale now.
Pricing starts at $28,600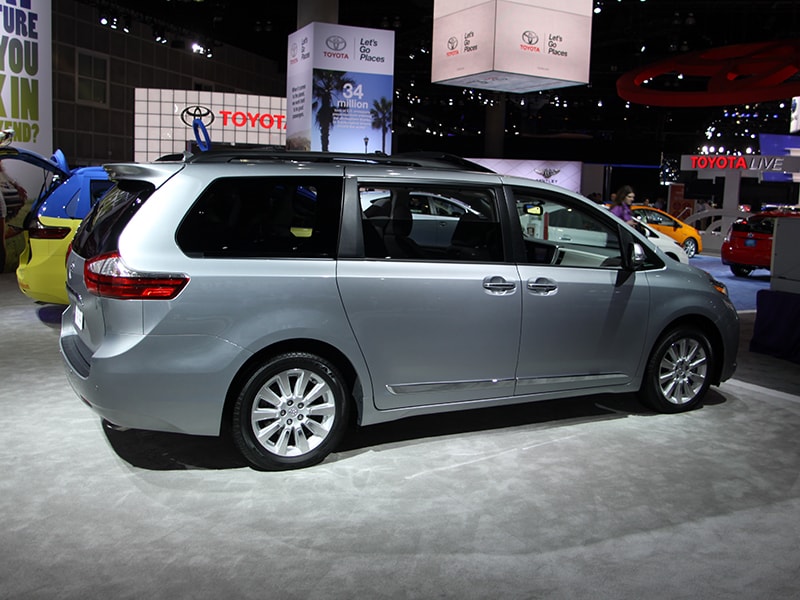 2015 Chrysler Town & Country
Chrysler's Town & Country is one of the American marketplace's two remaining domestic minivans. Though Chrysler didn't invent the minivan, the company is credited with modernizing it and taking it mainstream. Today's Chrysler Town & Country is one of the most luxurious examples of the genre. Power comes from a 283-horsepower, 3.6-liter V6 producing 260 ft-lbs of torque. The front-drive powertrain employs a six-speed automatic transmission. Standard features include dual power-sliding side doors and a power-operated rear hatch, Stow 'n Go foldaway second-row seats, remote keyless entry, tri-zone automatic climate control, Bluetooth audio streaming and telephone connectivity, and leather upholstery.
A more affordable LX version is offered, and the Limited moves farther upmarket with more comprehensive content. The new top of the line Town & Country is designated the Limited Platinum.
On sale now.
Pricing starts at $29,995