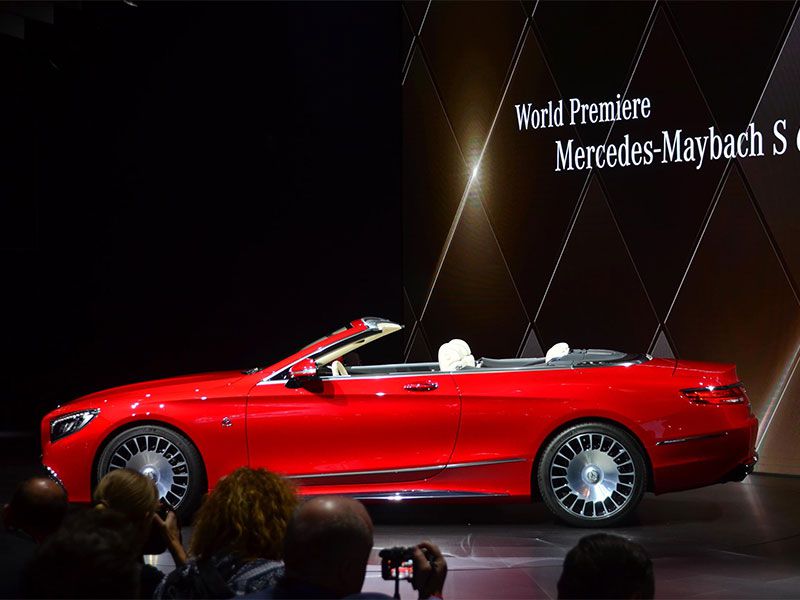 Mercedes Maybach S 650 Cabriolet at LA Auto Show NewspressUSA ・ Photo by Newspress USA
Angelinos love luxury cars, and you'll find plenty of them at this year's Los Angeles Auto Show—along with a plethora of handy sedans. Here are some of the best sedans and luxury vehicles at this year's LA Show.
2018 Alfa-Romeo Stelvio
Alfa-Romeo's return to the United States is well under way. We've just driven the Giulia sedan and loved it; at LAAS, we saw the new Stelvio SUV, and we've no reason to believe we'll love it any less. The styling is beautiful, the interior is elegant, and as its mechanicals are largely shared with the Giulia, we're pretty sure it will be terrific to drive. The Stelvio is an all-new SUV. Late 2017. Pricing has not been announced.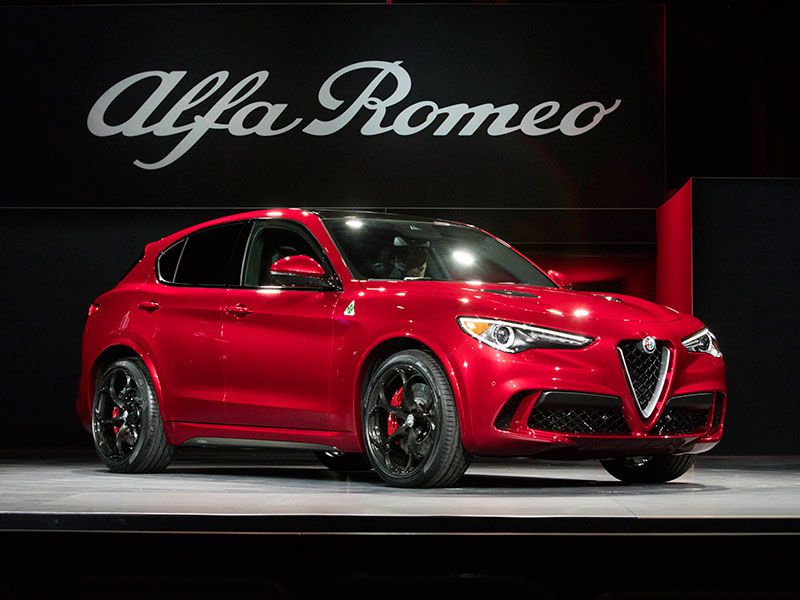 Photo by Fiat Chrysler Automobiles
2018 Audi A5 Sportback and S5 Sportback
Audi is the latest German manufacturer to build a four-door hatchback and call it a coupe (a concept that drives us slightly bonkers, and not in a good way). Even though the new cars wear the A5 and S5 monikers, you can think of them as hatchback versions of the A4 and S4. Both have room for five and generous luggage space. The A5 gets a 252 horsepower turbo four-cylinder, while the S5 is powered by a 354 hp turbo V6. The Sportback is a new body style for the A5 and S5. Spring 2017. Pricing hasn't been announced.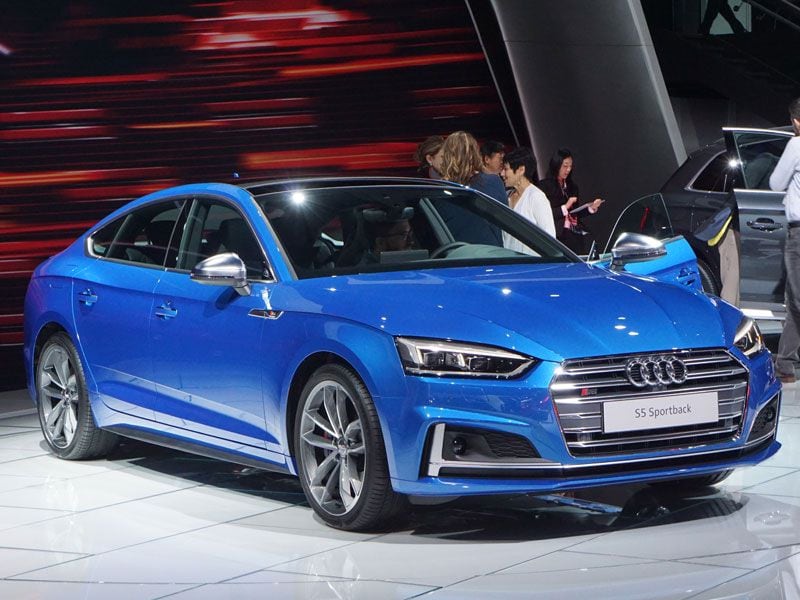 Photo by Aaron Gold
2018 Audi Q5
Audi is introducing the all-new version of the Q5 at the Los Angeles Auto Show. Styling improvements are subtle, but it's the electronics that really boil our potatoes—Audi's optional "Virtual Cockpit" is a full-video dash that can show real-time Google maps. We also love the updated turbo engine (now 252 hp strong) and standard Quattro all-wheel-drive. The Q5 has been completely redesigned. Spring 2017. Pricing has not been announced.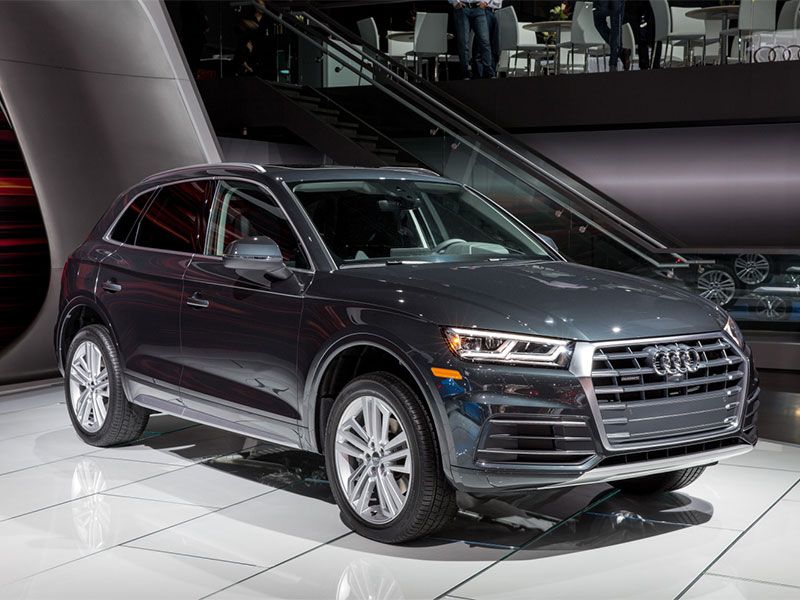 Photo by Audi
2017 BMW 330e iPerformance
BMW is getting into the plug-in hybrid racket, and it's no surprise that they are doing it with a performance bent (go to the show and you'll note the big "iPerformance" sticker on the car). Sure, the new 330e will go 14 silent miles on battery power only—but it'll also blast to 60 MPH in under six seconds. This is a new plug-in hybrid version of the venerable 3-series. Now. $44,695 for starters.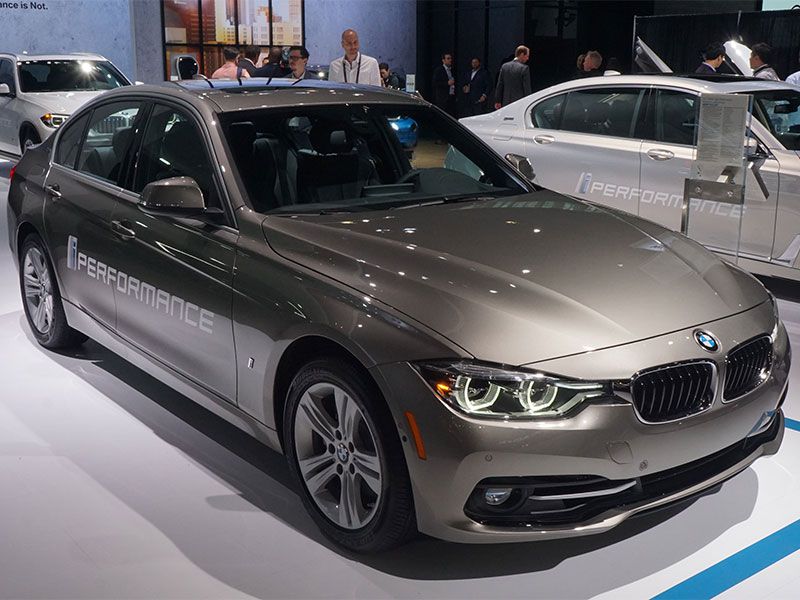 Photo by Aaron Gold
2017 BMW 740e iPerformance
Another member of BMW's new plug-in hybrid line is the Seven series. It uses the same four-cylinder turbocharged powerplant as the 330e, with electric drive to boost the output to 322 hp. That may not seem like very much power for such a big car, but consider that BMW made extensive used of carbon fiber reinforced plastic to reduce the car's weight. BMW added a plug-in hybrid powertrain to the 7-series. Right away. $90,095.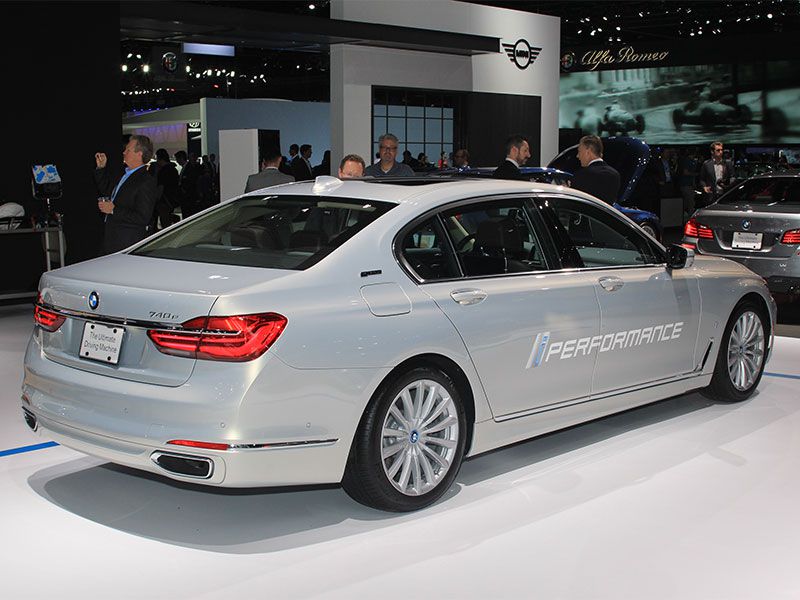 Photo by Matt Carpenter
2017 Buick LaCrosse
The LaCrosse is Buick's freshly-redesigned big sedan, and the all-new version is lighter, lower and wider—and it's also much more athletic, both in terms of styling and the way it drives. The new LaCrosse has 305 horsepower under the hood and a lovely interior. Warning: Sitting in a LaCrosse may change your opinion of Buick. The LaCrosse is all new for 2017. Now. $31,065.
Photo by Matt Carpenter
2017 Cadillac CT6 Plug-In Hybrid
We already think of the CT6's performance as electrifying, so it was cool to see a CT6 that really is electrified. The hybrid CT6 combines the CT6's turbocharged four cylinder engine with two electric motors, for a total system output of 335 hp. Fully charged, the CT6 can drive up to 30 miles on electricity alone. Caddy's big CT6 gets a plug-in hybrid drivetrain. Spring 2017. $76,090 less electric vehicle tax incentives.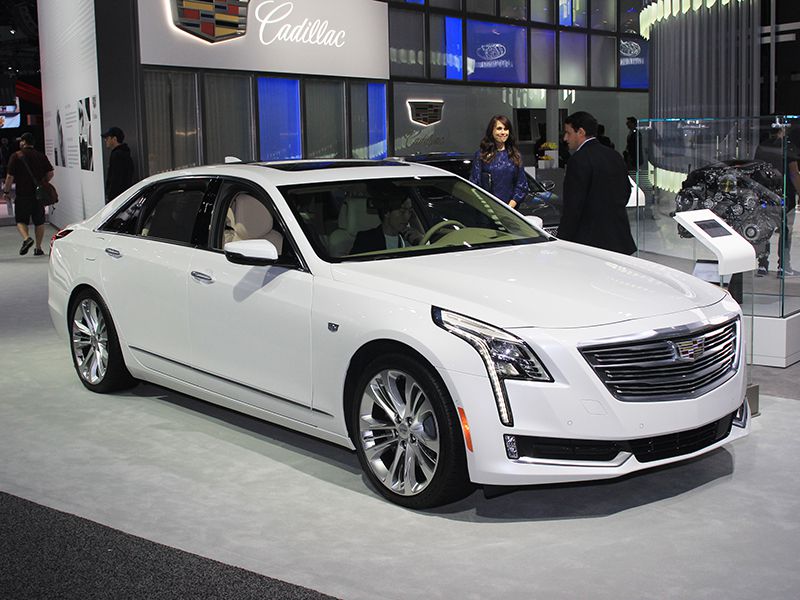 Photo by Matt Carpenter
2018 Genesis G80 Sport
Genesis is the new luxury brand from Hyundai, and the G80 is the car formerly known as the Hyundai Genesis Sedan. The new G80 Sport takes the twin-turbo V6 from the bigger G90 and stuffs it into a car that weighs about 400 lbs. less. A unique grille and subtle copper-colored accents outside and in further differentiate the car, which Genesis division boss Erwin Raphael describes as driving "like a bat out of hell". This is a new sporty version of the G80. Spring 2017. Genesis has not revealed pricing.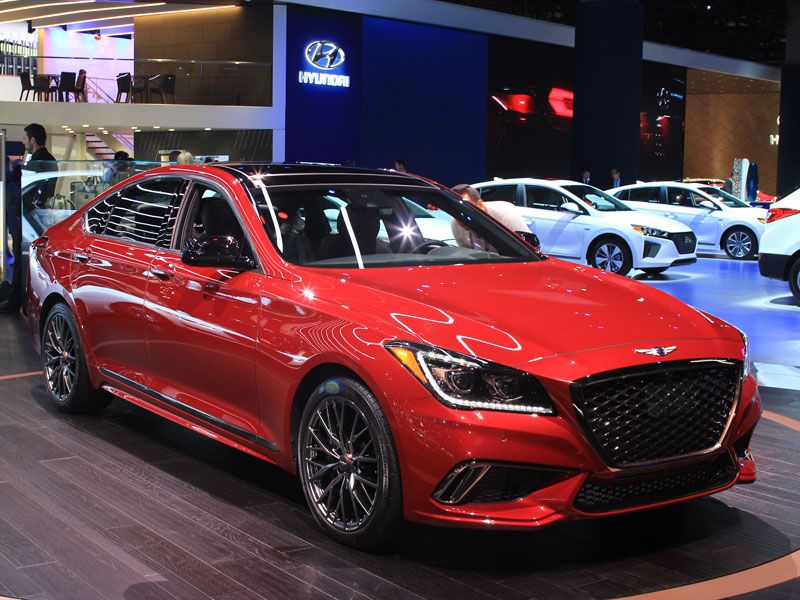 Photo by Matt Carpenter
2017 Genesis G90
From Hyundai's Department of You've Gotta See This comes the G90, the opulent flagship from the South Korean automaker's new Genesis luxury sub-brand. The big G90 has a massive back seat with reclining seatbacks, which is the way South Korean executives prefer to travel. A powerful V8 and soft, quiet ride round out this unlikely challenger to the big German sedans. Genesis offers buyer amenities such as free pick-up, drop off, and a loaner car for service and warranty repairs. The G90 is the flagship model of Hyundai's new Genesis brand. Right now. $69,050.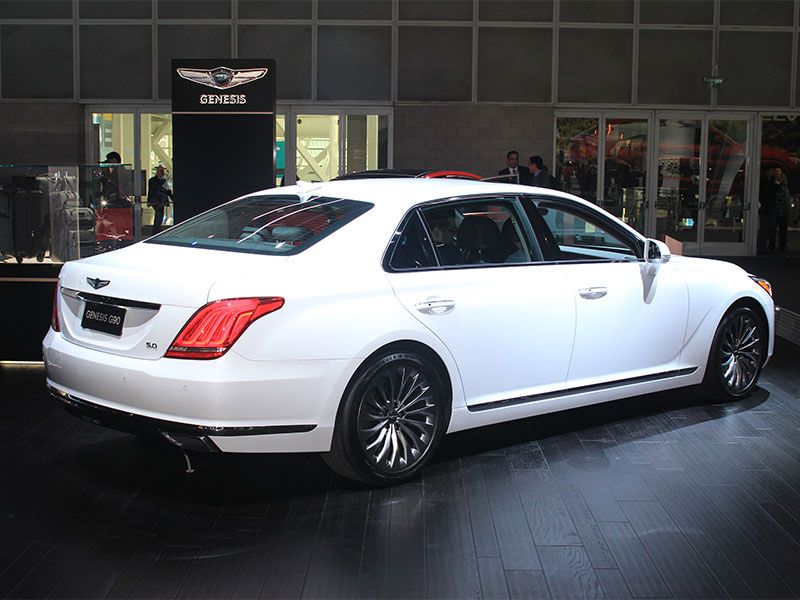 Photo by Matt Carpenter
Honda Accord Hybrid
Here's a car that doesn't get the recognition it deserves. The Accord Hybrid promises 48 MPG, and by and large it delivers, thanks to a brilliant hybrid drivetrain unlike anything else other manufacturers are using. Honda's famous quality and lots of stretch-out space in the back seat round out this fantastically fuel-efficient sedan. The Accord Hybrid gets refreshed styling and new features for 2017. Right away. $29,605.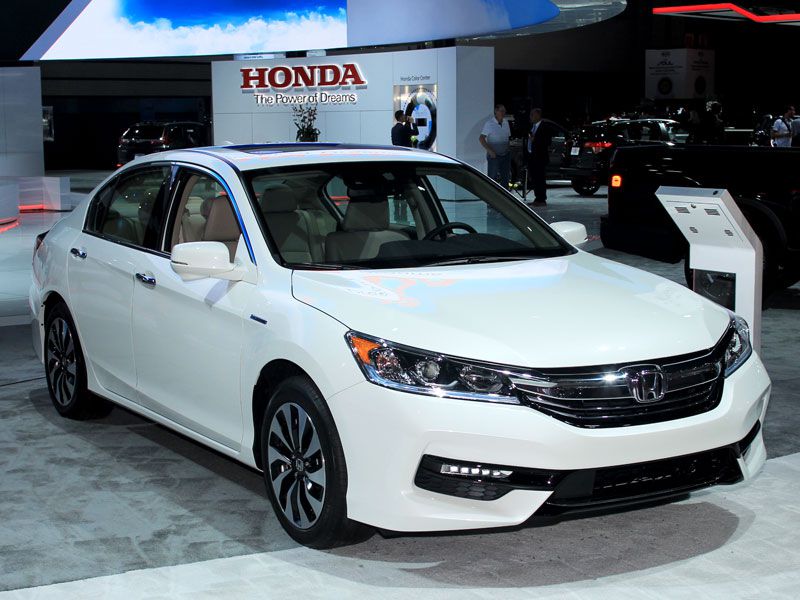 Photo by Matt Carpenter