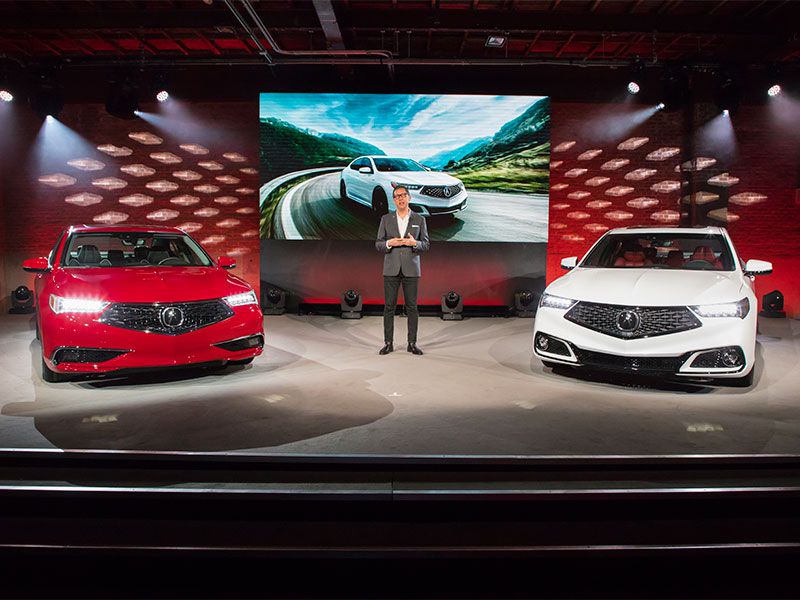 2018 Acura TLX Reveal ・ Photo by Acura
The 2017 New York International Auto Show featured a flurry of new sedans and luxury cars, and was the showcase for several notable cars that premiered earlier in the show season. Let's take a look at the most significant sedans and luxury cars displayed at the 2017 New York Auto Show.
2018 Acura TLX
Acura premiered the updated TLX at the New York Auto Show. Acura's middle-sized sedan gets styling updates inside and out, including an attractive new grille. Acura also announced the TLX A-Spec, a more performance-oriented version of the TLX that gets sportier suspension tuning and revised power steering programming to deliver a more involved driving experience. The TLX A-Spec will be available with either front- or all-wheel drive.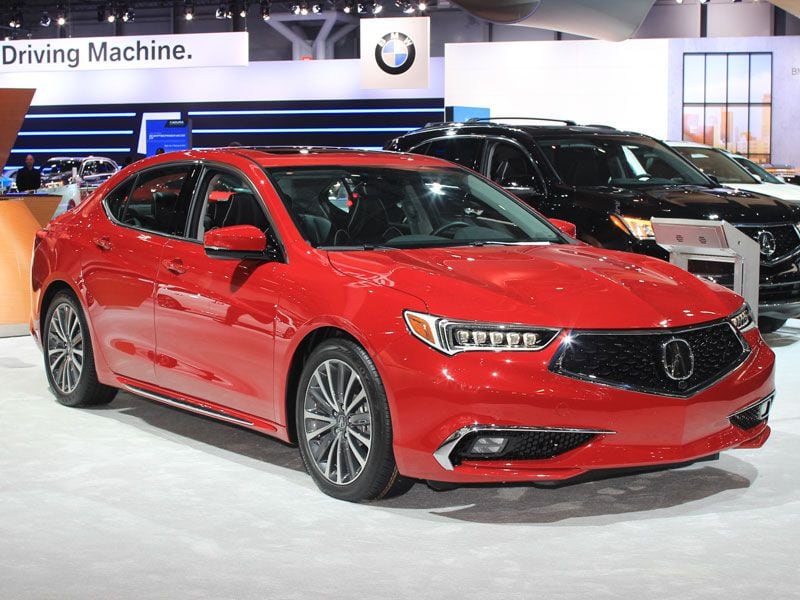 Photo by Matt Carpenter
2018 Audi RS3
For years, American buyers were denied access to Audi's top-performing RS series cars, but now the RSs are funneling in, including the nifty little RS3 sedan. Based on Audi's compact A3, the RS3 features a 400-hp turbocharged 5-cylinder engine. Audi says this little rocket ship will reach 60 mph in 3.9 seconds. Pricing has been set at $54,900, which means it will cost more than the BMW M2 and Mercedes-AMG CLA45.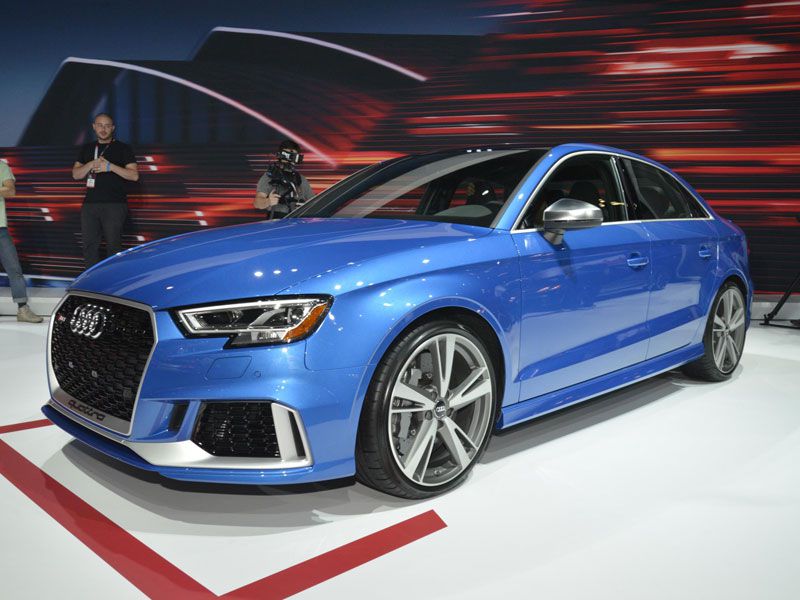 Photo by Newspress USA
2018 Buick Regal Sportback
Buick introduced the all-new version of the Regal, probably the last vestige of Opel-designed Buicks (Opel, General Motors' European division, was recently sold to French automaker Groupe PSA). Buick surprised the automotive world by announcing there would be no Regal sedan; instead, it would be offered as a slick 5-door hatchback called the Sportback as well as a wagon called the TourX (see next slide).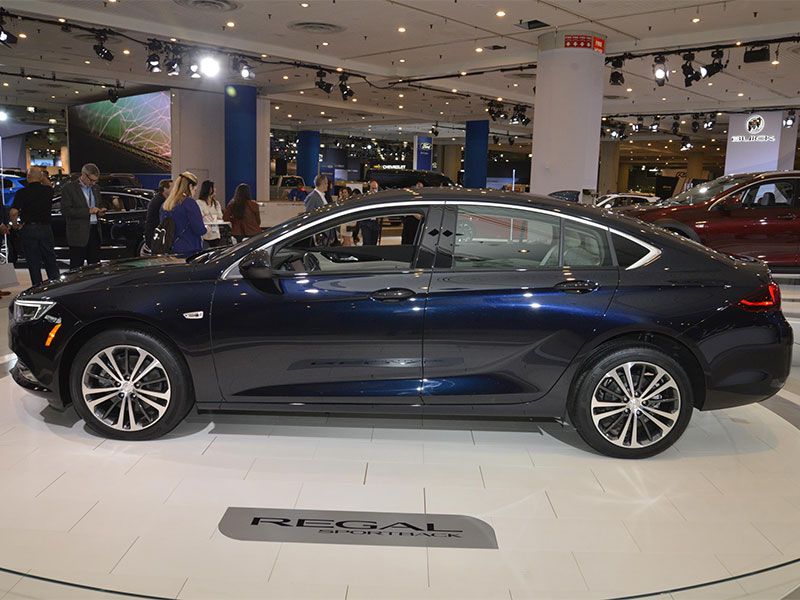 Photo by Newspress USA
2018 Buick Regal TourX
Along with the 5-door Sportback hatch, Buick will offer the Regal as a wagon called the TourX. The Regal TourX rides higher than the Regal Sportback and has black cladding on the fenders and rocker panels, similar to Subaru's Outback and Volvo's Cross Country cars. It shares its 250-hp 2.0-liter engine with the Sportback, but all-wheel drive, optional on the hatch, will be standard on the TourX.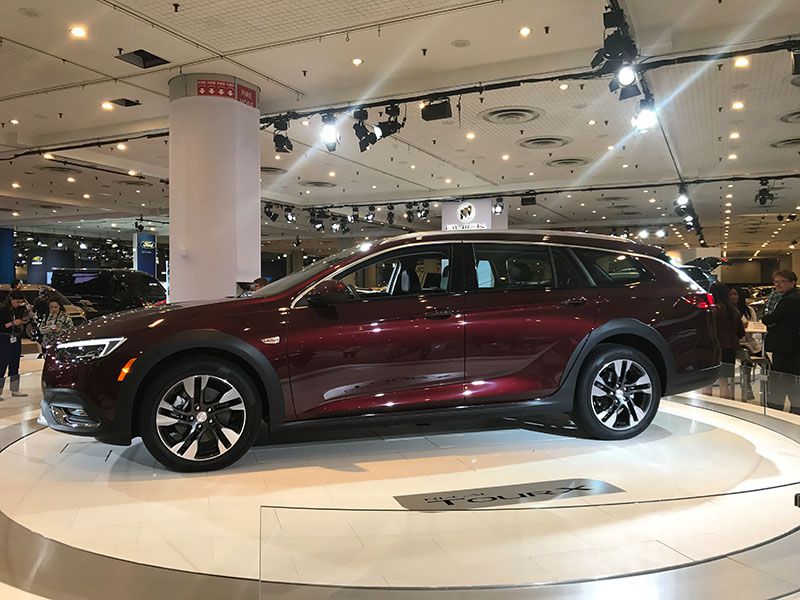 Photo by Carrie Kim
Ford Police Responder Hybrid
Ford introduced the first pursuit-rated hybrid police car, the Police Responder, which is based on the midsize Fusion (as opposed to the Police Intercepter sedan, which is based on the Taurus). The Police Responder shares much of its powertrain and running gear with the Fusion Hybrid, but has been beefed up for the rigors of pursuit, including a raised suspension to take curbs at speed. Ford estimates the hybrid powertrain can save municipalities $3,900 in fuel every year.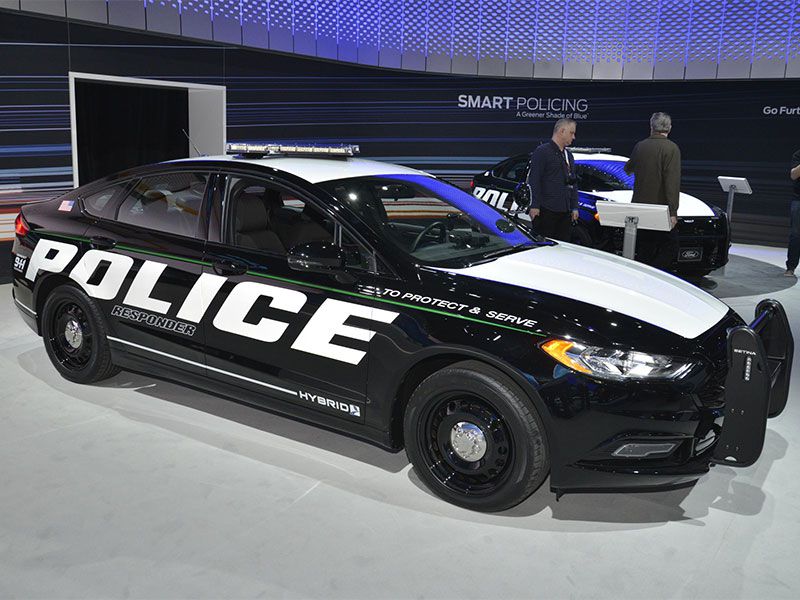 Photo by Newspress USA
2017 Honda Clarity Electric
This is one of two Clarity models Honda introduced at the New York Auto Show, complementing the hydrogen-powered Clarity Fuel Cell introduced last year. All three share body shells and styling. The Clarity Electric, as its name implies, is a battery-powered electric car; unfortunately, its range is only around 80 miles, which means it falls far short of most electric cars currently (no pun intended) on the market.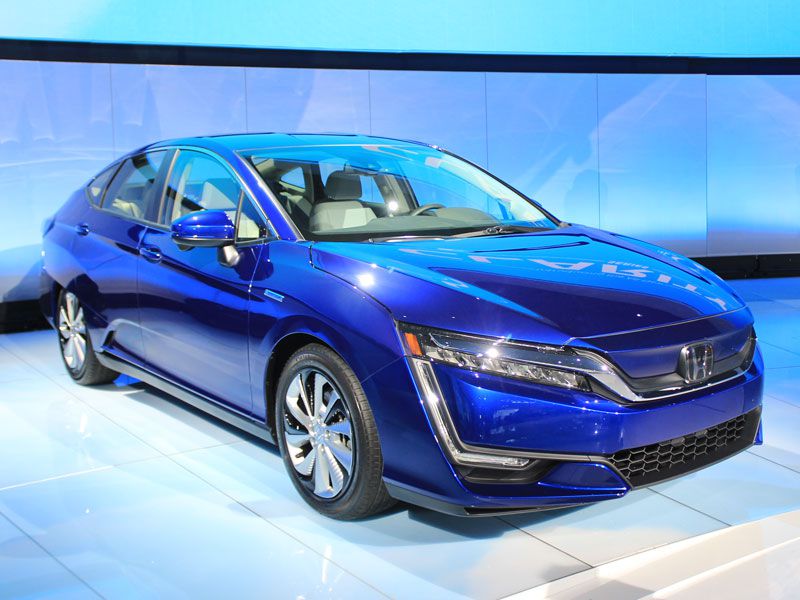 Photo by Matt Carpenter
2018 Honda Clarity Plug-In Hybrid
Arguably more useful than its electric-only cousin, the Clarity Plug-In uses a 1.5-liter turbocharged engine and an electric motor with a large plug-in battery. The Clarity Plug-In can run up to 42 miles on battery power alone (only the Chevrolet Volt goes further), and the gas engine gives it a total range of 330 miles. Funky fender-skirted styling is shared with the Electric and Fuel Cell versions of the Clarity.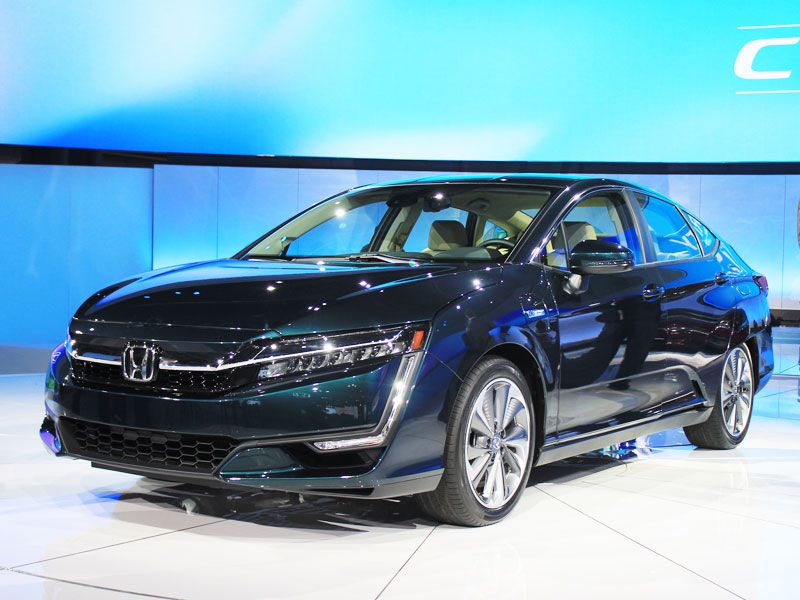 Photo by Matt Carpenter
2018 Hyundai Sonata
Hyundai gave its midsize Sonata a facelift for 2018, and presented that new face to the public at the 2017 New York Auto Show. The updated Sonata gets a bigger, lower-reaching grille (which seems to be the trend these days) and sharper creases in the hood and bodysides. Other changes include a revised interior layout, improved steering, a reworked rear suspension, and an 8-speed automatic transmission for the optional 2.0-liter turbocharged engine.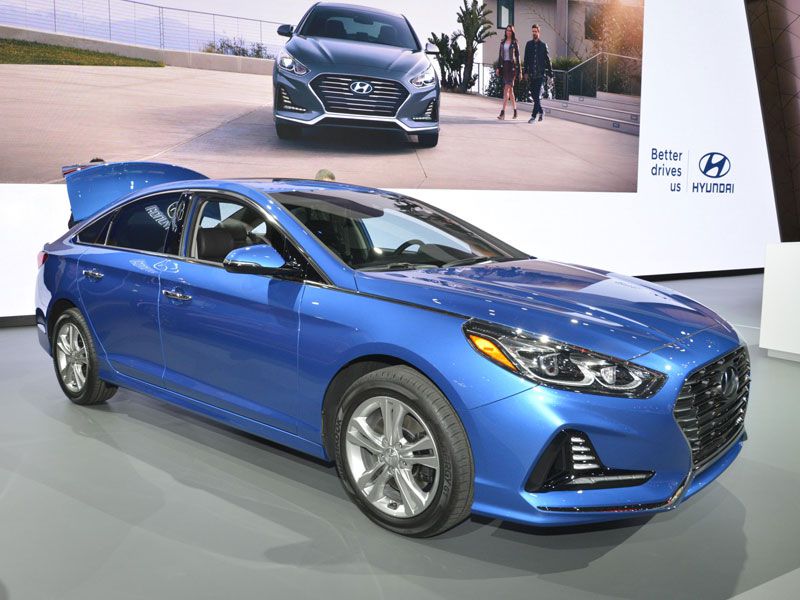 Photo by Newspress USA
2018 Infiniti Q50
Infiniti's best-selling sedan gets its own refresh, which primarily concentrates on styling, though the exterior changes are so subtle that you practically need to park the old and new cars side-by-side to spot them. The interior also gets a few subtle updates. The Q50 was already packed with driver assistance technologies, so there are few changes. Engine offerings range from a 208-hp 4-cylinder to a 400-hp twin-turbo V6.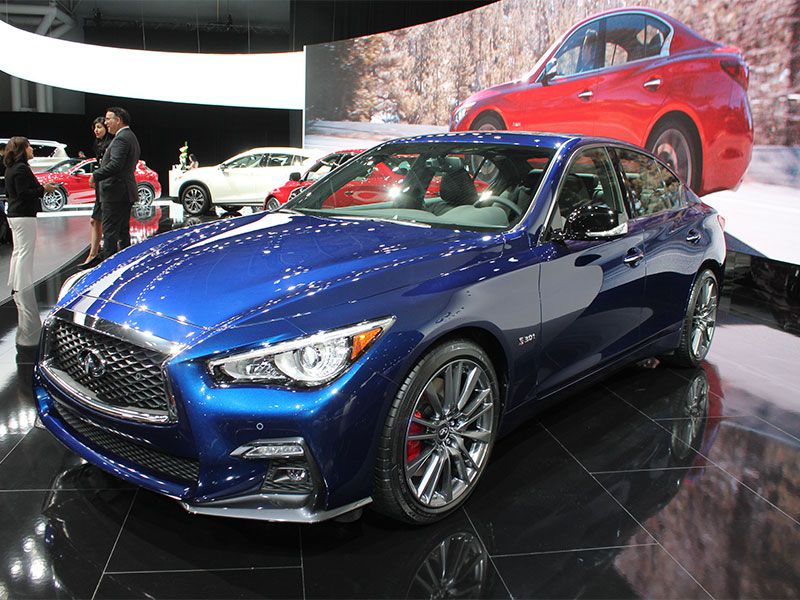 Photo by Troy Vo
2018 Kia Rio
The Rio is Kia's smallest and least-expensive car, so it seems all the more remarkable that Kia would use this car to introduce a new styling theme. The new Rio is more creased and muscular than other Kia models, and inside it debuts snazzy new switchgear and a very attractive dashboard treatment. If this is the new look of Kia, we can't wait to see more models using this same design language.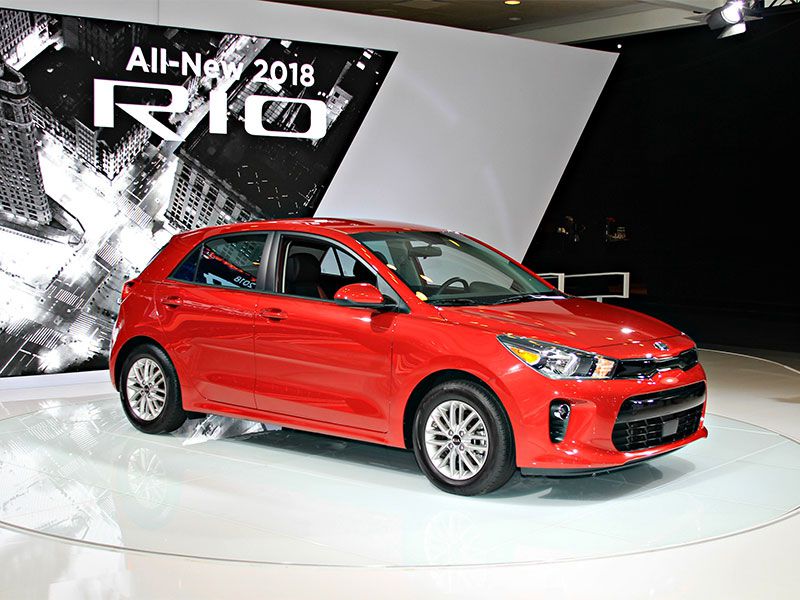 Photo by Matt Carpenter