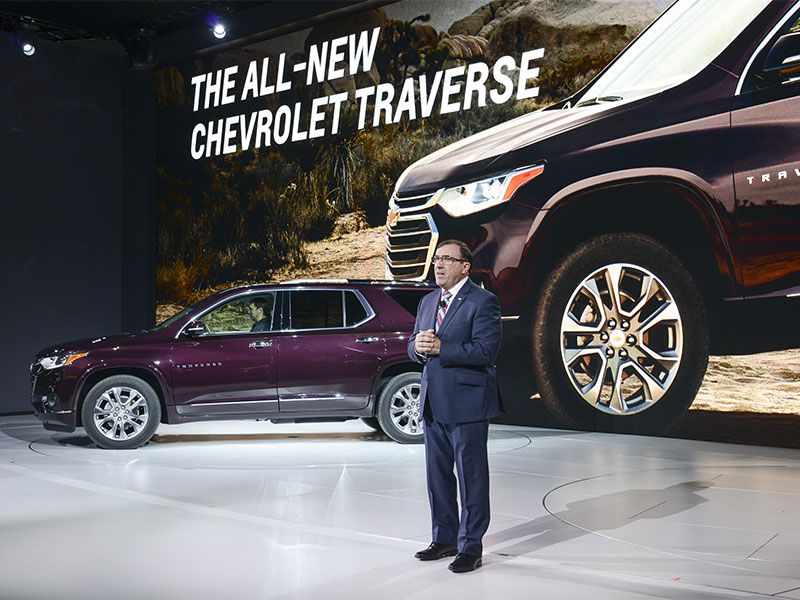 2018 Chevrolet Traverse reveal at NAIAS ・ Photo by North American International Auto Show
The must-see crossovers & SUVs at the Detroit Auto Show—aka the North American International Auto Show—are an impressive bunch, which makes perfect sense: Utility vehicles dominated last year's auto sales records, so automakers are moving quickly to expand choices in the key crossover and SUV segments. As a result, this 2017 major show included everything from new entries by established brands to a couple of vehicles from a company still testing the waters here in the USA. You'll even discover some notable new updates to the country's best-selling pickup, along with a next-gen minivan, mixed in with our gallery, so read on!
2018 Alfa Romeo Stelvio
The first sport-utility vehicle from a brand better known for its sports cars, the 2018 Alfa Romeo Stelvio best expresses its athletic DNA in the range-topping Quadrifoglio trim. In that particular configuration, the Stelvio starts with best-in-class output from the most powerful production engine ever offered by Alfa Romeo: a 2.9-liter biturbo V6 that can bust out 505 horsepower and 443 pound-feet of torque. Also equipped with standard Q4 all-wheel drive—as are all Stelvio models—the Quadrifoglio then relies on that power for 0-60 times of 3.9 seconds and a top speed of 177 mph.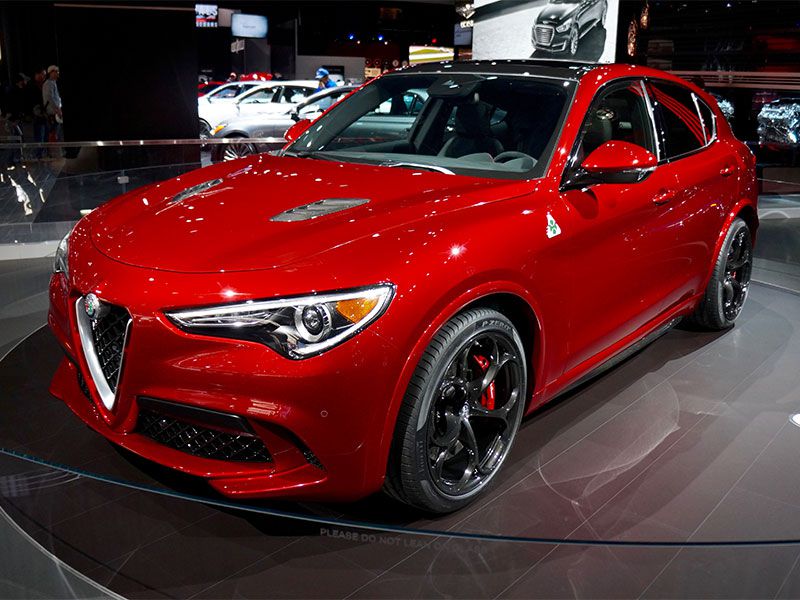 Photo by Charles Krome
2018 Chevrolet Traverse
Borrowing design inspiration from Chevy's full-size body-on-frame SUVs, the 2018 Chevrolet Traverse is the brand's all-new three-row crossover, and it's expected to meet the segment's needs with best-in-class passenger volume, top measurements for third-row legroom, 98.5 cubic feet of maximum cargo space, and a new handsfree, power-opening rear liftgate. Also new are the engines for the Traverse, which will supply a standard 3.6-liter V6 and an optional 2.0-liter turbo. The latter unit will be used in the sporty new Traverse RS trim, while another addition to the roster, the Traverse High Country, will combine premium cues and exclusive twin-clutch all-wheel-drive technology.
Photo by Matt Carpenter
2017 Ford EcoSport
The 2017 Ford EcoSport was the first vehicle ever revealed to the public using Snapchat, but its real-world appearance in Detroit was just as significant. That's because the EcoSport marks the first Blue Oval competitor in the increasingly crowded field of subcompact crossovers. To compete, the Blue Oval's baby SUV brings big-time infotainment resources—like SYNC 3, Android Auto, Apple CarPlay and a "floating" 8-inch touchscreen—plus a 10-speaker, 675-watt B&O PLAY sound system. EcoSport models also serve up EcoBoost powertrains, with 1.0- and 2.0-liter engines on the menu. Further highlights include standard swing-out tailgates and available all-wheel drive.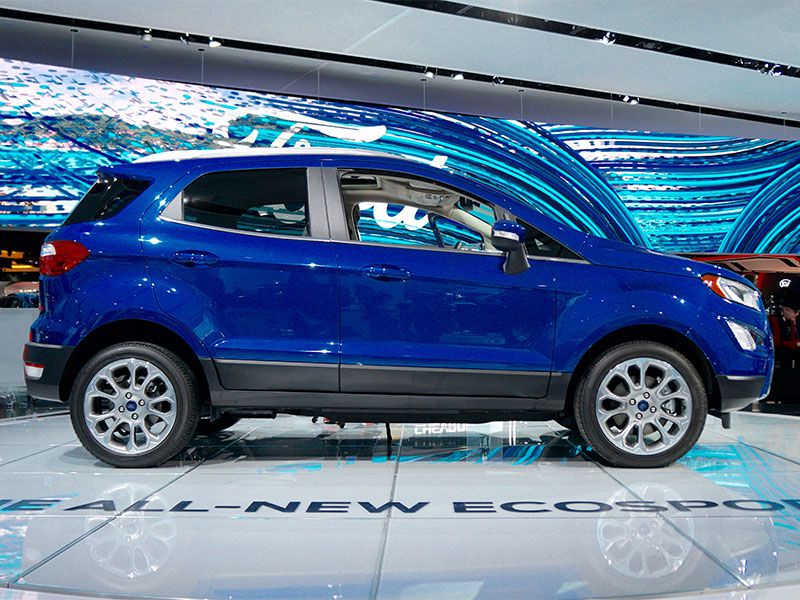 Photo by Charles Krome
2018 Ford F-150
The best keep getting better with the 2018 Ford F-150. It's the high-volume player on the F-Series roster, which just completed its 40th straight year as the top-selling vehicle in the United States, and the F-150 sees major upgrades to keep that momentum moving. For example, the new F-150 will be the first to include a diesel engine option. Other additions are new mobile Wi-Fi and automatic pre-collision assistance with a specific pedestrian-detection function. Moreover, that new Power Stroke diesel will be joined by a new standard V6, a new EcoBoost V6, and a more powerful 5.0-liter V8.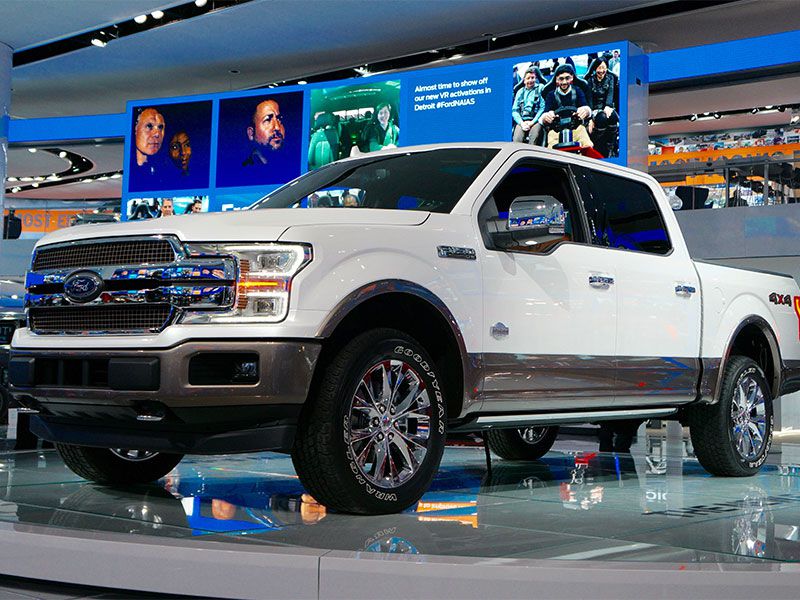 Photo by Charles Krome
2018 GMC Terrain
Showgoers also will get to see the first mainstream compact crossover to offer a diesel engine. Perhaps surprisingly, it's the 2018 GMC Terrain. The Terrain gets two other engines, too, and all three are turbocharged. Even more driver-assistance technologies are new for the 2018 Terrain, including a 360-degree Surround Vision system, low-speed forward automatic braking, lane-keeping assistance with lane-departure warning, a rear-seat reminder and GM's Safety Alert seat. As for the Terrain's fresh, more aerodynamic styling, that's accented by standard LED signature lighting. Mobile Wi-Fi, plus Android Auto and Apple CarPlay smartphone integration are among the Terrain's top returning technologies.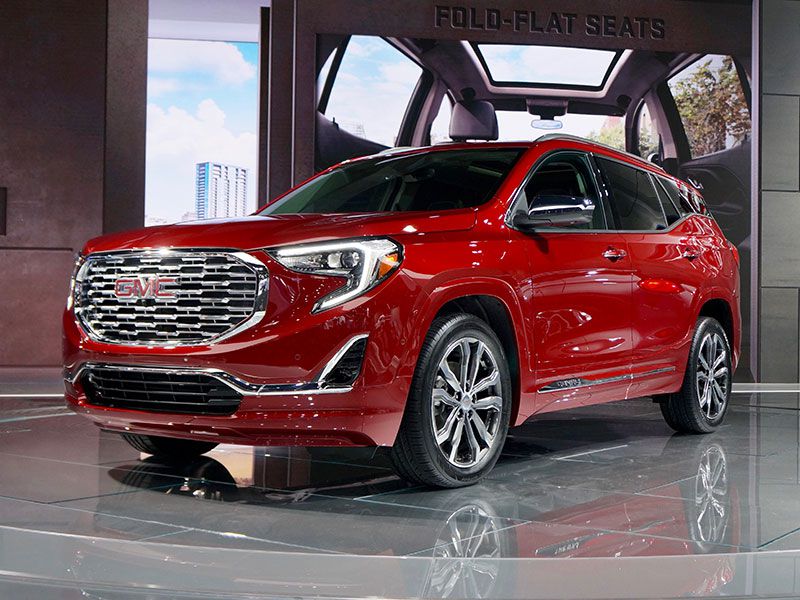 Photo by Charles Krome
2018 Honda Odyssey
No, it's not a crossover or SUV—or a pickup—but the 2018 Honda Odyssey is one of the reasons more customers are switching away from cars. The Odyssey is a minivan, yet it also happens to have some updated radical sheet metal that makes it stand out as the quickest, quietest, most fuel-efficient entry in the segment. That segment now features the Chrysler Pacifica that was just named North American Utility Vehicle of the Year. And, after this update, the Pacifica can't match the Odyssey's in-vehicle camera system. Called CabinWatch, it displays streaming video of the second and third rows to the vehicle's 8-inch Display Audio monitor.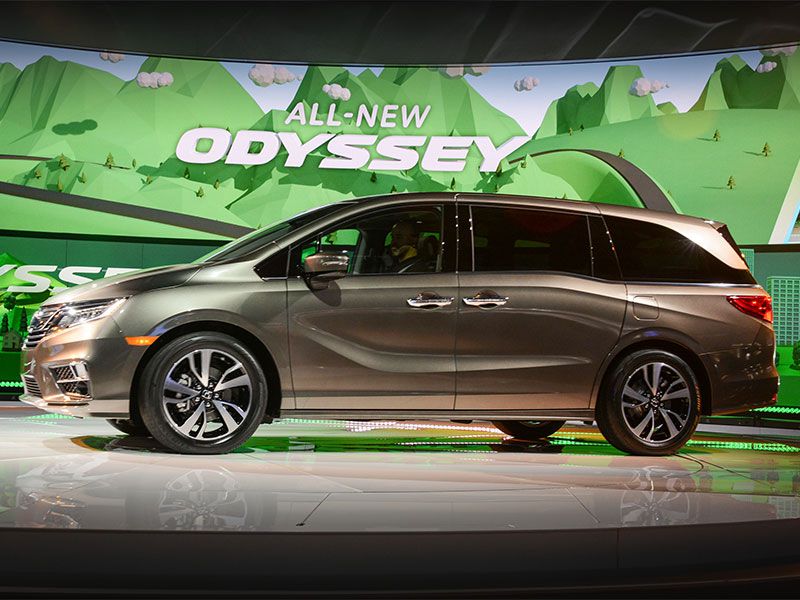 Photo by North American International Auto Show
2017 Jeep Compass
Sharing only a name with the current edition, the brand-new 2017 Jeep Compass will replace previous-generation Compass and Patriot in this country—and also go on sale globally as part of the brand's expansion plans. The redesigned Compass still may look familiar, though, since it bears a definite family resemblance to the highly successful, slightly larger Jeep Cherokee. A further similarity between the two: Both offer high-performance Trailhawk models, with the new Compass Trailhawk delivering best-in-class off-road capabilities, just like the Cherokee version. Civilizing touches are provided by such content as Android Auto/Apple CarPlay smartphone integration and EPA ratings of up to 30 mpg.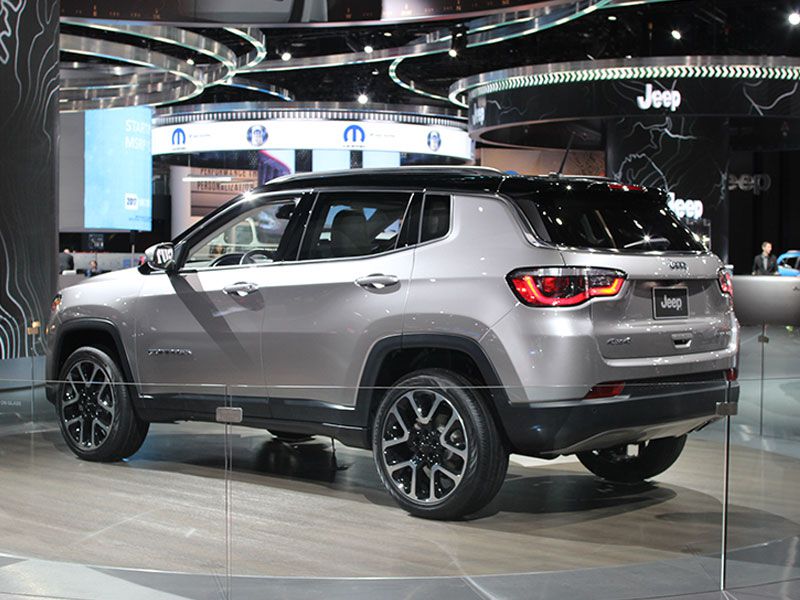 Photo by Matt Carpenter
2018 Mercedes-Benz GLA-Class
The 2018 Mercedes-Benz GLA-Class made its premiere in Detroit with a refreshed appearance, more convenience and assistance technologies, and a new high-performance variant. That vehicle—the Mercedes-AMG GLA45—dials up the design heat with more aerodynamic details. Up front, for instance, the revised front splitter sports a silver-chrome insert, while the back of the GLA45 has been garnished with a large rear wing. Under the hood is a 2.0-liter turbocharged engine that makes 375 horsepower, 350 lb.-ft. of torque, and short work of the 0-60 sprint. Drivers can run that dash in a mere 4.3 seconds.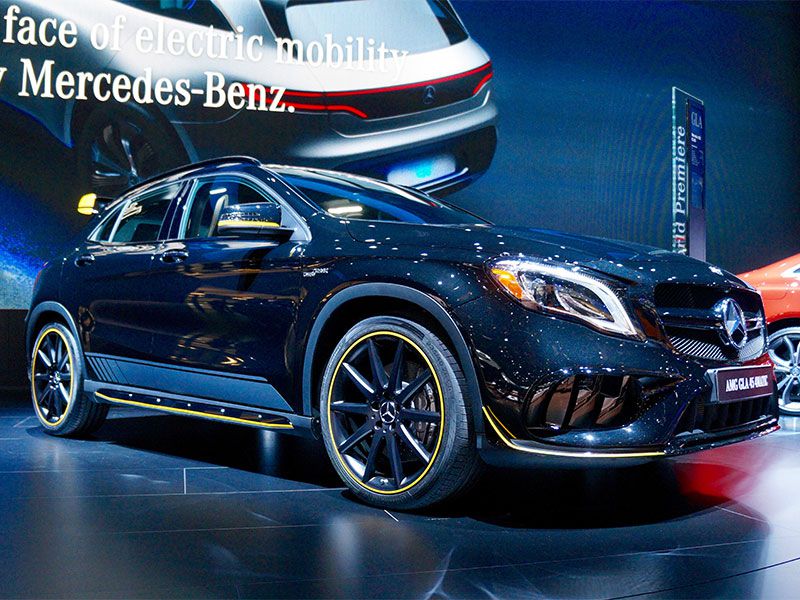 Photo by Charles Krome
2018 Nissan Rogue Sport
The Nissan Rogue was the best-selling non-pickup in the country in the last month of the last year, and the automaker no doubt hopes that kind of success rubs off on the new 2018 Nissan Rogue Sport. That said, Nissan isn't leaving much to chance. The Rogue Sport may be slightly smaller than its sibling, but it will be well-equipped to take on its subcompact competition with its dynamic design and an extensive list of available driver-assistance measures. These range from Nissan favorites like an Around View Monitor with Moving Object Detection, to such safety technologies as forward emergency braking and pedestrian detection.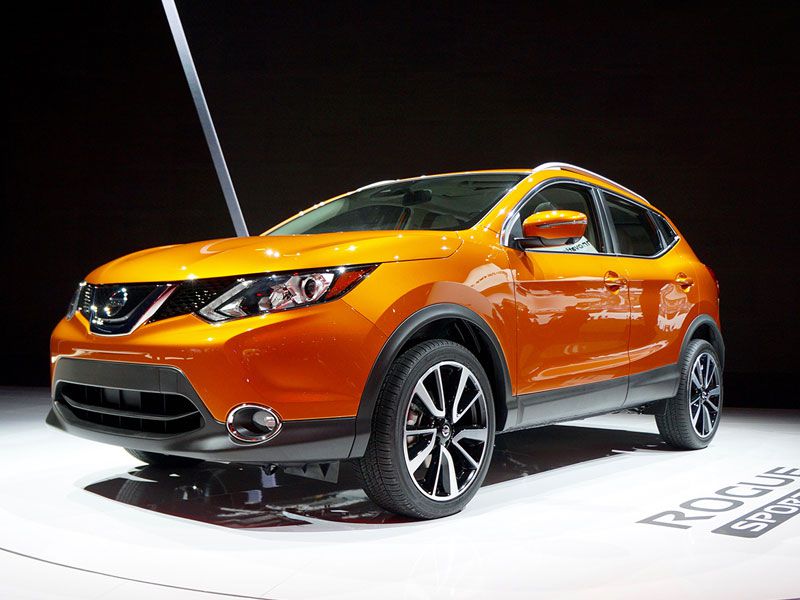 Photo by Charles Krome
2018 Volkswagen Atlas
Talk about a vehicle carrying the weight of the world on its shoulders: VW has high hopes that the 2018 Volkswagen Atlas will get customers focused on the future and sales headed northward once again. Helping matters, the Atlas is a three-row crossover with high-volume aspirations, and the Detroit auto show saw the introduction of the athletically inclined Atlas R-Line appearance package. Due some time after the springtime launch of the Atlas lineup, the R-Line enhancements cover 20-inch twin-spoke aluminum-alloy wheels, exclusive badging, and a bunch of aero mods. The cabin is complemented by an R-Line steering wheel and stainless-steel pedal covers.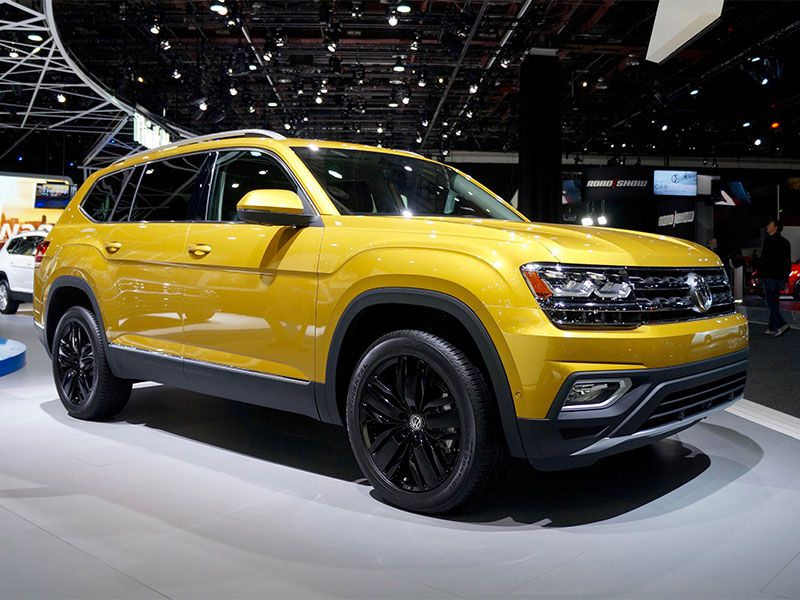 Photo by Charles Krome