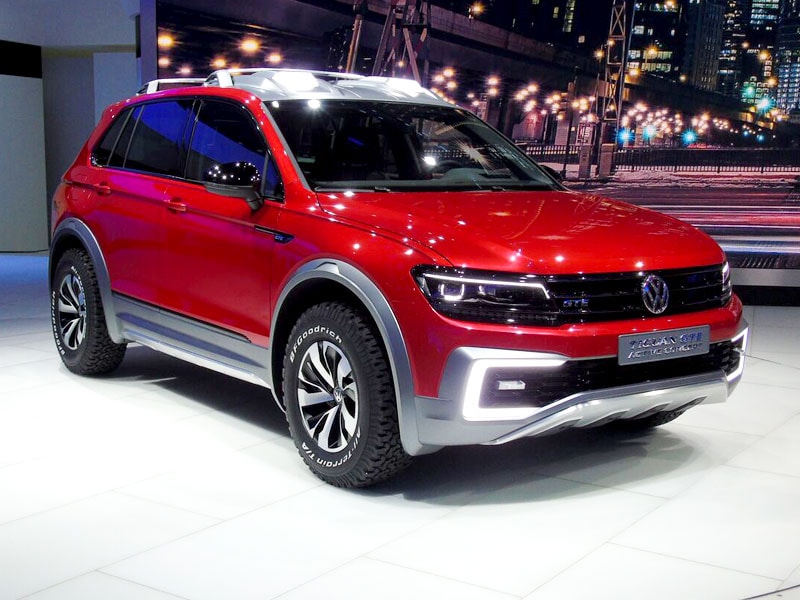 concept-VW-TiguanGTE-ActiveConcept
The past year saw the industry reap record sales in this country, and it was the current crop of crossovers and SUVs that was responsible for most of it. In fact, according to the Wall Street Journal, the crossover/SUV segment was the fastest growing auto category in the country in 2015, when sales of those vehicles spiked by 27.5 percent. With that in mind, manufacturers are upping the ante for the new selling season, bringing a bevy of brand-new entries to the Motor City. Here are some of our favorite must-see crossovers and SUVs from the 2016 Detroit Auto Show.
2017 Audi A4 allroad quattro
As signified by that "allroad" moniker, this is another lifted wagon from the four-rings brand that has been recast as a crossover for U.S. consumption. In this case, the 2017 Audi A4 allroad quattro puts a more rugged twist on the A4 midsize sport sedan.
The vehicle gains both style and substance to achieve that goal, from the cladding that covers its wheel arches to a dedicated off-road mode for its standard Audi "drive select" technology. On the topic of driving, the A4 allroad quattro does so at slightly higher altitude than standard A4 models, realizing a 1.3-inch increase in ground clearance. (And obviously, Audi's quattro all-wheel-drive is standard as well.
U.S. pricing hasn't been announced, but A4 allroad quattros will start at 44,750 Euros in Germany (roughly $48,600 as of January 14, 2016).
Later this year.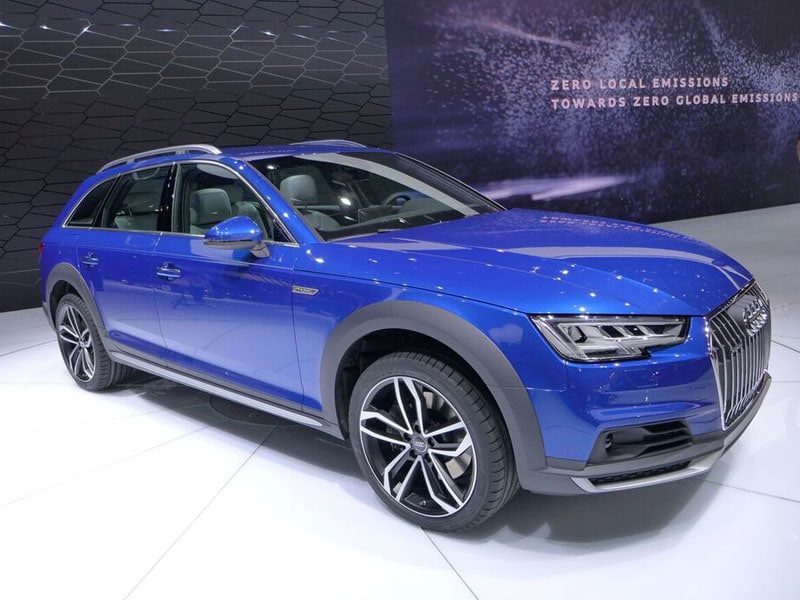 2016 BMW X4 M40i
With a little assistance from the Bavarian's M performance team, the 2016 BMW X4 M40i—a new variant of the brand's "sports activity coupe"—welcomes a further focus on its athletic nature for the new model year.
The key, of course, is the new TwinPower turbo engine, in the inline-six configuration that's a BMW hallmark. M engineers worked their usual motor magic on the unit, and the real-world results include 355 horsepower, 343 lb.-ft. of torque, and the ability to run from 0-60 mph in a very sporting 4.7 seconds. To put those numbers into context, the X4 xDrive35i, the next-most powerful entry in the roster, posts 300 horsepower, 300 lb.-ft. of torque and 5.2 seconds.
Like a high-velocity Valentine, the X4 M40i arrives in February.
MSRPs will open at $57,800.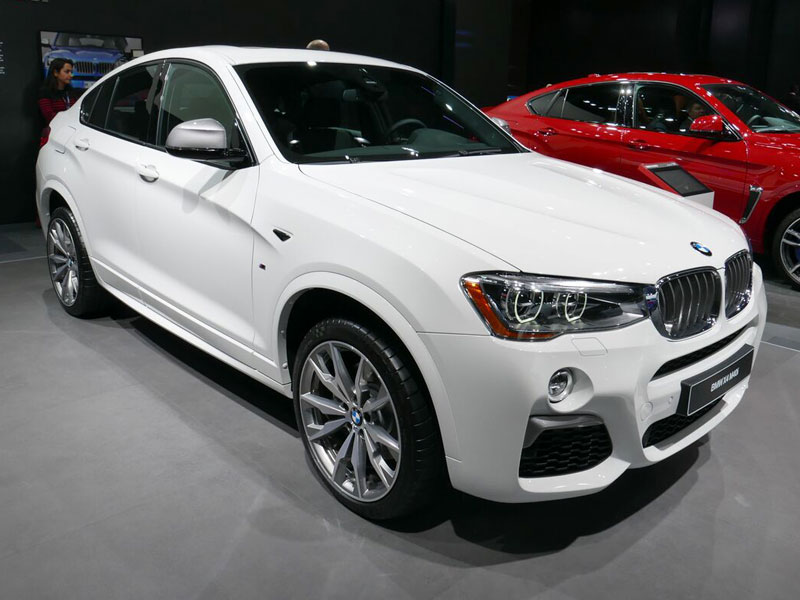 2016 Buick Envision
The Buick brand's two best-sellers in 2015 were its subcompact and three-row crossovers, so the division is doing the logical thing and launching a compact entry to take advantage of that momentum. Enter the 2016 Buick Envision that already earned Motor Trend's SUV of the Year Award in China—Buick's largest market. This GM product serves up some of the General's top existing technologies, including mobile Wi-Fi capability and the Safety Alert Seat, but it also provides new features, like a 2.0-liter turbo engine that dials up 252 horsepower and 260 lb.-ft. of torque. Additionally available is an all-wheel-drive setup that's the first from Buick to employ an active twin-clutch system, and the Envision happens to be the first Buick crossover with an enthusiast-friendly HiPer Strut front suspension.
N/A.
Buick will announce Envision prices at a later date.
This year, in the second quarter.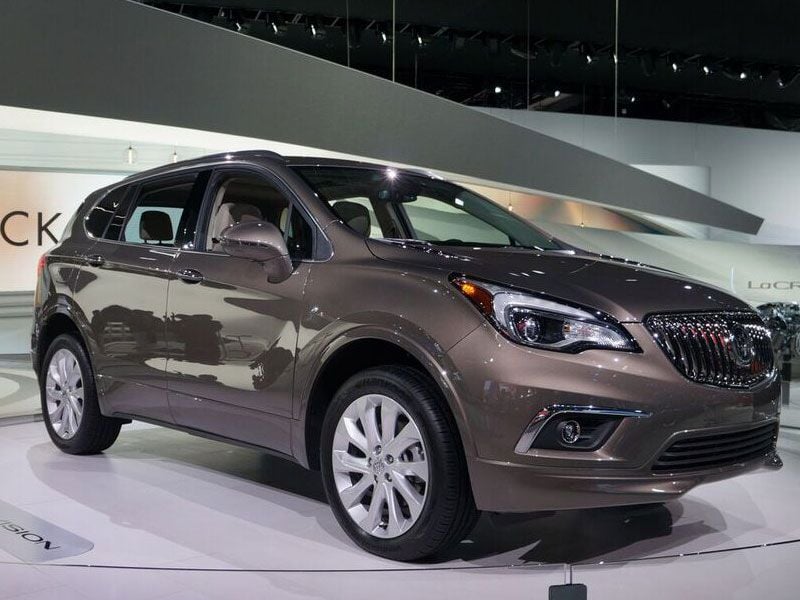 2017 Cadillac XT5
The first premium compact crossover from Cadillac since the brand moved to Manhattan, the 2017 XT5 would seem to have a lot riding on it. However, thanks to extensive light-weighting efforts, that load is much lighter than in rivals like the Audi Q5 or Mercedes-Benz GLE-Class, and the results show up in the XT5's nimble driving dynamics. Moreover, Cadillac's new crossover comes with an uncluttered luxury cabin that furnishes both high-tech benefits—like mobile Wi-Fi and smartphone integration—and high levels of craftsmanship. Safety was a high priority for Cadillac as well, as evidenced by the XT5's innovative Rear Camera System. With that advance able to digitally eliminate visual obstructions such as roof pillars and rear-seat passengers, the driver's rear vision is enhanced by 300 percent (per Cadillac).
This is the first-ever 2017 Cadillac XT5.
Production kicks off in the spring.
Unknown at this time.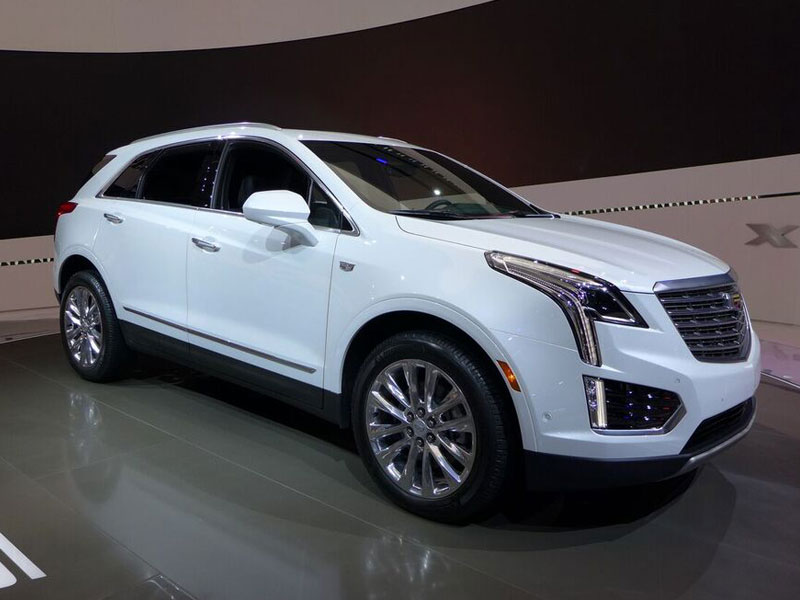 2017 Ford Escape
Lifted by the rising tide of crossover demand, the Ford Escape established a new annual sales record for calendar-year 2015. Which may not last too long, as the refreshed model will boast two new EcoBoost engines, both paired with stop/start technology for enhanced fuel efficiency, to help attract yet more customers.
Exterior and interior design details have been revised, highlighted by a new steering wheel and a resculpted hood that creates a visually wider appearance, while plenty of fresh technologies also premiere. For example, the Sync Connect system allows owners to control numerous features of the 2017 Ford Escape right from a smartphone, and the passenger-protection bar is raised once again with adaptive cruise control and automatic braking.
The 2017 Escape is expected to go on sale in the spring of 2016.
Ford will reveal MSRPs for the vehicle closer to its on-sale date.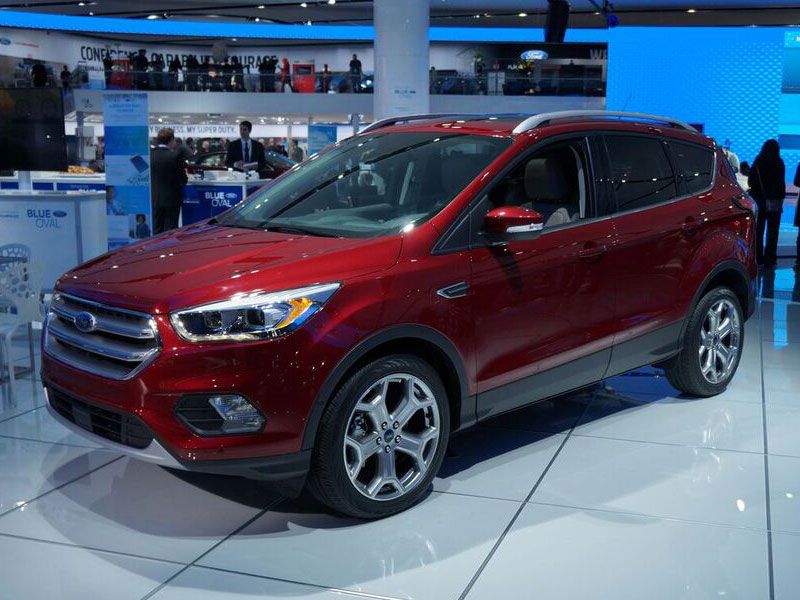 2017 GMC Acadia
Coming off a record sales year for the nameplate in 2015, the 2017 GMC Acadia has been thoroughly redesigned to attract more customers with freshly minted sheet metal, more technologies, two new engines and two premium variants for this three-row crossover: the luxurious Acadia Denali and trail-tested Acadia All-Terrain with its active twin-clutch AWD system.
Of particular interest for families will be the Acadia's sophisticated safety measures, some of which are new for the vehicle—e.g., front-pedestrian braking and a surround-vision camera—and some that are simply new, like a technology that reminds owners to check the back seat before leaving the vehicle unattended. Another family-favorite technology is also upgraded, with the Acadia's Wi-Fi-supported infotainment system adding Android Auto and Apple CarPlay smartphone integration. There's addition by subtraction, too, since the 2017 Acadia weighs up to 700 lbs. less than comparable 2016 models.
TBD. Spring 2016.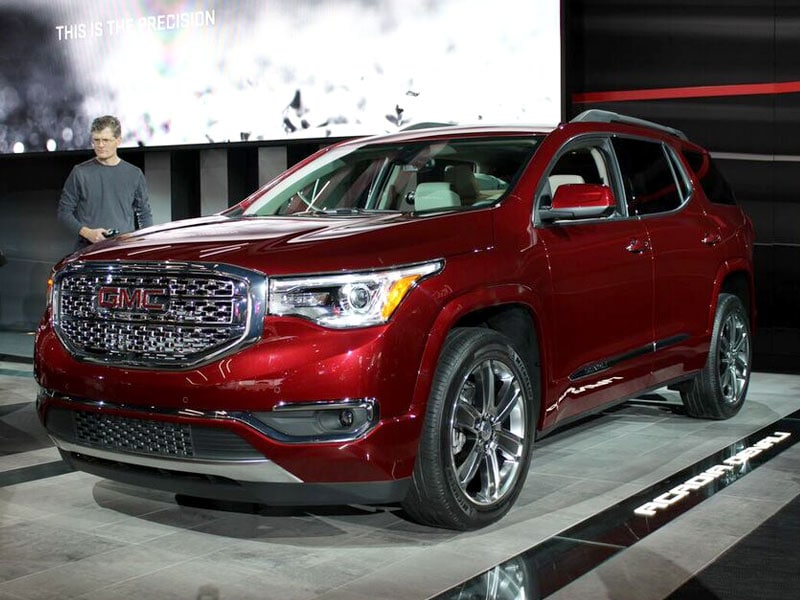 2017 Infiniti QX30
Potential customers should know that the 2017 Infiniti QX30 premium compact crossover is based on the same underpinnings, and shares the same 208-horsepower turbo engine and seven-speed dual-clutch automatic transmission, as the Mercedes-Benz GLA. But the fact of the matter is that that may be a selling point in and of itself, especially because any MB-enabled benefits are enveloped in Infiniti's dramatic design language, with strong lines, a short greenhouse, an asymmetric approach to the front-row environment, and signature cues such as the QX30's crescent-shaped C-pillars. Moreover, Infiniti will provide the QX30 in three flavors: a standard model, known outside the United States as the Q30; a sportier, hotter-handling QX30S; and the QX30 AWD that will unite intelligent all-wheel drive and lightly lifted ride height.
This is an entirely new vehicle …for the Infiniti brand.
Pricing is to come.
Per Infiniti, "mid-2016."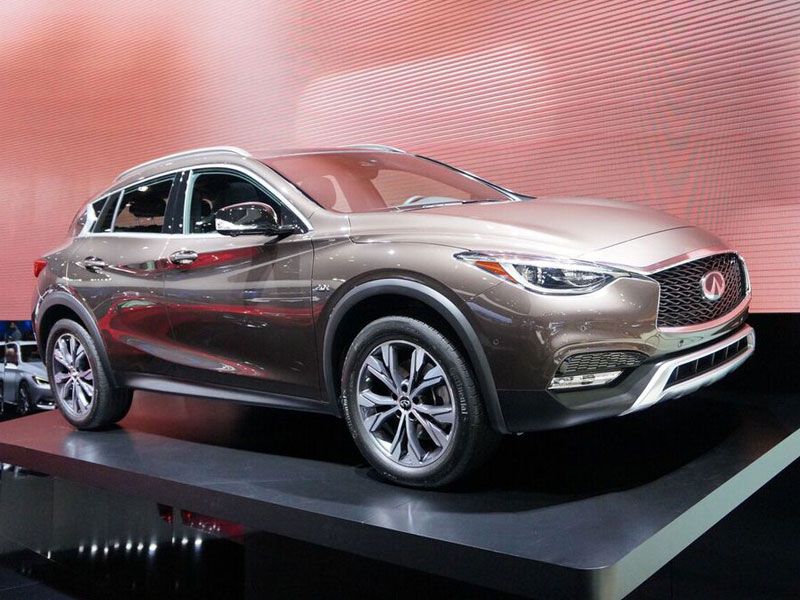 Kia PacWest Adventure Sorento
Initially seen at the industry-only SEMA aftermarket extravaganza—where its eye-popping exterior finish stood out even among the other show-stoppers—the Kia PacWest Adventure Sorento made the trek to the Motor City to carry its custom cool to the public.
Kia claims a production Sorento lurks under there somewhere, yet much credit goes to the LGE-CTS Motorsports team that designed and built the PacWest project. Not only did they bolster the Sorento with custom-fabbed components, like a full front under-carriage assembly and distinctive front and rear bumpers, they also provided proven performance enhancers from the likes of Nitto and BMF, for Trail Grappler tires and 17-inch beadlock wheels, and tapped Fox Racing for its version 2.0 coilover shocks. What wasn't changed may be just as important, however: The Sorento's stock 290-horsepower turbo engine was satisfying to be left as is.  
This Raptor-rivalling Sorento isn't for sale.
See above.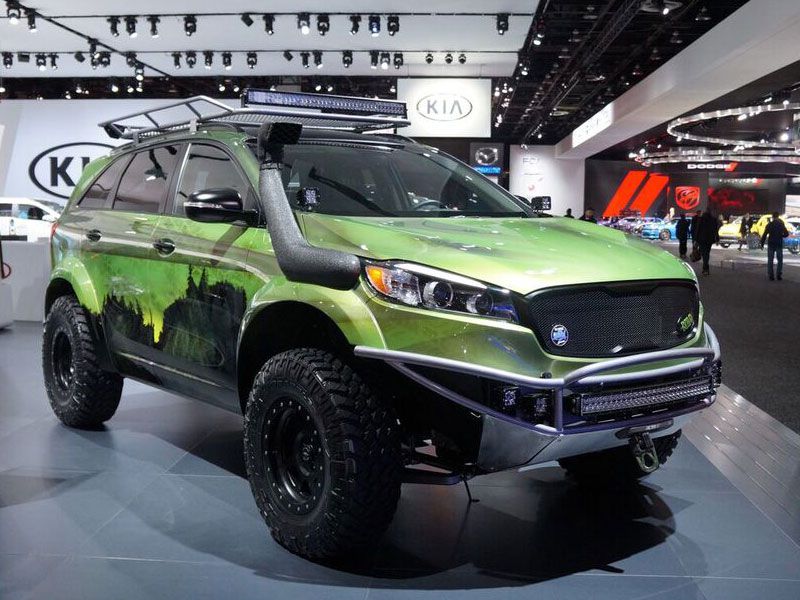 2017 Kia Sportage
The revamped 2017 Kia Sportage crossover has grown inside and out for the new model year, but it still represents a bit of an in-between choice for crossover owners: On the one hand, it's noticeably larger than the new subcompact entries, yet on the other, it's also smaller than typical compacts.
Almost everything, with two big exceptions: The 2017 Kia Sportage will rely on the same engines as the 2016 model, albeit with the entry unit retuned for improved fuel-economy grades—which currently top out at 28 mpg. That said, the redesigned 2017 Sportage showcases the brand's aggressive exterior styling to good effect, while also introducing the latest generation of Kia's UVO telematics service, complete with the ability to leverage Wi-Fi tethering—and the Sportage owner's compatible smartphone—for mobile Internet connectivity.
TBD.
Later this year, probably in the summer.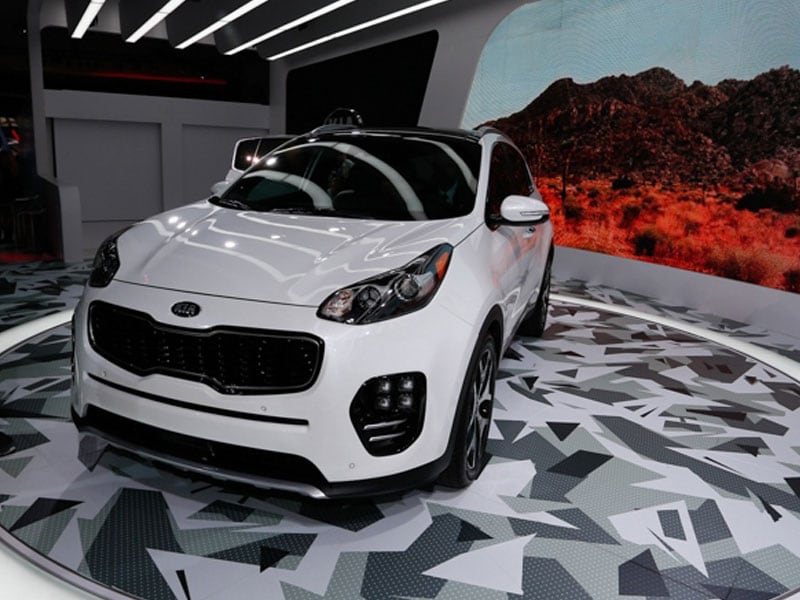 Kia Telluride Concept
The Kia Telluride Concept illustrates how the brand's penchant for passionate design can be applied to a more traditionally proportioned SUV. Yet traditions aside, the inside of the Telluride —reached through rear-hinged rear doors—reveals a modernistic cabin that truly coddles its occupants. Indeed, the vehicle's sensor setup can determine passengers' vital signs, then use a roof-mounted LED panel to display "a pattern of therapeutic light." Another bright idea that debuts in the Telluride is a "Swipe Command" second-row center console that gives rear-seat passengers more control over media alternatives. Lastly, though the Telluride was touted solely as a design study, Kia did indicate that it previews a potential production SUV that would move the brand's design in a similar direction.
This is a new vehicle, albeit one that's based on the same platform as the production Kia Sorento.
N/A.
Kia has no plans on selling the Telluride.