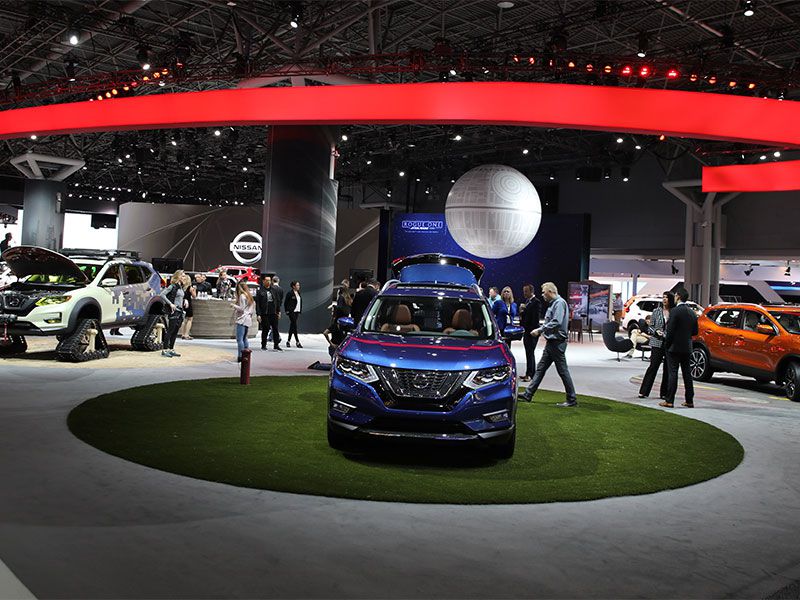 NissanBooth at NYIAS ・ Photo by New York International Auto Show
The trend was clear at the New York International Auto Show: SUVs and crossovers are capturing an increasing percentage of the new vehicle market, and auto manufacturers are feeding the frenzy with a never-ending array of new models at all price levels. This year's NYIAS saw the debut of a number of important production models, along with a smattering of impressive concepts.
2018 Volvo XC60
Safety and Scandinavian design are hallmarks of the Volvo brand, and the second generation XC60 raises the bar with cutting-edge safety technology and a spectacular cabin. Safety features are enhanced with a new oncoming lane mitigation safety system, large animal detection, and steer assist incorporated into the blind spot indication system. The XC60's interior is both exquisite and ergonomic, featuring high-end materials and unparalleled design. The XC60 is scheduled to go on sale this fall.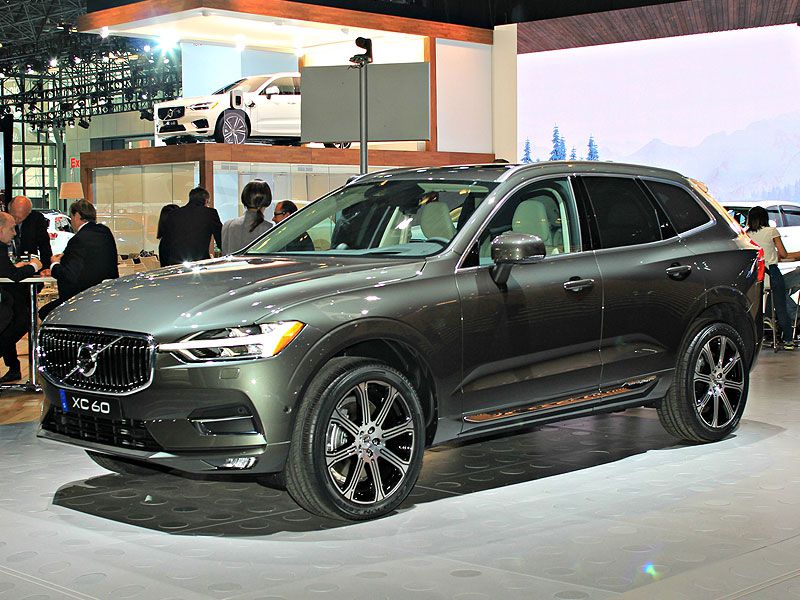 Photo by Matt Carpenter
2018 Buick Enclave
Buick takes aim at the 3-row luxury midsize import competition with the fully revised Enclave's stunning Avenir variant. A longer wheelbase, lower stance, and completely new body structure allow for a sleeker exterior while providing enhanced third-row legroom, and a weight reduction of 350 pounds for improved efficiency. Towing capacity has been upped to 5,000 pounds and a complete suite of safety technologies will be offered. The 2018 Enclave will go on sale this fall. Pricing information is not yet available.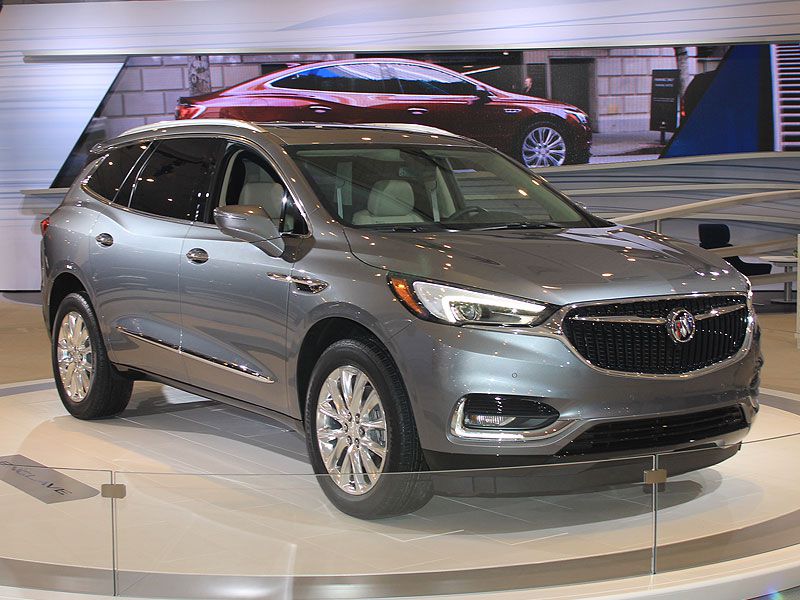 Photo by Matt Carpenter
2018 Subaru Crosstrek
The Crosstrek undergoes a complete revision for the 2018 model year, from stem to stern, inside and out. Subaru's rugged compact crossover now rides on the Subaru Global Platform for enhanced ride comfort and agility. Active torque vectoring improves handling. The 2.0-liter horizontally opposed 4-cylinder engine adds direct injection to produce an additional four horsepower. The infotainment system includes Apple CarPlay and Android Auto. The 2018 Crosstrek will go on sale this summer. Stay tuned for pricing information.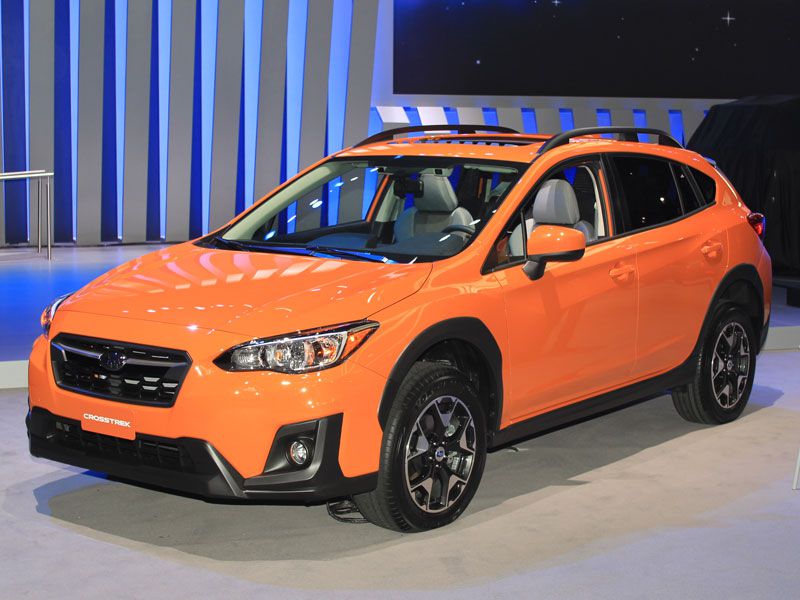 Photo by Matt Carpenter
Subaru Ascent Concept
Subaru rockets into the future with the 3-row Ascent SUV concept. The spacious 7-passenger cabin features second-row captain's chairs, a futuristic flowing design, and a ginormous panoramic roof. A new turbocharged 2.4-liter boxer engine will provide propulsion for the climb to the clouds. The Ascent is designed exclusively for North America and will be built at Subaru's plant in Lafayette, Indiana. Production will commence in 2018, most likely as a 2019 model.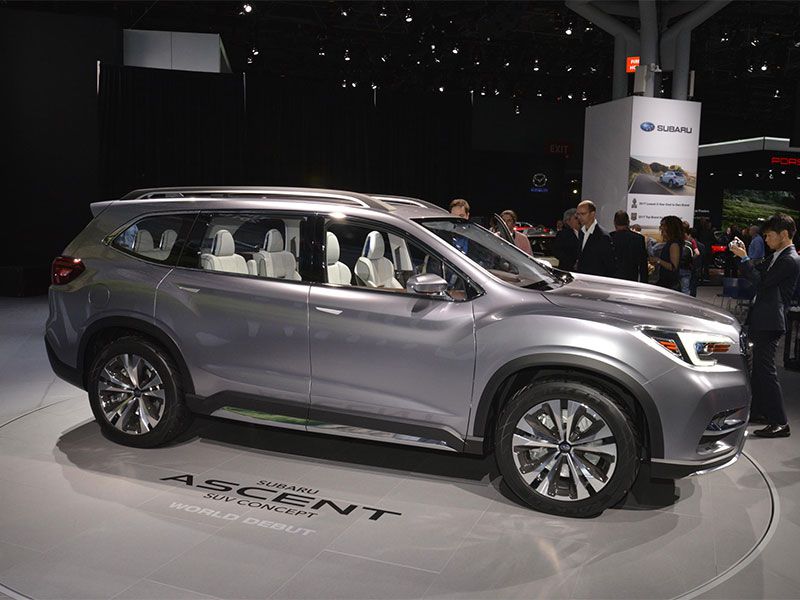 Photo by Newspress USA
2018 Lincoln Navigator
Lincoln's flagship is lighter, quieter, and more powerful for 2018, with high-strength aluminum sheet metal shaving 200 pounds and laminated glass hushing the cabin. The Navigator's 450-horsepower twin-turbocharged V6 engine is matched up with a 10-speed automatic transmission for improved efficiency and performance. Everyone stays connected and charged up in the ultra-luxurious cabin, with a half dozen USB ports, four 12-volt outlets, and an 110-volt outlet. Pricing and availability have not been announced.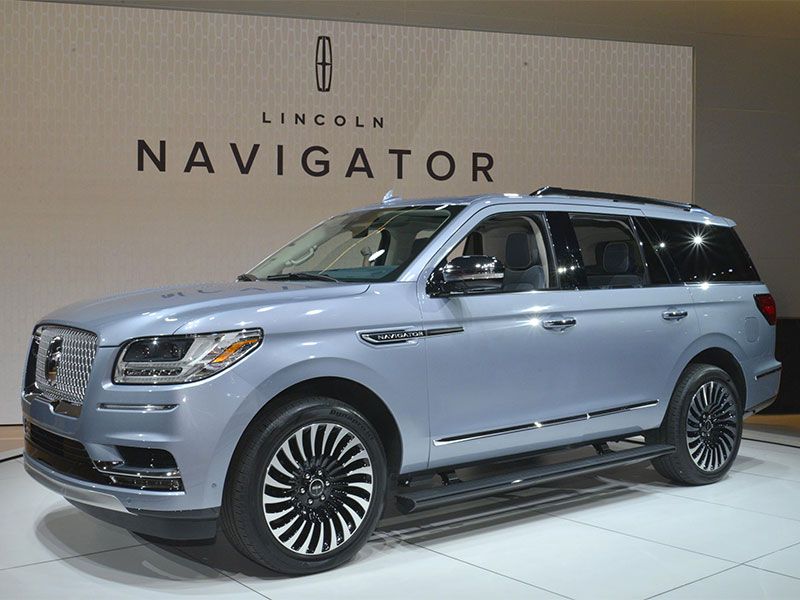 Photo by Newspress USA
2018 Range Rover Velar
The Range Rover Velar fills a key spot in Land Rover's lineup with a stunning new take on design. An elegantly sculpted exterior and a sanctuary-like cabin with a dual 10-inch touchscreen infotainment system provide presence and ensure connectivity. Three engines will be available, starting with the base 247-horsepower turbocharged 2.0-liter four at launch. A 380-hp supercharged 3.0-liter V6 and a fuel-efficient 2.0-liter turbodiesel will follow. The Velar goes on sale later this year, starting at $49,900.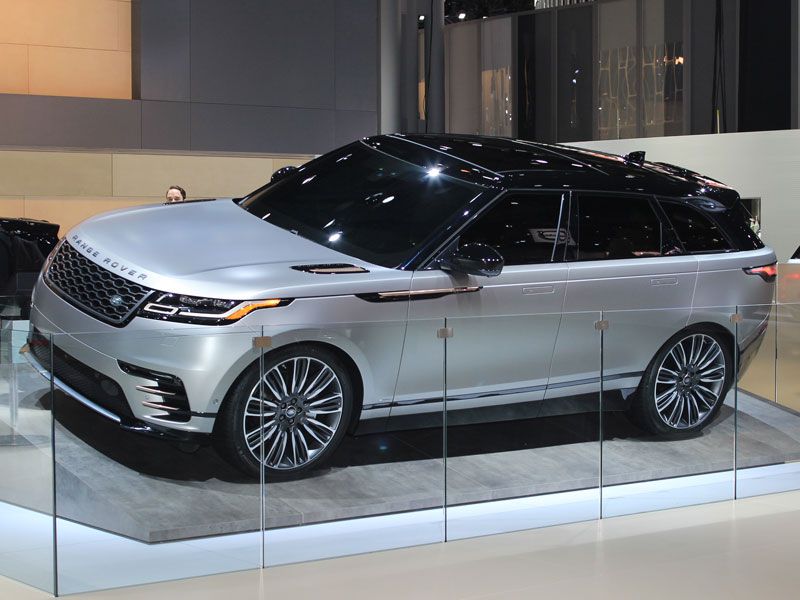 Photo by Matt Carpenter
2018 Jeep Grand Cherokee Trackhawk
How much is too much? Unlike the off-road-focused Grand Cherokee Trailhawk, the Trackhawk tears up the asphalt with a supercharged 6.2-liter V8 that churns out 707 horsepower. (Does that number sound familiar?) With an 11.6-second quarter-mile and 0-60 mph time of 3.5 seconds (with standard launch control), the Trackhawk stands second to none. If you long for the fastest SUV on the planet, there's a Jeep in your future. Pricing and availability have not been announced.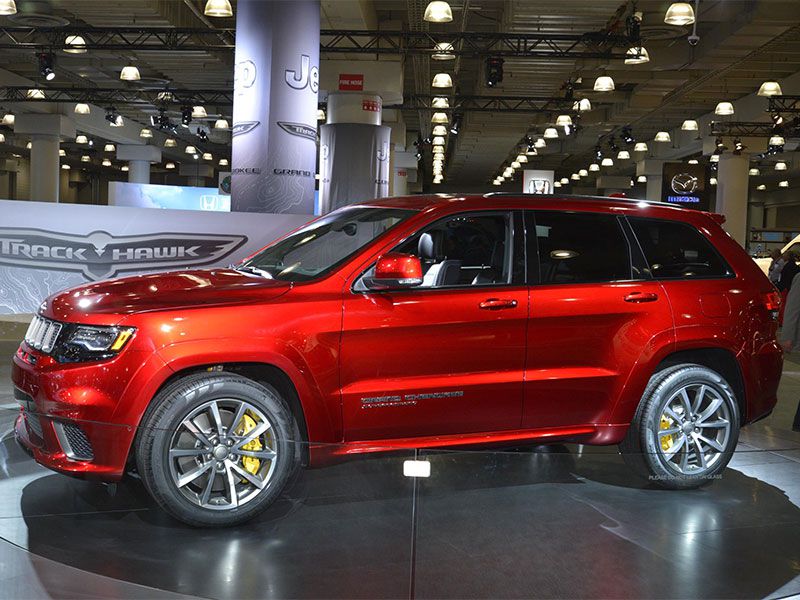 Infiniti QX80 Monograph Concept
While Lincoln wowed the crowd at last year's New York Auto Show with the gullwing Navigator concept. 2017 marked Infiniti's turn at the luxury barge flight of fancy. The Infiniti QX80 Monograph Concept presents a thought-provoking design, with a smoothed and aggressive fascia that will likely see production. The massive 24-inch alloy wheels and exterior rearview cameras, however, are likely to stay on the show floor.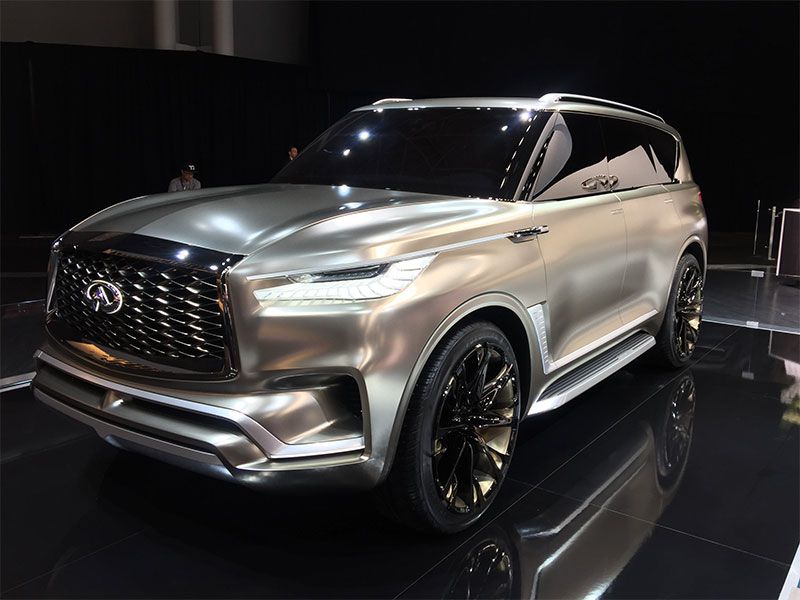 Photo by Tony Swan
Chevrolet Tahoe RST
Hankering for a little more sport in your Chevy sport utility? The new Rally Sport Truck (RST) trim level ditches the Tahoe's standard chrome for body color and blacked-out trim pieces. A 5.3-liter V8 and 6-speed automatic is standard. The performance option package is fitted with a 420-horsepower 6.2-liter V8 and 10-speed combo and Magnetic Ride Control suspension. The RST rolls on 22-inch alloys. An optional Brembo brake package and Borla performance exhaust will be offered.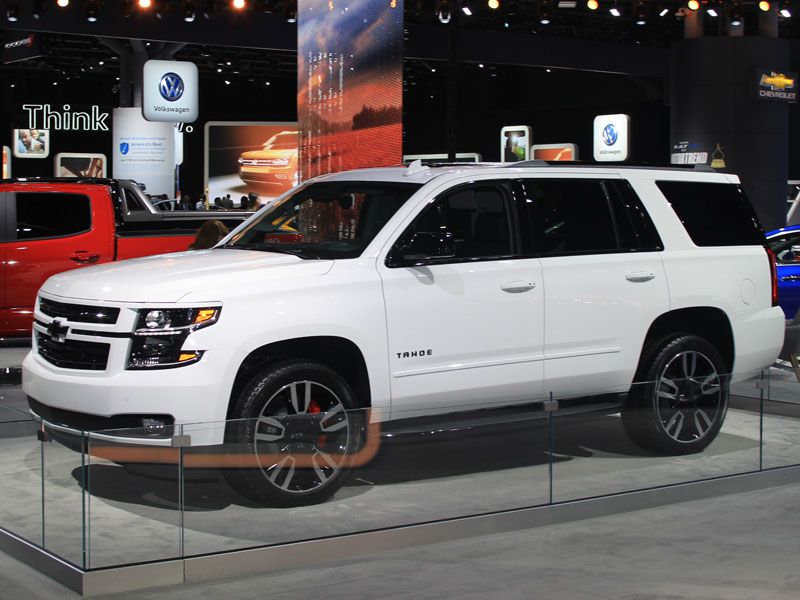 Photo by Matt Carpenter
2018 Ford Explorer
Ford has refreshed their highly popular Explorer for 2018 with exterior design and technology updates. The front and rear fascias have been spiffed up and the available 4G embedded modem is equipped with a Wi-Fi hotspot that accommodates up to ten devices simultaneously. Owners can locate, lock, unlock and start their vehicles remotely via the FordPass app and SYNC Connect. The new Safe and Smart option package includes blind spot mirrors, cross-traffic alert, active lane keep, adaptive cruise with collision warning and brake support, automatic high beams, and rain sensing wipers.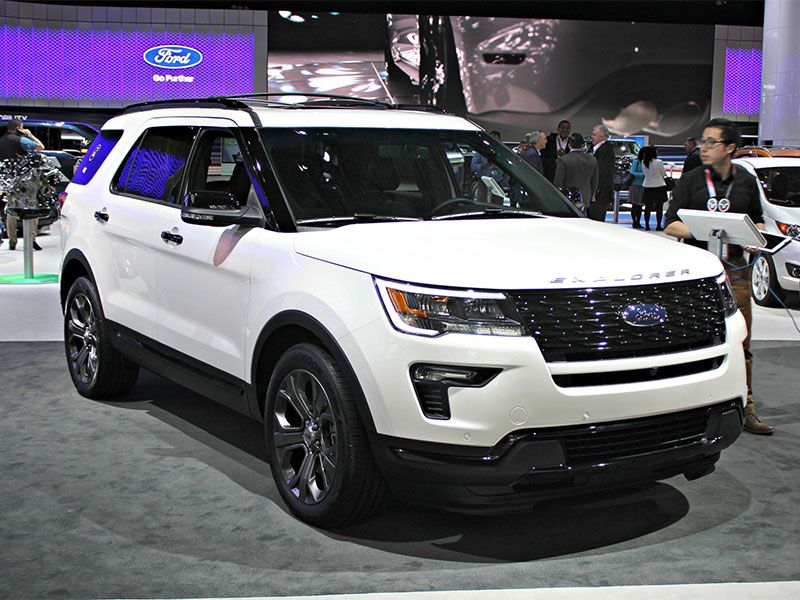 Photo by Matt Carpenter