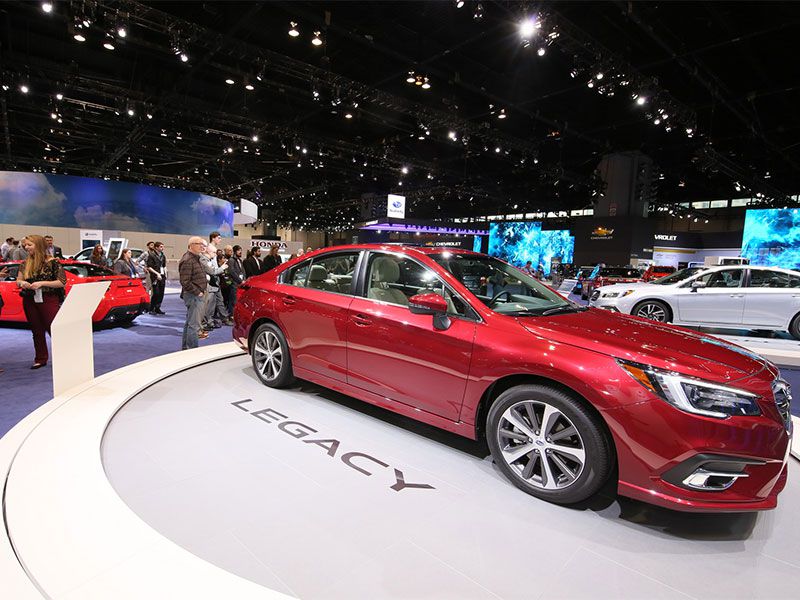 2018 Subaru Legacy booth ・ Photo by Chicago Auto Show
Welcome to the Windy City! Of the four major auto shows, Chicago is generally the most down-to-earth. While other shows emphasize concept and far-off future models, the vehicles unveiled at Chicago tend to be more of the mass-market vehicles that consumers really buy. Positioned just a month or so after the Detroit Auto Show, it also gives us a look at many of the vehicles first revealed in the Motor City. Let's check out the must-see cars and trucks of the 2017 Chicago Auto Show.
Chevrolet Redline Special Editions
We saw lots of "special editions" at this year's Chicago Auto Show, but no one dived in with as much fervor as Chevrolet. They introduced Redline versions of nine different cars, trucks and SUVs: Camaro, Colorado, Cruze, Equinox, Malibu, Silverado, Traverse, and Trax. The package includes black wheels with red trim, blacked-out grille and bowtie logo, and blacked-out name badges with red edging. Other details are model specific, such as red tow hooks for the pickups and extra graphics for the Camaro. Chevrolet showed all nine models in silver paint—silver, possibly the least-interesting car color on the planet—and we thought all nine looked the business.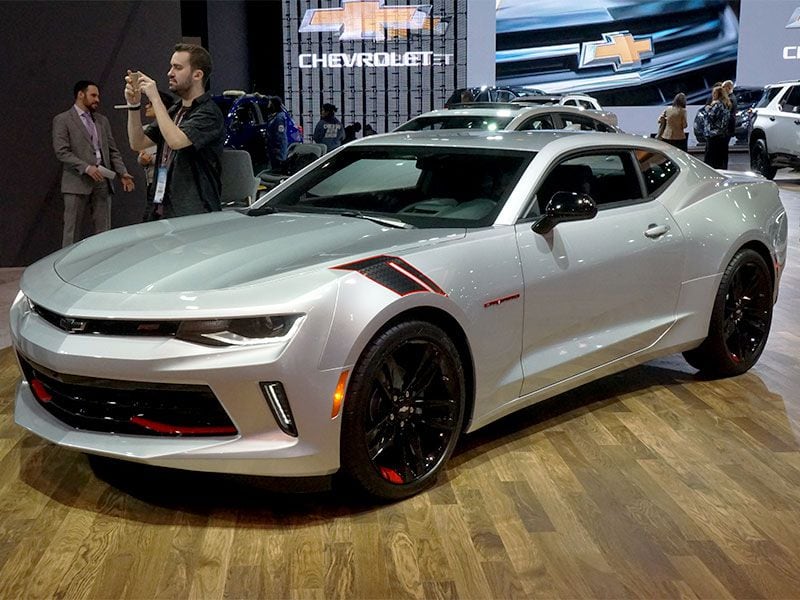 Photo by Aaron Gold
2018 Chevrolet Bolt
The Chevrolet Bolt is on sale in Western states, but for many Chicagoans, this will be their first chance to see General Motors' 238-mile, sub-$30,000 battery-powered electric car, which will go on sale in all 50 states soon. We think show-goers will be impressed by the Bolt EV's range; it'd be better if they had a chance to drive it, because we think everyone should experience the smooth, silent thrust of an electric motor, and the Bolt EV's one-pedal driving mode (in which one never need touch the brake!) has to be tried to be believed.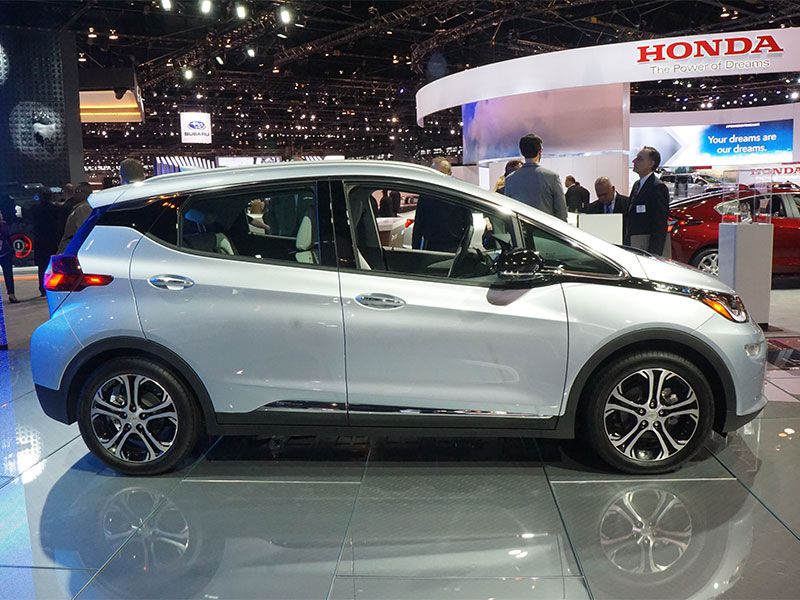 Photo by Aaron Gold
2018 Ford Mustang
Ford took the odd step of revealing the 2018 Mustang right in the middle of the Detroit Auto Show, so it probably didn't get as much publicity as it should have. Fortunately, the new car will make the full run at Chicago, so show-goers can ogle over the facelifted model. The changes are pretty subtle: Slight updates to the front and rear fascias, a customizable video-screen instrument panel, more safety equipment, and a new 10-speed automatic. The V6 will be dropped, leaving the 2.3-liter EcoBoost turbo four and the 5.0-liter V8 as the sole engine choices.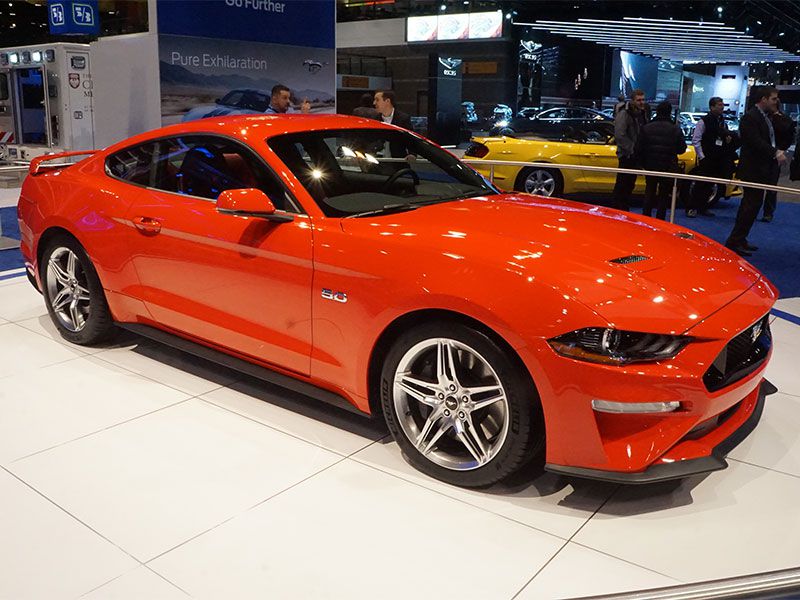 Photo by Aaron Gold
2018 Hyundai Elantra GT
We're pleased to see the return of an old friend. This sleek little hatchback may wear the Elantra name, but in fact, it's an Americanized version of a European-market car called the Hyundai i30, which explains the styling differences between the GT and the Elantra sedan. The GT is a roomy hatchback with an upscale interior, and while it has a European soul, the powertrains were picked for America. Regular GTs get a 162-hp 2.0-liter engine, while the Elantra GT Sport gets a 201-hp 1.6-turbo.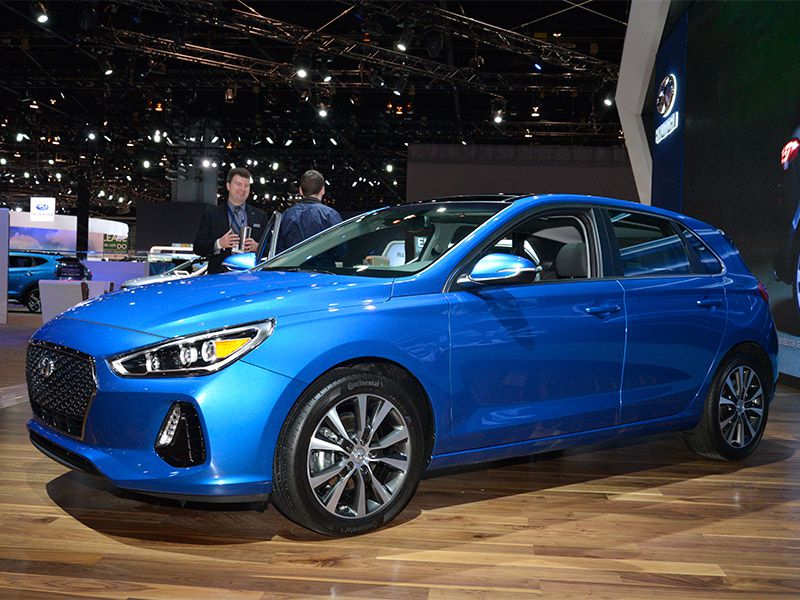 Photo by Newspress USA
2017 Infiniti Q50 3.0t Signature Edition
Think of it as the Q50's Greatest Hits: The Q50 Signature Edition bundles several of the Q50's most popular options, including the 300-hp version of Infiniti's 3.0-liter twin-turbo V6, 17" bright alloy wheels shod with run-flat tires, LED head- and taillights, a moonroof, a split/fold rear seat, a navigation system, and a 6-month subscription to both Sirius traffic and Infiniti's InTouch telematics services. The Q50 3.0t Signature Edition goes on sale this month, priced at $39,605 with rear-wheel drive and $41,605 with all-wheel drive (prices include destination fee).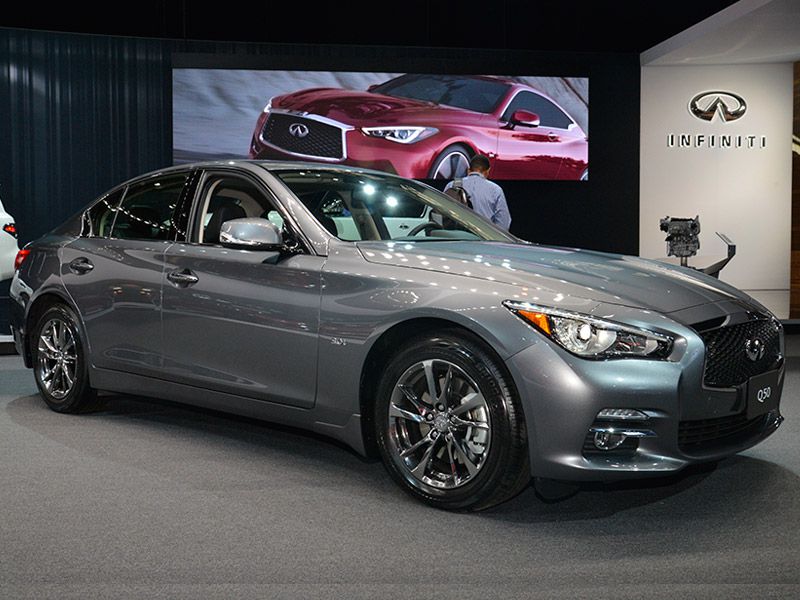 Photo by Newspress USA
2018 Kia Stinger
The Chicago Auto Show gave us our second look at the Kia Stinger, which made its debut at the Detroit Auto Show. This is a new direction for Kia: A sleek 5-door rear-wheel drive hatchback with a selection of tantalizing powertrains, including a twin-turbo V6. One seemingly hard-and-fast rule at Hyundai-Kia (the two companies are corporate partners) is that Hyundai usually gets the one-off cars, so it's nice to see Kia getting something so distinctive. We're excited about the styling and can't wait to drive this beautiful new car.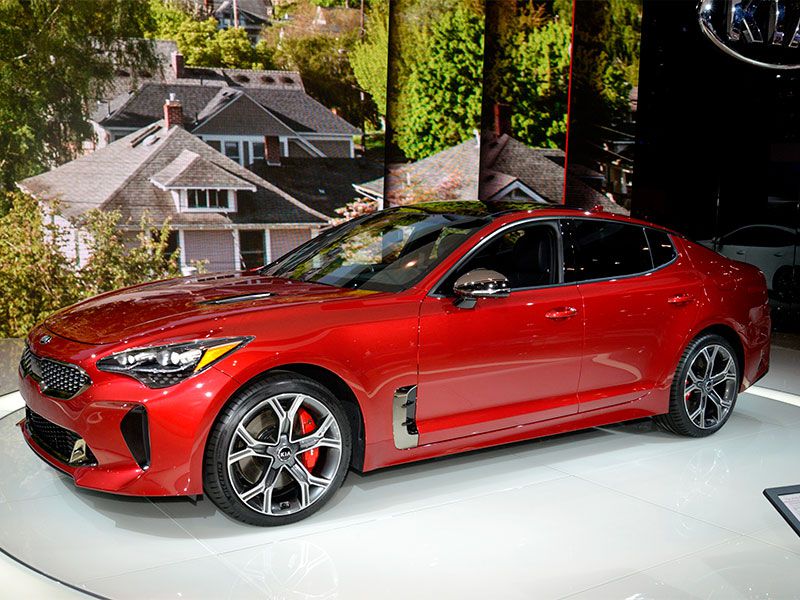 Photo by Newspress USA
2018 Lexus LC
Every time we see Lexus' new LC coupe at an auto show, we have to remind ourselves that this is not a concept car, but rather a finalized production model that you will be able to buy very, very soon. This gorgeous car offers a choice of a 471-hp V8 or a 354-hp V6-based hybrid drivetrain, both delivering power to the rear wheels. We're dying to drive it, but on the other hand, we'd be very happy just standing on the floor of the Chicago Auto Show and staring at it all day. Lexus has announced pricing: $92,000 for the LC 500 and $96,510 for the hybrid LC 500h.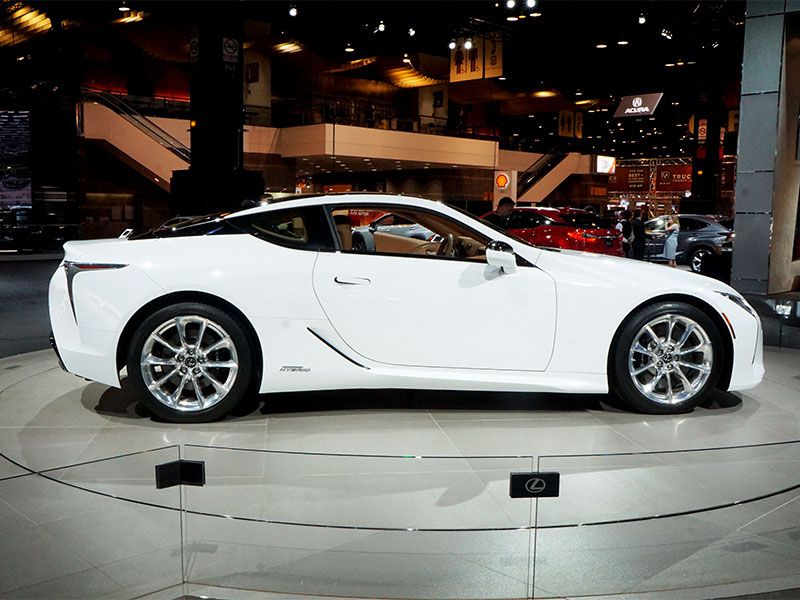 Photo by Aaron Gold
2018 Lexus LS
The Chicago Auto Show was the public's second opportunity to see the new LS sedan, which was revealed at the Detroit Auto Show just last month. The Lexus flagship has been withering on the vine these last couple of years, so it's nice to see that they've gone wide-open-throttle on the redesign. The new car looks slick and beautiful, and it's packed with technology. The LS' venerable V8 will disappear, replaced by a new 3.5-liter twin-turbo V6 that will develop 415 hp and 442 lb-ft of torque—that's 29 hp and 75 lb-ft more than the current car's V8, for those that are counting. We love looking at the new LS, and we can't wait to drive it.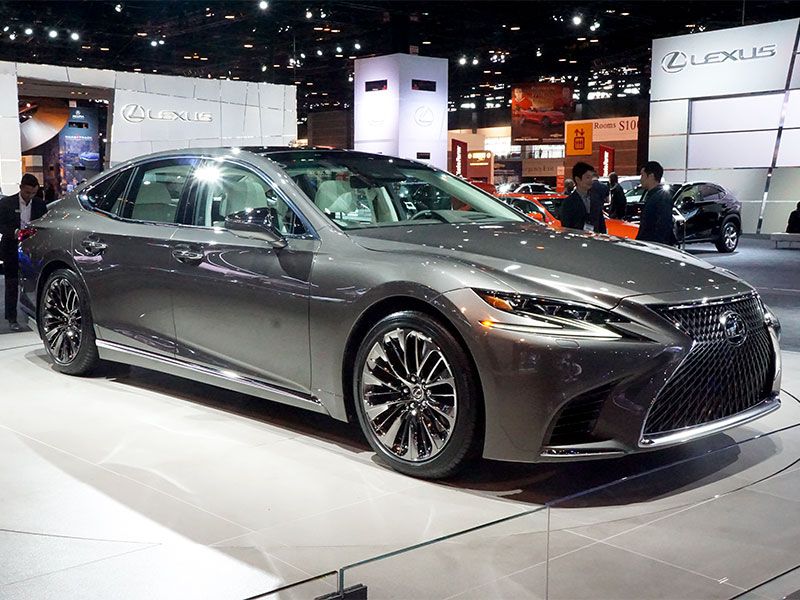 Photo by Aaron Gold
Nissan Midnight Editions
Nissan used the Chicago Auto Show to introduce its new Midnight Edition series, an appearance package that adds black wheels, mirror caps, and other exterior trim. Nissan first introduced the Midnight Edition on the 2016 Maxima, and it was such a hit that they've expanded the package to the Altima, Sentra, Rogue, Murano, and Pathfinder. Nissan had all six Midnight Edition cars on display at the Chicago Auto Show, and we love the way they look.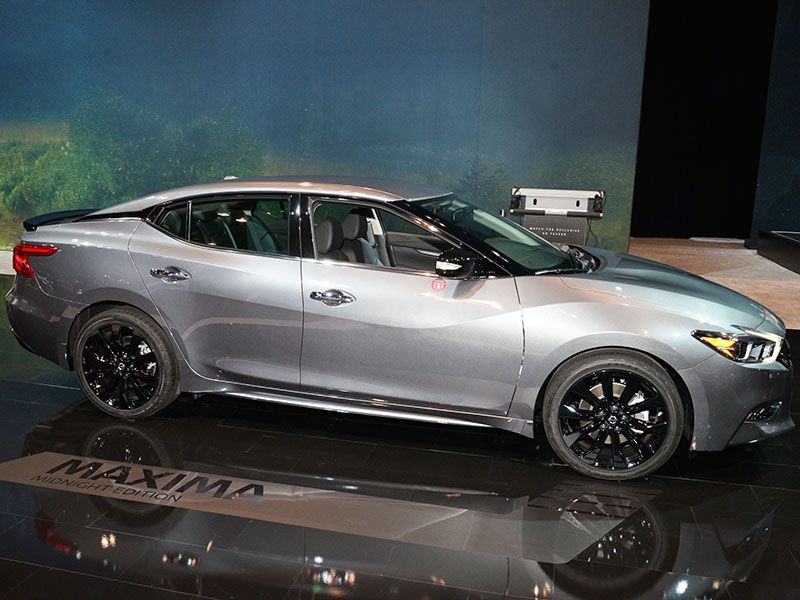 Photo by Newspress USA
2017 Nissan Titan King Cab
pickup trucks always get a lot of love at the Chicago Auto Show, so it's no surprise that Nissan chose it to reveal the the King Cab version of their Titan and Titan XD fullsize pickups. This is an extended-cab truck that slots between the Regular and Crew cabs. It features rear-hinged doors and underseat storage. Titan buyers will be able to order their King Cab with the rear seat deleted to open up more in-cab cargo space. Manufacturers generally bring their most expensive models to the auto show, but Nissan had several Titans (including King Cabs) in entry-level S trim—a smart move, we think, as the stripped-down version of the Titan treats its occupants quite nicely compared to other fullsize entry-level work trucks.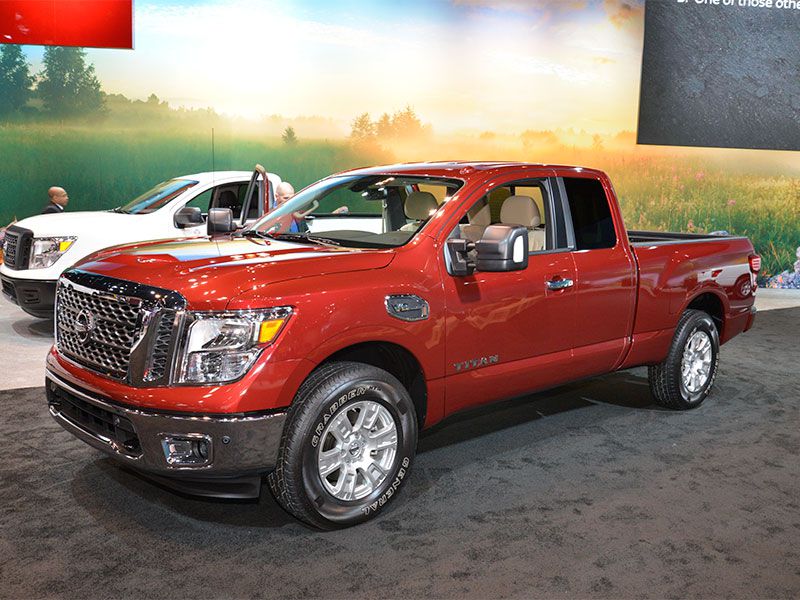 Photo by Newspress USA