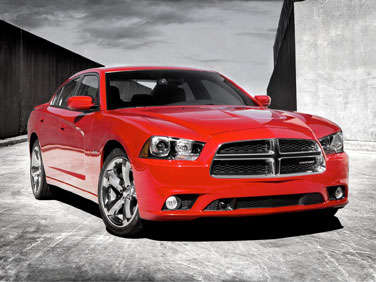 It used to be easy to tell the difference between a muscle car and a sports car. In the simplest of terms, traditional muscle cars delivered big horsepower and fantastic acceleration but stumbled when it came time to turn a corner. By the same token, sports cars offered nimble handling and featured lightweight platforms that provided an all-around performance driving experience. Modern technology has blurred the lines between these two once-distinct categories, providing buyers with traditional muscle car nameplates that dazzle on the road course and a new class of automobiles that combine exceptional power with surprising handling prowess.
Let's take a look at 8 high performance automobiles that might make you question whether they fit better into the muscle car or sports car category.
01. 2011 Chevrolet Camaro SS
The 2011 Chevrolet Camaro SS is the embodiment of the muscle car aesthetic, a thickly-styled coupe that bulges, sneers and bullies its way down the drag strip with the roar of a substantial V-8 engine filling the ears of anyone in a quarter-mile radius. The Chevrolet Camaro SS features a 6.2-liter, eight-cylinder motor that generates 426 horsepower and 420 lb-ft of torque, matched with either a six-speed automatic or six-speed manual transmission. However, it also features an independent rear suspension system that helps the coupe stick to the road with a tenacity never before seen in any of its predecessors, which when added to its five second zero to 60-mph time gives the impression that this is one retro cruiser that has a foot firmly in both the muscle and sports car scenes.
02. 2011 Nissan 370Z
The 2011 Nissan 370Z continues Nissan's tradition of offering real-world sports car thrills in a package that doesn't cost an arm and a leg to park in your driveway. The Nissan 370Z is the prototypical sports coupe: two seats, a sleek exterior and the availability of the special Nismo edition, which can add a limited-slip rear differential, an aggressive aero body package, automatic rev-matching for the vehicle's six-speed manual transmission (included free of charge with its seven-speed dual-clutch autobox) and an upgraded suspension.
The 2011 Nissan 370Z also takes a stab at muscle car status thanks to the inclusion of a robust 3.7-liter V-6 under the hood. Rated at 332 horsepower and 270 lb-ft of torque, this unit can get hearts racing with the best of them, and the Z car's light chassis helps it spring to 60-mpg in 5.1 seconds.
03. 2011 Ford Mustang GT
The 2011 Ford Mustang GT is something of a conundrum within the context of this list. The Ford Mustang GT displays all of the classic elements associated with the muscle car class, including a fire-breathing 5.0-liter V-8 (412 horsepower, 390 lb-ft of torque), a solid rear axle and a butch two-door look that calls to mind the original 60's-era 'Stang. However, the Mustang GT manages to turn in lap times that are simply astounding for a live-axle car (especially when held up against vehicles with much more sophisticated suspension designs), and its 4.8-second 0-60-mph time holds up as equally impressive when compared against performance cars that feature similar pricing. The Ford Mustang GT is definitely a muscle car, but scratch beneath the surface and the macho coupe is wearing the bones of a much sportier automobile.
04. 2011 Hyundai Genesis Coupe 3.8 R-Spec
The 2011 Hyundai Genesis Coupe 3.8 R-Spec was clearly put together to offer drivers an intriguing and inexpensive option that cribs from both the 370Z and Mustang design philosophies. The Hyundai Genesis Coupe 3.8 R-Spec comes with a 3.8-liter V-6 engine that puts out 306 horsepower and 266 lb-ft of torque, mated with a six-speed manual transmission as its only available gearbox. The R-Spec package also includes a limited-slip rear differential, a suspension system that has been tweaked to offer better on-track performance and sticky 19-inch tires wrapped around alloy wheels.
The 2011 Hyundai Genesis Coupe 3.8 R-Spec doesn't offer the blistering acceleration typical of a muscle car - turning in a zero to 60-mph time of just under six seconds - but it does provide decent "oomph" to go with its nicely tuned chassis. The Genesis Coupe can be thought of as a modern "pony" car: not quite buff enough to join the muscle club, but with more than enough power to keep things entertaining on both the twisty bits and the straight-aways.
05. 2011 Dodge Challenger R/T
The 2011 Dodge Challenger R/T might be the least ambiguous entry on this list. The Dodge Challenger R/T - like each of the other two domestic muscle cars currently on the market - features an image that is unapologetically throwback. Slab sides, thick haunches and a rumbling 5.7-liter Hemi V-8 engine that is tuned to provide 372 horsepower and 400 lb-ft of torque indicate that the Challenger comes from muscle car stock. Its heavy platform and passable, but not ultra-agile handling prevent it from joining the ranks of sports car pretenders, so while the Dodge coupe might be a blast to drive (capable of hitting 60-mph from a standing stat in 5.5 seconds), it's not designed to turn in quick lap times so much as turn heads with its exhaust note when pinned at full throttle.
06. 2011 Chevrolet Corvette
The 2011 Chevrolet Corvette is proof that the term "entry-level" doesn't always have to be a condemnation. When found in base trim, the Chevrolet Corvette offers perhaps the best bang for the buck in the sports car universe. All versions of the 'Vette come with a 430 horsepower, 6.2-liter V-8 that also produces 424 lb-ft of torque, along with the choice of a six-speed manual or six-speed automatic transmission and a long list of performance features that includes a suspension system that is equally at home on either the track or the street. Well-balanced and offering exotic styling at a very reasonable MSRP, the 2011 Chevrolet Corvette's ability to reach 60-mph in 4.5 seconds is bundled with the welcome bonus of being able to light up its tires at will for the occasional muscle car-inspired parking lot smoke show.
07. 2011 BMW M3
The 2011 BMW M3 is the ultimate expression of the German automaker's two-door 3 Series coupe, a high strung sports car that can dance with ballet-level precision through even the tightest of switchbacks. Pop the hood, however, and the BMW M3 reveals a snarling 4.0-liter V-8 that grinds out 414 horsepower and 295 lb-ft of torque. Refined? Yes. Fantastic handling? Of course. Capable of drifting through a corner while incinerating the rear tires? Most definitely. Whether found with a six-speed manual or seven-speed dual-clutch automated manual transmission, the BMW M3 is Mr. Universe in a tuxedo, a muscle-bound executive transport that borrows liberally from the "big V-8 in a small car" playbook that has long defined the segment. The ability to blow past 60-mph on the speedometer in a mere 4.6 seconds doesn't hurt, either.
08. 2011 Jaguar XKR
The 2011 Jaguar XKR hails from the land of high end luxury, and its interior is replete with leather, electronic gadgets and gizmos and elegant comfort equipment. Underneath the driver's right foot, however, lurks 510 horsepower and 461, squeezed out of a 5.0-liter V-8 by the Jaguar XKR's standard supercharger. The grand touring coupe can rip to 60-mph from a standstill in a blazing 4.5 seconds, and the XKR's suspension system has been given additional attention from Jaguar's engineers compared to the standard edition of the two-door, allowing the vehicle to provide a nice balance between all-out muscle and poised high speed corner management.