The jungles of Belize prove that the ultimate luxury is making it back out...alive.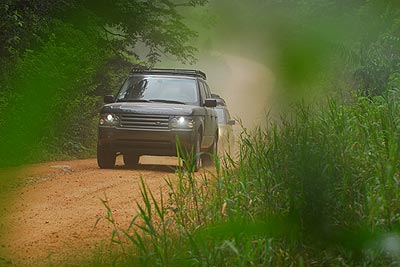 Camp 5 Road, Cayo Province, Belize — Whoever decided to call this overgrown track through the jungle a road must have one twisted sense of humor. In the past eight hours we've come just over nine miles through hood-high vegetation and axle-deep mud; our forward progress has often been measured in feet. And we are—quite literally—not out of the woods yet. What little daylight is left on this deeply overcast day is fading fast, and we still have many miles to go before we reach pavement – let alone civilization.
Mud, Sweat and Decaying Vegetation
In the midst of the rapidly gathering gloom, we're faced with trying to decide which of the barely discernable paths in front of us leads back to the hot showers and soft pillows of tonight's upscale resort…and which leads to a long uncomfortable night in the jungle, rationing our dwindling supply of Pringles and mini-Oreos. Then again, we've had it easy today, compared to the half-dozen driving instructors leading us on this aptly-named Land Rover Adventure. One look at them, covered from head to toe in mud, sweat, and decaying vegetation, and we can't help but think that, whatever the luxury suv-maker pays these expert off-roaders, it ain't nearly enough.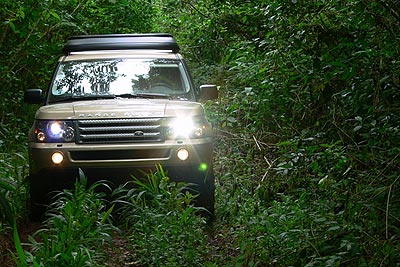 A True Adventure
It's been said that you're not having a true adventure unless you're at least a little unsure of the outcome. By that measure, our three-day adventure in Belize was a doozy. Without knowing exactly what the next 72 hours might bring, we put our fate in the hands of the Land Rover staff as we set out to explore some of the most remote corners of this former British colony. In retrospect, that trust paid off with an up-close-and-personal experience of the country's untamed natural beauty and unspoiled cultural treasures that very few of the folks who visit this popular eco-tourism destination will ever know. Which is exactly the point of the British brand's Land Rover Adventures program.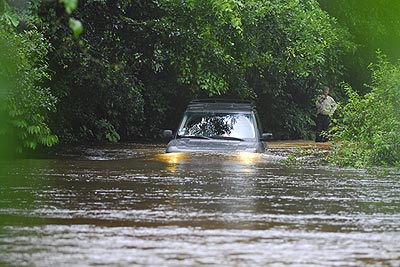 Choose your Adventure
Land Rover's upscale trips give you the ability to explore far off the beaten path, secure in the knowledge that the driving instructor will make sure everyone makes it back…in one piece. The fact that these men and women are also great fun to hang out with makes those long days on the trail even more enjoyable. While the point of these off-road learning adventures is to have you do the driving, the trips also give you the freedom to be as active or passive as you please. You can get right in there with the driving instructors as they play out winch cable to extract your vehicle from the mud, or recline in your vehicle's air-conditioned cabin, thumbing through a magazine while they do the heavy-lifting for you.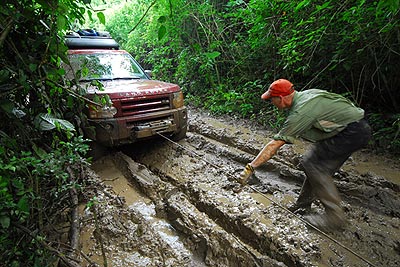 The Right Stuff
We put all three models in Land Rover's current line-up to the ultimate test on this trip, from the company's gorgeous Range Rover flagship to the performance-oriented Range Rover Sport and the more utilitarian LR3. The irony of taking beautifully crafted SUVs into this world-class quagmire aside, all three preformed remarkably well in conditions more extreme than most Land Rover buyers can probably imagine. For starters, all three feature generous ground clearance and short front and rear overhangs that give them excellent approach, departure, and breakover angles with the standard air suspension raised.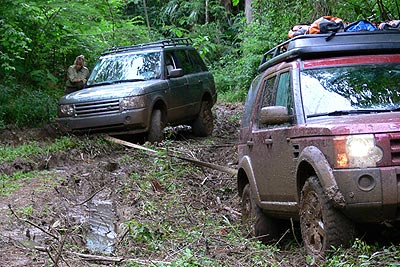 The Right Stuff
The three Land Rover vehicles featured in Belize offered the company's unique Terrain Response system. The system automatically adjusts ride height, throttle response, locking differentials, and more by simply rotating a console-mounted knob to one of five pre-programmed settings that cover the full range of driving conditions from highway cruising to rock-crawling. Needless to say we became intimately familiar with the setting called "Mud & Ruts."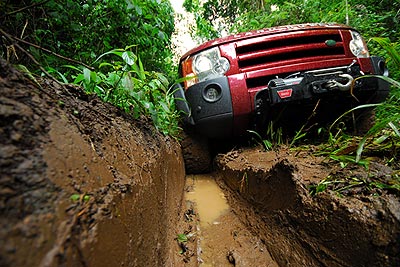 Accessorize Your Mud
Most of our vehicles had also been fitted with a few well-chosen accessories from the Land Rover parts catalog, including muck-proof seat covers, heavy-duty rubber floor mats, rooftop racks, and bumper-mounted winches. But that was the extent of the modifications—otherwise these rigs weren't much different than the Land Rover you'd see sitting next to you at a traffic light in any tony suburb in southern California.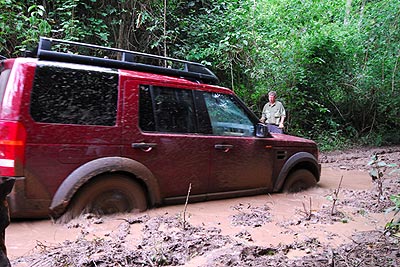 A 'Soft' Adventure
Our three-day expedition started with a 25-minute charter flight over the jungle from the tiny "international" airport in Belize City to a rutted dirt airstrip in the country's Mountain Pine Ridge Forest Reserve. After checking into our first hotel, the Five Sisters Lodge, many of us enjoyed a nap in our thatched-roof cabana's hammock, followed by dinner at the base of the five waterfalls that give the resort its name. Between the good food, fine wine and jazz trio, we were beginning to think that maybe we could handle Land Rover's definition of "adventure" just fine.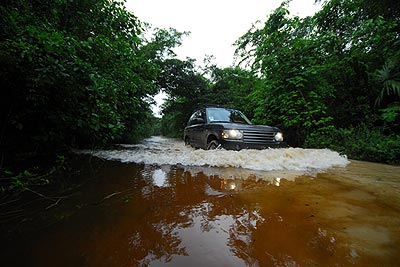 Wake Up!
Then came the early morning wake-up knock (in-room telephones haven't made it to even the best lodges in Belize). It was time to pair up with a driving partner and our Land Rover instructor for the 90-minute drive to our first destination, the prehistoric Mayan ruins known as Caracol, a large complex located 50 miles south of the town of San Ignacio that dates back to 300 BC and was once home to more than 100,000 people. Among the ruins reclaimed from the jungle are temples, plazas, residences, ball courts and several pyramids including a massive 145-foot tall ruin that is still the tallest man-made structure in Belize.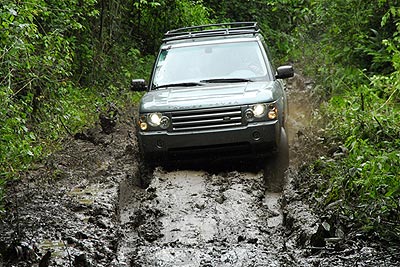 Mayan Culture
Our guide to the site was Professor Jaime Awe, director of the Belize Institute of Archaeology and the man responsible for much of the recent research and preservation work at the site. His in-depth knowledge of Mayan culture in general and these ruins in particular helped turn these mute piles of stone into a fascinating history lesson. Afterward, we found our Land Rover driving instructors donning their tall rubber boots and getting tow straps, winches, and other recovery gear in order. Clearly, things were about to get even more interesting.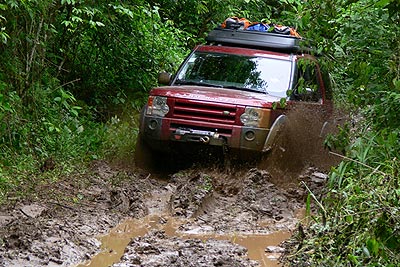 Off Into the Weeds
Our caravan headed back down the paved road to a nearly invisible turnoff to the infamous jungle path known as Camp 5 Road. This one-time logging road was originally carved through the jungle in the 1930s and looked like it hadn't seen a motor vehicle since. And though these deluxe trucks looked a bit out of place, all three models chugged through sections of extreme trail. In fact, it was some of the toughest off-road conditions we've ever experienced, and our driving instructors had to pull out the tow straps and winch cables repeatedly throughout the afternoon to get us through several sections of trail capable of stopping any vehicle short of a military tank.