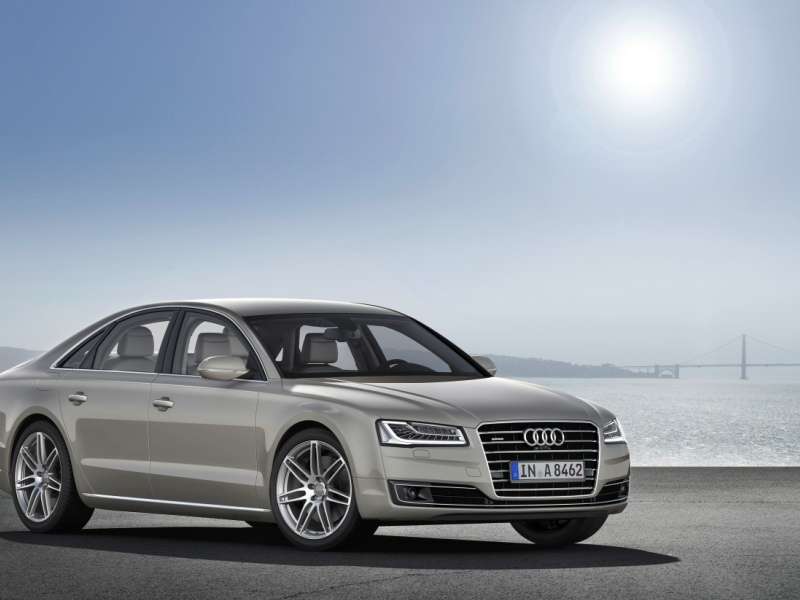 Full LED headlights set into a resculpted illumination cluster, which, in turn, flanks the latest evolution of the Audi single-frame grille, are among the most noticeable upgrades to the 2015 Audi A8 family—but there are plenty of beneath-the-skin tweaks as well, along with new pricing for the flagship of the four-rings brand.
The entry point to the 2015 Audi A8 roster, for example, sees a premium of $2,300 as compared to the 2014 selling season, elevating its MSRP to $77,400, and there are similar increases throughout the lineup: Thus, the high-performance 2015 Audi S8 will open at $114,900, representing a jump of $2,400 versus the previous model, while the ne plus ultra of the A8 portfolio, the 2015 Audi A8 L W12, sees a jump of $2,000, to $137,900. On the other hand, as noted by Scott Keogh, president, Audi of America: "The A8 represents the best in Audi innovation, design and craftsmanship. The A8 has been a strong contributor toward building our brand and the changes for the 2015 model year will continue to build upon that success."
The other building block for the 2015 Audi A8 family—the diesel-powered A8 TDI that the EPA rates at 24 mpg city/36 mpg highway/28 mpg combined—will have an MSRP of $85,100; that represents a fairly massive, and as-yet-unexplained, boost of $6,300 over its 2014 predecessor.
In terms of upgrades, they're sprinkled throughout the 2015 Audi A8 entries and include:
The same redesigned lighting and grille treatment mentioned above
An extra 15 hp for 2015 Audi A8 models with the 4.0-liter turbocharged V8 engine
Piloting enhancements, such as a new electromechanical steering column and variable-rate "Dynamic steering" technology
More safety measures, such as an active lane-keeping system, enhanced night vision with animal-detection capabilities and secondary-collision assist, engineered to prevent the 2015 Audi A8 from rolling into a rebound impact
Updated cabin trim choices, along with more noise-reduction features and a reconfigured trunk space that delivers more room for parcels and gear
Per the automaker, the 2015 Audi A8 range will arrive in dealership before the end of the month.