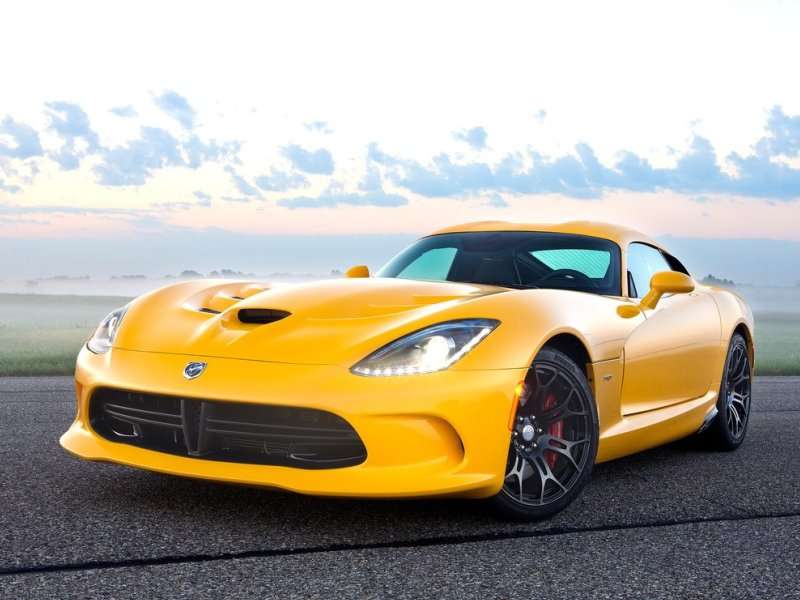 2014 dodge srt viper yellow
With the 2014 model ringing up all of 38 sales last month, the 2015 Dodge Viper will see a major price cut for the new model year, as well as a minor bump in both horsepower and fuel economy. Thew new bottom line for the other homegrown supercar still on the marketplace: An MSRP of $84,995 that represents a $15,000 decrease as compared to the starting point from the previous model year; additionally, any 2014 models still in stock will benefit from the same price reduction. 
There's something for current owners of the today's fifth-gen cars as well, in the form of a $15,000 incentive certificate—which can be combined with the previously mentioned price cut for some $30,000 in savings on the 2015 Dodge Viper.
And at the same time, engineers have managed to extricate an extra 15 horses from Viper's 8.4-liter V10 HEMI, now rated at 645 hp and 600 lb.-ft. of torque, while also pushing highway fuel economy up to 20 mpg (when the 2015 Dodge Viper is fitted with its six-speed manual transmission).
Now, the powers that be didn't provide many details about how the change in pricing was achieved, but you can get some hints from Tim Kuniskis, president and CEO of both Dodge and SRT brands. As Kuniskis notes, the 2015 Dodge Viper is meant as a return to the car's roots, when it "didn't have air conditioning, anti-lock brakes, traction control or stability control. It didn't even have real windows."
What the 2015 Dodge Viper will have, according to Kuniskis, is "the purity of the original car, with its seductive design, perfect weight balance and all-aluminum V10 with an additional 245 horsepower. But the rawness has been tamed with state-of-the-art five-mode ESC, two-mode suspension, ABS, traction control, launch control and a lightweight structure comprised of carbon fiber, magnesium and aluminum."
Drivers will be able to find out for themselves early next year, when the 2015 Dodge Viper—still being built at the Conner Assembly Plant in Detroit—goes on sale.