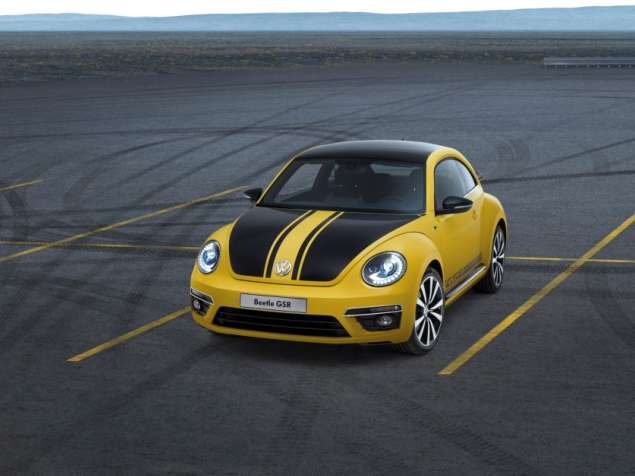 Hoping to help build sales traction for the 2014 VW Beetle, Volkswagen has set the price for its limited-edition GSR model at $29,995 for examples fitted with a six-speed manual transmission, and $31,095 for models with a six-speed DSG dual-clutch automatic.
Both transmissions are connected to Volkswagen's performance-oriented 4-cylinder turbo, now allowing drivers to extricate some 210 hp and 207 lb-ft. of torque from its 2.0 liters of displacement in the 2014 VW Beetle GSR. As a result, the car has the ability to sprint from 0-60 in 6.6 seconds, and sharp-eyed shoppers will note that that's the exact same mark as for the VW Beetle R-Line. It makes the 2014 VW Beetle GSR a bit of a value play here, since it opens $140 below the price of the 2013 R-Line yet actually provides all of the same content, including R-Line bumpers and 19-inch Tornado-design aluminum-alloy wheels.
Also standard in the 2014 VW Beetle GSR:
Fender premium audio
A panoramic sunroof
VW's RNS 315 navigation system
Keyless access with pushbutton start
Heated front seats
Bluetooth connectivity
A media device interface with iPod cable
LED daytime running lamps and license-plate lighting
Auxiliary instrumentation, with a boost gauge and a clock with stop-watch functionality
And while the new member of the lineup doesn't wear an R-Line appearance upgrade, it does have its own exclusive look, both inside and out. The yellow/black color scheme is a throwback to the original VW Beetle GSR of the 1970s, which was named from the German words for yellow-black racer: Gelb Schwarzer Renner.
The 2014 VW Beetle GSR is expected in dealerships this fall in limited numbers, since only 3,500 units will be sold by Volkswagen globally.