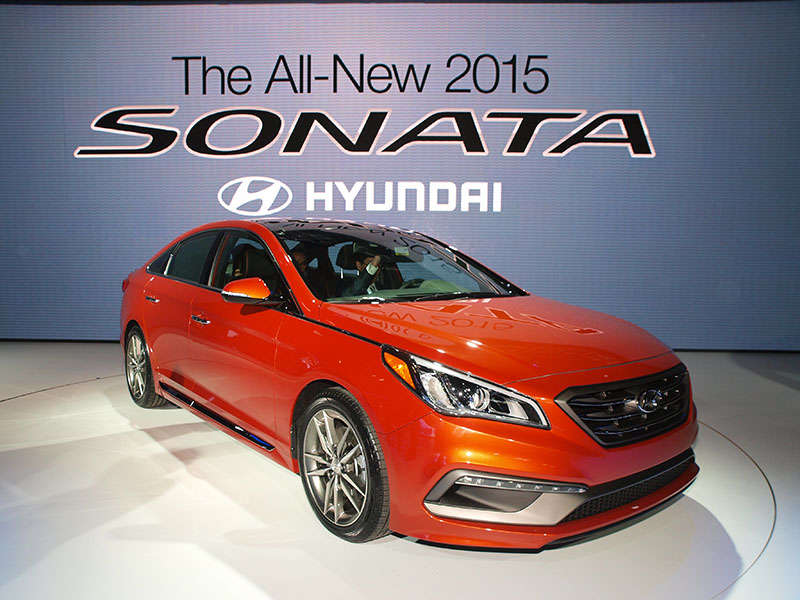 Photo by Megan Green
Showcasing a new "Fluidic Sculpture 2.0" design language, the significantly refreshed 2015 Hyundai Sonata welcomes a $300 price cut for the new model year and will open at $21,150. That represents a decrease of about 1.4 percent, which leaves the car in second place on the segment's current affordability leaderboard. Keeping in mind that most of its rivals remain priced for the 2014 model year, the current list looks like this:
VW Passat—$20,995
2015 Hyundai Sonata—$21,150
Mazda Mazda6—$21,190
Kia Optima—$21,500
(Next-gen) Chrysler 200—$21,700
Ford Fusion—$21,970
Honda Accord—$21,995
Nissan Altima—$21,170
Chevy Malibu—$22,340
Toyota Camry—$22,425
It's further worth noting that, along with lowering the price of admission to the Sonata roster, Hyundai also is delivering more content higher up the ladder. For example, the 2015 Hyundai Sonata will help hands-free storage technology migrate to the car sector by offering a "Smart Trunk" that works like the kick-to-open liftgate on the Ford Escape. Other upgrades are set to include adaptive cruise control, a fuel-saving stop/start system, a panoramic sunroof, heated/ventilated front seats and a heated steering wheel.
A similar approach is evident in the safety features of the 2015 Hyundai Sonata. The standard airbag count is up to seven, thanks to the addition of a unit to protect the driver's knees, while all of the most popular electronic-assistance measures are on the menu as well, including forward collision warning, blind-spot detection, rear cross-traffic alert and lane-departure warning.
Now, I also must report that the hi-po 2015 Hyundai Sonata 2.0T, motivated by a 2.0-liter turbo engine, loses a non-negligible chunk of its output. Horsepower falls from 272 to 245 and torque declines by 9 lb.-ft., to 260, but the brand does claim that the changes result from the engine being "optimized for lower-RPM drivability," with "better responsiveness."
The party line from Bob Pradzinski, vice president of national sales, Hyundai Motor America: "A strong value proposition has always been a cornerstone for Hyundai and the 2015 Sonata continues that tradition. Our customers are also asking for advanced safety and technology features, so we broadened the 2015 Sonata model line to include more premium comfort and convenience features on the upper trim levels. The mid-size sedan segment is incredibly competitive and we made a conscious effort to deliver a world-class mid-size sedan at an outstanding value."