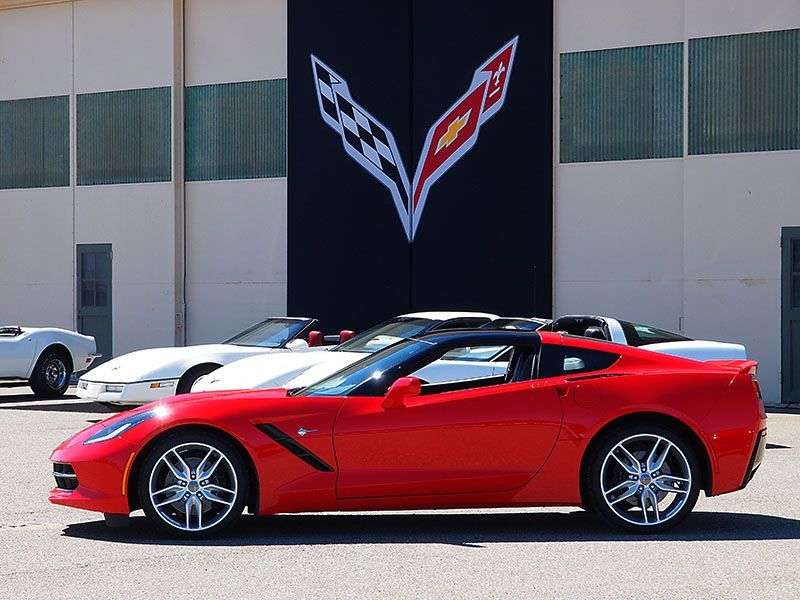 The 2014 Chevy Corvette Stingray has garnered a steady supply of trophies since its introduction late last year, and that momentum is showing no sign of slowing down during the current one. In fact, the Stingray just scored another important recognition at the start of the Chicago Auto Show, where it received the top honor in the 2014 Drivers' Choice Awards from MotorWeek—the PBS program that's the longest-running auto-oriented television show in the country.
Said its host, John Davis: "The Chevrolet Corvette Stingray is an amazing effort at an amazingly affordable price. It looks great from every angle, and is a total high-performance package that is truly world class. Nothing is left out, from track-ready features, to impressive driver comfort, to the kind of fuel economy that is the envy of the sports car world."
For those who for some reason need something other than a $51,000 performance coupe, MotorWeek also announced Drivers' Choice Awards for a wide range of other segments, too, including:
Best Subcompact Car—Ford Fiesta ST: Hi-po hatches don't usually win this category, but MotorWeek judges "could not resist the Fiesta ST."
Best Compact Car—Mazda Mazda3: "The easiest decision" of the awards program.
Best Family Sedan—Chevrolet Impala: Highlighted by "beautiful styling" and "great ride and handling."
Best Convertible—Jaguar F-Type: Earning the ultimate Jaguar compliment as "liv[ing] up to the E-Tradition."
Best Luxury Sedan—Cadillac CTS: Showcasing "panache and prowess worthy of a global player."
Best Sport Sedan—Subaru WRX: "Another perennial favorite" of MotorWeek judges.
Best Sports Coupe—BMW 4-Series: Delivering a traditional BMW experience that will have owners "loving every minute of it."
Best Performance Car—Chevy Corvette Stingray: See above.
Best Small Utility—Jeep Cherokee: Clearly deserving of "the huge sales numbers that we expect" from this new entry.
Best Large Utility—Hyundai Santa Fe: The choice for drivers who want their family hauling done "as affordably and comfortably as possible."
Best Pickup Truck—Ram 1500: Like many, MotorWeek lauded the Ram for "bringing the manliest of all powertrains to the ½-ton market, a diesel!"
Best Eco-Friendly—Honda Accord Hybrid: Serving up "all the comfort, security and good road manners" one expects from an Accord, along with an EPA grade of 50 mpg city.
Best Dream Machine—A three-way tie between: Mercedes-Benz SLS AMG Black Series, Porsche 911 Turbo S and Land Rover Range Rover Sport.