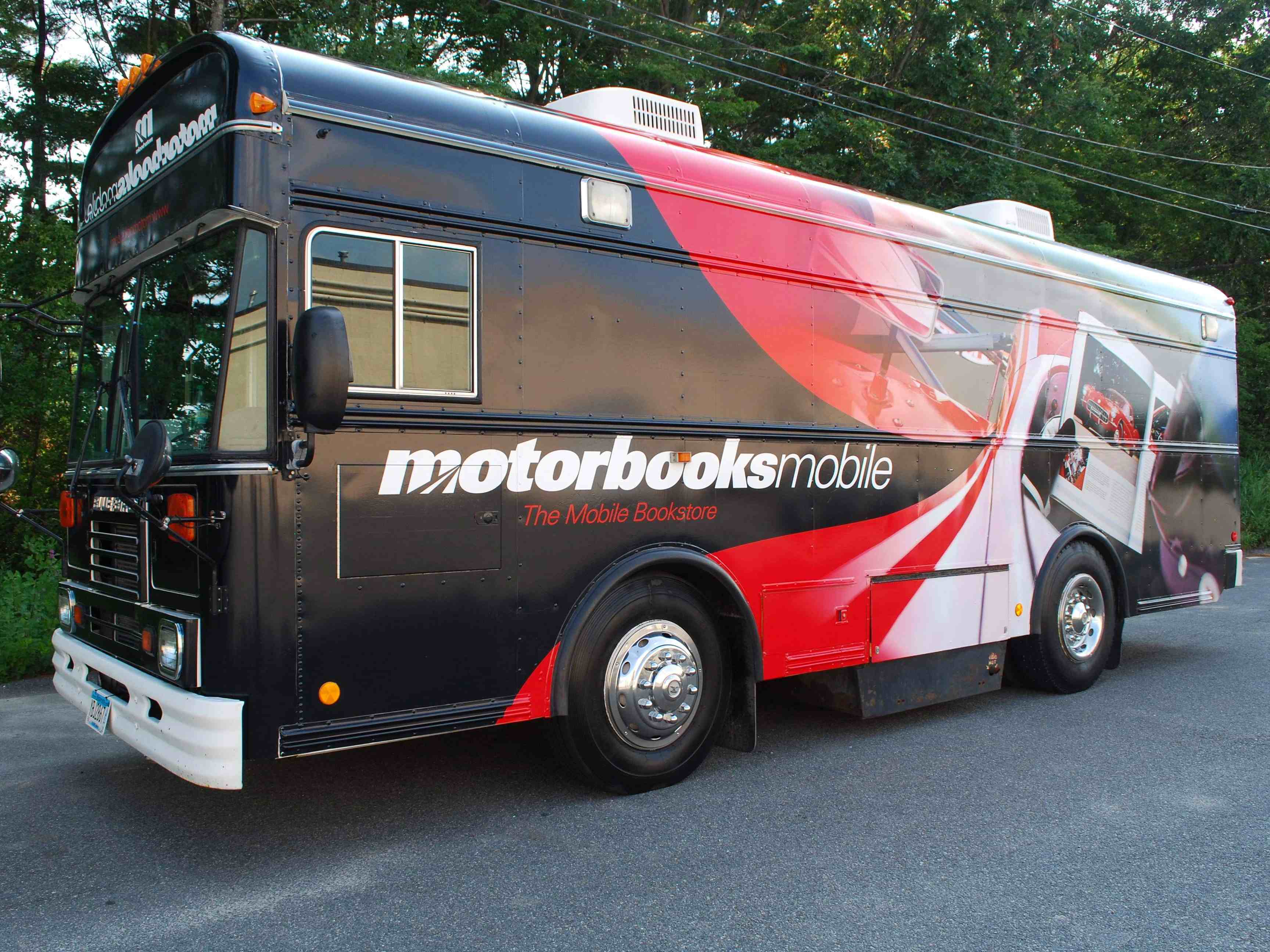 "Transportation enthusiasts—whether they are hot rodders, motorcyclists, racers, sports car fans—are keenly aware and appreciative of sharp design, quality form and thoughtful presentation. A beautiful, printed book is all of those things," according to Zack Miller, the current publisher of Motorbooks.
The trouble is, finding those books, even in the age of Amazon, can be a surprisingly tricky task. As noted in a recent article on Salon.com, book buyers discover new titles online—as opposed to in brick-and-mortar stores—only about 17 percent of the time. Which brings us to the MotorbooksMobile. True, it's more sheet metal and powertrain than bricks and mortar, but the vehicle is still carrying Motorbooks' current catalog directly to a string of enthusiast events across the Midwest, New England and even into the Carolinas.
The publishing company, which has been serving auto buffs for more than 45 years, offers everything from biographies to how-to books to lavishly illustrated works dedicated to classic automobile marques.
"We see this as a whimsical, yet effective way to introduce our robust catalog of Motorbooks titles to the consumer who will appreciate them the most and grow our fan base and frequent buyers of our books," said Ken Fund, president of the Quayside Publishing Group that oversees Motorbooks. "What better way to introduce these books to a car lover than to drive a huge truck full of them into the heart of a car show?"  
You can find out the answer to that question yourself by visiting the MotorbooksMobile at one of the following events:
NSRA Street Rod Nationals, Louisville, Ky., August 1-4
Mopar Nationals, Columbus, Ohio, August 9-11
Corvettes at Carlisle, Carlisle, Pa., August 23-25
Auburn Fall, Auburn, Ind., August 29-September 1
Ohio Swap Meet, Springfield, Ohio, September 6-8
Corvette Fun Fest, Effingham, Ill., September 19-22
Hemmings New England Concours d'Elegance, Saratoga, N.Y., September 27-29
Fall Car, Carlisle, Pa., October 2-6
Antique Automobile Club of America Fall Meet, Hershey, Pa., October 9-12
Cruisin' the Beach, Myrtle Beach, S.C., October 17-19
Goodguys Southeastern Nationals, Charlotte, N.C., October 25-27