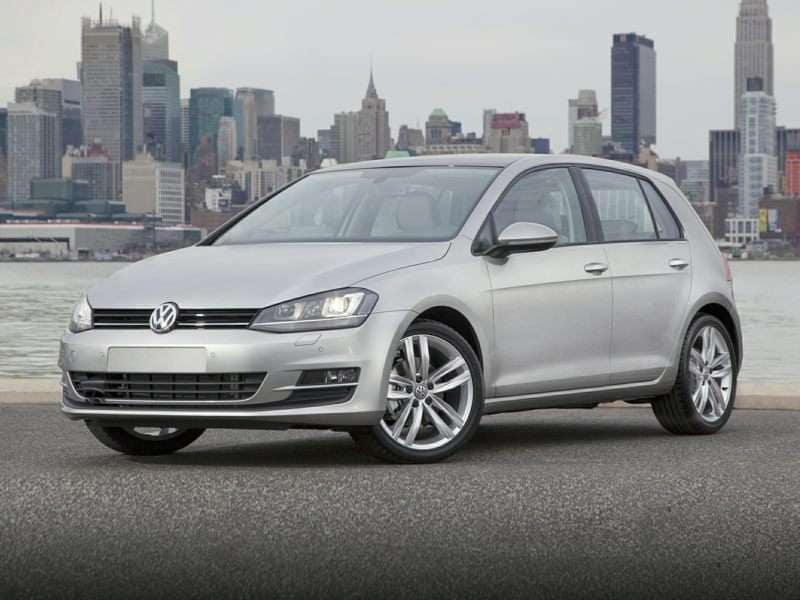 2015 vw golf ・ Photo by Toyota
It's another major prize for the 2015 Volkswagen Golf roster: After already earning multiple "Car of the Year" titles internationally, the latest versions of VW's compact hatchback now have been named the 2015 Motor Trend Car of the Year. (And remember, the 2015 Volkswagen Golf also is on the short list for the North American Car of the Year award, which will be presented in January in conjunction with the North American International Auto Show in Detroit, and the Golf family further scored the Green Car Reports "Best Car to Buy" award earlier this month.)
For the MT Car of the Year crown, the 2015 Volkswagen Golf endured a nine-day testing regimen, including significant track time at three different professional driving courses, with judges evaluating all contenders for design advancements, engineering excellence, efficiency, safety, value and performance of intended function. Competition was particularly fierce this year, too, with the 2015 Volkswagen Golf up against candidates like the Ford Mustang, Honda Fit, Lexus RC, Maserati Ghibli and Mercedes-Benz C-Class.
Still, Motor Trend's editor-in-chief, Ed Loh, reported: "VW floored our judges by reimagining the seventh generation Golf for nearly every need and want. From the value-laden Golf 1.8T and high-MPG Golf TDI to the legendary hot-hatch GTI and all-electric e-Golf, there truly is a Golf for everyone."
Added Michael Horn, president and CEO of Volkswagen of America: "Volkswagen is extremely proud to receive this prestigious award. This recognition from Motor Trend is a testament to the versatility of the Golf family and the quality and value these cars offer in the compact hatchback segment."
There also may be more Golfs on the way. The incredible Golf R 400 concept will visit the upcoming Los Angeles Auto Show, boasting 400 hp, 4MOTION all-wheel drive and a sub-4-second 0-60 time. Be sure to check out Autobytel's full coverage of the show for more on that car, then keep your fingers crossed that it will herald the eventual launch of the production Golf R in this country.