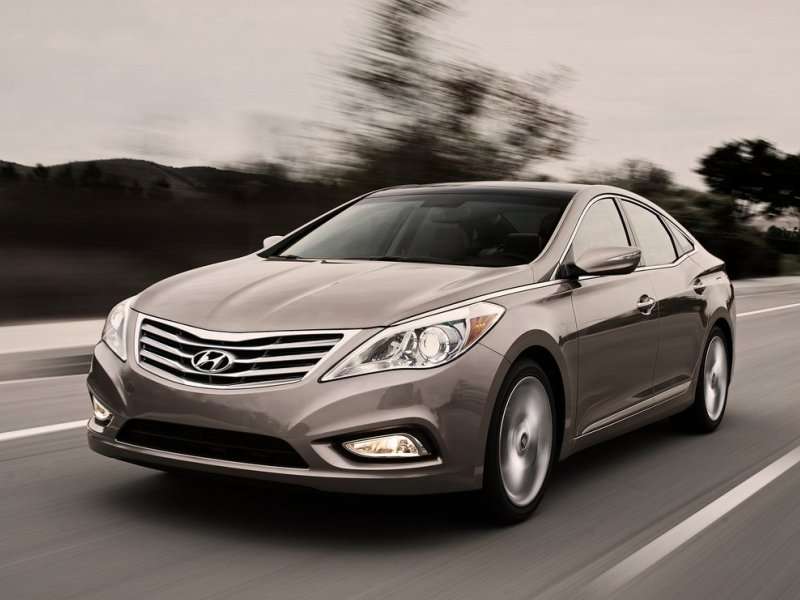 With the 2013 model facing some stiff headwinds in recent months, the 2014 Hyundai Azera will sail into dealerships with a starting price of $31,000 and some significant new standard features. As regards that MSRP, it marks a $1,250 decrease from the starting point for the 2013 Azera; in terms of additional content, the entry-level 2014 Hyundai Azera will welcome:
Enhanced audio functionality, with a new 6-inch color LCD display
Driver-assistance features like a rearview camera and driver's-side blind-spot mirror
A three-year complimentary subscription to Hyundai's Assurance Connected Care services
The brand also will refine the upper end of the Azera spectrum by introducing a new "Limited" model that boasts updated navigation technology with a new 8-inch screen, as well as an electroluminescent gauge cluster, LCD trip computer and power-folding outside mirrors. Created specifically with a goal of "reflecting … buyer preferences in the segment," the 2014 Hyundai Azera Limited will start at $34,750.
Both models will continue to rely on the automaker's six-speed Shiftronic automatic transmission, mated to a 3.3-liter direct-injected V6 that serves up 293 hp, 255 lb.-ft. of torque, and an EPA line of up to 19 mpg city/29 mpg highway/23 mpg combined.
Now, as some readers may recall, the Azera was introduced as an all-new model just two years ago, and that makes these changes fairly extensive considering the car is so fresh. And while the enhancements make the 2014 Hyundai Azera a strong alternative in the full-size near-lux marketplace, the tactics themselves were a necessity for the brand: The Azera's 11-month year-to-date sales growth of 33.6 percent disguises the fact that deliveries of the car have dropped drastically in the second half of the year.
The situation had become particularly dire by the end of last month, when the full-size, non-lux leaderboard looked like this:
Chevy Impala—13,418 sales, up 20.2 percent
Nissan Maxima—7,208 sales, up 52.4 percent
Dodge Charger—6,985 sales, up 10.6 percent
Toyota Avalon—5,835 sales, up 346 percent
Ford Taurus—4,901 sales, down 14.5 percent
Chrysler 300—4,115 sales, down 13.5 percent
Buick LaCrosse—2,980 sales, down 21.5 percent
Hyundai Genesis (sedan and coupe)—1,989 sales, down 16.6 percent
Kia Cadenza—913 sales in its first November
Hyundai Azera—512 sales, down 31.8 percent
Uncoincidentally, the 2013 Hyundai was some $1,000 more expensive than the Avalon or Maxima, while the new Azera undercuts the former and is at parity with the latter.