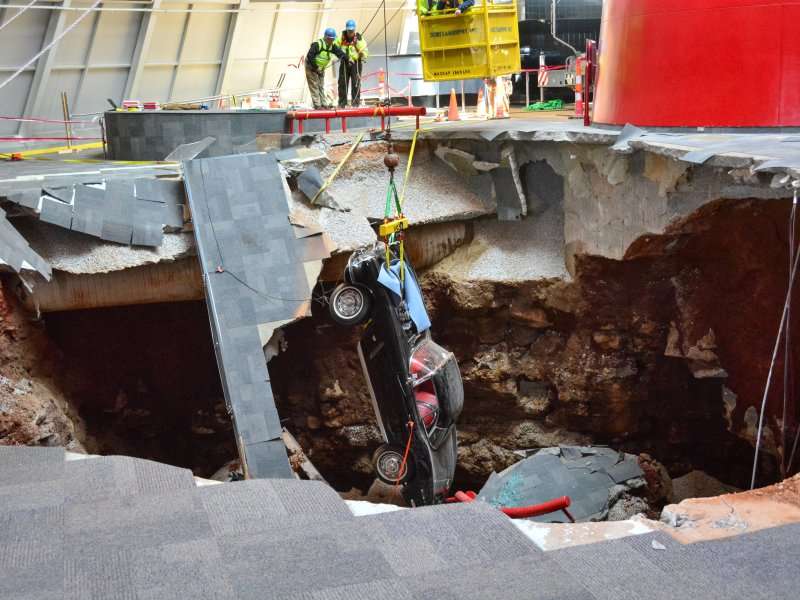 Starting with a 2009 Chevrolet Corvette ZR-1 "Blue Devil," three of the eight cars that fell into a massive sinkhole at the National Corvette Museum in February have now been recovered from the pit. Shortly after the ZR1's successful extraction, both a 1993 40thanniversary Corvette and a black 1962 split-window Chevy Corvette were recovered as well. All were called "in remarkably good shape" by John Spencer, manufacturing integration manager for the Corvette, (as a reminder, although the Museum is an independent, non-profit organization, Chevrolet has committed to overseeing the rescue and restoration process.)
In fact, the 1999 Chevy Corvette ZR-1 "Blue Devil" was actually started up once it had been lifted from the hole and driven a short distance to exit the Skydome building, where the sinkhole incident occurred. Explained Spencer: "Cosmetically, the carbon fiber running boards are shattered, there's some minor paint damage, and a small crack in the windshield. Mechanically, the worst damage is a split in the oil-supply line for the 6.2L LS9 V8. If you fixed that, you could drive the ZR-1 back to Detroit."
Damage to the 1962 Corvette was essentially skin-deep as well, as was the case with the final car to rise from the sinkhole at this stage, the aforementioned 40th anniversary model. Spencer's report on that model: "Practically every body panel and piece of glass will need to be replaced. However, underneath the frame looks straight, the suspension seems to be intact, and the steering gear still works. It is definitely salvageable."
All three are being sent to the Mechanical Assembly building at GM's Design Center in Warren, Mich., for a thorough evaluation of the vehicles.
Now, while that was the good news, there also was some bad: "Unfortunately, the remaining five cars are either partially or totally covered in debris," according to Spencer. "We expect their recovery will be much more challenging, and the cars to be in much worse condition."
For more on the Chevrolet Corvette sinkhole saga, visit www.corvettemuseum.org.