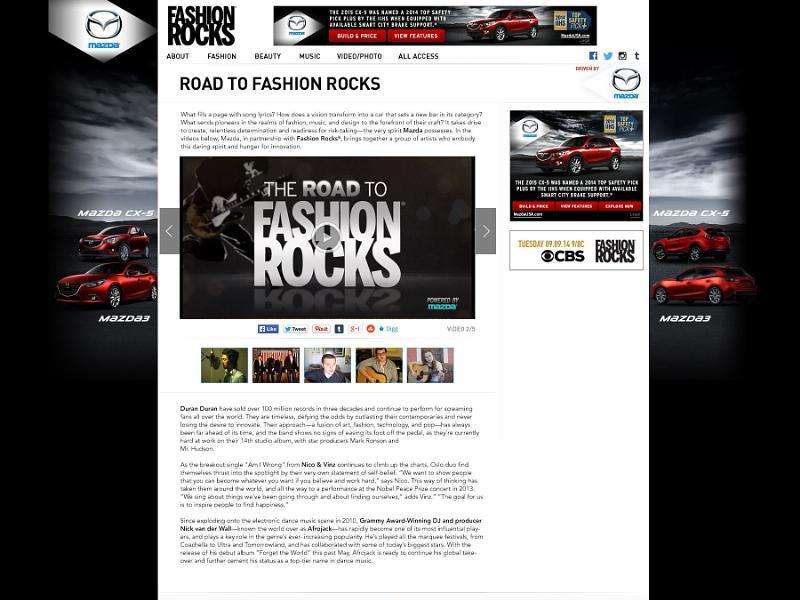 mazda mx5-miata details
With the official debut of the all-new 2016 Mazda MX-Miata less than a month a way, Mazda recently announced that it would leverage a partnership with "Fashion Rocks" to help soundtrack the roadster's reveal. What's "Fashion Rocks" you may ask?
It's a big-time concert spectacular that will be held at Barclay's Center in Brooklyn, on Sept. 9, 2014. But the festivities also will be shown live on CBS, starting at 9:00 p.m. (EDT) and hosted by Ryan Seacrest. Among those scheduled to appear—along with the 2016 Mazda MX-5 Miata—are musicians like Afrojack, Duran Duran, Kiss, Miranda Lamber, Rita Ora, and Usher, and the event is positioned as "the only place where music and fashion collide live on one stage."
As the exclusive automotive partner of that place, Mazda will launch a full marketing campaign tied into the event, even joining the growing ranks of auto brands that are supporting online, curated music opportunities for fans. Of course, beyond videos from the Fashion Rocks artists, the www.FashionRocksLive.com/The-Road site also will feature plenty of news about the latest Mazda vehicles.
That's likely to include news about the 2016 Mazda MX-5 Miata, too, especially since the car will make its public premiere during a private Fashion Rocks concert that will be held Sept. 3, 2014, in Monterrey, Calif.—and live-streamed globally.
Said Russell Wager, vice president of marketing for Mazda North American Operations:  "Like music and fashion, Mazda was born from passion, a deep passion for and commitment to innovation that guides everything that we do today and into the future. Our partnership with Fashion Rocks gives us the opportunity to share our brand with consumers and let them experience our vehicles in an unexpected, yet authentic, way."
In addition to reading Autobytel.com, folks also can stay up to date on the 2016 Mazda MX-5 Miata by connecting on Facebook, Tumblr, Instagram and Twitter (at #MX5Turns25 and #LongLivetheRoadster).
And don't forget, the 2015 Mazda MX-5 Miata—itself no slouch in the "Fashion Rocks" department—is on sale right now, priced from $23,970.