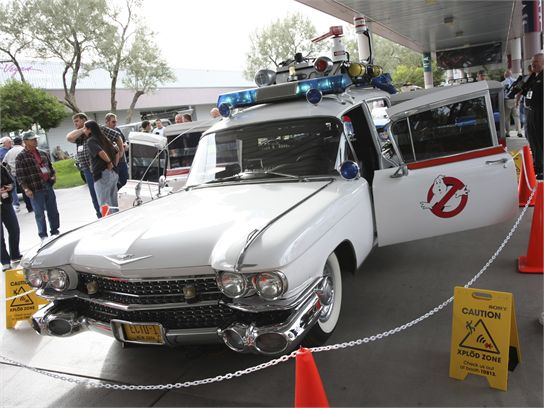 Sony could have loaded up a Cadillac Escalade with amps, tweeters, and an LCD screen in the gas cap door to show off their Xplod audio gear. The child in us is delighted that they rescued the original Ghostbusters ECTO-1 from backlot cinema vehicle purgatory instead. Our sources say they paid roughly a quarter of a million dollars to have it restored to within 90 percent of its original content, making it one of the priciest '59 Cadillac restorations ever.
Photo Credit: MyRide Staff
Page 2
There were quite a few Rolls-Royce Phantom Drophead Coupes this year at SEMA [let's just take a second to consider that sentence...], and this one we spotted at the DUB tent was a particularly clean example. At $25,000 for a set of four 28-inch TIS rims (with Pirelli tires), and Dropheads going for $500,000 these days, this certainly qualifies as a ludicrously expensive car.
Photo Credit: MyRide Staff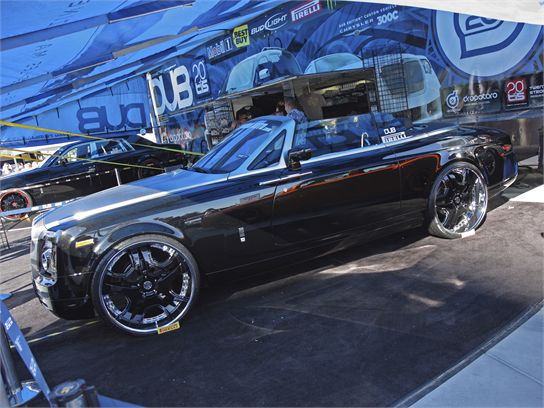 Page 3
In Canada, there is a group of tuners called Elite Tuners of Canada (ETC for short). Think of them as the Delta Force of the Canadian tuner world -- they carry out projects with deadly precision and stunning results. Which leads us to this $650,000 massively customized Top Tuner Cadillac CTS. From the ostrich interior to the metal fabrication of the body that took over 1,000 hours to complete, this CTS was easily one of the top vehicles at the show, and it already had a Meguiar's "10 Best of SEMA 2008" ribbon to prove it when we showed up. Be on the lookout next for a Camaro from this elite squadron of car builders.
Photo Credit: MyRide Staff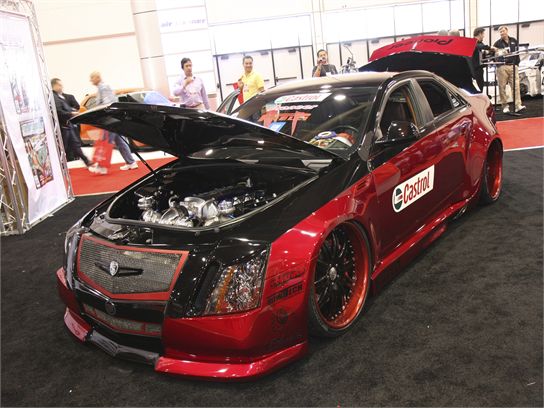 Page 4
What can you do in 11 months with an unlimited supply of money, some of the world's most talented fabricators, designers and automotive engineers, and one 2008 Ford Mustang? Apparently this. Everything on the vehicle is voice-activated, from the doors to the steering wheels. That's right -- there are two steering wheels, depending on which side of the vehicle you feel like sitting on. One retracts, the other extends. Why you need that, I have no idea, but if you drop $1,000,000 into a Ford Mustang, those types of questions quickly become irrelevant.
Photo Credit: MyRide Staff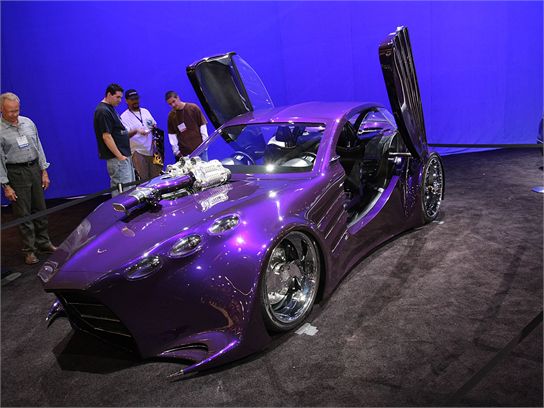 Page 5
SEMA is like an arms race among a planet of countries with massive defense budgets. Each year manufacturers try to outdo each other with crazier rides, hotter booth girls, and bigger displays. This year, Pirelli brought out a one-of-20-in-the-world Lamborghini Reventon, making it the country you don't provoke because there's no way your guns are bigger. On a side note, this poor booth model is trapped behind the force field Pirelli setup to protect the $1.4 million Lambo.
Photo Credit: MyRide Staff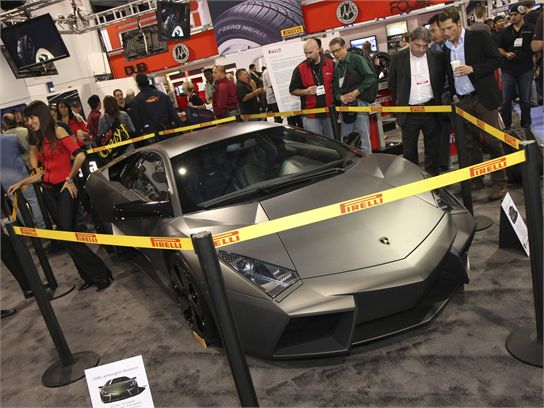 Page 6
Check out the best accessories, wheels, audio systems, custom cars and even green technology at the 2008 SEMA show!
Photo Credit: MyRide Staff