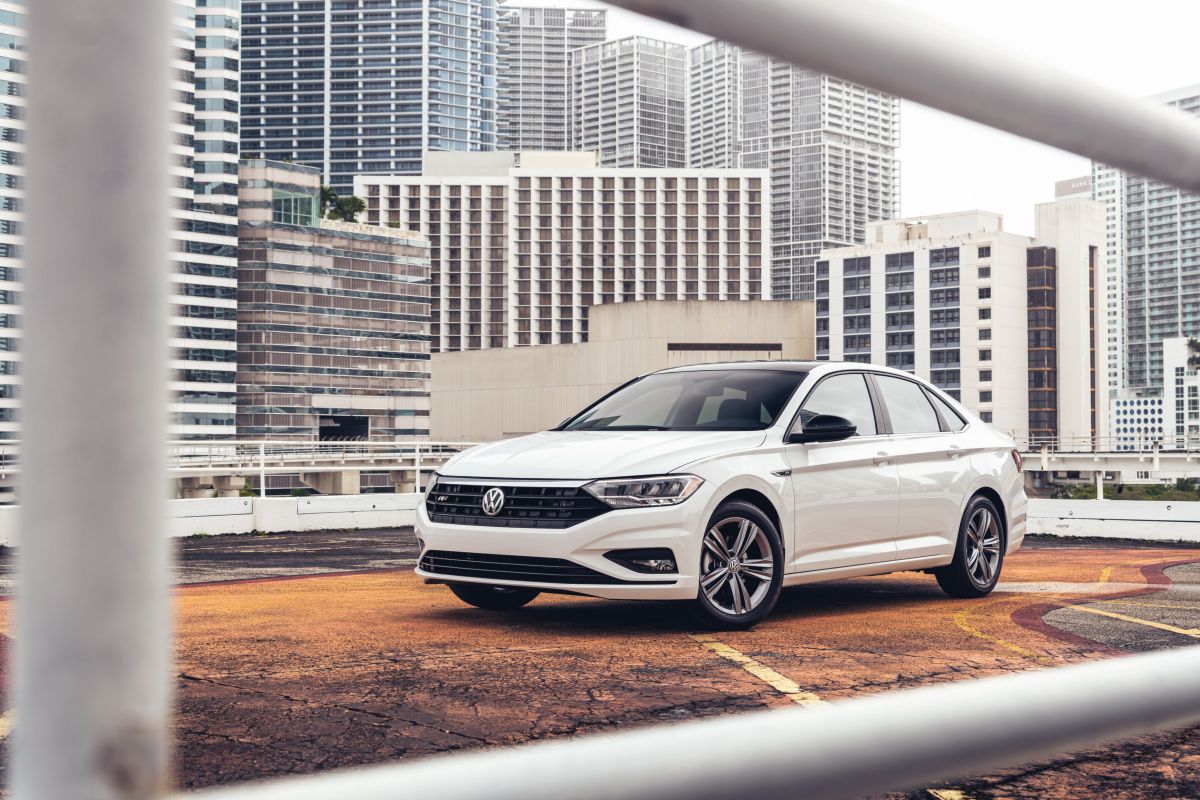 New technology elevates the iconic sedan ・ Photo by Volkswagen
In case you missed it, after a long 4-year lease, it was time for me to replace my Fiat 500L and find a new family car. After months of researching and testing my top contenders — the Volkswagen Tiguan and Mini Cooper Countryman —  I realized it wouldn't be as easy to get one equipped the way I wanted it for a lease price of $300/month, including taxes. As I was comparing lease prices, a wild card came into play: the 2019 Volkswagen Jetta. The advertised lease deals were shockingly low, and once I started pricing one out the way I'd want it, I realized it fell precisely within my budget — without having to make any sacrifices.
However, after having my heart set on a crossover, I wasn't sure that I wanted a sedan. Fortunately, I was able to test a 2019 Jetta SEL for a week to see how my family and I would fare. I fell so hard for the car and everything it offered for the money, that I decided that this was the one. The 2019 Volkswagen Jetta SEL is our new family car, and I love it.
Here are just a few reasons why:
When the Jetta first arrived, I couldn't believe how much room there was inside. The backseat is very spacious, especially considering that this is supposed to be a compact car. The same goes for the trunk — I was even able to fit a dining room chair that I bought on a spontaneous trip to Home Goods! My husband can put his seat all the way back, and my 8-year old daughter still has plenty of room in the backseat. Our car seat days are over (our daughter uses a booster seat), but I'm confident that even a rear-facing infant seat wouldn't pose any challenges for this super roomy interior.
I'm also very picky about keeping my trunk organized — I'm always carrying items like reusable shopping bags, a first aid kit, a park blanket, and an umbrella, and I don't like it spread out all over when I open the cargo area. I had very convenient under-floor storage in my Fiat that I could stash it all in, but the VW comes with nifty "CarGo" blocks that velcro to the floor of the trunk. The blocks keep all my items stashed off to the side, and I still have a wide open space for things in the trunk.
Previously, I wasn't too concerned with fuel economy because I was working from home. However, now I'm finding myself with an almost 40-mile commute (round trip) a few times a week, and the Jetta is returning better numbers than I've ever had before. I'll admit it, I like to put the pedal down, but on some of my commutes, I'm averaging almost 40 mpg!
It also helps that I now have adaptive cruise control, which is essential for my stop-and-go commute. Adaptive cruise control means that not only is the speed being regulated, but sensors in front also help the car to adjust braking and acceleration on its own. The car does not drive itself, but it will apply the brakes if I'm getting too close to the car in front of me, and it keeps my feet off the pedals almost the entire time that I'm on the highway.
The Jetta was completely re-imagined for 2019, and some of the features you can get on the SEL model are surprising – and even unavailable on many other cars, especially in this segment. I am thrilled that the Jetta SEL had all the advanced safety features covered – blind spot detectors on my side view mirrors, lane keep assist, and rear traffic alerts when I'm backing up (in addition to the backup camera). I also have a huge 8-inch color display, digital cockpit (a large high resolution screen that replaces the traditional instruments and dials) and a premium Beats audio system.
Believe it or not, the 2019 Volkswagen Jetta is more parts luxury than any other car I've ever had. It's practically loaded — the only things I'm really missing are leather seats and built-in navigation that come on the top SEL Premium model, but I actually prefer VW's V-Tex "leatherette" and I don't need navi because the car has Apple CarPlay that works with Google Maps and Waze. My husband and I are even able to customize our own profiles in the car so that our phone connection, radio presets and ambient lighting color preferences are all saved and it's set up just the way we like it, no matter who's driving.
With my must-haves — adaptive cruise control, Apple CarPlay, and push-button start with keyless entry, both the Countryman and Tiguan were coming in over budget. And even though I sacrificed the occasional 3rd-row seating I was attracted to in the Tiguan, my Jetta gave me much more than I was looking for.
To get more in-depth details on the 2019 Volkswagen Jetta, check out our expert review here.