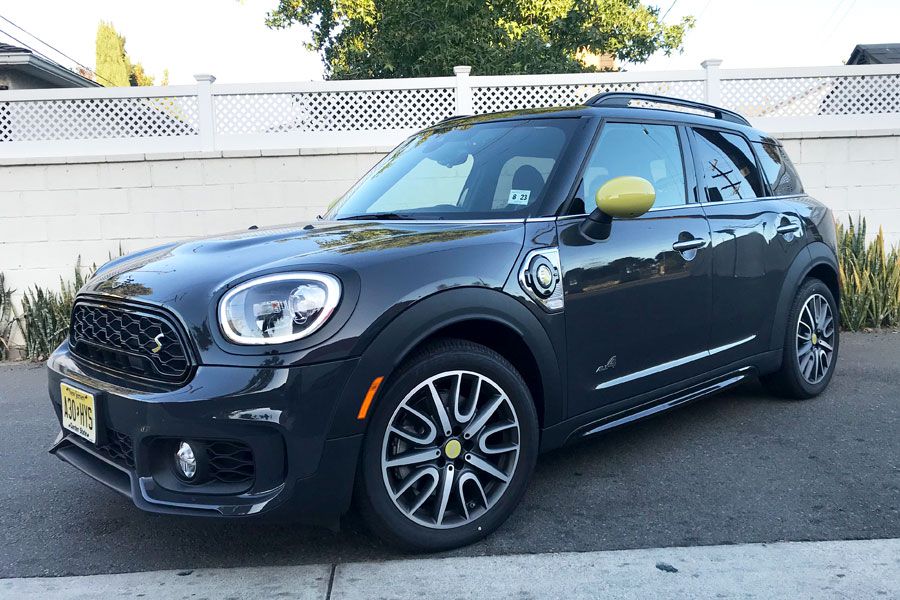 2019 MINI Countryman exterior front angle by Carrie Kim 900x600 ・ Photo by Carrie Kim
I suppose my tendency to rebel against the norm is revealed by what I choose to drive. I'm a mom with an 8-year old daughter, but on the road, I prefer to maintain a less obvious profile. It's not that I'm going through a midlife crisis, but I do enjoy driving something that stands out from the crowd and isn't something every other mom is driving.
So in my current search for a new car, the MINI Countryman was the ideal for someone like me who's looking for a little personality to go along with the practicality of a family vehicle. I tested a Volkswagen Tiguan, but it's more of a mom-mobile than I typically like. Aside from its adorable styling, the Countryman – MINI's largest offering – is known for a fun drive experience and top quality when it comes to fit and finish. It's also exactly the type of vehicle my friends and family expect me to drive. And, since our other car is a VW station wagon when we embark on home improvement projects or need more cargo space on a long road trip, we can use the Volkswagen.
Note: I spent a week with a 2019 MINI Countryman SE ALL4, which is a plug-in hybrid with all-wheel drive. I'm not necessarily looking for a plug-in hybrid vehicle, but it didn't affect my ability to test the Countryman and how it works for my family.
Oh how I love a small car, but the beauty of the MINI Countryman is about how it doesn't feel small inside. With my husband in his regular seating position, my daughter wasn't compromised in the back seat behind him. The trunk had a nice sized under-floor storage bin that let me keep my usual trunk stash of park blanket/sweater/umbrella and reusable shopping bags stowed while keeping the cargo area free for shopping trips. Believe it or not, the Countryman affords plenty of room without sacrifice. With my quick jaunts to the school to pick up my daughter or a busy day of running errands, this car is perfect for me.
And speaking of quick jaunts, being behind the wheel of the Countryman is never dull. It's a cinch to maneuver and park, thanks to its small size, but it's also nimble and quick and much more fun to drive to the grocery store than you think. I was enamored with how it drove — its BMW DNA is intact and appreciated with firm steering and precise handling, but its small dimensions and quirky style keep the car from feeling too serious or stodgy.
It's tough to think of something worthy of taking the smile off my face, but when it comes to MINI, the biggest bummer is the price. Sure, it's the textbook definition of "you get what you pay for" (and what you get is fantastic!), but MINIs are just expensive. Not only the MSRP, but it's almost as though every desirable feature is bundled in different expensive packages. For example, to have Apple CarPlay, you must select a mid-trim level car with the Touchscreen Navigation Package ($1700). Keep in mind that Apple CarPlay is now a standard feature on most any other car. (Disclaimer: It's wireless CarPlay, but still …) My husband and I were crunching numbers after spec'ing out the MINI the way I'd want it, and we actually found that we could lease a similarly equipped Mercedes-Benz GLA-Class or a BMW X2 for the same or less than we could lease the Countryman S! My ideal Countryman S was getting dangerously close to hitting the $40K mark. 
And if we're nitpicking, the Countryman's road noise is loud. And when that happens, everything seems to get louder — the radio, the conversation, and pretty soon, you don't exactly have the most pleasant commute. I was especially surprised by the cabin noise in the Countryman after I test-drove its stepbrother, the BMW X2, which was completely silent in comparison.
Overall, I think there would be no other reason to skip the Countryman except for its price. I want to stay within my $300/mo. lease payment and I'm not willing to settle for a base model without some of the features I want when I can get them on other cars. I was surprised when I cross-shopped with the Mercedes-Benz and BMW and found them to be similarly priced or even cheaper. And it seems hard to find one the way I'd want it — yes, MINI offers endless customization if you're willing to special order, but since I'm focusing on keeping costs down, ordering my MINI means less flexibility on the bottom line. 
That being said, if you have the means, every penny spent on the Countryman shines through — the drive experience, the quality fit and finish inside the car, and most definitely all of it's glorious extroverted styling. The Countryman would be a pleasure for me to drive every single day.