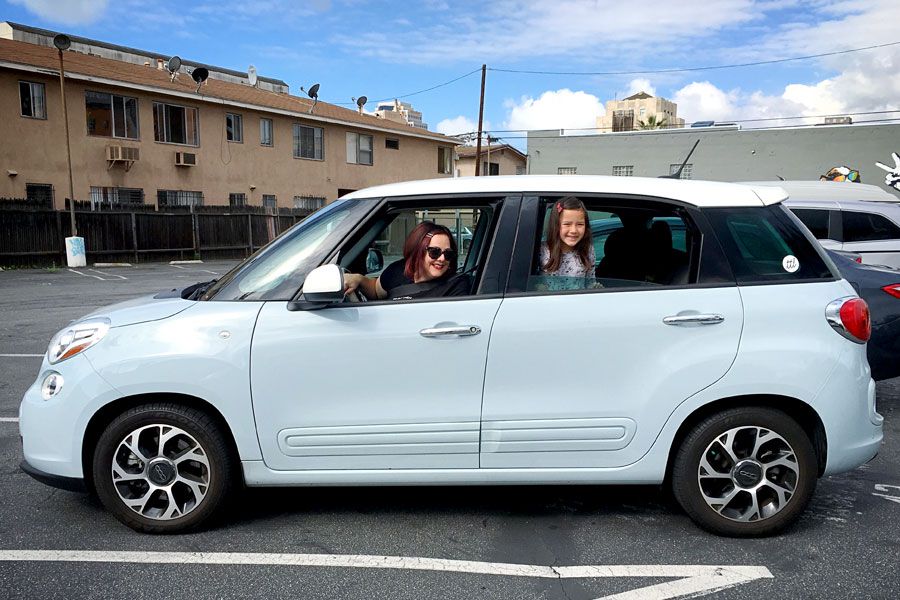 Kim Family 2014 Fiat 500L blog
The time has come for this car reviewer to start shopping for her own ride. Our small family of three is about to come out of a lease on our current family car: a 2014 Fiat 500L. This car certainly hasn't been without its quirks, but I leased it because I liked its compact size, yet extra roomy interior, its wide-open visibility, and the fact that it doesn't look like your typical "mom car." Fuel economy has been decent at about 23 MPG combined and the car has always drawn a crowd in the parking lot at the grocery store for its unique design — not once do I go and not have someone ask, "What kind of car is that?!"
There are a ton of cars to choose from, especially now that our daughter has graduated from child safety seats and is in a booster seat. My interests seem to be all over the map; a vehicle with a third row could be nice now that our daughter likes to bring friends along, but I also want something kind of cool, since I don't have to haul around car seats and strollers and little kid gear anymore.
My short list (in no particular order):
I've always loved MINIs. They're fun to drive and full of personality – which is important to me. Also appealing – wireless Apple CarPlay and MINI Connect. Crossing my fingers that I can get a lease for under $300/mo. (including tax).
The Stelvio is gorgeous and unique. I've been seeing crazy lease deals advertised that put this beauty on the radar. Looking forward to a test drive to make sure it jives with family life.
A little bigger than I'd like, but I've owned several Volkswagens and enjoy the driving experience. Optional third row is intriguing for occasional use, and lease prices look very low, even for a mid-trim level.
I'll be testing all three of these cars to see which works best for my family. My bottom line for this lease is that I must have a payment of $300 or less per month (including taxes). I also need Apple CarPlay, and I would really like a car with push-button start and adaptive cruise control.
Stay tuned for my test drives and to find out which one I choose!