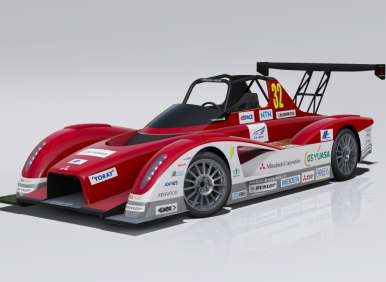 With the 2013 Pikes Peak International Hill Climb gaining a surprising amount of attention from international competitors, long-time participant Mitsubishi recently announced it would bring two purpose-built all-electric racers to the mountain in its effort to capture this year's EV title. The MiEV Evolution II racecars will build on the company's Pikes Peak success from 2012, when the i-MiEV Evolution finished second in the segment—and eighth overall. (And note: A production Mitsubishi i-MiEV also competed in last year's Hill Climb and was, in fact, the only stock EV to finish the event.)
The pilot of last year's EV racer—Hiroshi Masuoka—also will return behind the wheel of one of the MiEV Evo II cars, with the two-time Dakar Rally champ being joined on the team by Greg Tracy, who will look to add to his six motorcycle-class Hill Climb titles in the other one.
As far as real-world applications go, Mitsubishi is noting that "the MiEV Evolution II combines parts used in production vehicles with a high-capacity battery and high-output motors specially designed by MMC's suppliers," and it all comes together in the car's powertrain: Engineers have deployed Mitsubishi's latest Super All-Wheel Control technology to a setup that relies on four individual 100-kw electric motors, each one dedicated to powering a single wheel. Surrounded by a lightweight tube-frame chassis and wearing a carbon-fiber body that stretches just about the same length as a 2013 Honda Accord sedan, the MiEV Evo II entries will hit the hill on June 30 for race day.
For more info, see: www.PPIHC.org.