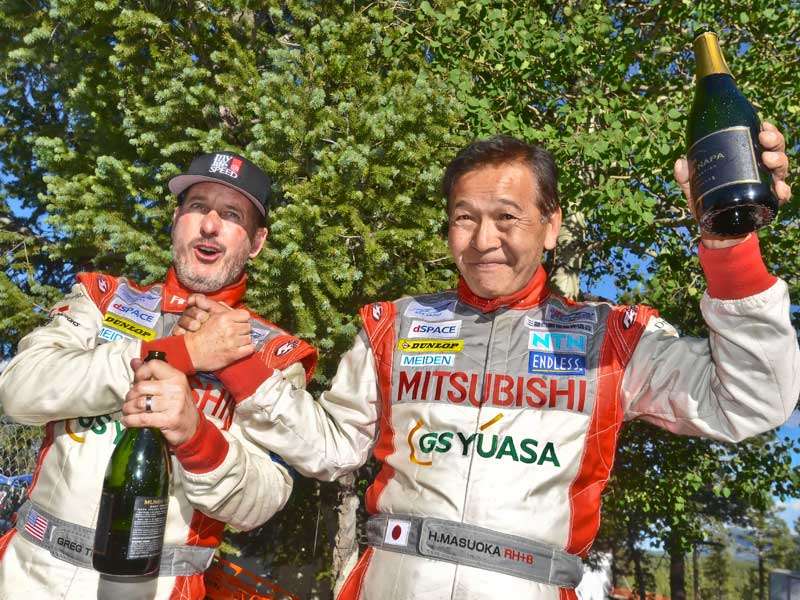 2014 Pikes Peak Hill Climb Winners Mitsubishi ・ Photo by Mitsubishi Motors North America
Mitsubishi pulled off an impressive feat over the weekend at the Pikes Peak Hill Climb. The automaker took home first and second place in the electric class with their MiEV Evolution III electric race car. Six-time PPIHC motorcycle champion Greg Tracy took home first place in the class with a time of 9 minutes and 8.188 seconds. The time marks a new record for the category and was only 2.4 seconds behind the overall winner.
"The Mitsubishi Motors team prepared a fantastic car for me. This victory was truly a team effort. I want to thank the team and also Masuoka-san for developing such a phenomenal racing machine in the MiEV Evolution III." said Tracy.
Right behind Tracy was two-time Dakar Rally winner Hiroshi Masuoka who took home second place with a time of 9 minutes and 12.204 seconds, just four seconds behind.
"First of all, I would like to congratulate Greg on winning the Electric Vehicle division – he drove the MiEV Evolution III spectacularly and definitely deserves this win. I could not deliver an outright win, but I am proud to be a part of our excellent 1-2 finish. What's more, as a team principal in addition to being a driver, it's great to see our young and upcoming engineers excel in this racing program as they will play a key role in Mitsubishi Motors' development of electric vehicle (EV) and plug-in hybrid electric vehicle (PHEV) technology in future vehicles," said Masuoka.
Even more impressive, Tracy and Masuoka placed 2nd and 3rd in the overall results. It's only a matter of time until an EV wins at Paikes Peak.