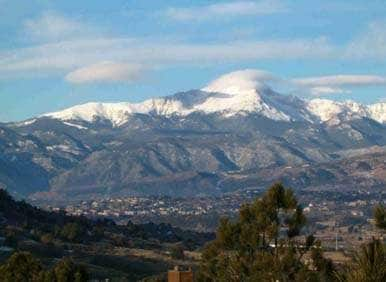 The slow evolution of motorsports toward an all-electric future will take at least three steps forward on July 8, when both Mitsubishi and Association for the Promotion of Electric Vehicles (APEV) campaign electric racers in the famed Pikes Peak International Hill Climb. The annual "Race to the Clouds" covers almost 12.5 miles, more than 150 turns and over 4,700 feetin altitude, with a full complement of cars, trucks and motorcycles competing to get to the top of Colorado's Pikes Peak in as short a time as possible.
This year's race could very well be the fastest ever, too, since the route has now been completely paved from top to bottom.
All Eyes on the Mitsubishi i
 Mitsubishi actually will field a pair of EVs, including a near-stock Mitsubishi i-MiEV—the same affordable all-electric vehicle that was recently named the greenest car in the country by the American Council for an Energy-Efficient Economy. The i, which is now on sale in select U.S. markets, is capable of 126 MPGe in city driving and starts at $29,125, for a net cost of $21,625 after a $7,500 federal tax credit.
Kitted out with appropriate safety gear, this first Mitsubishi will be driven by Beccy Gordon, a veteran of the SCORE International off-road racing circuit with two past victories under her belt in the series. And yes, she is the sister of well-known U.S. racer Robby Gordon.
The second Mitsubishi EV scheduled to pounce on the peak is a prototype racecar with an upgraded electric powertrain, lithium-ion battery pack and braking system, driven by Hiroshi Masuoka, a two-time winner of the grueling Paris-Dakar Rally.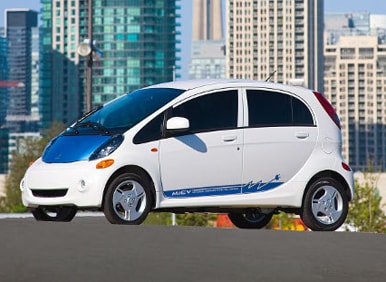 APEV Gets into "Monster" Mode
Another notable electric entry in this year's Pikes Peak event comes from Japan's Association for the Promotion of Electric Vehicles (APEV). And while the name of the car's sponsor may not be recognizable to hill-climb fans, the name of the car's driver certainly will be: None other than Nobuhiro "Monster" Tajima will be piloting Team APEV's purpose-built prototype racer, and he's set his sights on both continuing his current streak of six consecutive overall Pikes Peak wins and achieving a new all-time speed record—breaking the mark of 9:51.278 that he posted just last year.
Not much is known about the car yet, although, based on the list of partners involved, Mitsubishi will be supplying the batteries and Falken Tire will be providing the rubber.