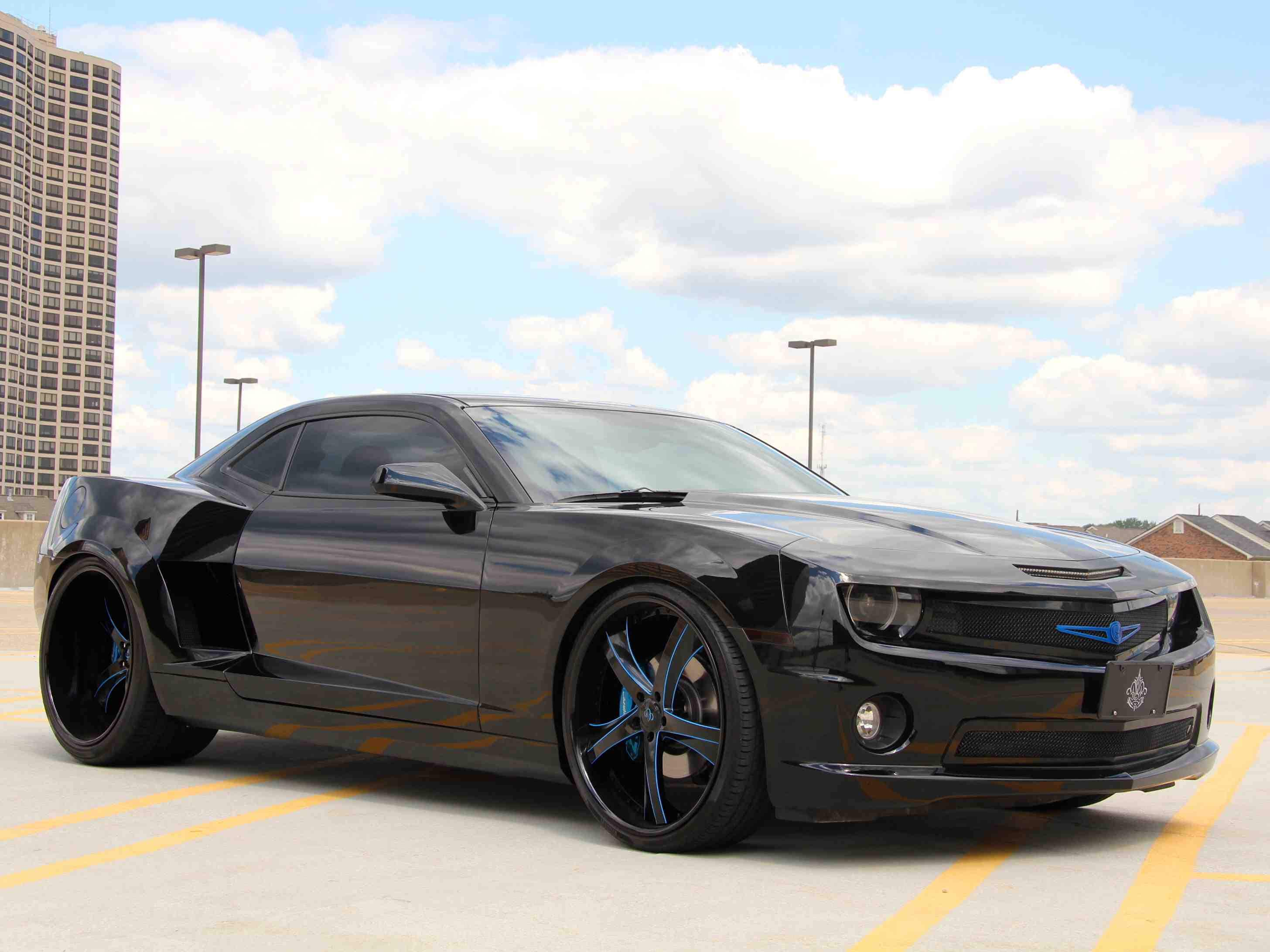 The first thing you need to know about Mister Cartoon is that he's not joking around about his passion for cars, especially those from the Chevy brand. It's the little things that give it away, like the Bowtie prominently nestled amongst the other ink on his arm, or the modified Chevy Camaro SS that the multi-talented artist just introduced during his first trip to the Woodward Dream Cruise in metro Detroit.
The car—also Mister Cartoon's first late-model custom—is a surprisingly subtle work that maintains the ground-hugging appearance of the classic low-riders for which he is better known, but set off by massive 24-inch wheels. He calls it "modern American muscle with a vintage feel."
Other particularly notable cues from this Chevy Camaro SS include its Skidrow Black exterior with cobalt blue highlights, along with an extra-wide-body rear-end, inspired by current West Coast customizing trends. The same colors provide accents inside, too, where there is also a set of Recaro sport seats just like those that will be fitted to the upcoming 2014 Chevrolet Camaro Z28; Recaro being an official partner in Mister Cartoon's latest project.
"I also wanted to focus on keeping it simple," Cartoon added. "There needed to be a timelessness about the details so the car stays fresh. It's like with my tattoos. Both have to look good for a long time."
And by "his tattoos," Mister Cartoon means the ones that he's designed for the likes of Christina Aguilera, Lewis Hamilton, Eminem, CC Sabbathia and Justin Timberlake, among others. You also might have caught his work on projects he's done with Microsoft and Nike, or on display at the Los Angeles Museum of Contemporary Art.  Just know where his priorities are:
"All that is for stuff like this," he said, taking another look at his big beautiful Camaro.
Of course, if you want to take another look at it, you can visit http://therealmrcartoon.blogspot.com; as for the 2014 Chevy Camaro Z28, that arrives in dealerships early next year.