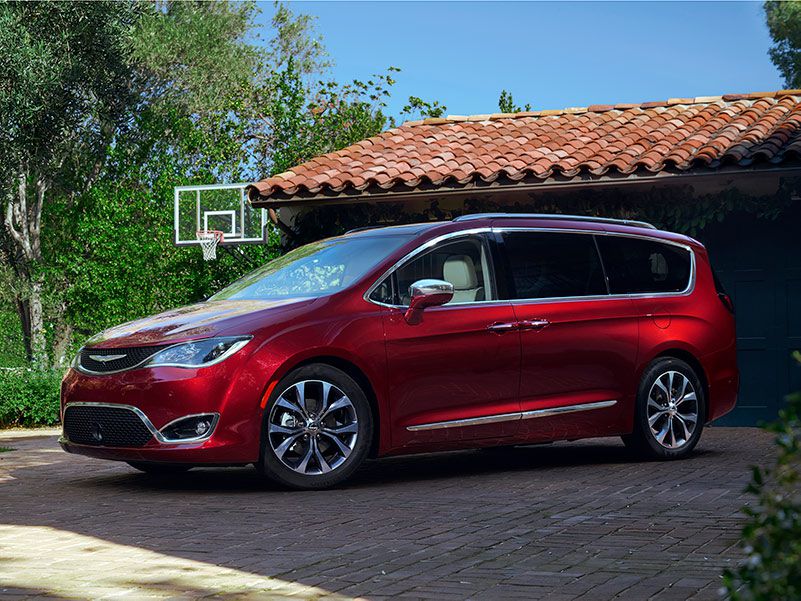 2019 Chrysler Pacifica profile ・ Photo by Fiat Chrysler Automobiles
If you're buying a large family car, you've likely heard one of two familiar tropes — or both: "Nothing beats a minivan" and "Today's SUVs are basically minivans with more style." While there is some truth to both statements, neither tells the whole story.
To help you choose your next car, we're going to break down the important pros and cons to these dominant family haulers. We'll focus on SUVs with three rows of seats, which are closer rivals to minivans than smaller five-passenger models. Both SUVs and minivans have notable advantages over the other, so there's no easy answer for everyone. But we hope this article will help you understand which is best for you — minivan or SUV.
Interior Space
When it comes to sheer interior volume, the first adage is true: Nothing beats a minivan. Not only are minivans longer than most SUVs, but they also tend to have shorter noses (devoting more length to the cabin) and lower interior floors (because their lighter-duty suspension systems are less bulky).
The result is that today's minivans have room for at least seven adults to sit comfortably, while most SUVs' third-row seats are best left to kids. Even better, minivans still have 30 to 40 cubic feet of cargo space behind their third-row seats. That's about the same volume as behind the second row of a typical five-passenger SUV. And total space exceeds even the largest SUVs. The one SUV advantage is that it's easier to fold down their seats in a second to get maximum cargo space; minivans' second rows need to be more laboriously stowed into the floor or removed from the van entirely. That said, minivans have as much cargo space behind even their second-row seats as most SUVs have with both rows folded down.
Minivan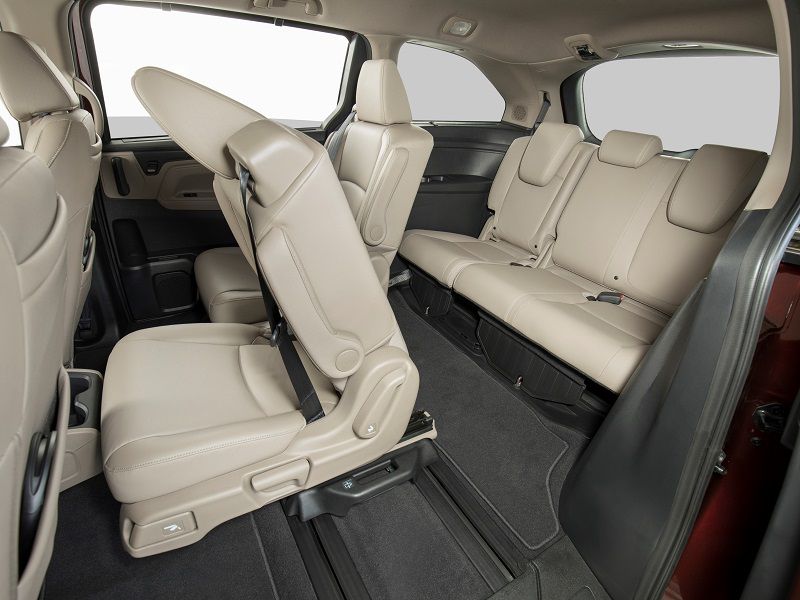 Photo by Honda
Value
Today's minivans have base prices in approximately the upper $20,000s to low $30,000s. Many SUVs cost less, even some with three rows of seats. But if you want one of the roomiest three-row crossovers, like the Chevrolet Traverse, Volkswagen Atlas, or Kia Telluride, expect to spend at least $30,000. And if you want an SUV with minivan-like cargo room behind the third-row seat, you need an extended-length full-size model like the Chevrolet Suburban or Ford Expedition Max — both of which cost $50,000 and up. 
So, while some seven-passenger SUVs are less expensive than minivans, minivans run away with the value equation of roominess per dollar.
Minivan
Photo by Kia
Capability
Minivans are amazing vehicles for carrying passengers and cargo, but for other types of capability, crossovers and SUVs take the edge. Most minivans come only with front-wheel drive (except for the Toyota Sienna, which has optional all-wheel drive), and can tow about 3,500 pounds.
Meanwhile, most three-row crossovers and SUVs can tow at least 5,000 pounds, and many can tow quite a bit more. All are available with all-wheel drive or four-wheel drive, and they typically sport superior ground clearance and other off-road-friendly qualities compared to an all-wheel drive Sienna.
SUV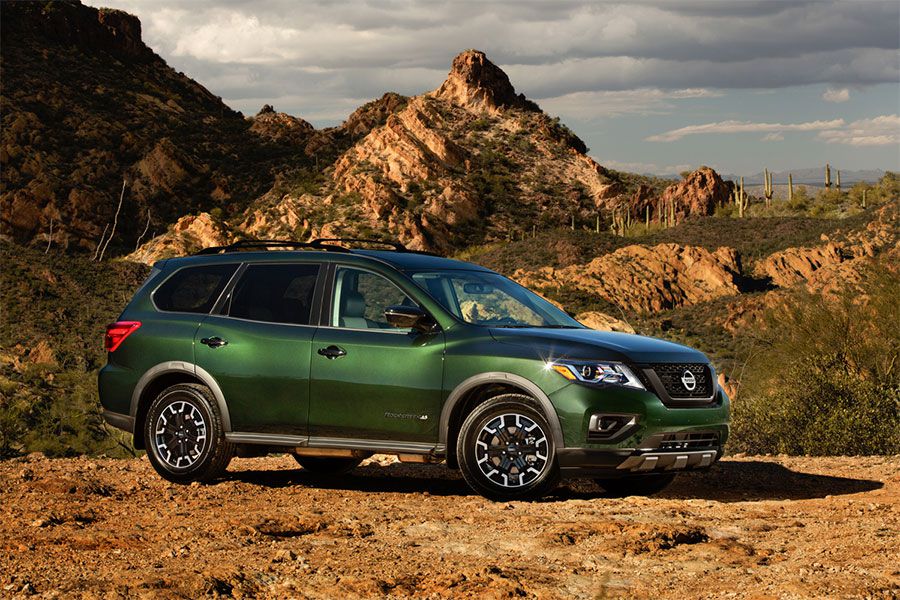 Photo by Nissan
Driving Experience
While minivans are widely considered to be dull, many leading models can be quite agreeable to drive. In particular, the Honda Odyssey balances a smooth, quiet ride with agile, responsive handling — a feat that's all the more impressive when you consider the size of this family hauler. And all of today's leading minivans have smooth, powerful V6 engines.
On the SUV side, there's more diversity. The Mazda CX-9 crossover is famously fun to drive, while full-size traditional SUVs feel bulkier and clumsier than minivans. It's worth noting, too, that most crossovers are physically smaller than vans, which tends to help their agility and their close-quarters maneuverability. All that being said, the typical three-row crossover offers a similar driving experience to the typical minivan.
Tie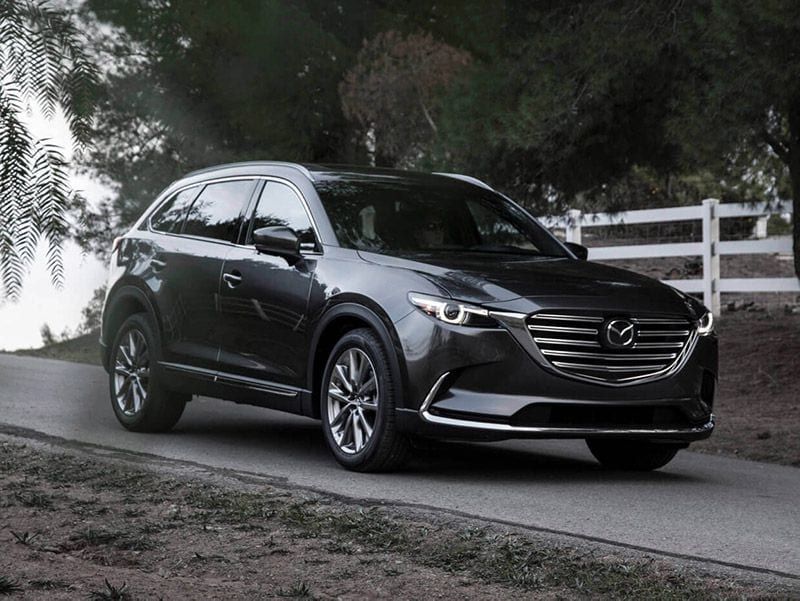 Photo by Mazda
Fuel Economy
You might think of SUVs as fuel-chugging Earth-killers, but advanced powertrains, careful weight-saving techniques, and improved aerodynamics have ushered in tremendous progress. While some SUVs still get mediocre fuel economy, most have admirable EPA ratings. Leading three-row crossovers like the Honda Pilot, Nissan Pathfinder, Subaru Ascent, and Toyota Highlander achieve an estimated 23 miles per gallon in mixed driving, while today's minivans fall between 20 and 22 mpg. Even the full-size heavy-duty Ford Expedition achieves 20 mpg in mixed driving, the same as a Dodge Grand Caravan.
For more fuel savings, the Chrysler Pacifica minivan and Toyota Highlander crossover are available as gas-electric hybrids with amazing gas mileage. But in the heart of the market, the best three-row SUVs edge out the best minivans when it comes to fuel economy.
SUV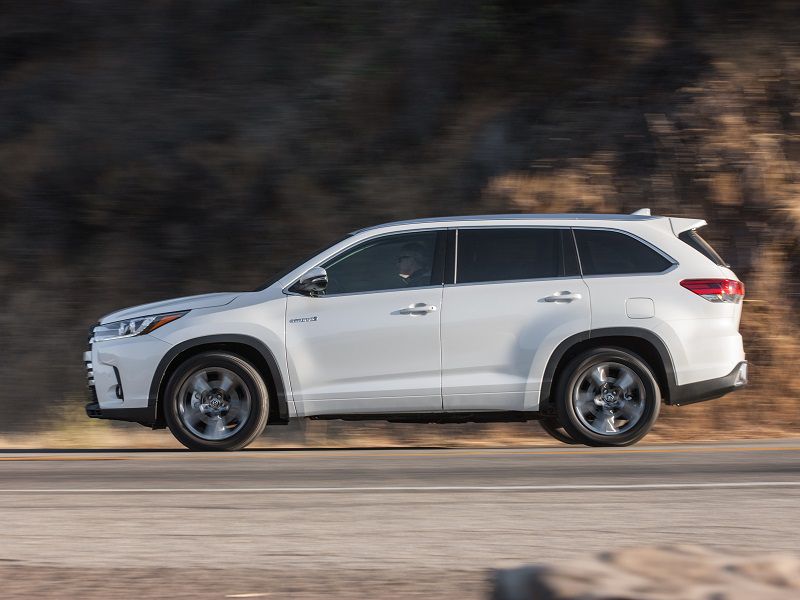 Photo by Toyota
Feature Content
Because many three-row SUVs and crossovers are designed as family cars, you'll find no shortage of family-friendly features in that segment. Rear entertainment systems, tons of cupholders and USB ports, all the latest safety technology, and — in some models — even a microphone that lets the driver address the rear passengers through their speakers or headphones. What's more, most big crossovers and SUVs are available with a heaping of luxury equipment.
Even so, not only do minivans have all of the above, but they also have power-sliding doors, and the Chrysler Pacifica and Honda Odyssey even add a built-in vacuum cleaner. The Odyssey further adds extra adjustments to the middle-row seats to keep kids within reach of front-seat parents, plus a camera that lets you check on kids in the back even at night. SUVs do have extra features associated with towing and off-road capabilities, but in the matchup of minivans vs. SUVs, the vans' family focus wins out.
Minivan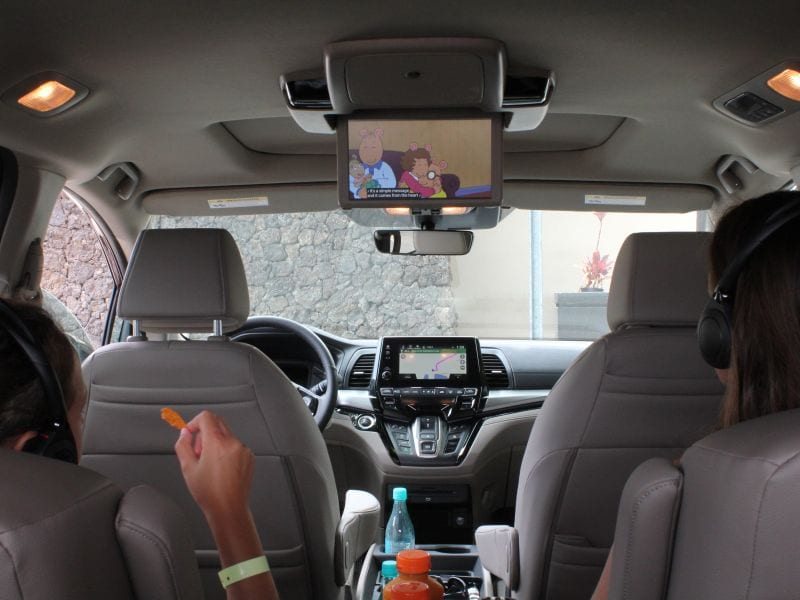 Photo by Honda
Safety
When it comes to keeping your family safe, minivans and SUVs check most of the same boxes. In both segments, several models achieve exemplary crash-test scores. Advanced safety features like emergency automatic braking and lane-departure warnings are widely available, and they're even standard equipment on some vans and SUVs. And because minivans and SUVs both are big vehicles, they have a physics-based advantage in a collision with a smaller car.
However, there are some differences between minivans and SUVs. Minivans have less ability to tackle snow, while some of the largest SUVs have clumsier handling and higher centers of gravity. But the bottom line is that both minivans and SUVs are safe vehicles, and the difference comes down to your individual preferences and which specific models you're considering.
Tie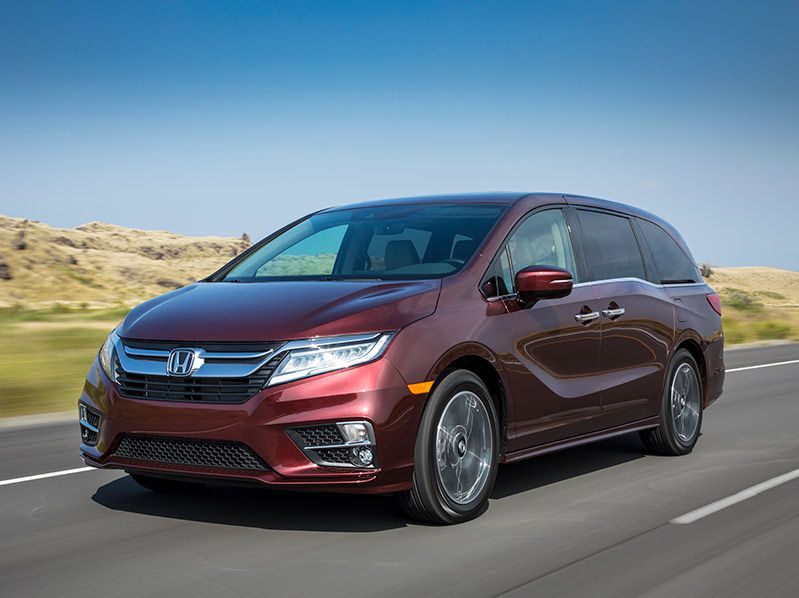 Photo by Honda
Styling
While minivans like the Chrysler Pacifica, Honda Odyssey, and even Kia Sedona have tried to dress up the minivan as a stylish luxury car, in the end, it's still a big long box with sliding doors. Even the most fervent minivan partisans will surely admit that they didn't choose vans for their looks.
That's not to say that every SUV or crossover on the market is a design masterpiece. But minivan proportions are designed for functionality, whereas many SUVs and crossovers put a significant priority on style and image. Whether you like the sporty vibe of a Mazda CX-9, the brash toughness of a Chevrolet Tahoe, the posh elegance of a Range Rover Sport, or one of the many options in between, you shouldn't have trouble finding an SUV or crossover that catches your eye.
SUV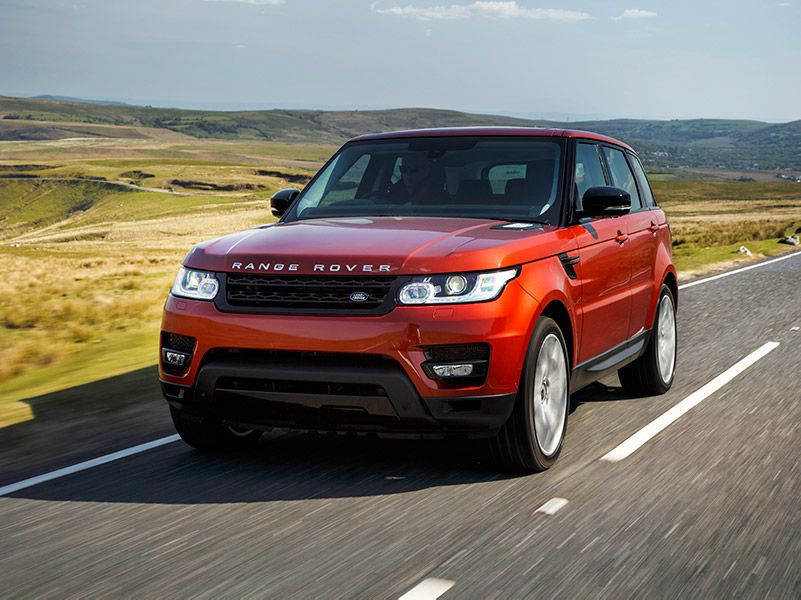 Photo by Jaguar Land Rover
Selection
The popularity of SUVs and crossovers has decimated the minivan class, and now only five traditional minivans remain. There also are some small work vans with passenger-carrying variants, such as the Ford Transit Connect and Mercedes-Benz Metris. But if you want the typical minivan virtues of maximum space and a family-focused design, your options are quite limited.
If you want a family-friendly SUV or crossover, though, dozens of options fill the market. If you're particular about styling, seat comfort, or some other quality, the odds are higher that you'll find the SUV that's best for you compared to the perfect minivan. 
SUV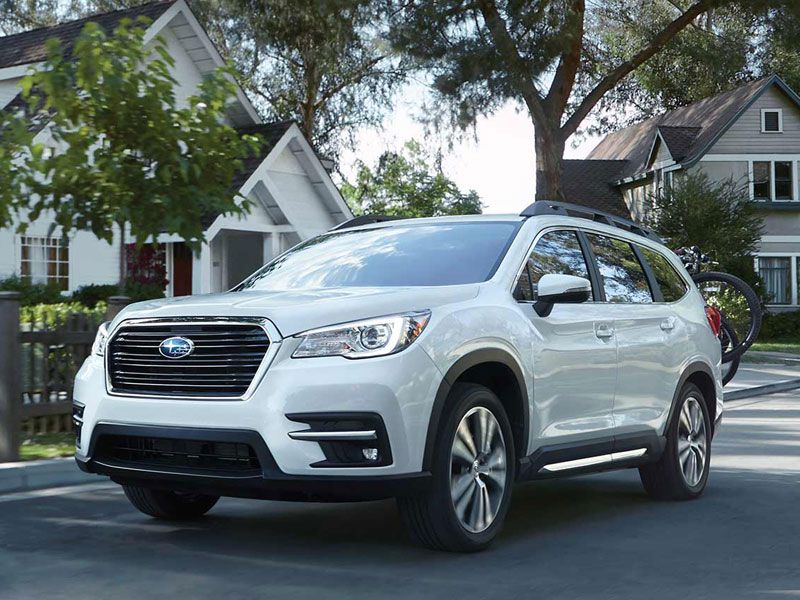 Photo by Subaru
Overall
Looking back to the adage that "today's SUVs are basically minivans with more style," we can agree in part. It's easy to find attractive crossovers with decent seven-passenger seating, pleasant on-road driving dynamics, and impressive fuel economy. What's more, they can go off road better than minivans, and tow heavier trailers. Their style and capability give them an image that minivans can't match.
But setting aside the emotional pull of an SUV, minivans are the stronger family cars. Minivans provide ridiculous amounts of space at reasonable prices, along with a polished driving experience and tons of valuable safety, luxury, convenience, and entertainment features. If the looks or the very idea of a minivan are unpalatable for you, SUVs and crossovers also have lots to offer. As long as your family car doesn't need to endure heavy-duty conditions, minivans simply offer more.
Minivan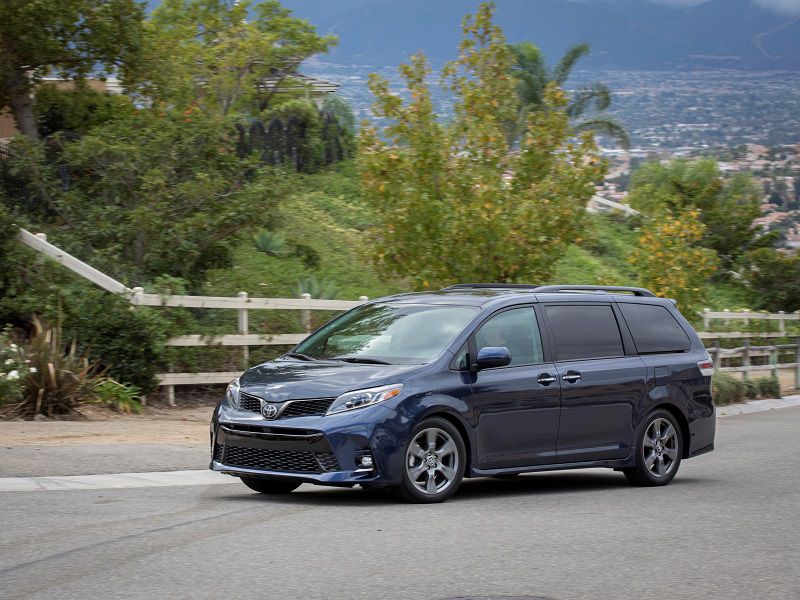 Photo by Toyota