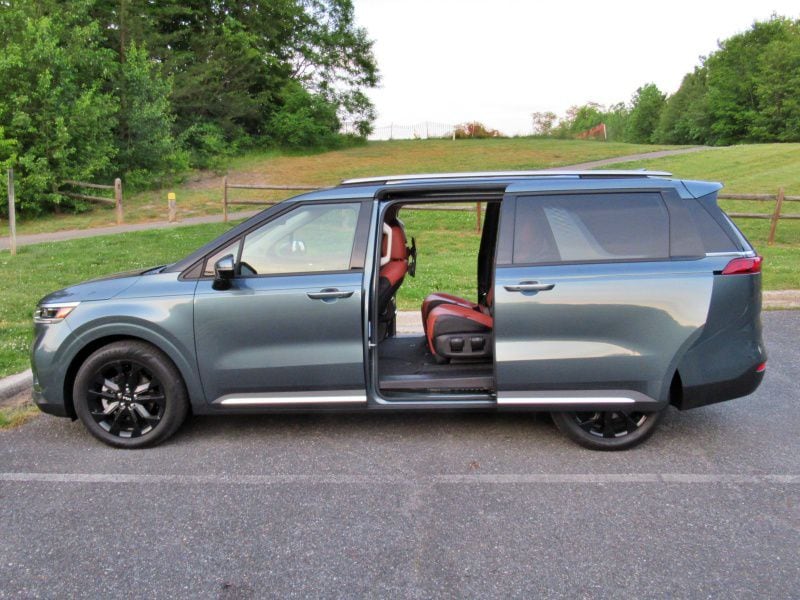 2022 Kia Carnival SX Prestige ・ Photo by Brady Holt
The minivan segment, formerly a staple of the American family car, has ceded its dominance to the crossover SUV. Just a handful of models remain, and total sales are a fraction of their peak. 
Still, the minivan class is hardly dead. Several hundred thousand customers still choose them every year, drawn to their incredible spaciousness, family-friendly features, and pleasant driving experiences. And all four of the leading minivans have been updated or completely redesigned over the past year: the 2021 Chrysler Pacifica, 2022 Honda Odyssey, 2022 Kia Carnival, and 2021 Toyota Sienna. We recently tested all four vans so we could spell out their pros and cons, and rank them from best to worst. Keep reading to see how we ranked them and decide which van sounds like the best choice for you. 
2021 Chrysler Pacifica Pros
Chrysler invented the modern minivan and pioneered the idea of a luxury-level minivan experience. The Pacifica took both ideas to new heights when it debuted in 2017. Now, it's the oldest minivan on the market, yet it still has some exclusive advantages that few or no competitors have challenged. 
It's the only minivan available with a plug-in hybrid powertrain, which you can charge up to achieve an EPA-estimated 32 miles of all-electric driving at a time. It's the only minivan that lets you fold its second-row seats into the floor (with the Stow 'n Go system included on most models), making it easy to maximize its ample cargo capacity. It's the only van with an optional built-in vacuum cleaner — supply shortages have axed this feature from the Odyssey and Sienna. And it's one of just two minivans available with all-wheel drive, a new option this model year. The Pacifica also provides a quiet ride, relatively agile handling, a crisp 10.1-inch touchscreen, a classy exterior design, and a long list of standard safety features.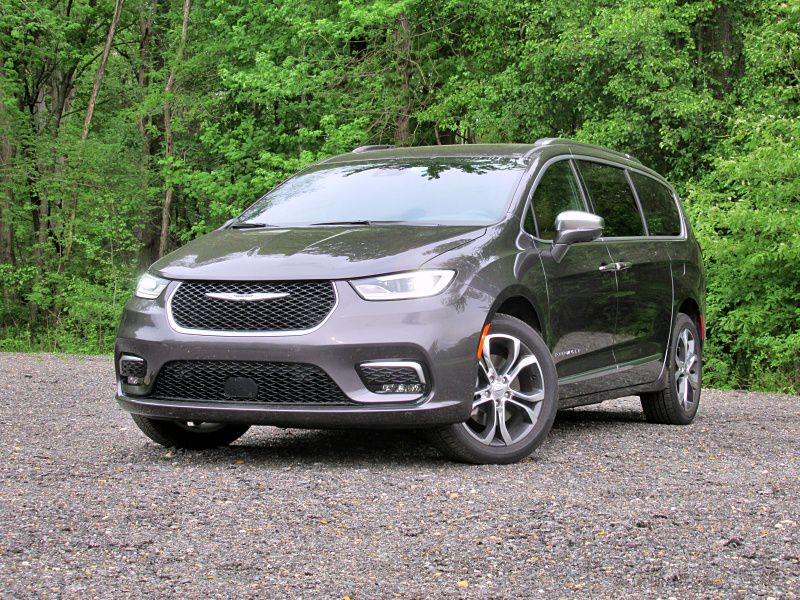 Photo by Brady Holt
2021 Chrysler Pacifica Cons
Chrysler recently split its minivan lineup into two models. Base models of the Pacifica were renamed as the Voyager, and while the two vans look the same, the more affordable Voyager is missing many common minivan features — no power sliding doors, no power liftgate, no Stow 'n Go seating, and so on. Meanwhile, while every Pacifica is well-equipped, its base price is a high $35,495. 
Another issue is that the Stow 'n Go second-row seats aren't as comfortable as other minivans', and the folding capability eliminates fore-aft adjustability. This van also feels heavy and has a firmer ride than some buyers would prefer. And while the interior design is upscale overall, we're not fans of the glossy woodgrain trim on our tested top-of-the-line Pinnacle model. Lastly, while we love the Pacifica Hybrid's efficiency, its engine isn't as smooth as the gas-only model and it has no all-wheel drive or second-row Stow 'n Go.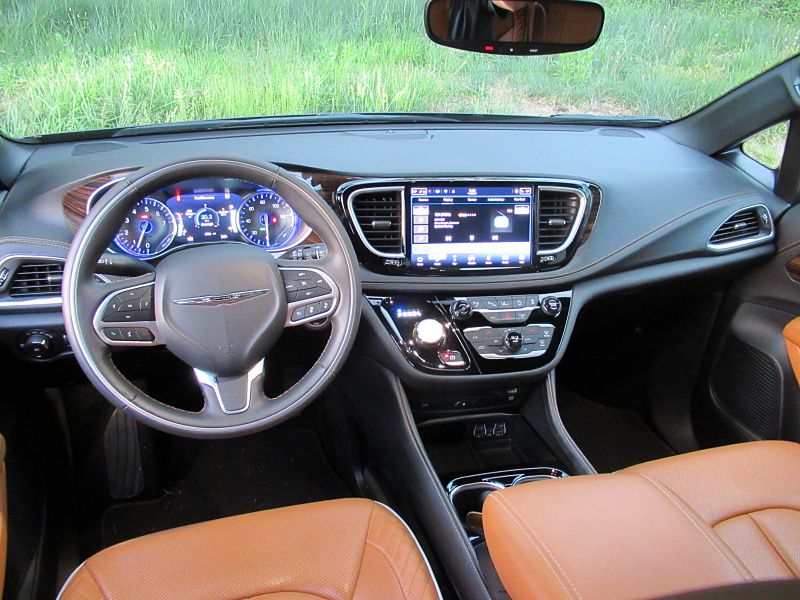 Photo by Brady Holt
2022 Honda Odyssey Pros
If you're used to Hondas costing a bit more than the competition, you might be surprised to see the Odyssey with the lowest base price in this comparison: $32,090. At the same time, it also drives like a Honda — there's a taut control to this van's steering and suspension, an excellent balance between sloppy and uncomfortably stiff. 
The Odyssey also has plenty of cargo space and, to us, the most comfortable seats across all three rows. Honda's "Magic Slide" second row lets you send the seats fore-aft and side-to-side to put kids either closer together or farther apart. We also appreciate the Odyssey's excellent crash-test scores and well-finished, storage-filled, user-friendly interior.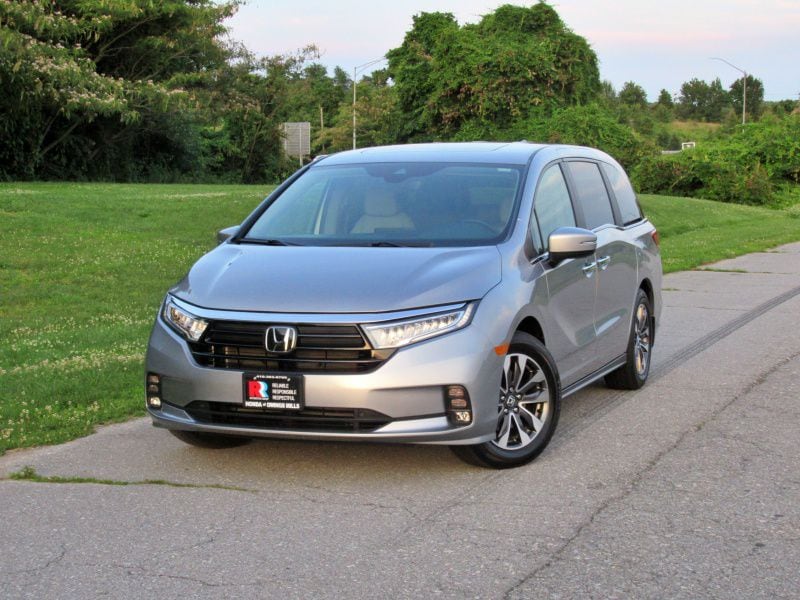 Photo by Brady Holt
2022 Honda Odyssey Cons
The Odyssey's low base price reflects a paucity of standard equipment. It's the only minivan of these four whose base model doesn't include an infotainment touchscreen, blind-spot monitoring, or power sliding doors, so most buyers will pay a minimum of $35,490 to upgrade from the LX to the EX trim level. 
The Odyssey's interior isn't as flashy-looking as other vans', either. It has the smallest touchscreen (8 inches even after you upgrade past the LX) and all-business decor. You can't get it as a hybrid or with all-wheel drive. And while it's the sharpest-handling minivan today, today's Odyssey still isn't as zesty as some of its earlier generations.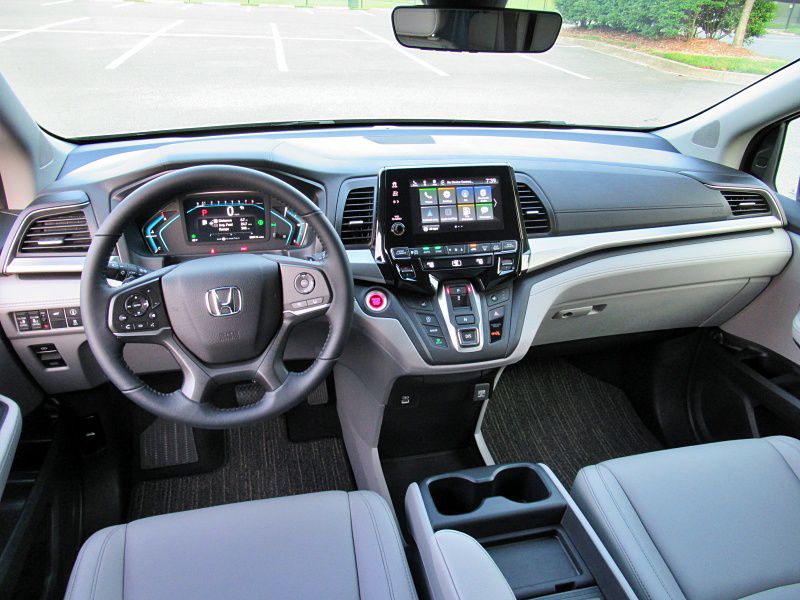 Photo by Brady Holt
2022 Kia Carnival Pros
The 2022 Kia Carnival is an all-new replacement for the Sedona minivan, and Kia says it's a radical departure from the class norm. It wants to use the term MPV (multipurpose vehicle) rather than minivan. We heard the same line with the 2015 Sedona, and in both cases, what Kia has really presented is a luxurious yet functional van. 
For just $10 more than the Odyssey, the Carnival comes with tons of extra features. And while it's not the only van to offer handy features like a hands-free liftgate, wireless smartphone charger, navigation system, in-car intercom, and in-car camera with views of the backseat, it's the only one to provide them for less than $40,000 — along with leatherette upholstery, which even appears for less than $35,000. Don't expect a budget-grade experience, either. The Carnival also has a sophisticated interior and exterior design, a big 12.3-inch touchscreen on most trim levels (an 8-inch screen is standard), and class-leading cargo space. Kia throws in its famously long warranty coverage and excellent crash-test performance, too. 
Photo by Brady Holt
2022 Kia Carnival Cons
Kia styled the Carnival's interior like a high-end sedan. That makes it look luxurious, but it's missing the huge storage areas that other vans accommodate. It also isn't great to drive, with a quiet but not ultra-composed ride and even less handling verve than its competitors. The Carnival is a big, softly sprung box that feels exactly like that. 
We're also not fans of Kia's approach to the hands-free sliding doors and liftgate; while the other vans use motion sensors, the Carnival's activate when the keyfob is held nearby for three seconds. That's slower and easier to trigger by mistake. And like the Odyssey, but unlike the Pacifica or Sienna, you can't get the Carnival with all-wheel drive or a hybrid powertrain. Lastly, most Carnival trim levels earned the lowest rating of Poor for their headlight illumination from the Insurance Institute for Highway Safety.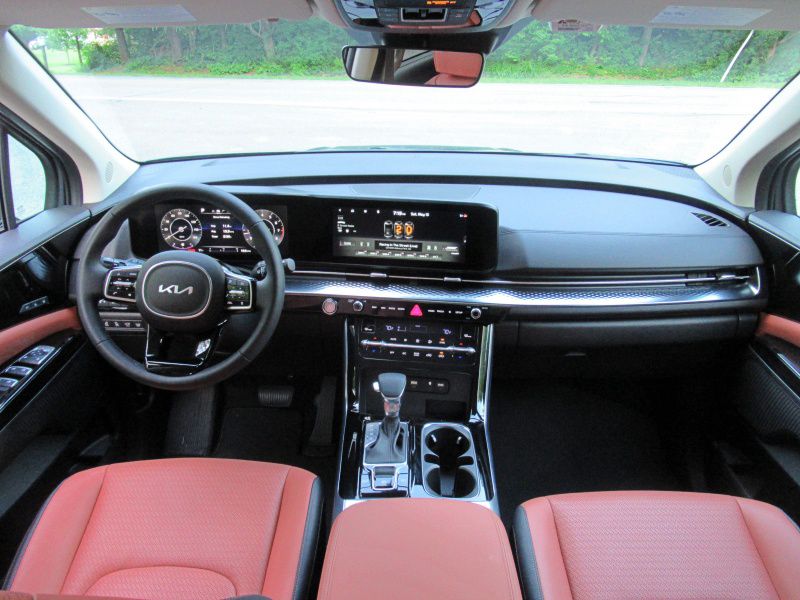 Photo by Brady Holt
2021 Toyota Sienna Pros
The Toyota Sienna used to be a fairly conventional van. No longer. Now, every Sienna is a gas-electric hybrid that uses a four-cylinder gas engine instead of the typical V6. The result is incredible fuel efficiency: EPA ratings 36 mpg in the city and 36 mpg on the highway. We did even better, hitting 39 mpg in our test vehicle. Unlike the other hybrid minivan — the gas-electric version of the Chrysler Pacifica — you never have to plug in the Sienna to get great gas mileage, and all-wheel-drive is available.  
We're also fans of the Sienna's interior design. It has the graceful flow and conventional center console of a passenger car, yet this console floats above a huge open storage space between the front seats. A 9-inch touchscreen is standard equipment, and the "Super Long Slide" second-row seats live up to their promise by offering incredible legroom when no one is using the third row. These seats also collapse forward against the front seats, an easier way to optimize cargo space than removing them from the van.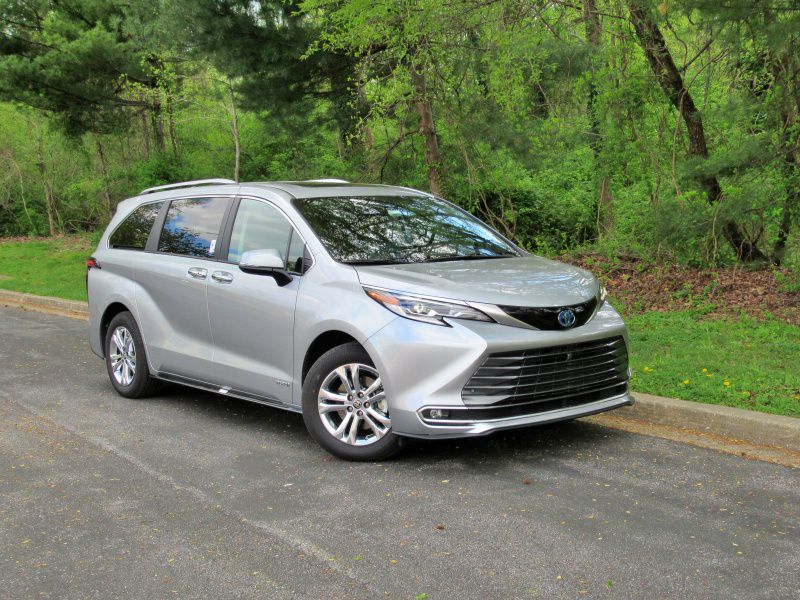 Photo by Brady Holt
2021 Toyota Sienna Cons
The Sienna's biggest strength is also the source of its biggest weaknesses. This incredibly efficient van doesn't have the effortless power or hushed refinement of its competitors. It's not sluggish, and its 3,500-pound towing capacity is typical for a minivan — but you'll feel the difference. You'll also pay for the hybrid tech; while Toyota makes up for this a bit with generous standard features, the Sienna has an above-average base price of $34,640. 
The interior design also struggles in a couple of areas. While we think it looks great, a few cabin materials could be better, and the infotainment system could be more responsive. And because Toyota doesn't let you fully remove the second-row seats, maximum cargo capacity is capped at 101 cubic feet. The rest of the class provides about 40% more total cargo space. The Sienna is also the only minivan of these four that's missing a spy-on-the-kids in-car camera system, a feature we find especially useful when you have a child in a rear-facing car seat. Lastly, while the Sienna does quite well in most crash tests, the National Highway Traffic Safety Administration judged it a disappointing three out of five stars for protecting the driver in a frontal impact.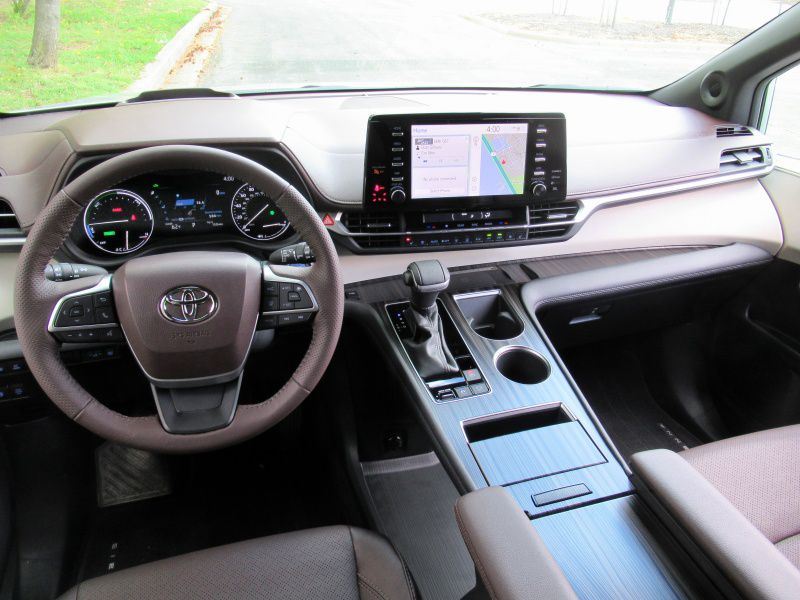 Photo by Brady Holt
Third and Fourth Place
The minivan class has no clear winner and no clear loser. There are four vans that each have flaws, but each can be the best choice for a certain buyer. Our ranking order is subjective, but here's what we have: In fourth place, the 2021 Chrysler Pacifica is a mix of luxurious and functional. It's classy, it's high-tech, and it's available with plenty of fancy (and expensive) optional features, yet it also has Stow 'n Go folding seats. And the plug-in hybrid version is a perfect fuel-saver for short trips. We just found ourselves more drawn to even more comfortable, less expensive vans. You may feel otherwise, especially if you want fold-flat second-row seats, all-wheel drive, or a plug-in hybrid. 
In third place, the 2022 Kia Carnival has charged into the scene with tons of features for the money and splashy styling. That's a great combination for many buyers. But the driving experience was underwhelming, we wished for more cabin storage space, and the newest van on the market should be offering all-wheel drive or a hybrid powertrain.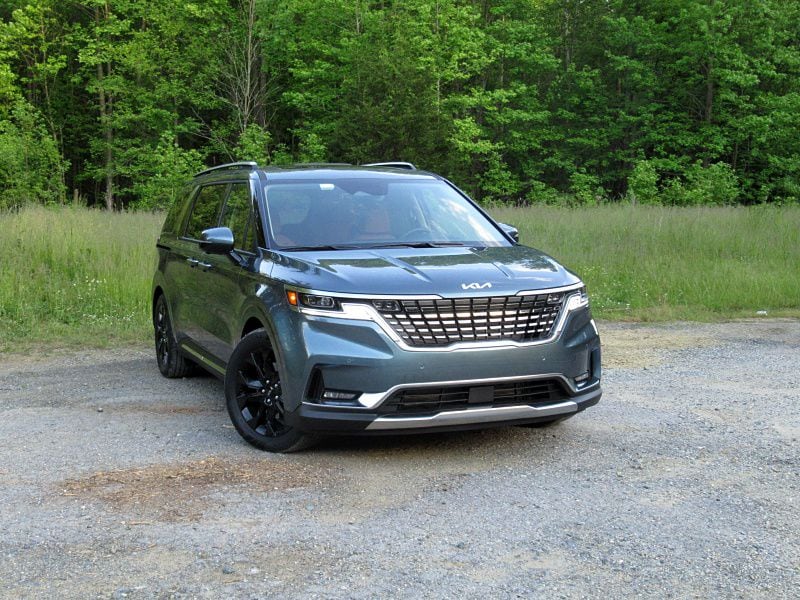 Photo by Brady Holt
First and Second Place
We toyed with putting the 2021 Toyota Sienna in first place. Trading a bit of power and quietness for truly extraordinary fuel efficiency seems like the absolutely logical choice for a family car. And we'd expect 101 cubic feet of cargo space — already more than nearly all SUVs — to be sufficient. Still, while the Sienna will be some buyers' easy favorite, others will have no interest at all in the least spacious, least powerful van. So the Sienna lands in second place. 
That brings us to our winner: the 2022 Honda Odyssey. The Odyssey doesn't have all-wheel drive or a hybrid powertrain. It doesn't have a flashy interior design or a huge touchscreen. But to us, it impresses where it counts. It's hard to make a minivan drive well, but Honda did it. It's hard to make three rows of seats comfortable for adults, but they are. The Odyssey doesn't reinvent the minivan, but if you didn't think it needed reinventing, Honda makes the most well-rounded choice. 
For more detailed comparisons between these vans, check out the following articles: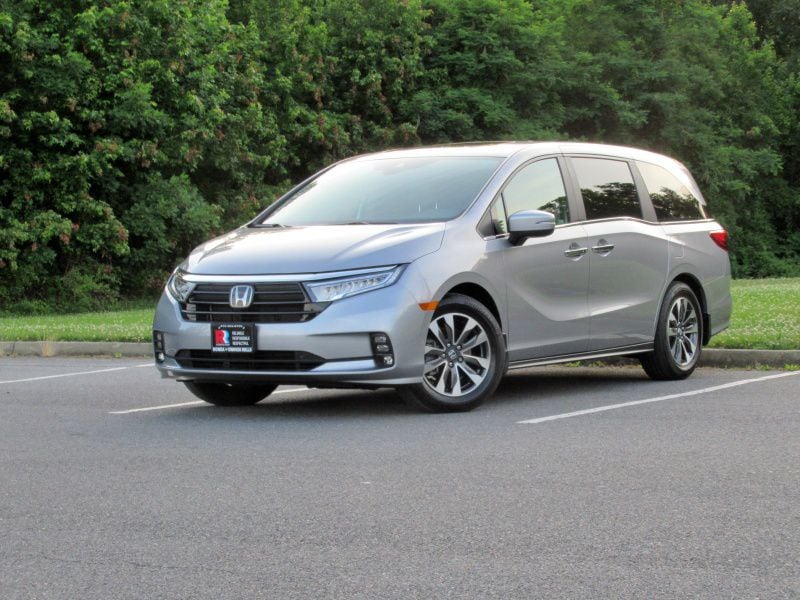 Photo by Brady Holt