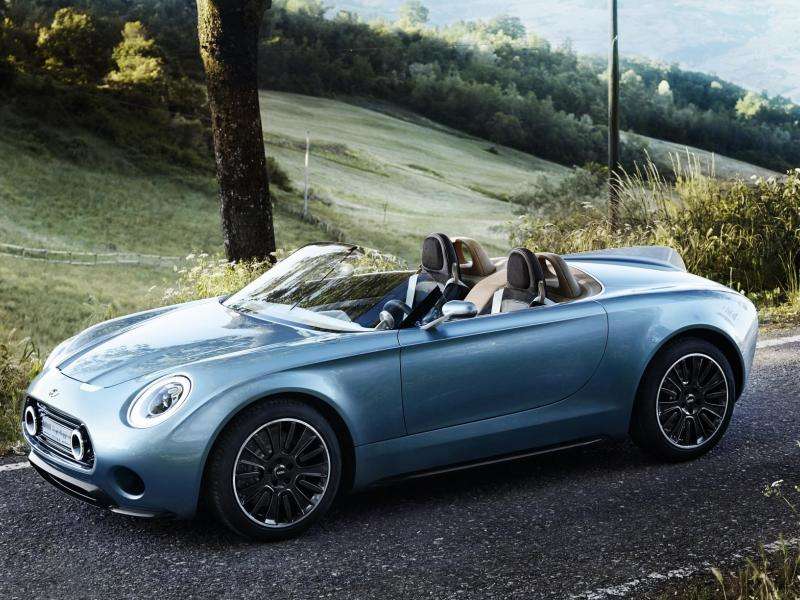 If you've ever wondered what a MINI would like if given to an Italian coachbuilder, wonder no more. At The Concorso d'Eleganza Villa d'Este 2014 in Italy, MINI and Milan-based coachbuilder, Touring Superleggera, pulled the cover off the Superleggera Vision Concept.
The concept draws inspiration from British roadsters of the sixties and seventies with a long hood and short overhang, but it's still recognizable as a MINI with the oval headlights and distinctive grille. Other cues to take in are the fin on the rear, which calls back to race cars of the fifties as do the taillights with the British flag.
Inside is an exercise in minimalism with a three-spoke steering wheel, an instrument cluster made up of one gauge, and a touchscreen infotainment system that features controls for the entertainment, navigation and climate control functions.
Power comes from a electric powertrain, but MINI didn't say how much power it produces.
"The MINI SuperleggeraTM Vision elegantly perpetuates what the Classic Mini started 55 years ago: reduction to the essentials. Its energetic, minimalistic design embodies the dynamic essence of an automobile. At the same time it creates unique emotional beauty in combining the past and future of the automotive industry, i.e. traditional coachwork craftsmanship and modern design styling. It was a pleasure for me to design a concept like this." says Anders Warming, Head of MINI Design.