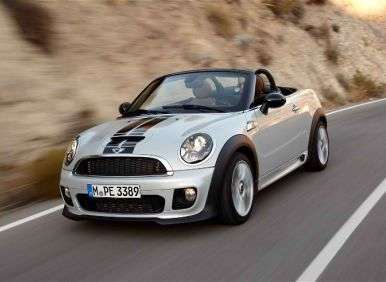 First introduced at the 2012 North American International Auto Show in Detroit, the MINI Roadster boils down the brand's dynamic driving experience to its very essence, providing open-air excitement in a nimble two-person package—and according to MINI, it will do so with an MSRP that starts at $24,350 (before destination charges).
Of course, that's for the entry model, which leverages a relatively peppy 1.6-liter I4 that delivers 122 hp and 114 lb.-ft. of torque. That's not bad for a car that can weigh as little as 2,635 lbs., and it does offer strong EPA ratings of 27 mpg city/35 mpg highway/30 mpg combined, but enthusiasts are likely going to be looking a bit further up range to the Cooper S (MSRP: $27,350) and John Cooper Works (MSRP: $34,500) Roadsters. This pair gains serious power points—courtesy of a twin-scroll turbocharger and direct injection—with the former ramping up to 181 hp/177 lb.-ft. of torque and the latter capable of 208 horses and 192 lb.-ft. of twist. As a result, the John Cooper Works version showcases a power-to-weight ratio of about 13.3, meaning each horsepower is responsible for motiving 13.3 lbs. of vehicle; to put this into context, the Fiat 500 Abarth gets only 160 hp and a power-to-weight ratio of 15.83, so its engine has to do more work to supply less performance.
Yet even as the ultimate JCW MINI Roadster can dash from 0-60 in 6.3 seconds and achieve a top speed of 147 mph, it will still spend a lot of time blowing past gas stations—an EPA line of 25 mpg city/33 mpg highway/28 mpg combined just has that kind of effect.
All Roadster drivers also will revel in the same kind of stylish appointments for which the MINI brand has become known, including some unique design cues that help differentiate the Roadster from the four-seat MINI convertible. For example, the extra room devoted to second-row seating in the Convertible is converted into cargo space in the Roadster, opening up over 33 percent more room for gear, even with the roof closed. The reconfiguration also allowed MINI designers to clean up the Roadster's silhouette, with touches like a more steeply raked windshield and a waistline that rises slightly toward the rear of car, and add a distinct visual separation between its trunk and its passenger compartment. That manually operating top mechanism is plenty easy to use, too.
The best news? Drivers won't have to wait long for the short-but-sweet 2012 MINI Roadster—it's slated to go on sale beginning in February.