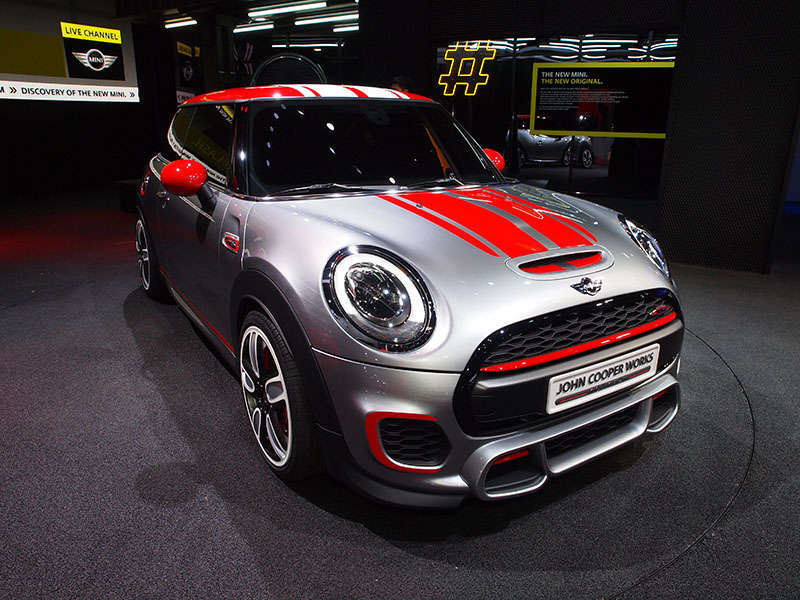 Blending jaunty, good-natured style with genuinely entertaining driving dynamics, a Mini Cooper is made for people who like to have a good time. The performance-tuned John Cooper Works variants typically replace a Mini's cute factor with go-fast bits and pieces, backing up their more aggressive appearance with palpable improvements in acceleration, braking, and handling. Talk about your go-kart handling.
Therefore, the Mini John Cooper Works Concept that debuted at the 2014 North American International Auto Show in Detroit matters because it will be the best-performing version of the redesigned 2014 Cooper when it arrives in showrooms.
What's New for the Mini John Cooper Works Concept:
Based on redesigned Mini Cooper Hardtop
Exclusive Bright Highways Gray paint job
Aerodynamic body kit and roof spoiler
New 18-inch John Cooper Works wheels
New John Cooper Works sports exhaust
LED headlights with Adaptive Light Distribution
Understeer-arresting Performance Control system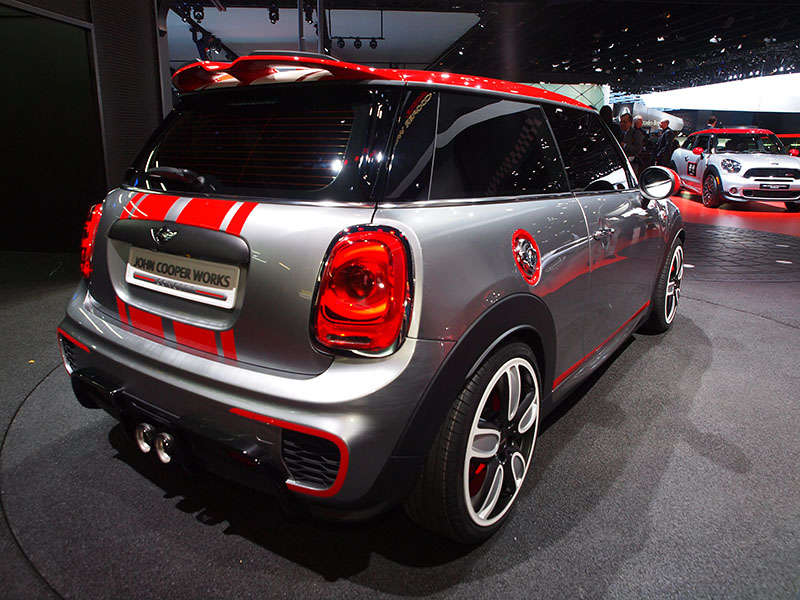 Mini John Cooper Works Concept: Styling and Design
Take one redesigned Mini Cooper Hardtop, give it the John Cooper Works visual treatment, and the result is what you see here, dipped in a special Bright Highways Gray paint with lots of contrasting Chili Red accents and a set of LED headlights. Key differences between the Mini John Cooper Works Concept and a standard Cooper Hardtop include an aerodynamic body kit, a roof spoiler, a rear diffuser panel surrounding new sports exhaust outlets, and redesigned 18-inch wheels intended as an exclusive to the Cooper JCW.
Inside, the Mini John Cooper Works Concept benefits from the same larger passenger compartment and bigger cargo area that comes with the redesigned 2014 Cooper Hardtop. Performance-bolstered seats are a natural here, and the power window switches finally move to the front door panels from the dashboard.
Regardless of how the John Cooper Works Concept in Detroit was specified, rest assured that when the production version of the car goes on sale, buyers will be able to select from a very long list of colors, materials, and equipment in order to create one that is uniquely theirs.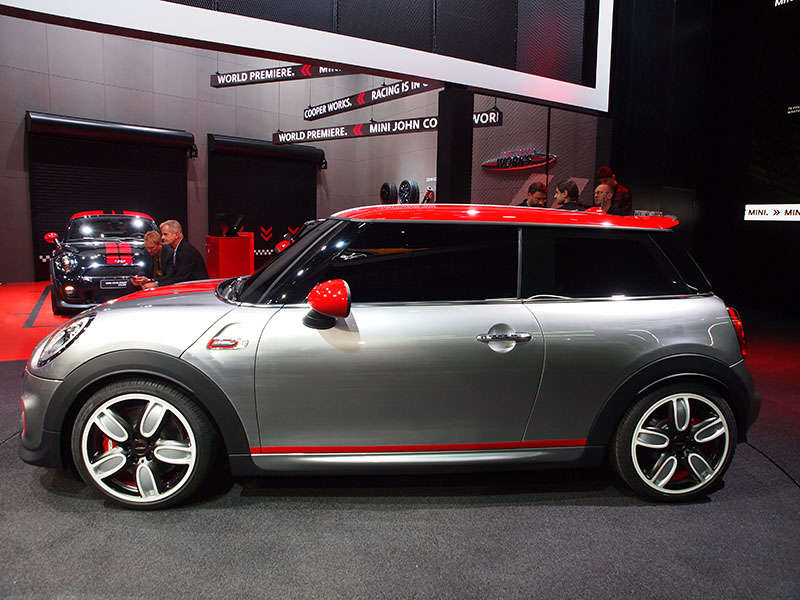 Mini John Cooper Works Concept: What's Under the Hood
Mini didn't divulge much about the kinds of performance upgrades that accompany the John Cooper Works Concept, except to acknowledge that the new Cooper Hardtop's lighter weight, improved aerodynamics, longer wheelbase, and wider track will positively impact the JCW driving experience. Otherwise, aside from confirming that the car comes with a sports exhaust with a JCW silencer system, we are left to ponder promises of "ultra-high performance powertrain and chassis technology," "agile and surefooted handling," and "hardcore driving fun."
Let's speculate then, shall we? By comparing the old Cooper S Hardtop to the new Cooper S Hardtop, we find that horsepower improved by about 5% and torque increased by about 15%, resulting in quicker acceleration to 60 mph by two-tenths of a second. Apply that kind of math to the John Cooper Works Concept, and it oughta be generating about 220 horsepower and 220 lb.-ft. of torque, with even more twist available in Overboost mode. That translates to a zero-to-60 acceleration time of less than six seconds.
Take a look at the equipment list for the redesigned Cooper S, and you'll find speed-sensing electric steering with torque steer compensation, Cornering Brake Control, a brake drying feature, Fading Brake Support, Dynamic Traction Control, an Electronic Differential Lock Control, and new Performance Control technology designed to eliminate understeer. It's a good bet that these items will be on the John Cooper Works model, too.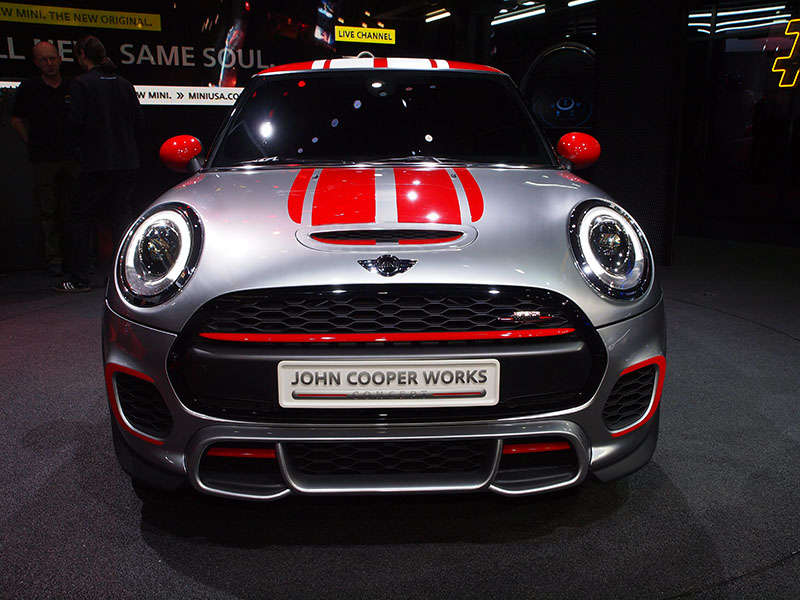 Mini John Cooper Works Concept: Features and Technology
Like the Cooper Hardtop on which it is based, the production version of the Mini John Cooper Works Concept will probably offer a toggle-style start/stop switch for the engine. Next-generation Mini Connected technology, with social and infotainment applications, Radio Mini Visual Boost, and compatibility with iPhone and Android operating systems is also expected for the new JCW, along with an 8.8-inch color central display screen, a navigation system, and a premium sound system.
Additional upgrades, if the Mini Cooper Hardtop's equipment list serves as any indication, will include a Mini Head-Up Display, dual-zone automatic climate control, heated front seats, heated side mirrors, Comfort Access passive entry, and a panoramic glass sunroof. Driving Assistant technologies such as Active Cruise Control, Collision and Pedestrian Warning with automatic braking, High Beam Assistant, a reversing camera, and rain-sensing wipers are also likely to make the cut. Perhaps most important for the JCW model, a Speed Limit Information display should be available, too.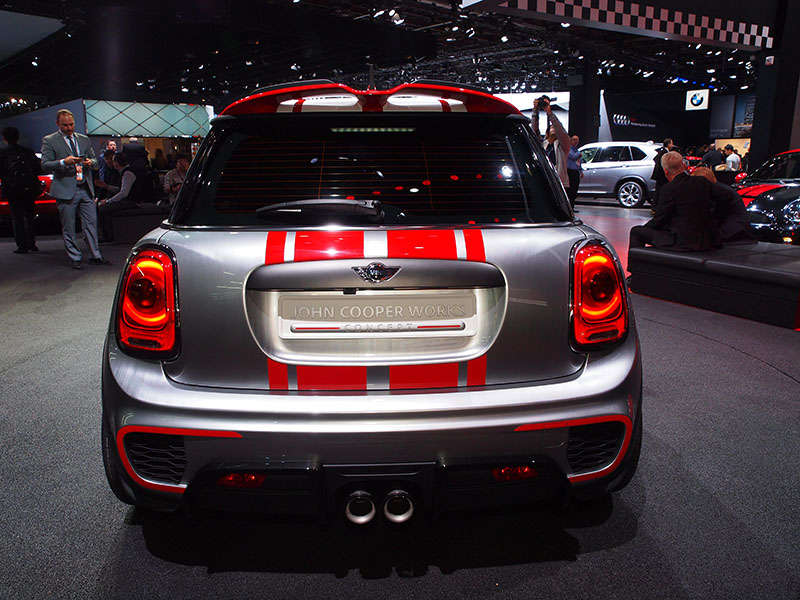 Mini John Cooper Works Concept: What Autobytel Thinks
Like lots of other people, we're having a little bit of trouble adjusting to the Cooper's new face, and specifically its headlights. But you know what? Once you're behind the wheel, revving the engine, and giggling like a little kid every time you press the go pedal, you probably wouldn't care if the John Cooper Works Concept had one of those ridiculous pink moustaches people put on their cars. We're definitely looking forward to driving this one, as soon as is possible.
Photos by Megan Green