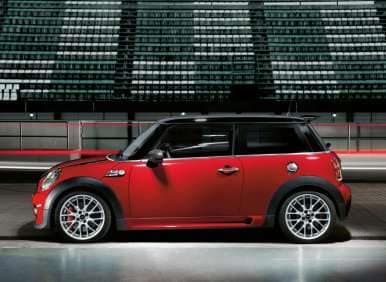 If you ever wanted to drive a MINI John Cooper Works Hardtop at the Indianapolis Motor Speedway, here's your opportunity: The MINI Performance Motoring School is now enrolling drivers in what will be the first hi-po driving program ever offered at the Brickyard, with instruction from "internationally accomplished professional race-car drivers."
Among them: Veteran Indy 500 and 24 Hours of Le Mans competitor Stephan Gregoire, who also helped found Miles Ahead (with business partner Ted Woerner) to provide enhanced driver training for teens—in MINI vehicles, of course. It's the same team MINI is teaming with for the performance school.
"The MINI Performance Motoring School is fun, yet informative, teaching a range of invaluable skills," said Gregoire.  "The sessions, which are expected to appeal to individuals and businesses alike, include instruction on skills that are rarely taught in traditional driving lessons, but need to be called upon in emergency situations on the road. It also provides ideal preparation for those interested in doing track days or even those who have just wanted to really put themselves to the test behind the wheel."
Attendees will drive a fleet of MINI John Cooper Works Hardtops on the infield road course at Indy for exercises in handling, skid control, precision braking and more, while also enjoying seat time for time-attack runs and full-course hot laps (although instructors will be behind the wheel during the latter). Like any top-notch learning academy, MINI's Motoring School also will maintain a low student-to-instructor ratio, bolstered by a strict one-student-per-car approach for plenty of one-on-one learning opportunities.
"This program combines an amazing experience with learning skills that can be critical behind the wheel every day on the main roads," said Jim McDowell, vice president of MINI USA. "It is for the fans who really want to experience what a MINI is capable of doing, as well as test and refine their own motoring skills. The iconic track setting is an added bonus."
For more info and/or to reserve your place at the MINI Performance Motoring School, please visit www.BeMilesAhead.net.