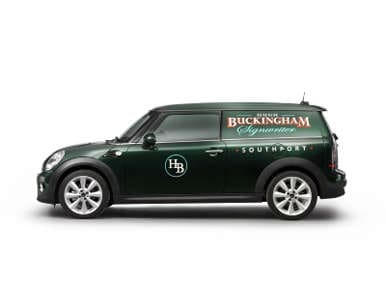 MINI is showing up to the Geneva Motor Show with a concept we could have probably seen coming. In BMW's ever persistent quest to make nearly as many versions of their MINI as the original Mini they are presenting the MINI Clubvan Concept.
It does not take much to make this car/van. It is a version of MINI's Clubman with opaque rear side windows. In fact, the rear doors of the Clubman always seemed a little to commercial-grade, so they are a perfect fit for the Clubvan.
Inside from the front seats forward this car is just like any other MINI. Directly behind these seats the rear passenger compartment is replaced by a mesh cargo partition that separates the occupants from the cargo area. The flat load floor is accessed through the dual rear doors or the passenger side rear-hinged "Clubdoor."
Unlike most commercial vehicles, it does not seem like MINI is going to take out creature comforts for its worker vehicle. The Clubvan concept is shown with the $2,750 Technology package option that includes a rear parking control sensor, Harman/kardon sound system, and MINI's Connected system that includes a 6.5-inch center display, voice recognition, Bluetooth, and navigation system.
There is little doubt that Mini will produce this vehicle for the European market. Small delivery vehicles like this are common on their tight roads. Plus, the original Mini did offer a similar version that was popular in England. That car was called the Mini Van, which is a name BMW will likely not resurrect due to its stigma of the Soccer Mom image.
But just because there are wide open spaces and less Mini history over here does completely eliminate the Clubvan's appeal on the U.S. market. With MINI's stylish image, there are likely plenty of small urban businesses here that want a delivery vehicle with compact dimensions and some trendy flair.
As far as pulling duty as a genuine work van, the Clubvan is clearly a case of form over function. MINI did not disclose the payload capacity yet on this little lugger because it is in concept form. Still, the 1.6-liter gas engines making up the U.S. lineup are not exactly tuned for carrying large loads. It is a safe bet that the European market will take advantage of the MINI's diesel engine available over there.
So if/when the Clubvan shows up on these shores, we don't expect the Ram C/V owners to bother giving it a second look. The Clubvan will likely not even end up on the same shopping lists as those who are looking at Nissan's upcoming NV200 small cargo van. But for those who have to deliver the light loads and don't use the service entrance, the Clubvan may just offer the right mix of image and utility.