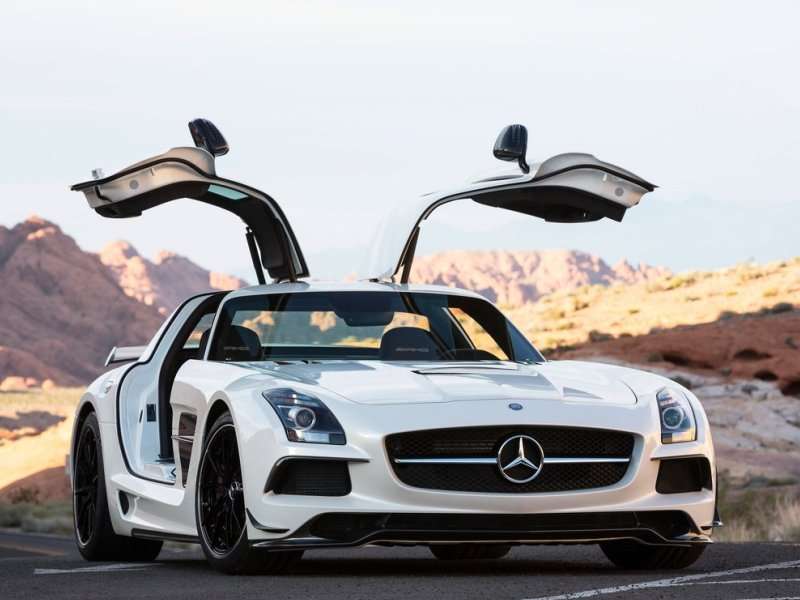 Mercedes-Benz and its AMG performance partner recently announced pricing for two ne plus ultra models from the SLS and C63 portfolios: The 2014 Mercedes-Benz SLS AMG Black Series will set owners back $275,000 (excluding an $1,800 destination/delivery charge), while the Mercedes-Benz C63 AMG Edition 507 will begin at $70,000 in its sedan configuration and $72,500 as a coupe (in both cases, that's before $925 in destination and delivery fees).
For those who may have missed their specs the first time around, the Mercedes-Benz SLS AMG Black Series marks the range-topping model of the company's latest gull-winged supercar, with a hand-built 6.3-liter V8 engine that makes 622 hp and 468 lb.-ft. of torque, and makes short work of the 0-60 sprint, too. Thanks to a curb weight of just 3,616 lbs., the car goes from a full stop to a mile a minute in 3.5 seconds, then continues on to a top speed of 196 mph.
"The new SLS AMG Black Series is a perfect study in the one hundred percent transfer of technology and engineering from motorsport to road," said Ola Källenius, chairman of Mercedes-AMG GmbH. "We have drawn inspiration from the worldwide success of the SLS AMG GT3 customer sport racing car on both a conceptual and a technological level. Boasting numerous lightweight components and fascinating dynamics, our fifth Black Series model guarantees pure, unadulterated 'Driving Performance.' The SLS AMG Black Series is the ultimate choice for fast laps and a highly emotional driving experience."
As for the 2014 Mercedes-Benz C63 AMG Edition 507, it relies on a retuned version of AMG's 6.3-liter V8 that provides a significant 56-hp bump the to power total of the "regular" C63 AMG. The bottom line here: 507 hp, complemented by 450 lb.-ft. of torque, 0-60 times of 4.1 seconds, and a terminal velocity of 174 mph.
Added Källenius: "The C63 AMG with the classic AMG 6.3-liter high-revving V8 naturally aspirated engine is one of the most popular AMG high-performance cars in the world. With the new C63 AMG Edition 507, we are offering our loyal customers an attractive model variant which boasts even higher performance and at the same time is visually exciting."