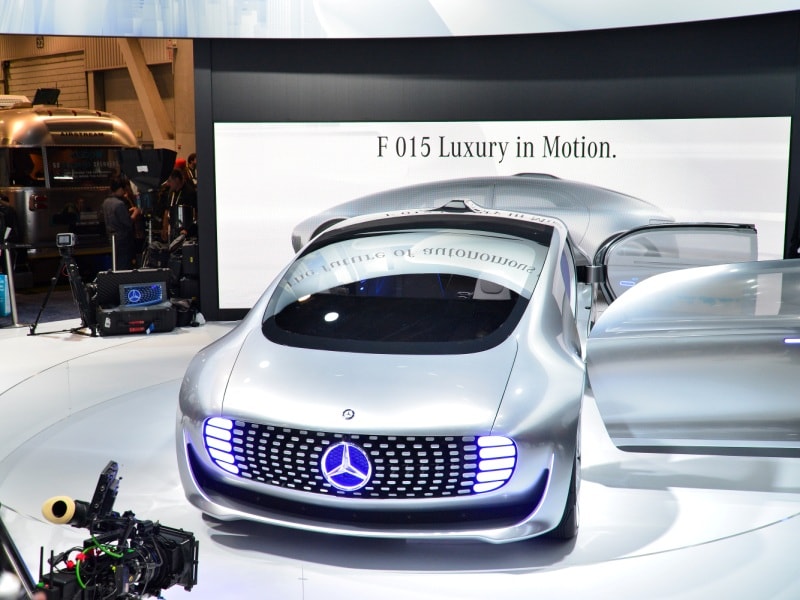 Calling it the "forerunner of a mobility revolution," Mercedes-Benz introduced the F 015 Luxury in Motion concept vehicle at the 2015 International CES in Las Vegas recently. Unlike Audi, however, which brought its own highway-friendly autonomous-driving concept to the International CES, the new Mercedes project was specifically designed for city dwellers.
For example, Prof. Dr. Herbert Kohler, head of Group Research & Sustanaibility for Daimler AG, as well as the company's chief environmental officer, notes that in the future: "Certain zones in city centers could ... be reserved exclusively for autonomous vehicles. That would make it possible to reduce the number of lanes in those zones and also largely do away with road signs, because they would basically be redundant. That would in turn create more room and living space for people."
A vehicle like the F 015 would then fill the bill as something like an upscale mobile lounge, complete with front-row seating that can be turned 180 degrees to create a more social environment in the cabin. That "variable seating system" also allows all seats to swing outwards for improved ingress/egress, helping the F 015 fulfill another important goal: providing travel capability for those who may be unable to operate a traditional car.
Other high-tech highlights of the Mercedes-Benz F 015 include:
Six vehicle-control display screens mounted throughout the cabin, all with eye-tracking technology as well as the ability to recognize both gestures and touch commands
A sophisticated, 360-degree sensing array supported by radar and stereo cameras
Multiple pedestrian-protection features, highlighted by a system that can detect when its safe for pedestrians to cross in front of the F 015, along with exterior LED panels that can communicate key info about the vehicle—e.g., whether its in manual-driving or autonomous mode—based on different light patterns
A fuel-cell-based "F-CELL PLUG-IN" hybrid powertrain
Light-weight construction, backed by extensive use of CFRP (carbon-fiber-reinforced plastic) and aluminum  
"Anyone who focuses solely on the technology has not yet grasped how autonomous driving will change our society. The car is growing beyond its role as a mere means of transport and will ultimately become a mobile living space," added Dr. Dieter Zetsche, chairman of the Board of Management of Daimler AG and head of Mercedes-Benz cars.