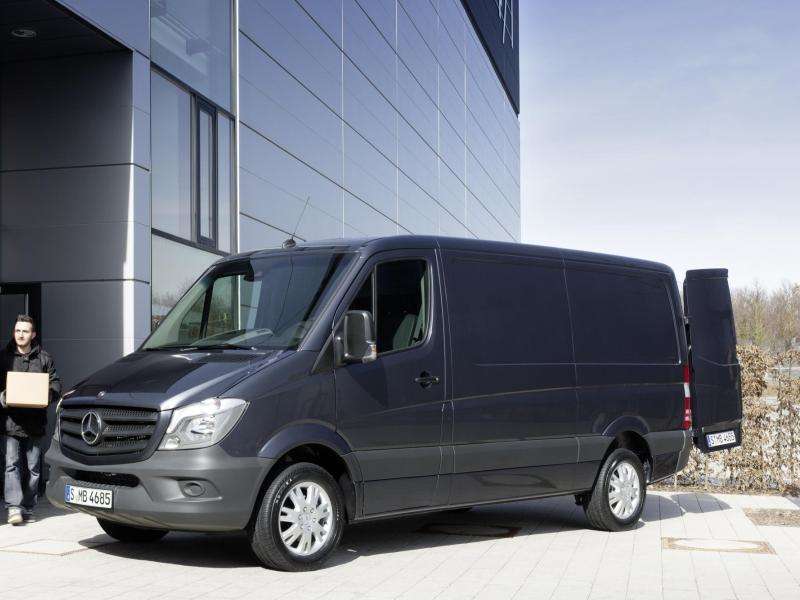 The benefits of all-wheel drive will be available in a brand-new segment early next year when the 2015 Sprinter 4X4 is expected to go on sale in this country. It's the latest model from Mercedes-Benz' commercial-van lineup, and while it won't be trail-rated or anything like that, it will feature some fairly sophisticated AWD technology mounted on rugged 2500 and 3500 chassis.
Drivers can engage the setup with a simple button push, which defaults to a torque distribution of 35 percent to the front axle and 65 percent to the rear. Sprinter's "4ETS" electronic traction system then adjusts the powerflow as needed, complemented by a comprehenisve vehicle-dynamics control system that integrates the functions of anti-lock brakes, acceleration-slip regulation, electronic brake-force distribution, hydraulic brake assist, rollover mitigation, and technologies for automatic brake drying, brake pre-loading, enhanced understeer control and the automaker's Load Adapative Control. Also in the mix is an available low-range gear with a 42 percent lower gearing.
The 2015 Sprinter 4X4 also benefits from additional ground clearance, gaining 4.3 inches of altitude in the front and 3.1 inches at the back, which is enough to climb notably steeper grades than the standard Sprinter, and is available in a number of different body styles to meet customers' needs. The standard setup is on a 144-inch wheelbase, but all-wheel-drive is offered on the 170-inch-wheelbase model as well, and both can be ordered with regular- or high-roof configurations. And to be clear, the technology is coming to not only the Sprinter cargo van, but also the passenger van and the "crew" model for mixed payload/people applications.
And although there's only one engine currently being fitted to the 2015 Sprinter 4X4, it's the robust 3.0-liter BlueTEC clean-diesel V6 that can make 180 hp and a robust 325 lb.-ft. of torque. The two-wheel-drive Sprinter, as an FYI, comes with a standard four-cylinder BlueTEC powerplant that serves up 161 horses and 266 lb.-ft. of torque.
Finally, along with its new traction tech, the 2015 Sprinter 4X4 will join the rest of the Sprinter team in offering customers a full suite of safety technologies, like MB's Collision Prevention Assist, Blind Spot Assist, Highbeam Assist and Lane Keeping Assist.
Pricing for the 2015 4X4 models has yet to be announced, but the 2014 Sprinter lineup is at dealerships now with MSRPs that begin at $35,920 for the cargo van, rises to $37,710 for the crew model and peaks at $40,015 for the passenger van.